Nail art is a great way to express yourself and have some fun. This might be done using the colours of your choice, as well as designs that you adore. Movies, environmental elements, candies, graphic art, and even emojis are all used as inspiration for nail art. But forget about those; it appears that nail artists are more obsessed with this particular design featuring our feline companion. Confused? Allow us to explain: If you look closely at a cat's eyes, you'll see a striking, marble-like, and fantasy pattern in them. It's almost as if you're peering into a constellation, or getting a close-up view of the cosmos. And that's exactly (or very close to) what your nails will look like.
Cat eye nails aren't the same as other animal-inspired nail art trends. It doesn't try to imitate a print or pattern found on a cat's skin, but instead, uses deep colours to create swirly motifs with a hint of metallic detail, similar to what may be seen in their eyes. To mimic the magical appearance of a cat's eye, use magnetic nail lacquer to create a metallic, horizontal streak across a marbly base. All you have to do is use a magnet to scatter or gather the glittering particles after applying glitter-infused magnetic nail polish. Here's a list of cat eye nail designs you can attempt yourself.
1. Silver Cat Eye Nails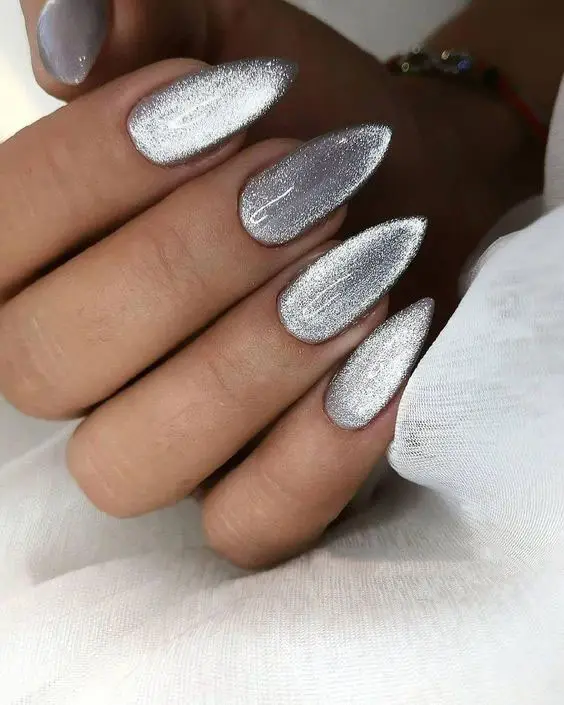 Starting with a simple design, silver cat eye nails are a great way to try out the trend without having to bother about the finer points. You can use this as a practice pigment because the shimmer location will almost certainly blend in with the rest of the colour. Keep stacking coats on until you achieve an opaque finish, as a sheer colour application will not have the same texture.
2. Black and Gold Cat Eye Nails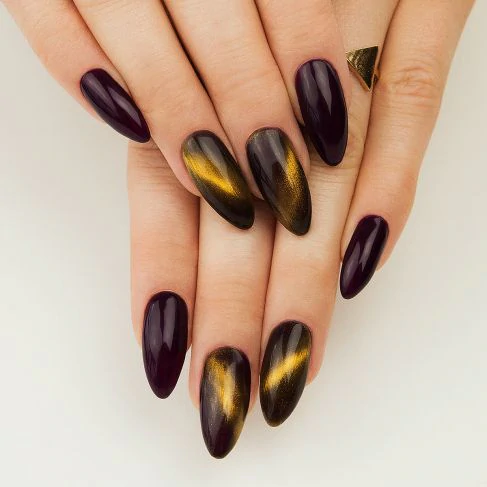 Nothing beats a gorgeous combination of glossy black and sparkling gold on your nails for a mysterious look. This combination looks stunning on both longer and thinner nail shapes, with coffin nails being a popular choice among nail technicians. It'll also look great at nighttime events because the gold will shine nicely in artificial light, giving your manicure a million-dollar effect! If gold isn't your thing, swap it with silver instead.
3. Emerald Hue
Another lovely shade is one with sparkly emerald tones that give the glitter particles in the polish a beautiful depth. To duplicate this look, start by spreading a shimmering nail lacquer all over your nails and directing the glitter particles into the centre with a magnet. Create the diagonal forms in such a manner that they compliment one another and all of the fingers are at the same angle.
4. Clustered Cat Eye Nails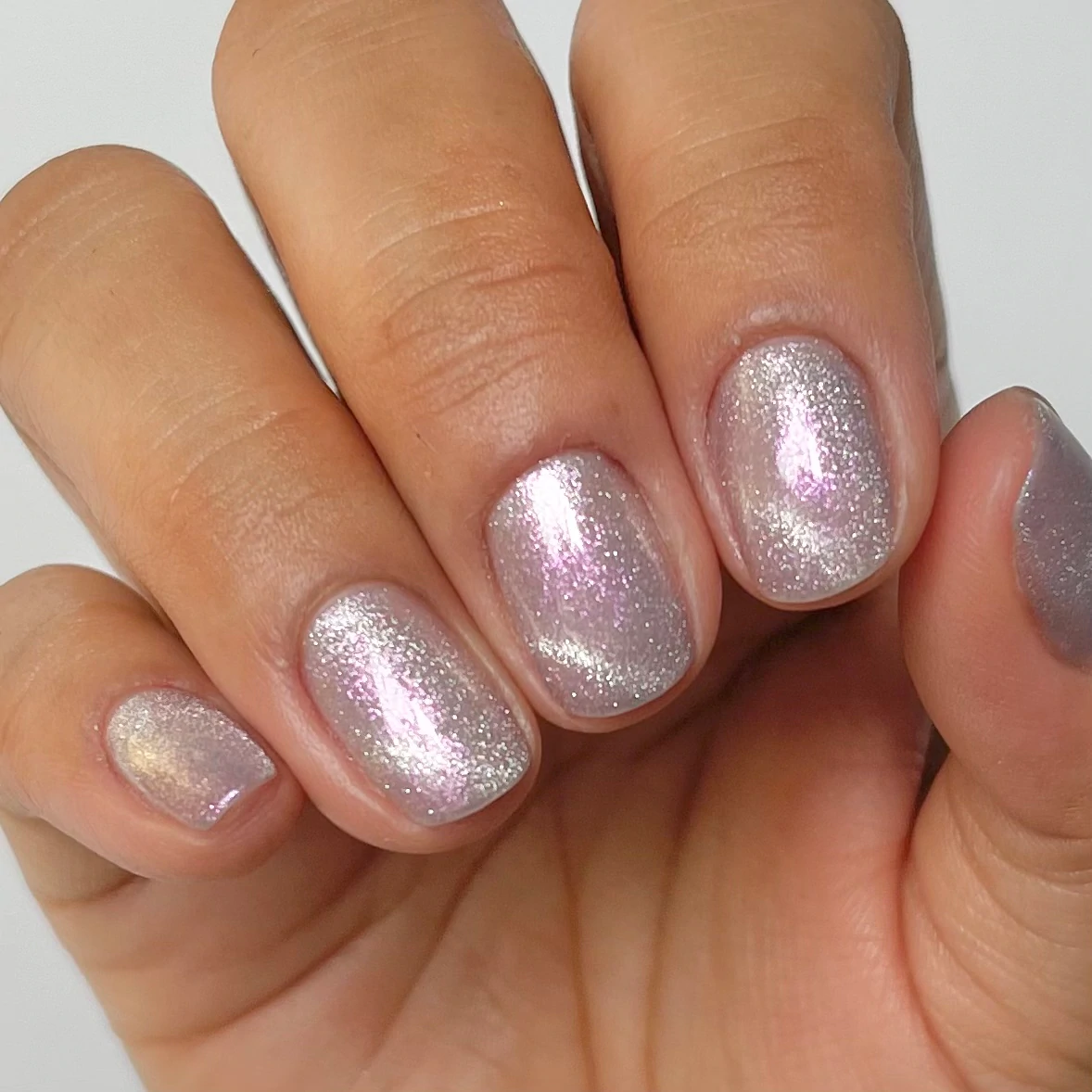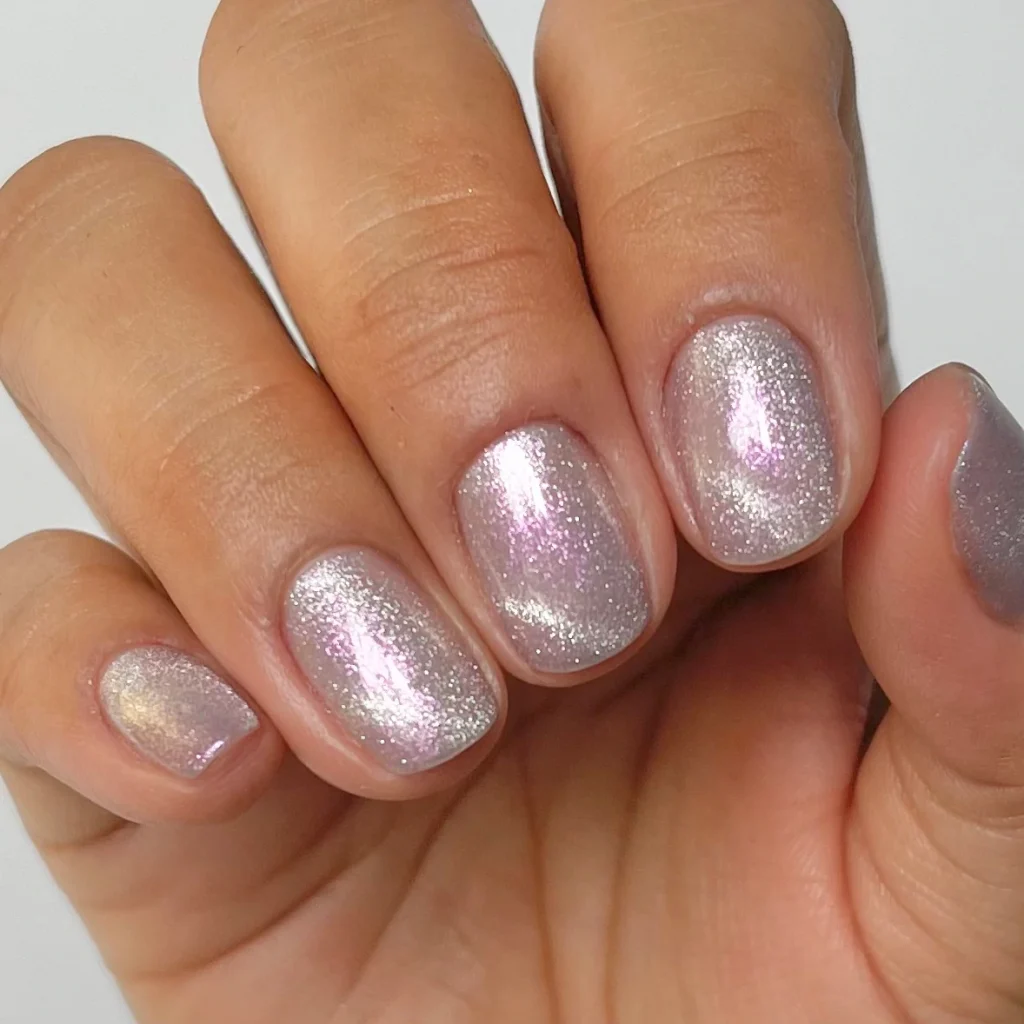 Clustered designs, similar to silver cat eye nails, can be used to wear lighter manicure colours like blush pinks and neon oranges. Apply a thick layer of shimmer lacquer to your nails and distribute the glitter particles evenly, from the nail bed to the tip with the magnet. If you can't get them all the same size, consider concentrating the thicker cluster near the edges rather than the centre. This will prevent the colour from looking clumpy in the centre.
5. Colour Combo
Multi-coloured manicures are a lovely combination of velvet-themed nails and cat-eye feelings that may be achieved with two or more of your metallic polishes. Mix and match rich tones that complement one another to wear on different fingers. To make your manicure session even more fun, wear the colours on different hands. The colours catch the light in a variety of ways, resulting in a unique and expensive-looking manicure!
6. Chrome Cat Eye Nails
This one is for serious nail aficionados who enjoy creating complicated nail art at home! Begin with polishing your nails and then painting them with a clear or nude polish. To give the polish a reflective sheen, you'll need a UV or LED bulb to cure it. Apply a magnetic chrome pigment to your nails, which may be reassembled to create cat-eye diagonals and sparkly clusters. Finish with a clear topcoat to seal the chromium pigment in the desired pattern. To get the desired reflected look, keep the layers of base polish, chrome pigment, and topcoat as thin as possible.
Tips for creating cat eye nails
It takes practice to master the ideal cat eye nail. Despite the fact that it appears to be a difficult task, cat eye nails are becoming increasingly popular due to their ease of application, which is made possible by a clever approach that anybody can master after a few tries. Follow this simple tip and you'll master cat eye nails in no time:
Start by applying the polish all over your nails and let it dry completely. Next, apply a second coat of polish to one nail at a time and instantly hold the magnet over it for 10–15 seconds. The most difficult part in this step is holding the magnet close to your nail without really touching it. You might smudge your nail but sooner or later, you'll get the hang of it.
More on nails? Read this: