Ramadan begins this weekend, April 2nd, and many will be busy preparing for the month of goodwill. The pre-dawn meal eaten by Muslims before beginning the day's fast is known as Sahur. This meal is undoubtedly the most crucial part of a successful day's fast, since a well-balanced meal gives everyone the energy needed to stay fit throughout the day.
Our Muslimah sisters would be seeking healthier choices for their Sahur meals, thus local business Amazin' Graze has introduced a Bundle offer that is only available for online purchase. Let's get ready to "Kekal Kenyang, Rasa Lazat."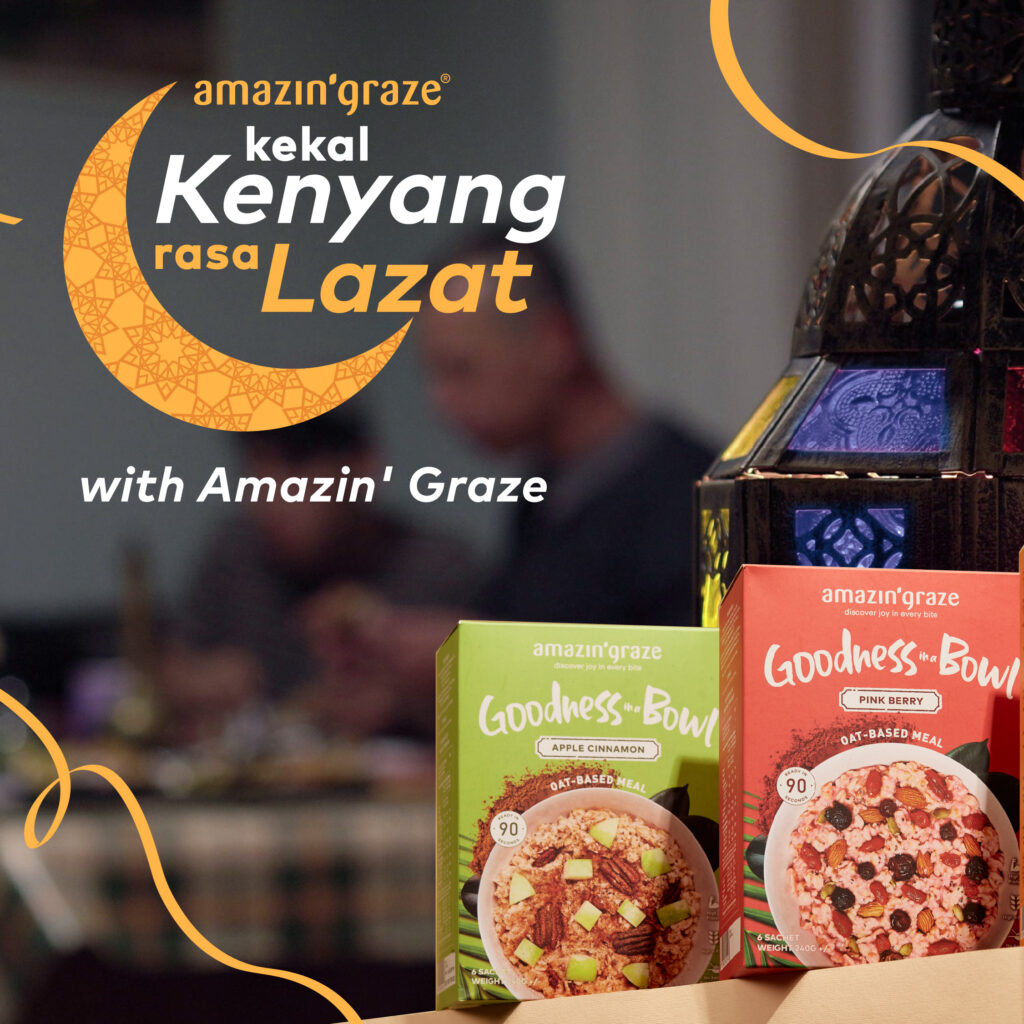 For Sahur, the "Build Your Own Breakfast" Bundle is the best option. As a base, customers can choose from a variety of Goodness in a Bowl (oatmeal) options. Next, to go with it, select a favourite Peanut Butter/Nut Butters. Finally, the option of adding a favourite Granola topping is viable too!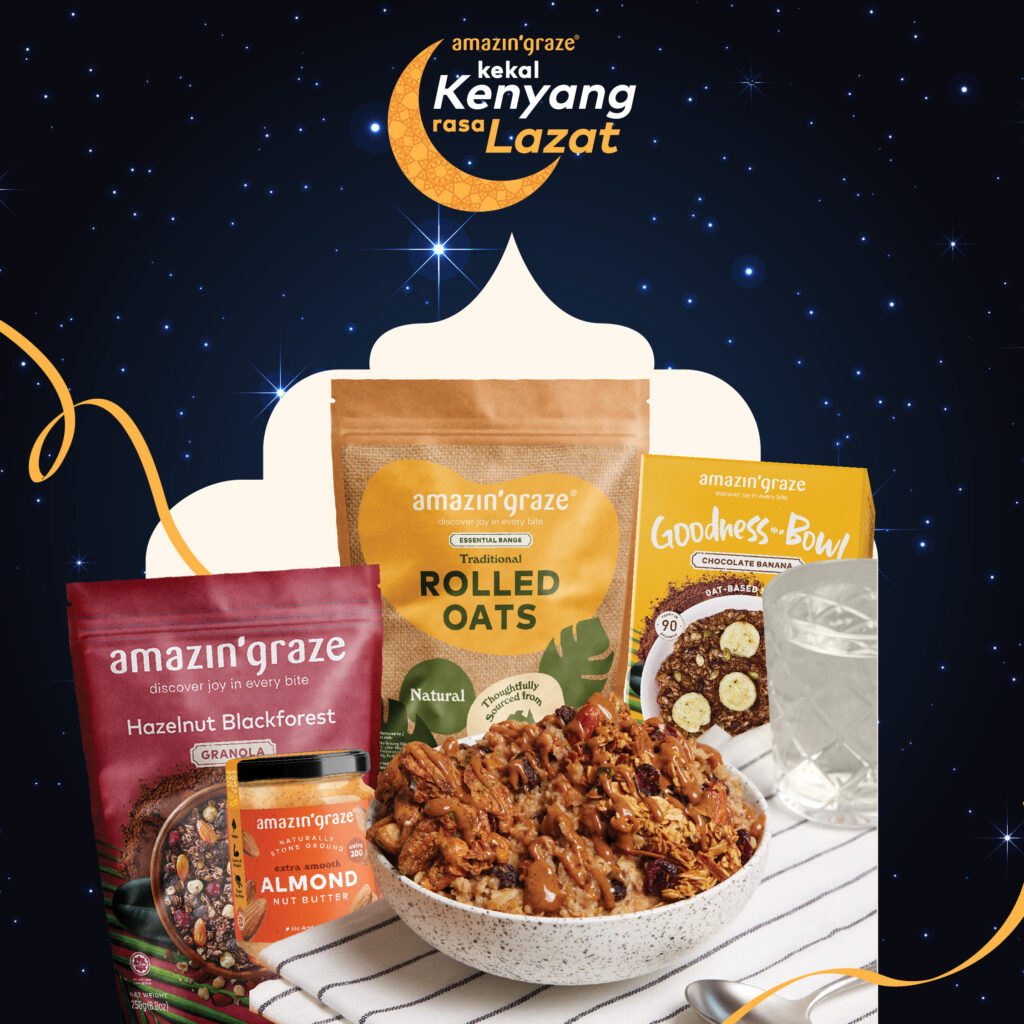 If you don't like plain oats for Sahur, you can mix them in with your other Sahur favourites. Here are some suggestions for a more 'flavourful' meal.
Apple Cinnamon Overnight Oats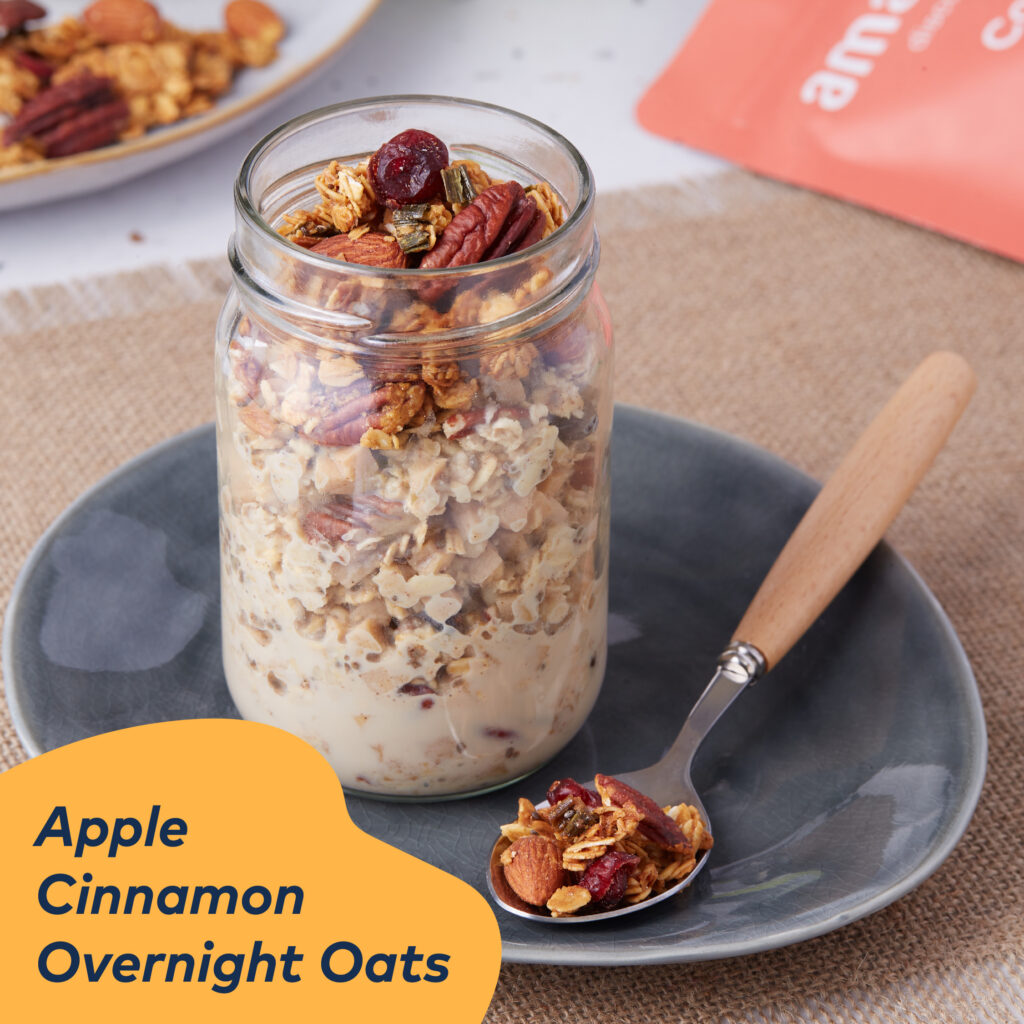 It takes just a few minutes in the evening to combine rolled oats and almond milk, and you've got a head start on a nutritious breakfast the next morning. Top the oats with fresh fruit and toasted nuts in the morning.
Ingredients
½ cup old-fashioned rolled oats
½ cup unsweetened almond milk
½ tablespoon chia seeds (Optional)
¼ teaspoon ground cinnamon
Pinch of salt
½ cup diced apple
2 tablespoons toasted pecans (Optional)
Amazin' Graze Granola
How to:
1. Pour rolled oats into a jar, add in milk and let it sit for 15 minutes.
2. Layer the chia pudding into the jar of soaked oats.
3. Top off the pudding with your favourite choice of Amazin' Graze Granola, some fresh fruits, and coconut chips.
4. Drizzle with creamy Amazin' Graze Almond Butter for maximum indulgence.
Kurma Smoothie with Almond Butter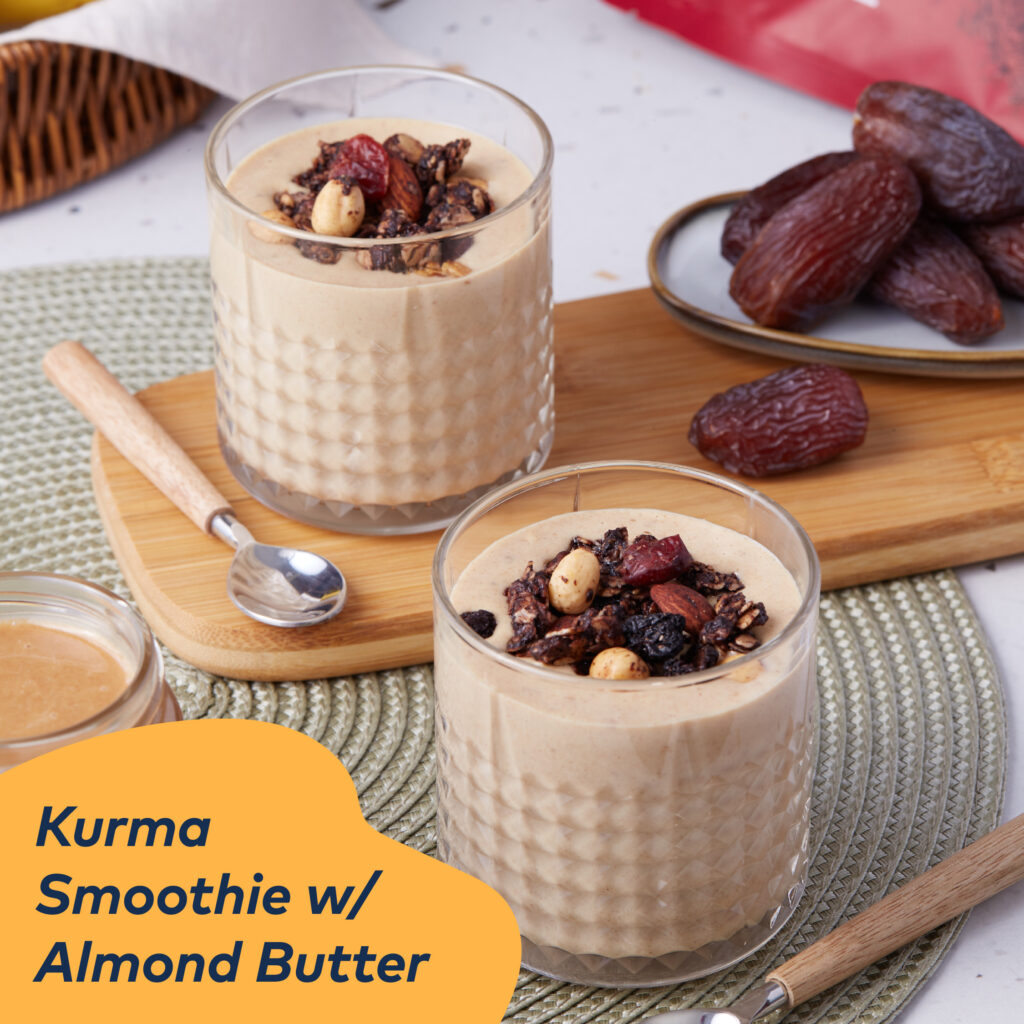 Smoothies are impossible to go wrong with! For Sahur, the Kurma smoothie with almond butter is a much less sweet and healthier option.
Ingredients 
1

 

large

 

frozen banana

1-2

 

large

 

Medjool dates

 

pitted

1

t

ablespoon Amazin' Graze

Smooth Almond Butter

½

 

teaspoon

 

ground cinnamon

1 ½

 

cups

 

unsweetened oat milk or any preferred milk choices 
How to:
1. Combine frozen banana, dates, almond butter, cinnamon, and oat milk in a blender.
2. Blend until smooth.
3. Serve.
Salted Gula Melaka French Toast
Do you have a hankering for French toast and want it to have a Malaysian twist? As a Sahur meal, try making the Salted Gula Melaka French Toast. It's basically French toast with Amazin' Graze granolas and Nut Butter/ Peanut Butter spreads on top.
Ingredients
1. Bread slices (brown or white)
2. 6 eggs
3. 2 tsps milk
4. 2 tbsps butter
5. Amazin' Graze Granola
6. Amazin' Graze Peanut Butter/ Nut Butter Spread
7. Gula Melaka Syrup
1. Heat up a flat griddle or pan
2. In a mixing bowl, whisk together the eggs and milk. For two minutes, briskly beat the mixture until it is aerated.
3. Smear some butter on the griddle.
4. Place a slice of bread on the griddle after dipping it in the egg batter. If needed, pour some batter over the toast as it cooks.
5. Cook until both sides are golden brown.
6. Top with Gula Melaka syrup, Amazin' Graze Granola, Amazin' Graze Peanut Butter/Nut Butter spread
There is an ongoing Ramadan deal for the "Build Your Own Breakfast" Bundle. You can enjoy a hearty Sahur meal of your choosing with a 15% discount! For more information, visit the

Amazin' Graze Malaysia website

NOW!