Though Euphoria Season 2 has ended, many of us still daydream about the stunning looks that graced East Highland Highschool. As expected, many makeup lovers have attempted to recreate some of the iconic looks, such as Maddy's fierce eyeliner or Jules' bold graphic liner looks. Ever wonder about the exact products that have been used on set?
Wonder no more, because here are some of the products that Euphoria's makeup designer, Doniella Davy, has used on the characters!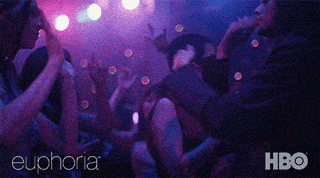 Inglot AMC Eyeliner Gel
Euphoria definitely served us some iconic looks when it came to eyeliners. Characters such as Maddy, Kat and Jules were often seen in some bold eyeliner looks. With a creamy and long-lasting formula, it's the perfect eyeliner to use right before a nasty catfight!
Lemonhead LA Spacepaste in Shade Adult Film
A Euphoria look would not be complete without some glitter! According to Page Six, the cast uses a vegan, cruelty-free thick glitter by Lemonhead LA. Celebrities like Lady Gaga, Halsey, and Margot Robbie have been seen wearing the cult-favourite brand.
Indeed Labs Nanoblur Cream
Director Sam Levinson wanted Rue (played by Zendaya)'s look to be simple, and he wanted skin to look like skin without any cakiness. So, Davy used the Nanoblur Cream by Indeed Labs to give a natural, dewy look to her skin.
Chantecaille Future Skin Foundation
Though there were several signs stating "SAM SAYS NO FOUNDATION (YOUR SKIN WILL LOOK AMAZING TRUST ME)" on the vanity mirrors on set so that the girls wouldn't look crusty, Davy used the Chantecaille Future Skin Foundation to achieve very moisturized-looking skin. Thanks to this skin-like foundation, it gave the actors a natural and youthful glow.
Noto Botanics Organic Hydra Highlighter
This product was also used on the character Rue, who is the one wearing the least makeup out of all her friends. This highlighter gave a natural glow to her skin, providing her with a healthy, sunkissed look. If you're going for a more natural look, this highlighter gives you just enough to accentuate your complexion.
Colourpop's Blue Moon and Strawberry Shake Palette
Photos from the show's makeup trailer revealed that Colourpop's Blue Moon and Strawberry Shake Palette were used to craft the character's looks. The Blue Moon palette features a blend of blues and metallics, while the Strawberry Shake features some bold reds and bright pinks. Just based on the colour palettes alone, I'm sure you can already imagine some of them on some of the characters!
More on Euphoria? Read these:
Eupho-REAL! Euphoria Season 2's Most Gag-Worthy Makeup Lewks Rated!
Alexa Demie Spills Tea About That CRAYZY Russian Roulette Scene In Euphoria