Euphoria Season 2 has finally come to a close, and to be honest… it was a bit underwhelming, and had so many plot holes. But it's been confirmed that there will be a third season in 2024, which we're sure will fill up all the confusion and holes that were left in Season 2 – from Rue owing Laurie $10K after stealing her drugs, to the crumbling friendship between Maddy and Cassie.
With Season 3, we also expect new and glorious makeup that we guarantee will stun viewers. However, we'd have to wait two years for that.
Which is why we think it's time that we ranked Season 2's best makeup. While there was a plethora of makeup looks in this season, we will only be choosing the top 7 looks in Euphoria Season 2.
Warning: Spoilers!
Maddy's Replacement: Cassie 
Not only did Cassie finally steal Maddy's abusive ex-boyfriend, she also stole her look. Well, technically, Nate Jacob dressed her up – but our point still stands. She walked in her school's hallway hand in hand with Nate, sporting bold silvery eyes outlined with a black wing. If you want to make a statement, then we guess go bigger, even if it means betraying your bestie.
New Year's Eve Maddy
Maddy's New Year's Eve look stunned us with its severe straight black eyeliner at the outer corners, and sparkling silver glitter all over her eyelids. We're completely obsessed with this look and it's the perfect bad b**ch look to sport if you're finally over your ex.
New Year's Eve Jules
The most intricate and interesting looks Jules has worn through the season. Jules is known for sporting graphic liners and is the best at it. However, this style is literally the most unique type of eyeliner to do, especially in the inner corner. With a daring inner corner and light dust of glitter on the rest of the eyes, it's the best way to show contrast in your makeup look.
Oklahoma Cassie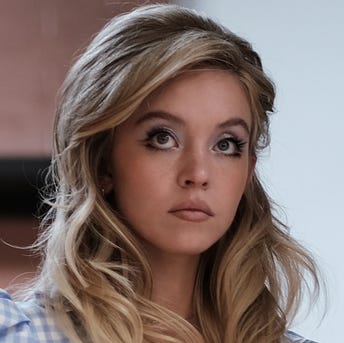 Despite looking like a country bumpkin, you have to admit that this look is perfection. A 60's mod makeup look on Cassie is *chef's kiss*, even though she was trying to impress Nate. Despite not being acknowledged by Nate, this look – with a light sweep of eyeliner on the top and bottom, with a shimmer of blue shadow – definitely wow-ed us.
Kat's Pastel Perfection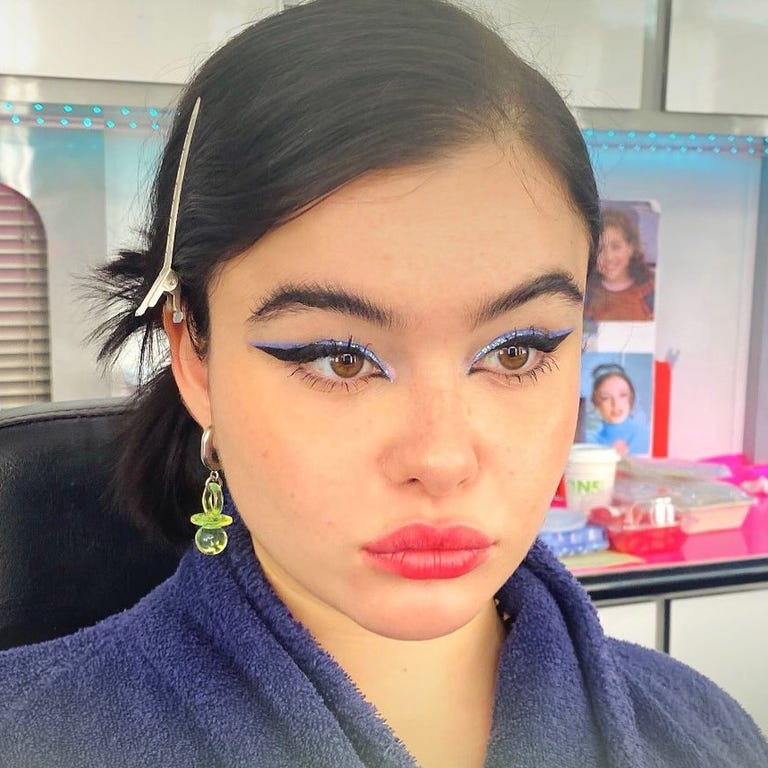 Being in a rocky relationship doesn't mean that one should leave the house without looking absolutely SNATCHED. Kat's makeup look at Maddy's birthday party was one of the highlights of the night (the top being Cassie's puking session). A sharp fox eye eyeliner style with a periwinkle graphic liner on top is pure orgasm. And the cherry on top was a cherry-coloured lip (just glorious).
Lexi's Bold Red Lip
Lexi is known to be a very timid and shy character who doesn't really explore anything in terms of makeup. But once Fezco came into the picture, she put on those bold red lips real quick and rode her bike to meet the man. I mean, it's the best way to make a man attracted to you – making your lips look so full and luscious.
Maddy's Double Wing
Why do one wing, when you can do two! Maddy definitely did not joke with us as her double wing was so sharp and pointed that it GAGGED us. People all over TikTok recreated this masterpiece and they looked absolutely gorgeous too. She gives off the ultimate Bad B**ch vibe and this look encompasses all of that.
More on Euphoria? Read these: 
Alexa Demie Spills Tea About That CRAYZY Russian Roulette Scene In Euphoria
SHIMMER WITH SYAHIRA: Set Your Eyes On Euphoria's Diamond-Studded Eye Makeup