The cherry on top to finish your whole look is jewelry. It adds the je ne sais quoi that you need before you step out of that door. Your ensemble will never be complete without putting on jewelry, whether it be bracelets, anklets, a necklace or even a pair of earrings.
Speaking of earrings, did you know that your face shape can determine which pair of earrings suits you best? It's just a pair of earrings, I know – we can wear them however we like. But, choosing the best pair of earrings that suits your face shape will frame your complexion stunningly. Plus, selecting earrings based on your face shape will foreground your natural beauty.
So, if you wish to know more on how to choose the best earrings for your face shape, let's get reacquainted with your facial features.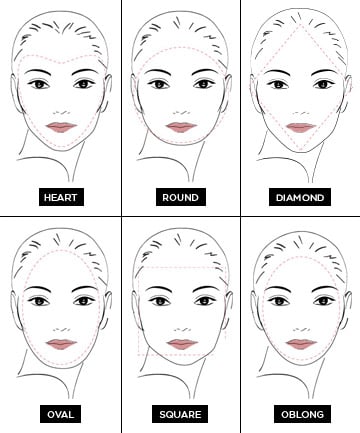 To better determine the shape of your face, pull back all of your hair and tie it using a hair tie. Then, get a lipstick – preferably nude, to avoid staining your face – and trace the perimeters of your face, and you should get the gist of your face shape. The picture above will make it easier for you to determine what face shape you have.
Now that you know what face shape you have, let's get to the best part – earrings!
Heart
People with heart-shaped faces have a wider forehead that tapers down from their cheekbones to their chins. With this type of face, what you would want to look for are earrings that are teardrop shapes to juxtapose the shape of your face. By wearing teardrop earrings, it will elongate your visage as well as make your face appear balanced.
Lovisa Silver Twist Teardrop Earrings (RM55)
Buy HERE!
Round
Your face shape appears more circular, with your cheeks being wider than your chin and forehead. With a plumper pair of cheeks, you should look out for drop earrings to elongate your face. Drop earrings will complement your face shape to increase the height of your face rather than the width of it.
Lovisa Silver Flower Drop Earrings (RM112)
Buy HERE!
Square
A face where the forehead and jaw are similar in width is square shaped. That means your face has sharper angles, especially along the jaw. Hence, the ideal earrings would be any circular or hoops. Earrings with rounded edges will ultimately soften the sharp features around your face.
Lovisa Enamel Centre Hoop Earrings (RM51)
Buy HERE!
Diamond
Diamond-shaped faces have a narrow forehead, wider and higher cheekbones and sharper jaws. With facial features like this, you typically want to balance it by contrasting the earrings with your face shape. Thus, a pair of earrings that are wider as opposed to longer are more suitable for people with diamond-shaped faces to make the appearance more balanced, as well as to foreground the natural features.
Lovisa Real Gold Plated Rectangle Wide Hoop Earrings (RM54)
Buy HERE!
Oblong
The most noticeable feature of this face shape is the length of it. With how long the shape of the face is, the width doesn't really stand out as much. So, look for earrings that can take the attention away from the length of the face – bizarre designs and colours or patterns that bring focus to the cheeks.
Lovisa Gold Large Pearlised Flower Drop Earrings (RM102)

Buy HERE!
Oval
People with oval faces are the luckiest of them all. Any pair of earrings is perfect – from drop earrings to hoops that will bring out the absolute best features of the oval face shape. Experiment with different textures and designs of any pairs of earrings imaginable – and look stunning in all of them.
Lovisa Fuchsia Petal Drop Earrings (RM86)
Buy HERE!
More on jewelry? Read this: 
Cuff 'Em, Officer! Out With The Nose Ring, In With The Nose Cuffs!