If you are a frequent lurker on the interwebs, especially Instagram or Tiktok, you've probably come across a weird phenomenon of creators striking odd poses that might be a hazard to the spine. It is called the Jojo Pose, which is derived from JoJo's Bizarre Adventure (JJBA), a manga by Hiroko Araki. It is an 8-part shounen manga series that has been in publication since the 1980s.
Origins of Jojo Pose
On April 9th, 2003, the Japanese fan fiction community of Bungei Junkie Paradise launched "JoJo's Posing School". The goal of the initiative was for fans to imitate the stances from the original manga and upload their images online.
JoJo's Posing School immediately gained a considerable following among fans and Japanese internet users, prompting the organization of actual meet-ups in 2003.
[embedyt] https://www.youtube.com/watch?v=mKcGuZJ9eXs[/embedyt]
Modern Jojo Pose
JJBA had become a mainstay of internet meme culture, and many fans began taking up the #jojoposechallenge on TikTok or Instagram. This challenge was mixed in with other anime pose challenges as well.
Jojo poses could give a bit of creativity to your photo op sessions, as the usual standing-up-with-peace-sign pose might be a bit stale. Some Jojo poses are done as pairs, so you can enjoy striking them with your friends.
When you are doing a Jojo pose, you can use chairs as aids; or if the pose is a low-shot pose, utilize creative camera angles. Always remember to be careful and stretch and cool down before or after you've done a pose. (It's to prevent muscle cramps).
If photo-taking isn't your forte, you could use Jojo posing as a form of exercise, as the bending and stretching involved would keep you fit.  Be mindful that your body has limitations, so don't overdo it!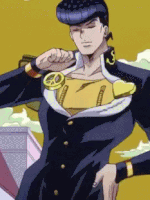 More on posing? Read this: