Air fryers have been in the trend for a while now, thanks to the fact it promises very little usage of oil and gets your food ready and all crisp in minutes. With that in mind, many simply pop in their food in the air fryer and let it do its magic. However, the excitement is short-lived if your dish turns out anything but dazzling. So, what could have gone wrong?
It turns out, many have been using their air fryer incorrectly which results to either uncooked, limp or chewy food. If you're a victim of such regrettable outcomes, then you could be doing something wrong in the process.
Here are 6 common mistakes everyone makes with their air fryer.
1. Your air fryer is not getting any air
Although the fryer is tiny, it needs space. That's because these mini convection ovens rely on air flow to circulate the high temp heat around the food for all-over crispiness. Be sure to give at least five inches of space all around for better cooking results.
2. You use too much oil
Air fryers are not meant for deep frying. Most air fryers only require a teaspoon or two of oil for overall cooking. If you put too much oil, the outcome might not be as what you expected. As per its name, an air fryer moves hot air around your food to cook and get it all crispy. So avoid using too much oil the next time you use your fryer.
3. You don't preheat the air fryer
Similar to an oven, air fryers need to be hot when you put the food inside, so that it can start cooking as soon as you shut them. If it's too cold, then the end result may suffer and it not be as how you desired. So be sure the air fryer is nice and hot when you're ready to use it. The small space can take about five minutes to reach its right temperature.
4. You cramp too much food in the basket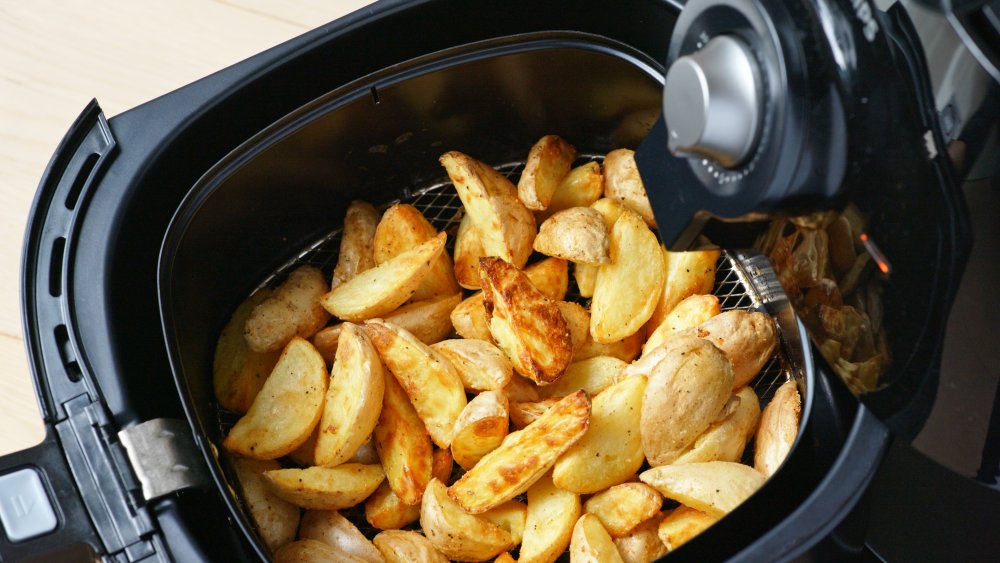 Air fryer baskets are small which means you should only fill a certain amount of food to avoid cramping. The heated air flows around the exposed surface areas of the food. If you overcrowd the food, you're limiting the amount of surface for the hot air to cook. When the hot air meets the surface of the food and oil, that where the cooking and flavour takes place. Since air fryers take a short time to cook, you can do it in few batches.
5. You don't use any oil
Many are under impression that air fryers don't require any oil for cooking. You can't have too much oil or too little. Oil is used as a medium in the fryer to transfer heat. So using a little on your food will definitely make it more crisp, brown and nicely cooked. When in doubt, give every food a spritz of oil for desirable results.
6. Your food is too wet
Deep fryers can expel moisture from foods like batters, but an air fryer isn't capable of that. So avoid putting in limp, wet veggies and expect a miracle of out of it. Air fryers are meant to get your food crisp quickly and work great with already breaded or crunchy foods.