Rock climbing, paintball, river rafting, ATVing, zip-lining, and other extreme sports have seen an increase in popularity over the years. But of all the extreme sports, skateboarding is making the biggest inroads among youth.
While it isn't exactly a Malaysian pastime, it's surprising to learn that there are quite a few skaters here. Skaters can literally skate almost everywhere. Parks, shopping malls, and the streets, you name it! But if you're a skater seeking a location to skate to your heart's content in KL, the following is a list of options for you. Plus, we have something new and exciting in store for you guys!
1. Skatepark 1 Utama
This skatepark is really interesting. Lipstiq was recently invited to a press conference at 1Utama Shopping Mall for an audience with the skatepark's creator, Tim Altic. Tim is not just the builder and designer of this upcoming skatepark – he's also a world famous veteran American skating champion!
Skatepark is the Klang Valley's first in-mall skatepark, proudly managed by 1Utama as a free and unsupervised outdoor play area with the goal of bringing people of all ages together to enjoy a healthy dose of fresh air in a brightly coloured space. We were given a sneak peek of the Skatepark before its scheduled opening in July this year.
Skatepark will feature a street and park combination design layout comprising 6 zones, including slopes and ramps for beginners to advanced skaters. The Skatepark is also open to rollerbladers, inline skaters, scooter riders, and BMX bikers. The Skatepark will be spruced up with high-end graffiti art by artists once it is completed.
2. Shah Alam Extreme Skatepark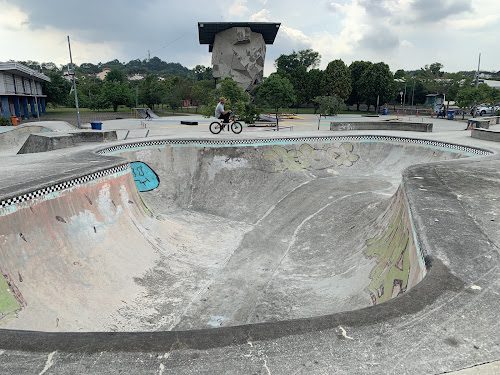 The Shah Alam Extreme Park, which is near the Shah Alam library and Stadium Melawati, is a perfect area for skateboarders to practise leaping and flips. You can skate your wheels over a vast skateboard compound with the appropriate crests and slopes to impress sight-seers.
Skateboarding isn't the only activity available at the Shah Alam Extreme Park, though. You may even bring your BMX bike, try your hand at rock climbing, or unwind with a couple of paintball games because it is a multi-sport facility.
Jalan Lompat Pagar 13/37, Seksyen 13, 40100 Shah Alam, Selangor

Operating hours: 9am to 7pm
3. Putrajaya Challenge Park
This multi-sport park, also known as Taman Cabaran, is located in Putrajaya. The park stretches over 30 hectares throughout Putrajaya Precinct 5, allowing for a variety of extreme park activities such as rock climbing, a thrill park, and mountain bike routes.
The skate park is the park's greatest attraction, with plenty of bowls and banks for skateboarders to practise their tricks as often as they like. It's a great place for kids to improve their skills if they want to be the next Tony Hawk.
Jalan P5, Presint 5, 62200 Putrajaya, Wilayah Persekutuan Putrajaya

Operating hours: 10am to 8pm
4. Mont Kiara Skate Park
Unlike skate parks that are built into the ground, this skateboarding park in Mont Kiara is above ground and the only sheltered skateboarding park in Kuala Lumpur. So, if the weather isn't cooperating, whether it's the sun or the rain, this would be the ideal skate park for you to unleash your inner skate freak.
Tony Hawk, the famed skateboarder who has even had games named after him, visited Malaysia in 2014 and visited this skate park. He socialized with young skateboarders and demonstrated the abilities he had honed over decades of skating. If you're a Tony Hawk fan, you should pay this skate park a visit and learn why he chose it above other skate parks.
Jalan Bukit Kiara 1, Bukit Kiara, 60000 Kuala Lumpur, Wilayah Persekutuan Kuala Lumpur

Operating hours: 24 hours
5. TTDI Mini Ramp
Although not really a skatepark, this entry has a lot of heart. The Taman Tun Dr. Ismail (TTDI) mini-ramp, the newest (and arguably smallest) item on this list, was built just earlier this year. The ramp was custom-built for a prior competition at the Mont Kiara skatepark and is now located on a field in the middle of suburbia. TTDI Skateboarding then took it upon themselves to build the ramp in order to make up for the lack of facilities in the area.
It may not be much, but the community of regulars and newcomers is always welcoming and supportive. But bear in mind that it's a mini-ramp, so if you're just getting started, you might want to practice your ollies at home first.
TTDI Mini Ramp

Jalan Aminuddin Baki, Taman Tun Dr. Ismail, 60000, Kuala Lumpur

Operating hours: 24 hours
6. USJ 1 Skatepark, Subang Jaya
Subang is well-known as a centre of Malaysian skating culture, with many newcomers purchasing their first complete at the Wheel Love skateshop in SS15. The 'Mecca' of street-skating, the USJ 1 Skatepark is still running strong, despite the shop's relocation to Bangsar. It's a flat-land expanse with ramps, platforms, and grind boxes located within the Taman Sukan MPSJ grounds. This is unquestionably a welcoming environment for both newcomers and seasoned veterans.
USJ 1 Skatepark Subang Jaya

Jalan USJ 1/2, Taman Subang Permai, 47500 Subang Jaya, Selangor

Operating hours: 6am to 8pm
7. Sungai Kantan Youth Park
This site is in the tranquil south-east suburb of Kajang, yet it isn't without its charms. It's also known as 'Satay Skatepark,' and it has a variety of ramps and rails, as well as Converse branding. It was renamed MBKj Youth Park by the local council after it was relaunched in April 2017 in partnership with the American sportswear manufacturer.
Sungai Kantan Youth Park

Jalan Sungai Kantan, Kampung Sungai Kantan, 43000 Kajang, Selangor

Operating hours: 24 hours
8. National Stadium Bukit Jalil Skatepark 
Due to its convenient location and accessibility, this is one of the most popular skate parks among skating fans. You can drive here, but the LRT is the most convenient option. Simply stroll to the Square after exiting the station, and you will see the stadium, skate park, and playground after ascending the stairwell. Skaters can perfect their leaping and flipping skills at the skate park's two huge compounds.
National Stadium Bukit Jalil Skatepark

Bukit Jalil, 57000 Kuala Lumpur, Federal Territory of Kuala Lumpur

Operating hours: 24 hours
More on lifestyle? Read this: