Let the feasting at sunset commence! The fasting month has arrived, but have you chosen the ideal location for your breaking fast sessions? Or are you still seeking the ideal buffet for your family or friends? Whether you're looking for a place to break fast or just a venue for a nice dinner, we've got a treat for you.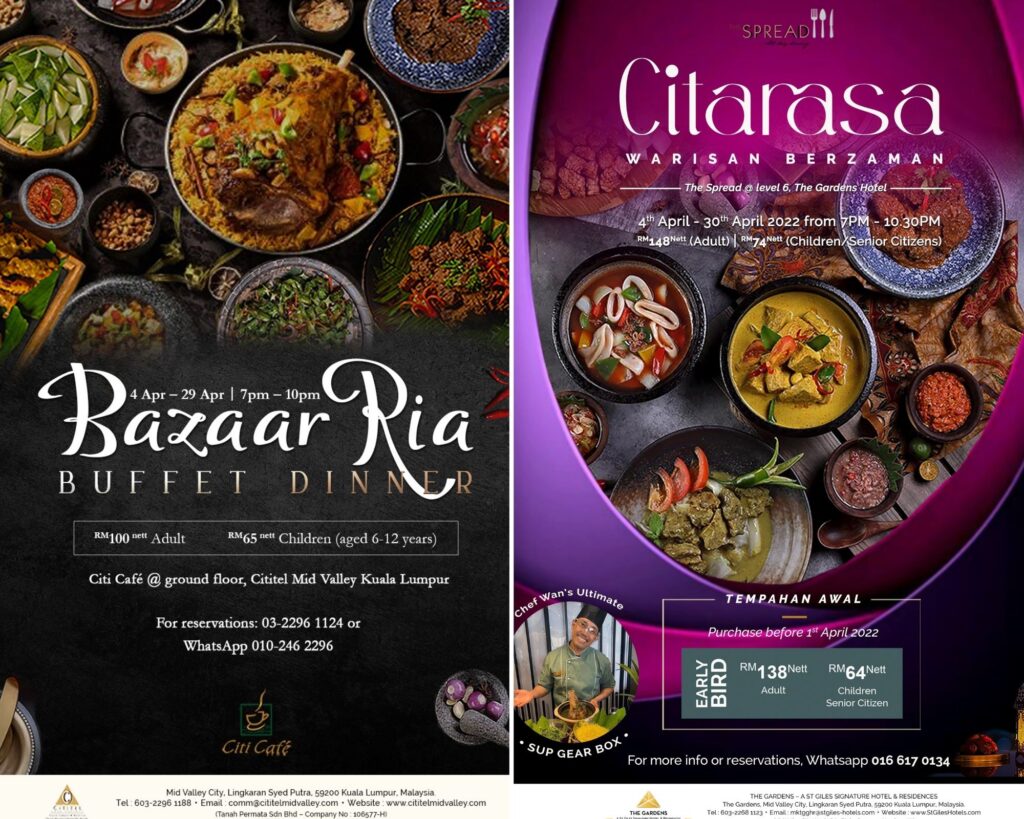 For those wishing to break fast or simply indulge in a feast with a flavourful Malaysian flair, Citarasa Warisan Berzaman, at The Spread, and Bazaar Ria Buffet, at Citi Café, offer a variety of native foods, classic Malaysian flavours, sweets, and other delights. Citarasa Warisan Berzaman and Bazaar Ria will be the theme of the Buffet of Two Worlds, and it will have a little bit of everything to satisfy everyone's appetite.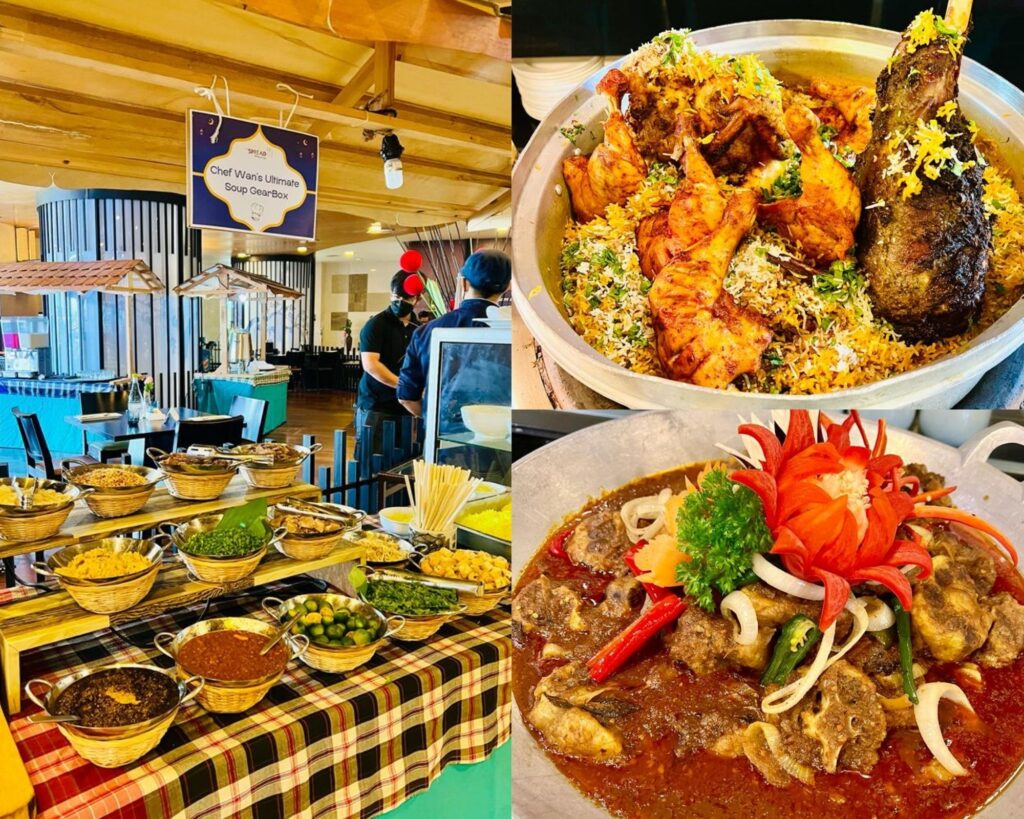 The Gardens Hotel is buzzing now that The Spread has begun its annual break fasting dinner, with a variety of dishes and seasonal favourites. Offering tonnes of choices, the elaborate spread features a few notable signature items such as Rendang Tok, Kambing Kuzi, Ayam Percik, Lamb Shank Biryani, and Che Wan's Ultimate Sup Gear Box that promise to perk up your taste buds. There's also a delectable roast from the carvery — roasted leg of lamb with chef's special sauce . All their meats are tender, juicy and full of flavour, and they'll have you coming back for more rounds! And don't forget their desserts, of course. There's a limitless dessert counter with all sorts of cakes, dodol, pudding, ice kacang and kuih-muih. My, what a feast this is!
Happening until 30th April, 2022, Citarasa Warisan Berzaman at the Gardens Hotel and Residence resembles a lively bazaar with an extensive lineup of food stalls.
Citarasa Warisan Berzaman @thegardenshotelandresidences
Period: 4th April – 30th April 2022
Location: The Spread @ Level 6, The Gardens Hotel
Time: 7pm to 10.30pm
Price: RM148 (Adult); RM74 (Children/Senior Citizens)
Reservations: WhatsApp 016 – 617 0134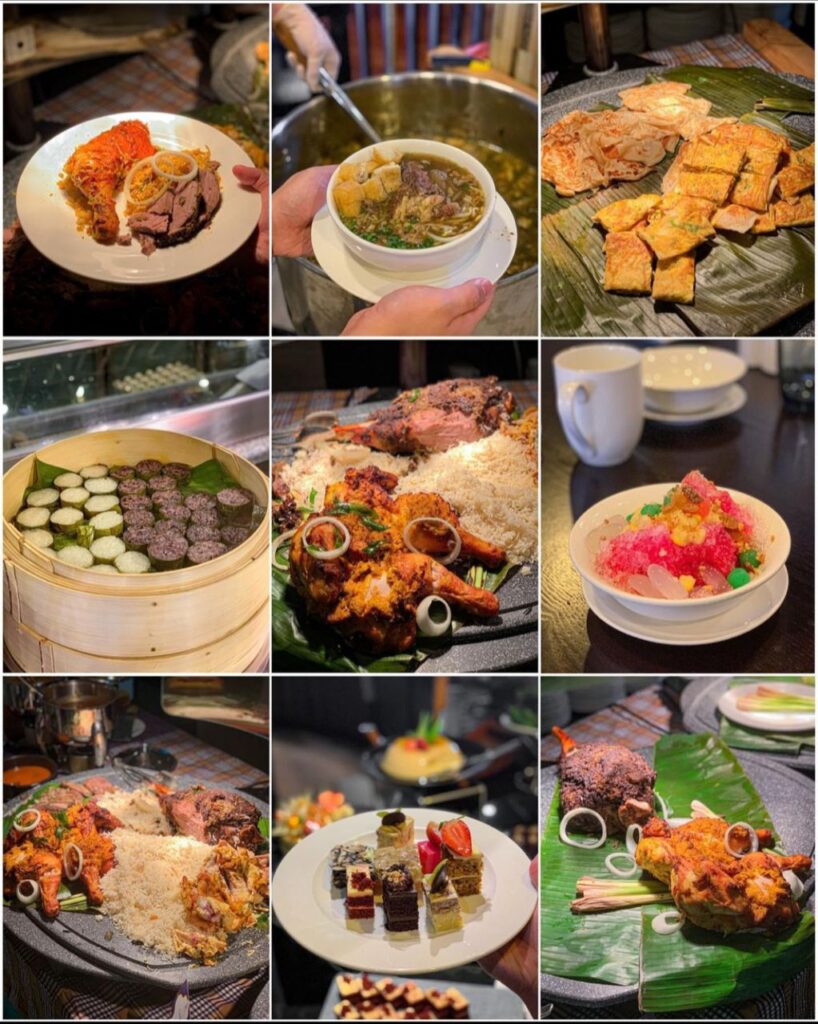 Next up is the Bazaar Ria Buffet Dinner at Citi Café. Citi Café, which is located on the hotel's ground level in the bustling Mid Valley Megamall, has reopened with a buffet comprising traditional and foreign dishes. Eat your way through a hearty meal that includes hawker classics like Rendang Daging Tok, Roti John, Ikan Bakar, and a bevvy of other hawker favourites, as well as a live-action carving station. Local desserts are heavenly; choose from Sarawak Kek Lapis, Bubur Kacang, Sago Gula Melaka, and Aneka Goreng-Goreng counters.
Bazaar Ria Buffet Dinner @cititelmidvalley
Period: 4th April – 29th April 2022
Time: 7pm – 10pm
Location: Citi Café @ Ground Floor, Cititel Mid Valley Kuala Lumpur
Price: RM100 (Adult); RM65 (Children aged 6-12 years old)
Reservations: 03 – 2296 1124 or WhatsApp 010 – 246 2296
Here's a sneak peak of what you'll be enjoying at the Citarasa Warisan Berzaman and Bazaar Ria Buffet Dinner:
Delight in this wonderful spread of local cuisine that will offer you a meal of a lifetime! Hurry now and book your slots. For more information, visit their websites:
More on Ramadan? Read this:
Roller Costa Ride! Costa Coffee Introduces DOPE Ramadan Specials!