Billboard music awards is one of the hotly-anticipated events that many of us look forward to for its memorable music performances. This year, many artists were simply glad to be out of their homes attending one of the biggest in-person events since COVID-19. Celebrities took advantage of this event and their choices of style clearly showed that, donning colourful looks that felt downright celebratory.
The gala event was graced by the crème de la crème of the music and entertainment industry. Out of which, celebrities like Priyanka Copra, Nick Jonas, Doja Cat and Karol G certainly garnered more attention than others because of their red carpet looks. Although celebs chose to wear garments from their best designers and get dolled up by their favorite makeup artists, some of the looks missed the mark and failed to get a nod, while others were a real treat to the eyes.
Here's a rundown of the night's most talked-about looks.
Nick Jonas in Fendi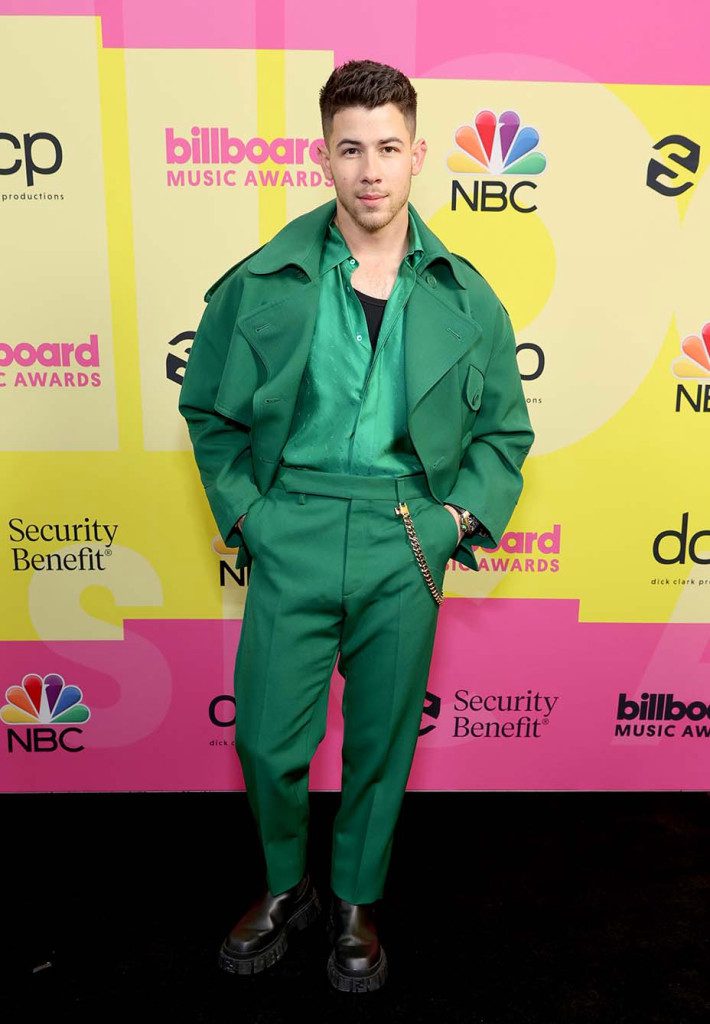 @RICH FURY/GETTYNick Jonas certainly looked dashing in emerald ensemble. The three-piece tone-on-tone creation by Fendi was an eye-catcher but many commented his outfit made him look like a Peter Pan impersonator. Choosing a bold colour definitely puts Nick Jonas in the daring category, but it was his dearest wifey that stole all the attention.
Priyanka Chopra in Dolce & Gabbana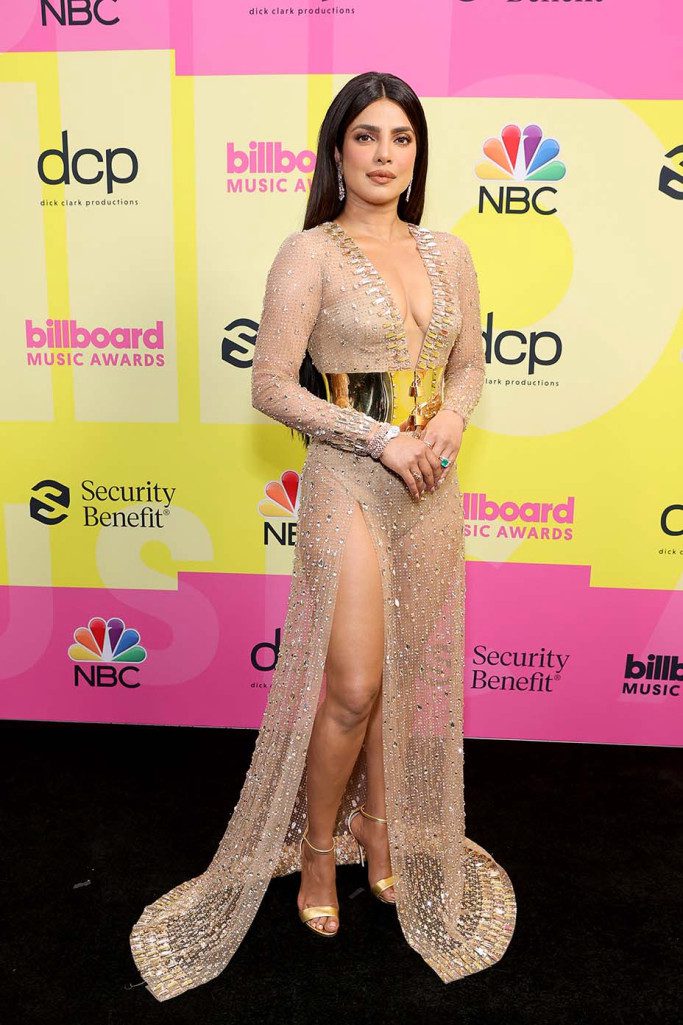 Where shall we begin with Priyanka? Apart from looking like a walking goddess, she nailed it with her semi-sheer Dolce & Gabbana crystal-embellished gown with a plunging neckline and daringly thigh-high slit. The golden vintage hardware belt did raise some eyebrows, but with her flawless hair and makeup, she's certainly a tough contender to beat for the best dressed.
Doja Cat in Balmain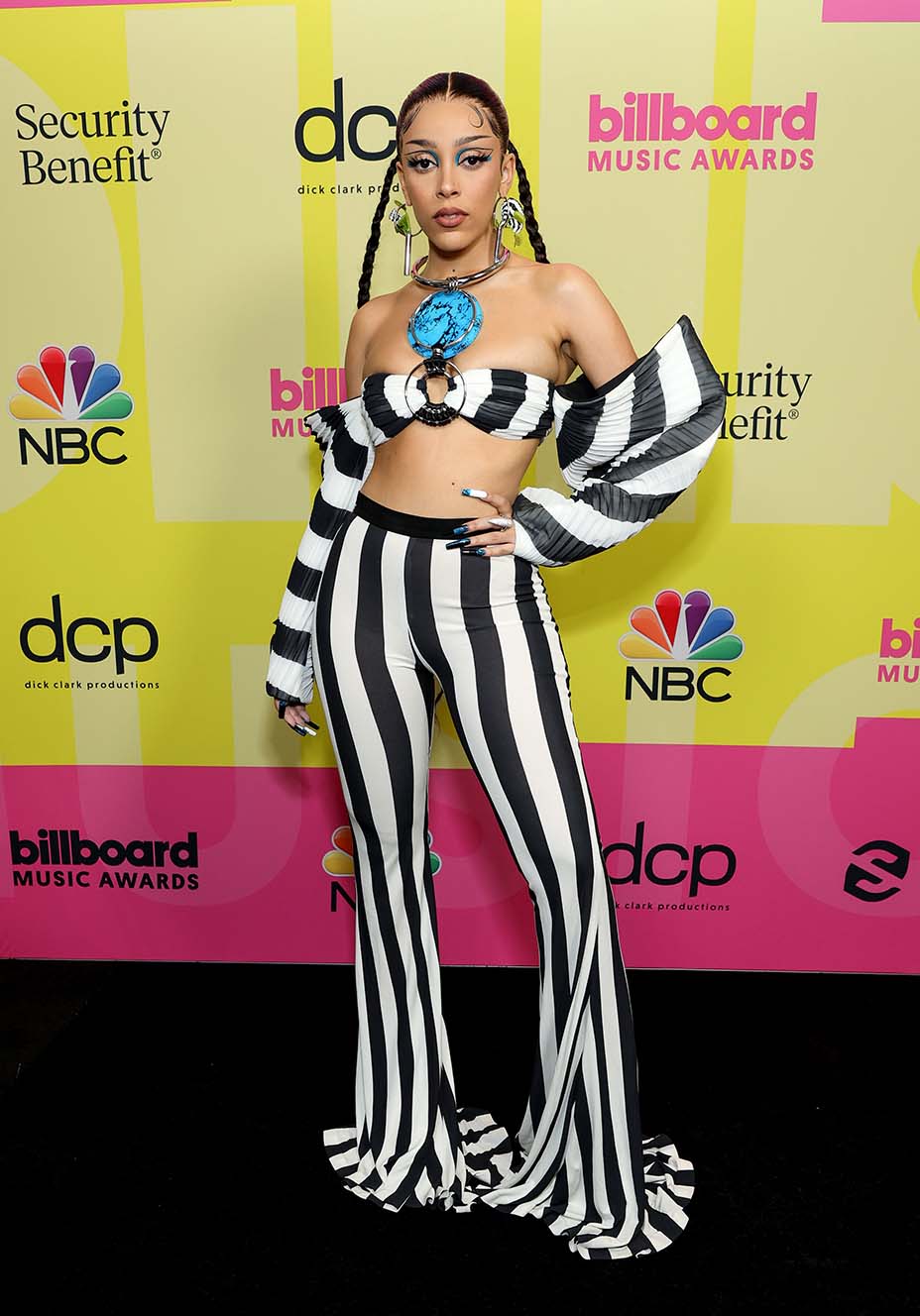 Doja Cat was dressed like a character straight from Tim Burton's Beetlejuice in a black and white striped matching set and graphic blue eyeliner. Her pleated bandeau top with dramatic sleeves were attached to a large turquoise pendant. This look failed to get in the best dressed list due to its bizarre ensemble, the hideous oversized pendant and quirky eye makeup which just didn't gel the look together. She completed her look with earrings from D'heygere, which included live plants.
Karol G in Celia Kritharioti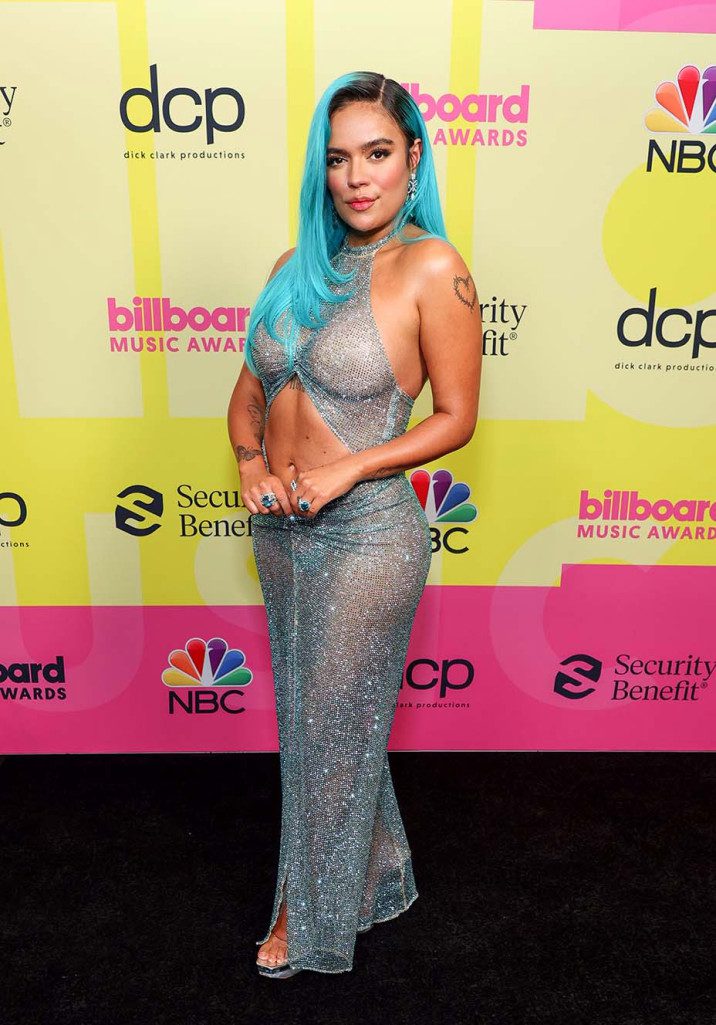 The Colombian singer took home the trophy for Top Latin Female Artist and also showed that 'more' is more. She wore a custom baby blue sheer dress fully embellished with Swarovski Crystals by Athens-based designer Celia Kritharioti. The most obvious part of the dress was the blue crystal thong by The Disco Daddy which was clearly seen through the sheer dress. Perhaps wearing a transparent dress wasn't living it up to Karol G's mark and she left very little to the imagination by baring her belly button in a diamond shape. Well, at least it was an overall celebratory win for the lady in blue.