Selena Gomez is an all around celebrity, with talents in acting, singing, producing, entrepreneuring and now, advocating for mental health. Let's all thank our beloved Selena for taking the initiative to launch  a media platform dedicated to bringing awareness to mental health issues (along with some very influential women), called ''Wondermind''. Read: Insta-damn! Celebs Like Selena Gomez Are Ditching Social Media To "Save Their Lives".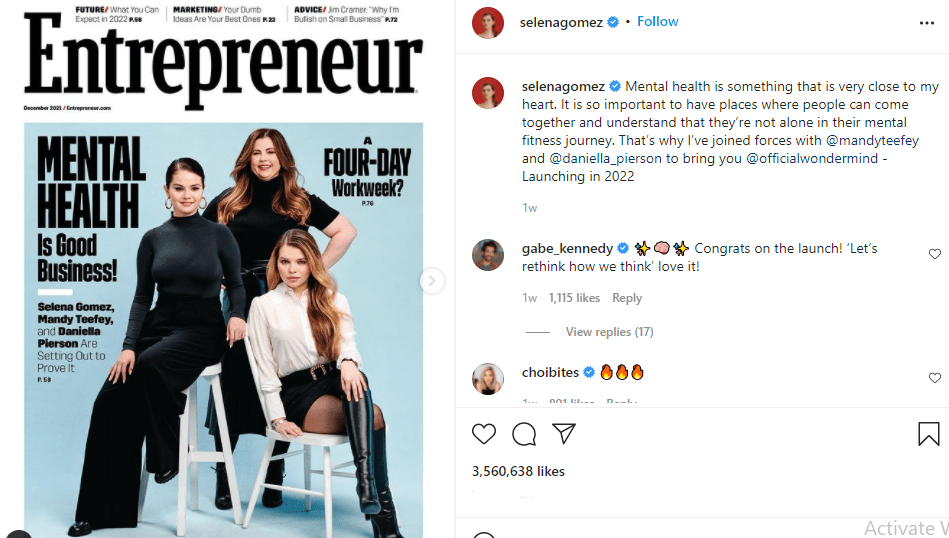 The Rare Beauty founder announced on Instagram that the platform will be used to focus on emotional care, educational resources and a long-overdue de-stigmatisation of mental health. The three-minute post has now garnered over 4 million views. However, Selena isn't the only face behind the new resource. Joining her as co-founders are Daniella Pierson – founder of newsletter for women, The Newsette – and Selena's own mother, Mandy Teefey. While the world is already aware of Selena's battle with her mental health, some may not know that all three of the women share their own personal struggles.
In the video, the 29-year-old songstress opened up about her bipolar disorder diagnosis; Daniella Pierson shared that she suffers from Obsessive Compulsive Disorder; and Mandy Teefey revealed her decades-long misdiagnosis of bipolar disorder, before being properly diagnosed with ADHD that was a result of past trauma. The trio chose to use their influence to create a safe space online for those interested in strengthening their "mental fitness" through exercises, practices and discussions to help others safely work through their emotions.
The video also detailed the offerings of the platform, explaining that it will include a podcast that'll see Mandy Teefey in conversation with a series of prominent psychiatrists, athletes and celebrities, as well as intimate stories by those who have been on their own mental health journeys. Additionally, Wondermind will also offer physical products aimed at encouraging mental fitness through a journal of creative prompts to allow for a disconnect between technology and our psyche.