STRIP, the intimate care specialist, has been around since 2002. and grown since and are keeping things smooth in 13 cities worldwide, where they have pruned and waxed a staggering four million ladies and men. They do it all while abiding by the HSQ mantra: Hygiene, Speed and Quality, and are the first to introduce the 'No Double Dipping' commandment.  The Hygiene Packs come in handy, containing disposable waxing tools conveniently sealed into individual pouches. STRIP is also particularly famous for the secret-recipe lotions and wax formulations. In particular, the post-treatment care such as the TWO L(I)PS Ice, a soothing post-wax and post-AFT cream, and many more.
With there being so much to choose from in hair removal treatments and varying options, the choice to be safe is indeed theirs to make. Technology has a large role to play in ensuring this safety and when it concerns physique, they would want to narrow in for the best that's available. Superior quality removal of unwanted hair is not just a shave away, but certainly well within reach at STRIP.
A long-established hair removal specialist means an assurance in safety, comfortable experiences and ultimately, the pleasing, smooth result that we so desire. Backed with 19 years of experience, STRIP the trusted hair removal name proudly showcases the new era AFT, steadfastly the next generation hair removal and the treatment of choice that can eliminate up to 80%* of the unwanted hair, more precisely than ever.
As the global authority in hair removal, STRIP constantly champions a passion for innovation, keeping up to date with the latest technology in its services. To introduce this revolutionary semi-permanent hair removal technology, STRIP has partnered with one of the leading global energy-based medical and aesthetic solutions, Alma Laser. A class of its own, the custom-manufactured AFT machine at STRIP is able to deliver on all the vital points of hair removal – safety, efficacy and comfort. With STRIP's new era AFT featuring Alma's customised semi-permanent hair removal technology, an unparalleled customer experience awaits, that traditional IPL is unable to offer.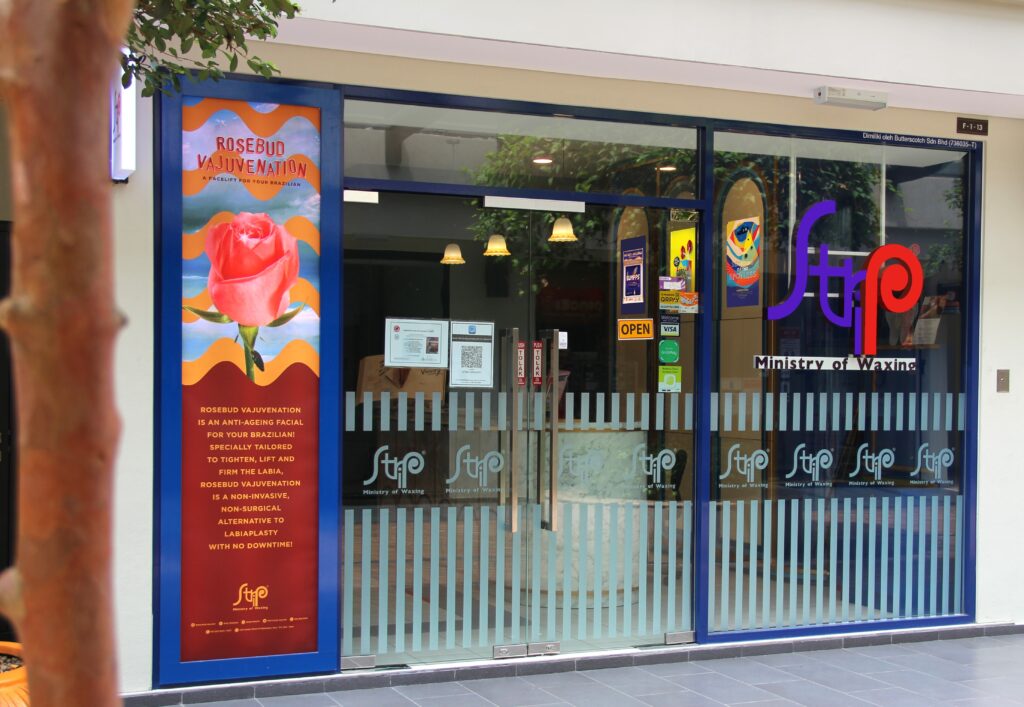 Designed as an exclusive to STRIP, AFT brings to customers the combined benefits of Alma's leading expertise in light-based technology and STRIP's extensive hair removal experience. AFT Hair Removal is not a laser treatment as it uses a different wavelength from the laser. Some of the key advantages of STRIP's new era AFT include:
Target And Hit — Unlike IPL hair removal that uses a broad wavelength to disperse spikes of energy, AFT uses a narrower wavelength to deliver an even distribution of energy, resulting in a more targeted and precise treatment.
No Pain, All Gain — AFT's built-in cooling system and Strip's 'in-motion' technique provides a comfortable and painless hair removal experience.
Bigger Is Better — The new era AFT uses custom-made 5cm crystal applicators (as compared to IPL hair removal which uses smaller 3cm applicators) to ensure effective hair reduction over a wider surface, especially for the Brazilian area! With Strip's AFT, there is maximum results and comfort, with minimum risk.
Modelled to be modern, STRIP's AFT of the new era is available for both ladies and men and can be applied to most parts of the body, such as legs, bikini area, back, underarms, arms, upper lips and others. For best results, a course of six sessions with a four to six-week interval between each session is recommended.
It's a fresh new year so why not have a treat for a spanking new smooth self! AFT first trial prices per session for first-time AFT customers is now offered at all Strip Malaysia outlets, until 31 May 2021.
AFT Underarm for women and men at RM68 and RM88 respectively
       (Usual Price: RM450 / RM585)
AFT Brazilian at RM188 and AFT Boyzilian at RM288 respectively
       (Usual Price: RM900 / RM1,170)
AFT Bottom Half Leg for women and men at RM288 and RM388 respectively
       (Usual Price: RM900 / RM1,170).
* Individual results may vary.
Please contact the Strip Call Centre for an appointment, Monday to Friday (closed on KL public holidays), from 9am to 8pm via:
Visit http://www.strip-my.com/ for more details.
Stay connected with STRIP on https://www.facebook.com/StripMalaysia/ and instagram.com/stripmalaysia, and #StripMY.