Let's make a toast to art nouveau!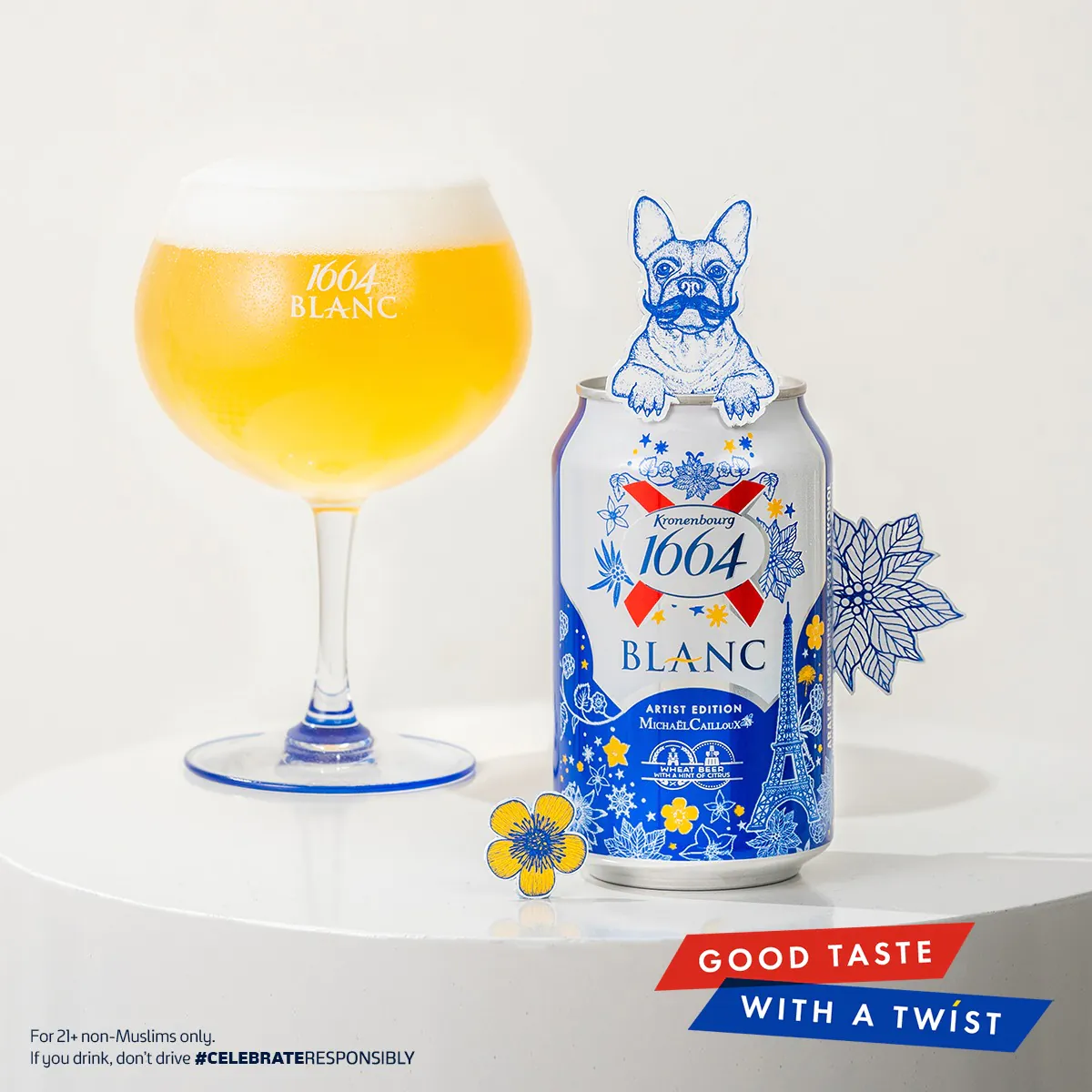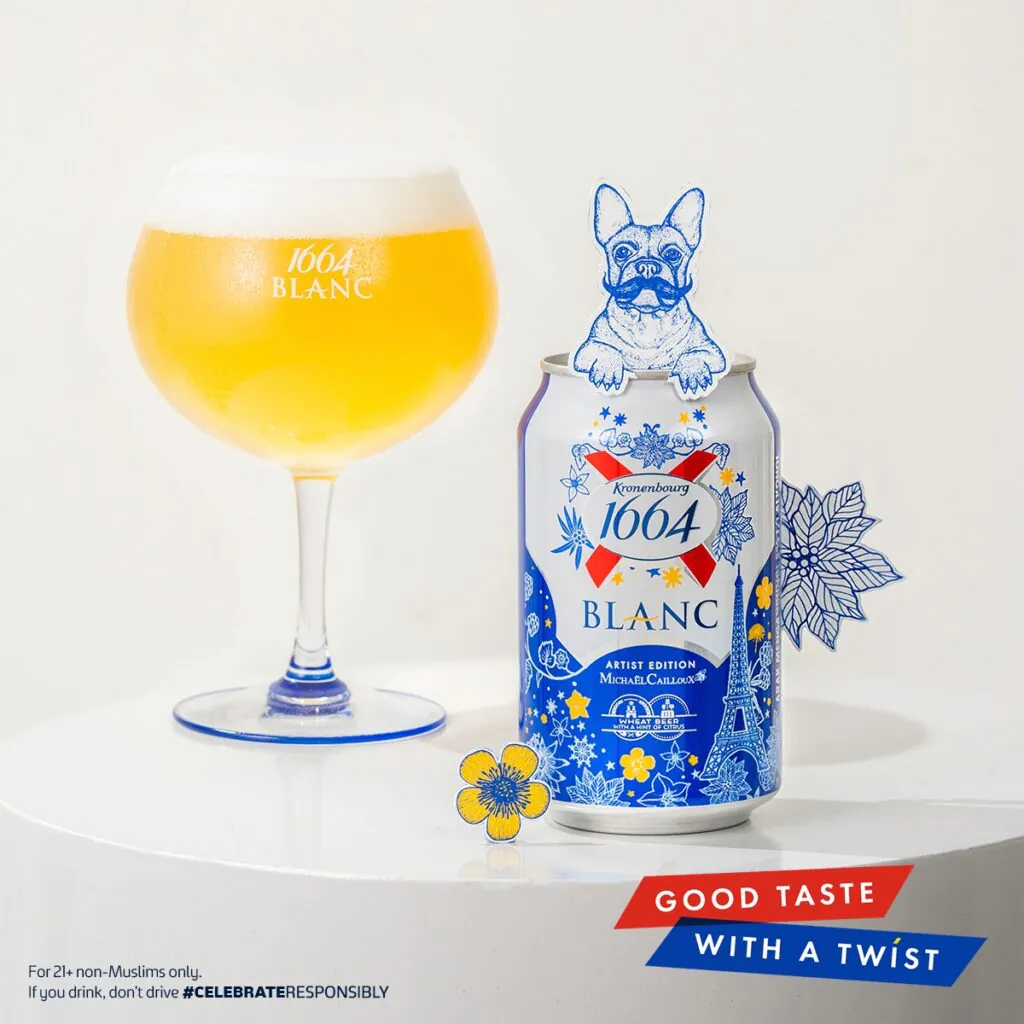 Whether you're looking for a special experience to remember, or just want to chill out with friends this year-end festive season, France's No.1 premium wheat beer, 1664 Blanc, presents you with Rue 1664 – a charming Paris-inspired street that brings #GoodTasteWithATwist to life at the Connection, Pavilion Kuala Lumpur.
https://www.instagram.com/p/CjUV4PIgLhu/?utm_source=ig_web_copy_link
Following the launch of 'Art with a Twist' Artist Edition cans created by famed French artist Michaël Cailloux throughout October and November, 1664 Blanc is elevating its #GoodTasteWithATwist experience with an ensemble of contemporary Parisian icons, and transporting its wheat beer drinkers to the beautiful street named Rue 1664 – a place to get a taste of France, where one can indulge in both 1664 Blanc and 1664 Rosé in an evening of playful elegance.
The journey begins at Arc De Blanc, a magnificent Parisian Garden arch accentuated with blooming flowers, a French bulldog and the iconic Eiffel Tower presiding as a centerpiece. The journey then brings guests to Café La Rue 1664, a quintessential showstopper that transports patrons to the charming streets of Paris for a picture-perfect moment, just before concluding their journey at L'Atelier 1664, an elegant lounge where drinkers can enjoy a refreshing pint of France's famous brew and be serenaded with music and live performances.
Set to be a delightful affair for all guests, the month-long 'Rue 1664' showcase is inspired by the French spirit of joie de vivre (joy of living) which adds simple aesthetic pleasures to everyday occasions. Encouraging urban dwellers to embrace their creativity, 1664 Blanc has organized special workshops at L'Atelier 1664. Here, guests will be able to discover, learn and indulge in Fluid Art expression, Silkscreen Tote Bag printing and DIY cocktail mixology with 1664 Blanc and 1664 Rosé.
https://www.instagram.com/p/CkxCkoLri2L/?utm_source=ig_web_copy_link
Just as the French appreciate the good things in life and make the ordinary into something more celebratory, 1664 Blanc introduces Blue Hour to elevate evenings with great taste. As the sun sets, Blue Hour transforms dusk into an immersive experience that brings consumers together to celebrate nightfall, exclusively at L'Atelier 1664.
I'd Like To Visit Rue 1664! 
All you have to do is register at https://rue1664.com to visit the Rue 1664 showcase and enjoy a complimentary drink of 1664 Blanc or 1664 Rosé, or secure a spot for the premium experience. Alternatively, visitors can just take a leisurely stroll along Rue 1664 and take in the beautiful installations, before joining the Blue Hour sessions to enjoy a sip of #GoodTasteWithATwist.
https://www.instagram.com/p/CjW6sCusuPX/?utm_source=ig_web_copy_link
1664 Blanc has always taken a design-oriented approach to its style, especially with its iconic blue bottle that stands out from the rest. Its 'Good Taste with A Twist' spirit creates an immersive and inspiring range of experiences along Rue 1664 that illustrates joie de vivre in each nuance, which consumers should definitely not miss!
For more, follow 1664BlancMY on Facebook, Instagram or its website. All activities are open to non-Muslims aged 21 and above. When purchasing and enjoying 1664 Blanc or 1664 Rosé, remember to always #CELEBRATERESPONSIBLY.
More on booze? Read:
How To Christmas-ify 5 Of The World's Most Googled Cocktails!