The season of giving is finally upon us, and Santa Claus has set up his workshop in non other than Suria KLCC! Yes, Suria KLCC has been transformed into the fabled "Santa's Workshop" where Santa Claus and his elves are said to craft toys and presents to be given out during Christmas.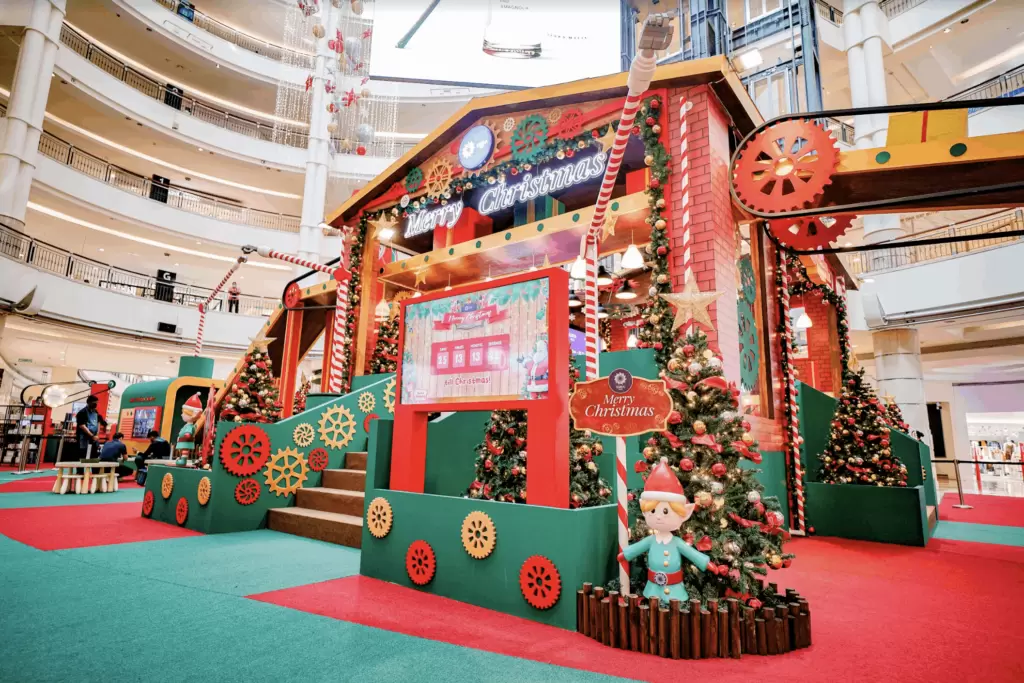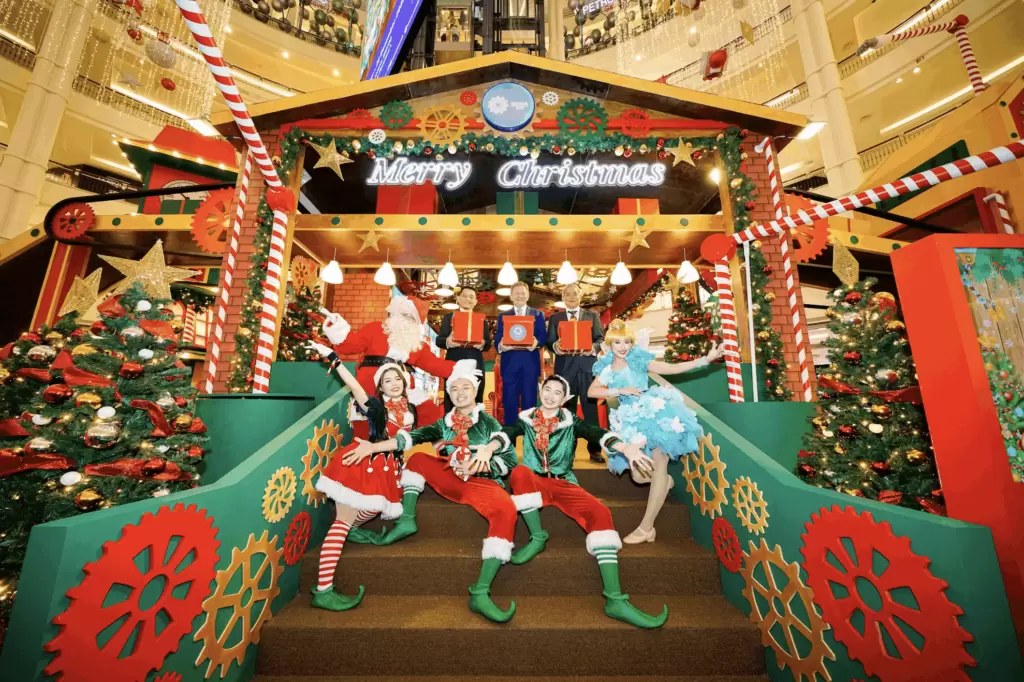 Throughout Suria KLCC's Christmas campaign, the hub of Santa's amazing toy workshop can be found at the mall's Centre Court until the 25th of December 2022. Here, shoppers will be greeted with the sights and sounds befitting a season of joy and merriment. Watch as Santa is assisted by his hard-working elves and mechanical arms in packing presents at the toy-making carousel. A whimsical clock tower also bursts into life every hour, with festive music featuring adorable elves and nutcrackers in synchronized movements.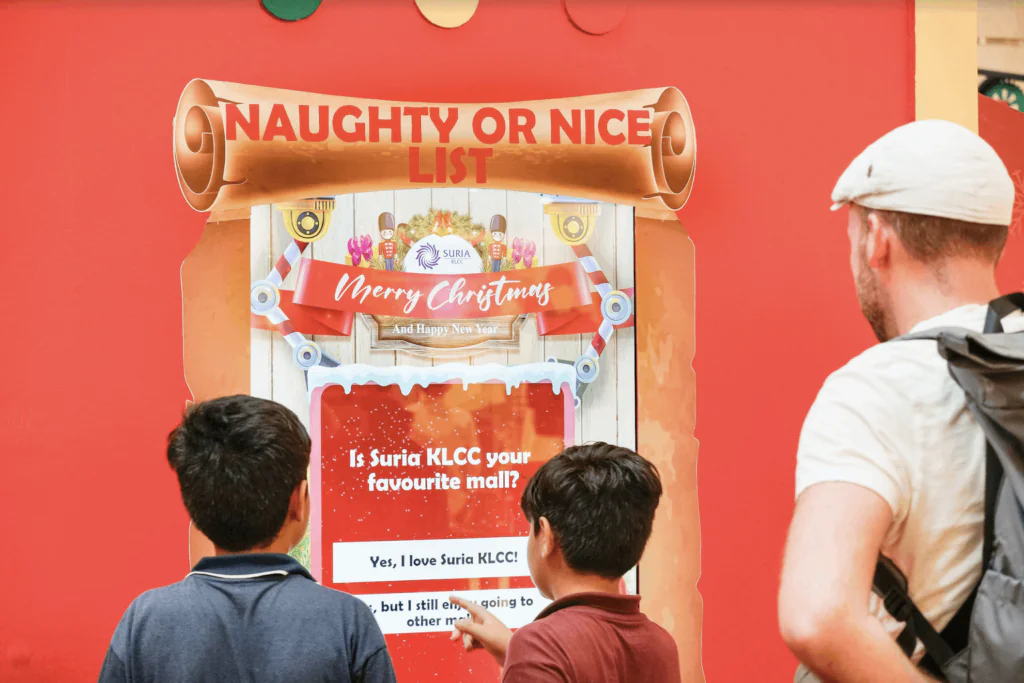 Have you been naughty or nice? Shoppers will be able to submit their names on an interactive screen and find out if they made it onto Santa's "naughty or nice" list to receive a surprise gift (limited to the first 100 shoppers per day)!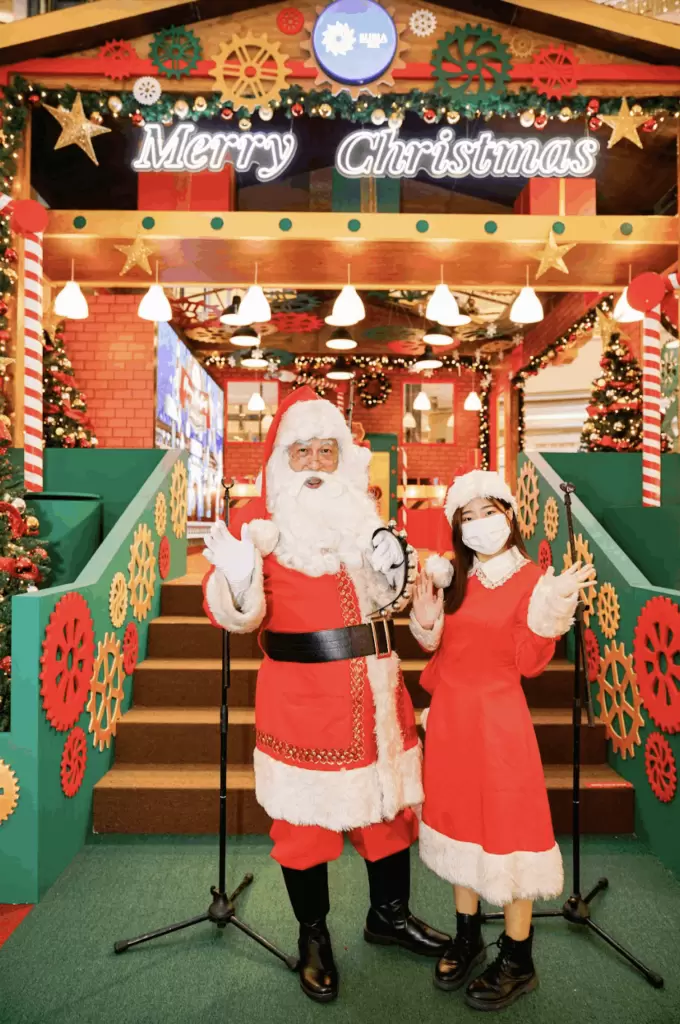 Send your season's greetings to loved ones at Suria KLCC's Christmas Card Corner. Meanwhile, children can experience Santa's Workshop Alive! where they can colour their favourite Christmas characters, scan them and watch them come to life on-screen. During the weekends, shoppers can also meet Santa Claus and children will receive a lollipop from him!
Plus, you'll be able to update your social media feed with some festive photos thanks to the wonderful festival backdrops to capture the mood of the season. Ramlee Mall at Level 1 features a small-scale Santa's Workshop, while the Ampang and Ramlee Mall entrances feature counters and shelves where the toys and presents are stored. Santa's sleigh can be found stationed at the Park Mall entrance, poised to deliver gifts. There is also a Festive Photobooth where shoppers can record memories with loved ones with complimentary photo print-outs together with e-copies for IG-worthy shots!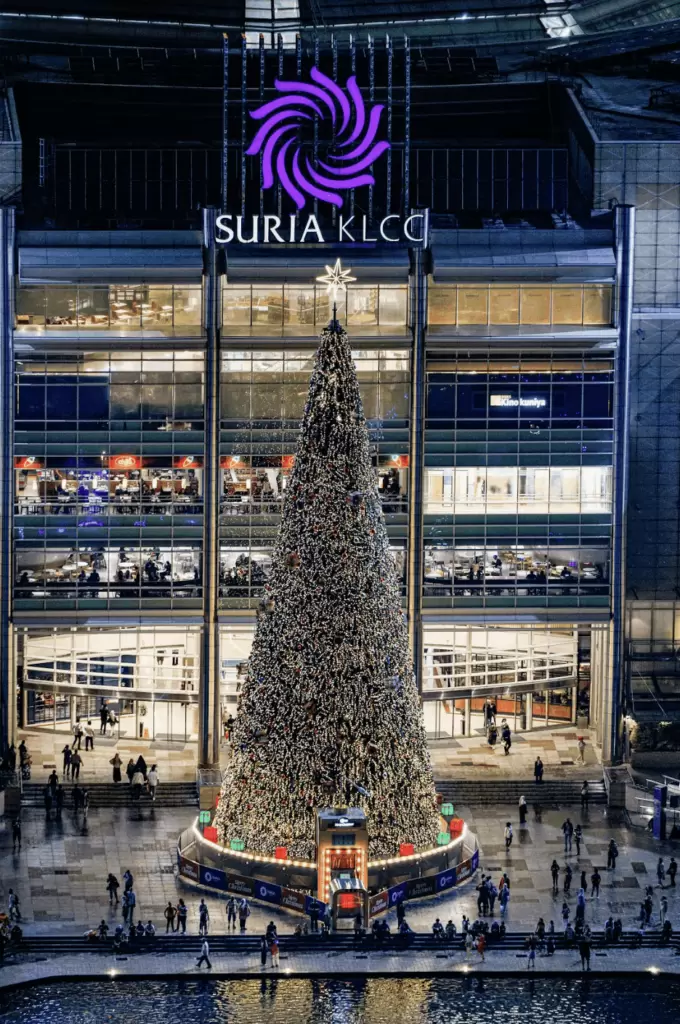 And how can we forget about the iconic tallest Christmas tree in Malaysia? Standing at a whopping 100 feet tall, it has returned to The Esplanade to greet visitors in all its grandeur. Not only is it brilliantly lit up and adorned with baubles and ornaments, but it also features an abundance of presents on conveyor belts at its base – an extension of the Santa's Workshop theme. This creates a more Instagrammable moment for visitors!
A Christmas shopping experience would not be complete without shoppers receiving Christmas rewards! Shoppers who spend RM1,500 and above in two receipts at any specialty store from now to 18 December 2022 will receive a RM100 Suria KLCC (SKLCC) e-Voucher via the Shoppers' Rewards Programme. Meanwhile, those who spend RM3,000 and above in two receipts at any specialty store will receive a Pandora bracelet set worth RM600.
In an ongoing initiative of the Mental Health Awareness programme, Suria KLCC has pledged to support the Green Ribbon Group through monetary sales of the Suria Ribbon Pin. Purchase them from the Concierge at RM10 per pin.
A Treasure Trove Of Toys At Alamanda Putrajaya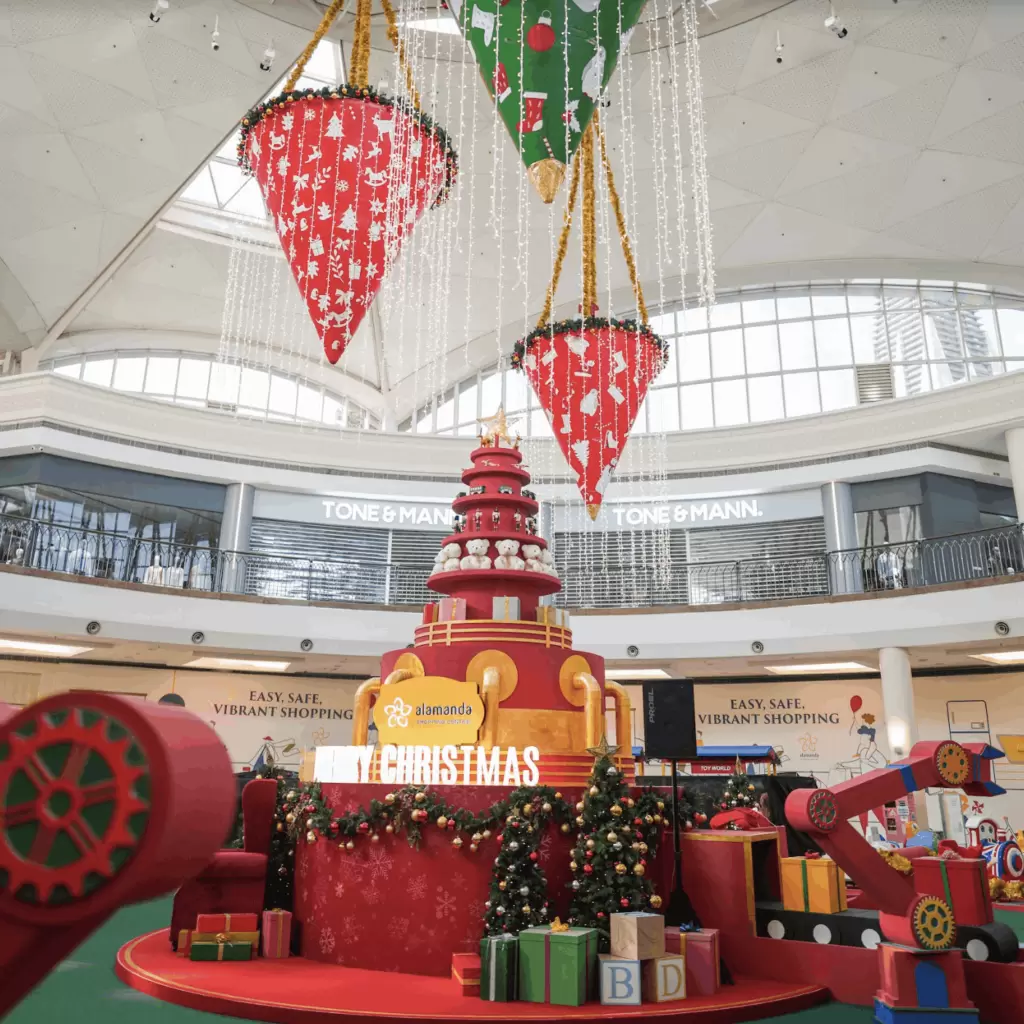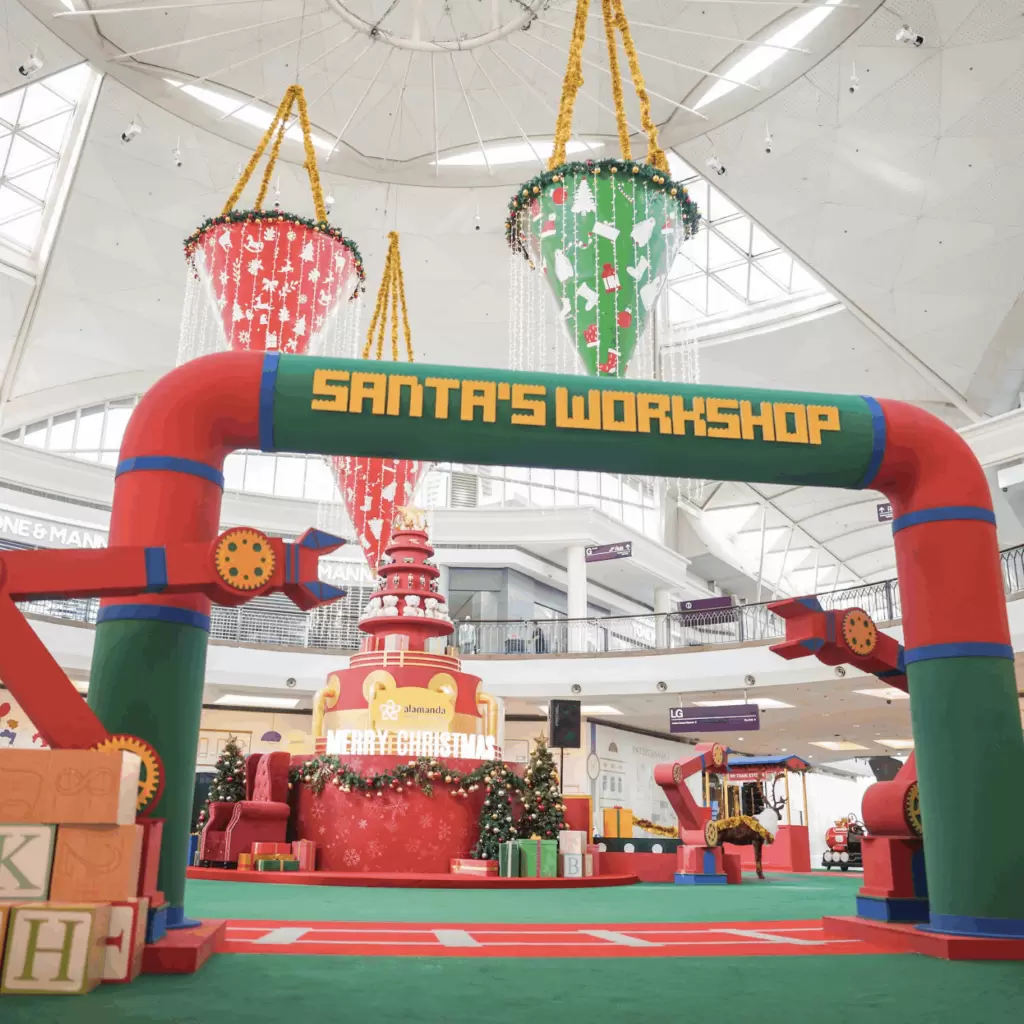 Also happening from now to 25 December 2022, Alamanda Shopping Centre's Christmas campaign is set to have its very own Santa's Workshop. The setup in the centre court features bountiful toys on a mechanical conveyor belt — a sight that will surely put smiles on the faces of adults and children alike. Shoppers will also be able to watch magic shows, Christmas dances and Christmas acrobatics at the centre court.
But that's not all – shoppers who spend RM500 and above within two receipts at any specialty store will receive a RM30 Alamanda shopping voucher. In the High Spender Rewards programme, shoppers who spend RM1,500 and above within two receipts at any specialty store will receive an RM80 Alamanda shopping voucher, while stocks last.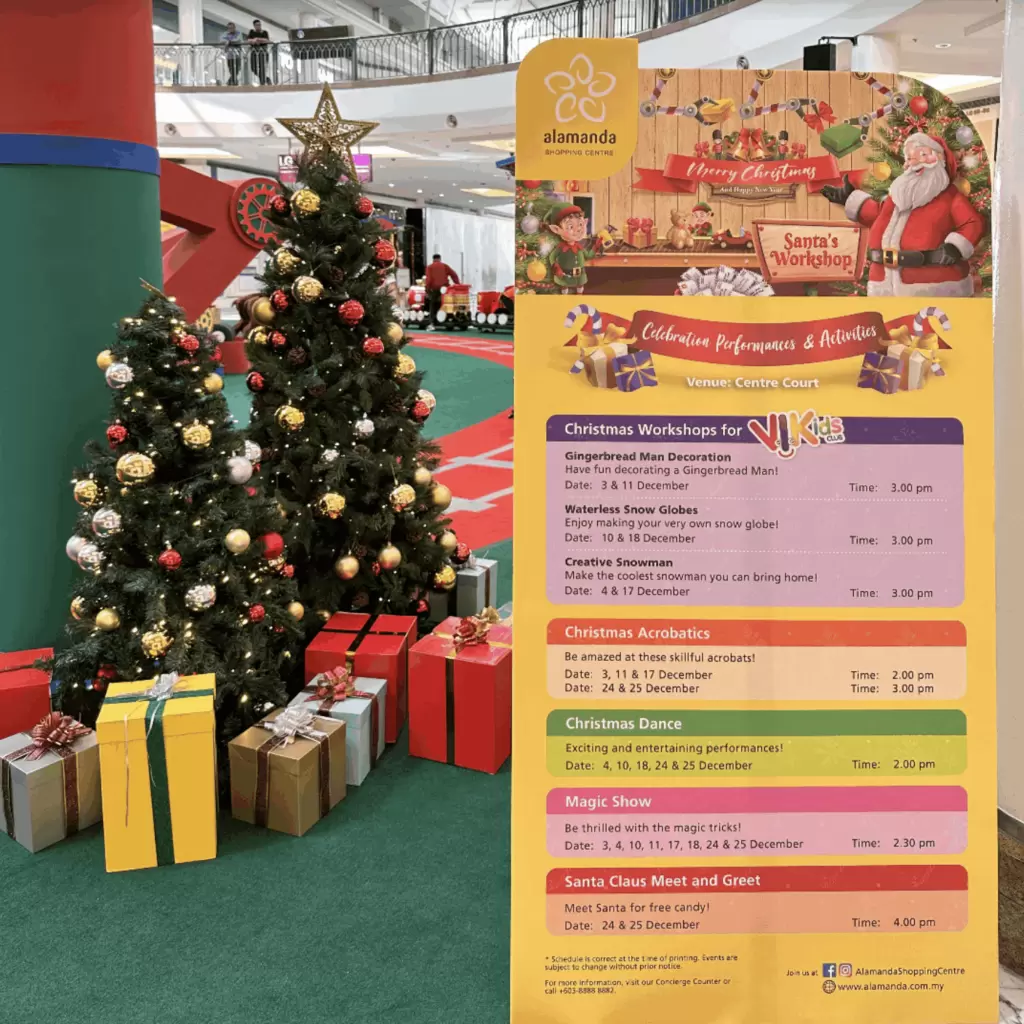 Furthermore, kiddos who are members of VIKids will be eligible to participate in the workshops, like the Gingerbread Man Decoration and Waterless Snow Globes, on a first-come-first-served basis.
Celebrating A White Christmas At Mesra Mall
There will also be a Christmas campaign at Mesra Mall in Terengganu from now to the 25th of December 2022. Just like the other shopping centres, there will be a Christmas redemption programme at Mesra Mall that will make Christmas shopping a rewarding experience for all. Shoppers who spend RM350 and above in two receipts at any specialty store are entitled to redeem an exclusive glass storage jar. Meanwhile, shoppers who spend RM500 and above in two receipts at any specialty store get a combo set of two 800ml glass storage jars and a RM50 Mesra Mall tenant's voucher.
More on Christmas? Read: