It's that time of year again when music, traditional garments, festive delicacies and fireworks take over households around the country, with Deepavali celebrations taking hold.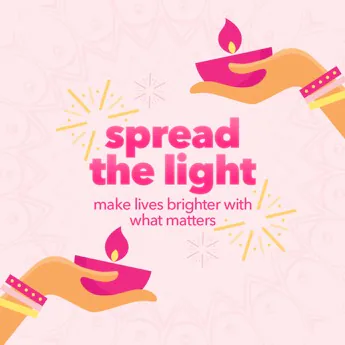 Deepavali plays an important role in promoting unity among Malaysians, as it inspires individuals to get together and celebrate regardless of their cultural backgrounds. As well as being a night filled with song, dance and fireworks, Deepavali is marked by another much-welcomed custom – that of gifting and savouring traditional Indian delicacies.
Staying true to the joy and spirit of Deepavali, foodpanda Malaysia will deliver bright smiles to all Malaysians with the following Deepavali promotions and offers:
Food Delivery and Pick Up
Use promo code PESTAPANDA for 50% (capped at RM13.50) off food orders with a minimum order value of RM25.00. Also, you can get RM10 off with promo code TEN, with a minimum order value of RM35.00.
Not just that, you can receive 40% (capped at RM8.00) off with a minimum order value of RM20.00 at selected restaurants from 2.00pm-5.00pm daily with promo code ORDERNOW. And for free deliveries with a minimum order value of RM25.00, key in promo code FREEDEL. All while stocks last.
Don't forget to try out the all new thick and crunchy crust at Pizza Hut with an extra crunchy cheddar edge to all your favourite toppings. Enjoy 75% off from now to December with the promo code, PESTAPANDA, while stocks last.
Pandamart
For now to 3rd November, get discounts of up to 20% off of various pandamart categories:
Home and beauty (21st-27th October)
Fresh produce and dairy products (28th October-3rd November)
Also, be sure to treat yourself to a Deepavali special with Murukku, Pineapple Tarts, Cornflake Cookies and Almond London Cookies that will be available on pandamart for a limited time only.
Shops
For the festive seasons, well-known shops will be offering great deals.
Lotus's is offering up to 30% off on deals. If you're in the mood for cold desserts, you can get 10% off Nestle Ice Cream. Stock up on your toiletries now, because brand deals of up to 50% are available at Watsons. And 7-Eleven is offering discounts of up to 35% on selected products.
All these deals will be available till the end of October 2022. This Dee-Pau-Vali season, sit back and spend some quality time with your family and let foodpanda take care of your festive needs!
If you haven't already, download the foodpanda app now!
More on food? Read: