All you need is water, foundation…..and milk frother?!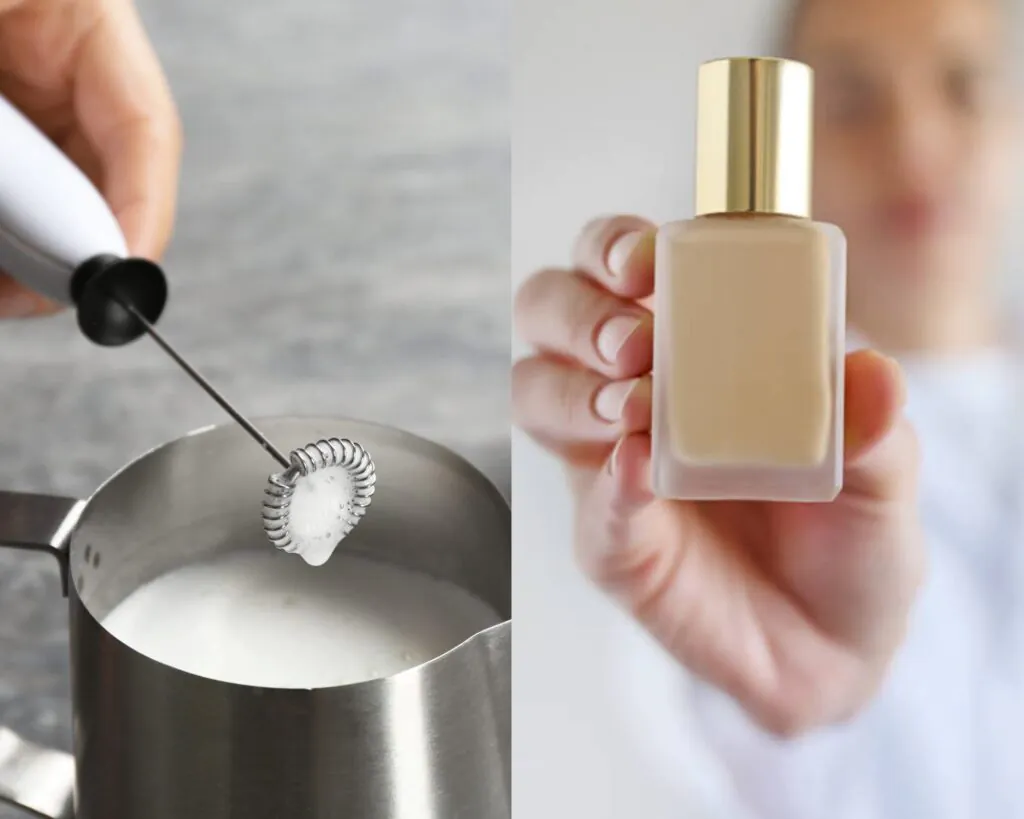 It's pretty obvious that on TikTok, there's no end to the creative ways we may use our cosmetics. It's about time for a new one, don't you think? We've seen the frozen beauty blender craze, the eyelash curler eyeshadow hack, and the blush as undereye concealer trick. The most recent craze on BeautyTok, however, is most definitely unique, and was propelled by Glamzilla, one of the platform's most popular content creators, who made viral videos of skin care products foaming in water.
If you make delicious at-home lattes and creamy cold brews, you might already have a handheld milk frother in your kitchen. TikTokers most certainly do, and have chosen to mix a few of their favourite formulae with water to make a satisfyingly smooth, creamy whip. Even while a lot of trend-following beauty enthusiasts acknowledge that they don't fully comprehend the physics involved in making their own frothed foundation, the better-than-skin, airy-light results arguably speak for themselves.
It's not really novel to think of beauty products as "frothing." Before the foundation hack, Glamzilla released a video in July 2022 in which she made a foam by combining two of her favourite cleansers with water. Then there was, of course, the well publicized foundation hack in which several TikTokers experimented with diluting their foundation with water to achieve a dewy, hydrated appearance that is transfer-proof and long-lasting.
Avonna Sunshine, a creator who was among the first to try out the frothed foundation process, describes how the mousse wears throughout the day and after a strenuous workout. She added that this method was a "game-changer" because it has a consistency similar to whipped cream, feels natural on the face, is undoubtedly waterproof, and offers additional coverage if applied with hands.
If you're on to this trend, here's how to nail it:
1. Grab a glass. A tall glass would be preferable as frothing can get messy.
2. Add in just 3/4 water to it. Too much water might not get you the whipped cream consistency.
3. Add in required amount of foundation. If you would like to froth your whole foundation, by all means go ahead!
4. Grab your milk frother and whip up your foundation till you get the preferred consistency.
To apply, you can use the back of your foundation brush and smear it onto your skin. You can use your hands to give you a natural finish. And of course, you must be wondering 'what if I whipped more than my face needs?'. Well, good news is, you can store your whipped foundation! Avonna did another video about storing her whipped foundation and she definitely approves of it.
Besides frothing, you can try the same hack, but minus the frothing part. Basically, when the water evaporates during the day, it may appear lighter and dewier when applied, but don't rely on this to offer any additional moisture to your skin. A side note: Since silicone or oil-based foundations won't mix with water and may even make wear worse, you should only do this with a water-based foundation.
While the results are promising, it goes without saying that this method is untidy, unsuitable for daily use, and possibly wasteful, particularly when it comes to your favourite foundation, which may be quite expensive. But if it's a definite game-changer for your makeup routine, then why not?
More on makeup? Read: