It's undeniable that there are a tons of jewelry stores out there to enchant us. But not all of them convey a unique message as this brand does. After the successful launch of its flagship store in August, MNLM is back with new products and a new concept. This October, Minimalist Lab (MNML), a local fashion jewelry brand, launches the "For-Every-Body" collection, a limited edition collection created to spread the message of body positivity.
The perception of body image is something fluid, and different for each individual. It may even change multiple times throughout a day, rather than being 100% positive or negative. With that in mind, the For-Every-Body Collection is designed in a way that can be open to your own interpretation; to take back your power from society and define what constitutes real beauty in your own way.
Available in 13 new designs, each piece carries a different body-positive message. This gold plated series also features statement pieces depicting the female body, with abstract lines and shapes that represent different facets of the female figure, serving as a reminder that beauty ideals are only social constructs, not the truth, and everyone deserves to feel confident and beautiful in their own body, no matter how it may look like.
Carefully made with stainless steel, the items are water and tarnish-resistant, which means that you don't ever have to take them off; always keep your little self-love memento close to you. The highlight of this collection is the engravable necklaces, with complimentary laser engraving as a value-added service to add a layer of sentimentality to your unique piece.
The For-Every-Body collection features different types of statement pieces, including necklaces, rings, earrings, and bangles, each with its own body positive message, including: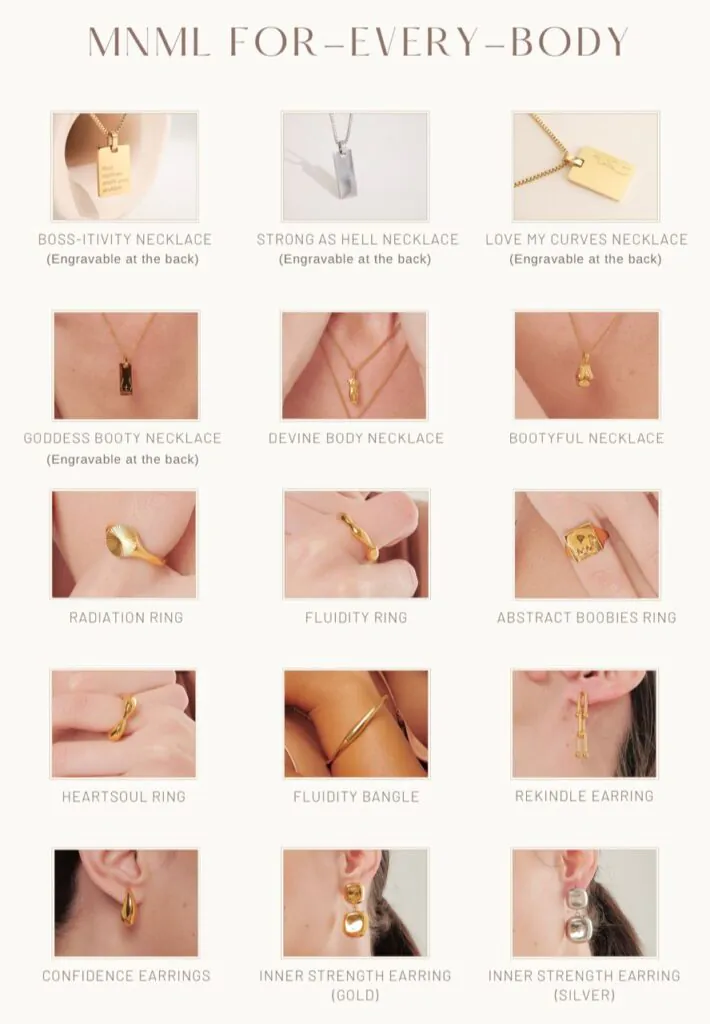 Goddess Booty Necklace
 Love My Curves Necklace
 Boss-itivity Pendant
 Radiation Ring
 Abstract Boobies Ring
 Devine Body Necklace
 Strong As Hell Necklace
 Fluidity Ring
 Heartsoul Ring
 Inner Strength Earrings
 Rekindle Earrings
 Confidence Earrings
 Fluidity Bangle
According to Nicole, co-founder of MNML, the mission at Minimalist Lab since the very beginning is to empower individuals by celebrating their authentic self through high-quality jewelry and bring sentimentality to each piece. With its new collection, MNML hopes to advance its mission further by providing these little mementos of self-love and acceptance, with complimentary personalized engraving to let wearers define body positivity in their own way.
Follow MNML on Facebook and Instagram for more updates. The For-Every-Body collection is available both online and in-stores at:
MNML FLAGSHIP STORE – MID VALLEY MEGAMALL

Open daily 10am-10pm

Lot F-034, First floor, North Court, 1, Lingkaran Syed Putra, Mid Valley City, 59200 Kuala Lumpur

Open daily 10am-10pm

Lot P6.27.00, Level 6, Tokyo Street, 168, Jalan Bukit Bintang, 55100 Kuala Lumpur
More on fashion? Read: