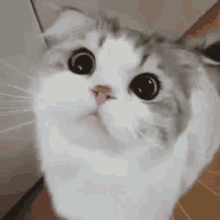 Calling all cat lovers! Indulge your love for felines at the Royal Canin at Expo Kucing 2022, which will be held from 30th September to 2nd October at MATRADE KL!
The fifth iteration of Expo Kucing, one of Malaysia's biggest cat events, Royal Canin will include over 200 cats in an international cat competition, entertaining activities for you and your pet, and premium products like Royal Canin to give your cat some much-needed TLC.
Royal Canin invites all cat lovers to bring their felines along to the Royal Canin booth at Expo Kucing, and have a brief chat with veterinarians to learn the significance of routine veterinary appointments so that your pets can enjoy a long, healthy, and happy life. Alongside that, educational activities are scheduled: Learn the benefits of preventive care and the significance of maintaining your pets' health at all phases of their lives with the assistance of qualified veterinarians.
This is an opportunity not to be missed. The event dovetails with Royal Canin's campaign "Take Your Pet to the Vet", which focuses on the importance of veterinary care in pets for healthier lives. Royal Canin will be providing a general health assessment for your cat from on-site professional veterinarians, who will educate pet owners on the best nutritional options to make a better world for pets.
Upon every successful examination, owners can redeem an exclusive Royal Canin gift, while stocks last. They can also participate in fun activities such as the claw machine, Kahoot game and maze game to redeem exclusive gifts. Lastly, there will be a LIVE Q&A session with Royal Canin's guest veterinarian before each Kahoot game. Visitors also stand a chance to win a Samsung Galaxy Tab 7 when participating in the Kahoot game!
To help pet owners commit to bringing their cats for regular vet visits, Royal Canin is offering a RM60 healthcare voucher via the Royal Canin Club app, which can be utilised at partnering clinics for treatments or services.
Be sure to upload a photo post and tag Royal Canin on Facebook at @royalcaninmalaysia or Instagram at
@royalcaninmalaysia with the hashtags #royalcaninmalaysia #ekspokucing #typttv #royalcaninclub to claim an exclusive gift.
Royal Canin Expo Kucing

Date: 30 Sept – 2 Oct 2022
Time : 10am – 9pm
Location : MATRADE Exhibition & Convention Centre (MECC) Kuala Lumpur
Ticket Price : RM5 per adult
*Note: Free entrance for senior citizens above 60 and children below 12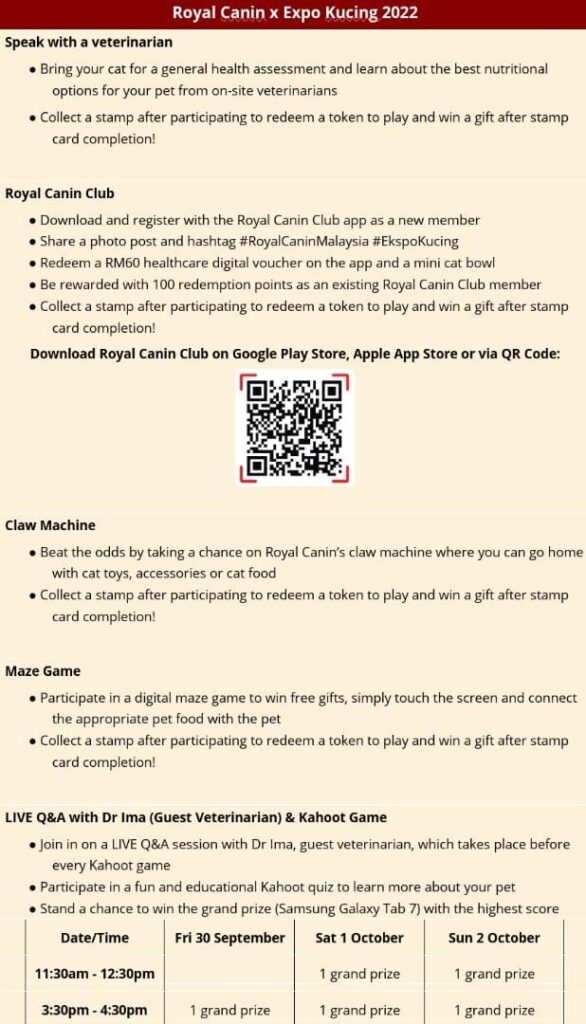 For more information, visit Royal Canin's Website and Instagram
More on pets? Read these: