Autumn in Japan is one of the country's most beautiful seasons, transforming its landscape into a magnificent painting of red, orange and gold. Beginning this month, The House of Suntory pays homage to an elegant autumn experience with carefully-crafted cocktails made with Roku Gin, Haku Vodka and Chita Whisky. Inspired by the maturation of Japanese flavours, these 24 exquisite craft cocktails will be available exclusively at eight bars in the Klang Valley.
The House of Suntory was built on one man's dream. In 1899, Shinjiro Torii set out to develop quintessentially Japanese spirits for the Japanese people. Today, the dream of The House of Suntory continues with the offering of a rich cultural experience and pilgrimage to Japan in every bottle, ready to be discovered by the world. It features premium spirits that are complex, subtle, and refined.
A House of Japanese Culture; Roku Gin, Haku Vodka and Chita Whisky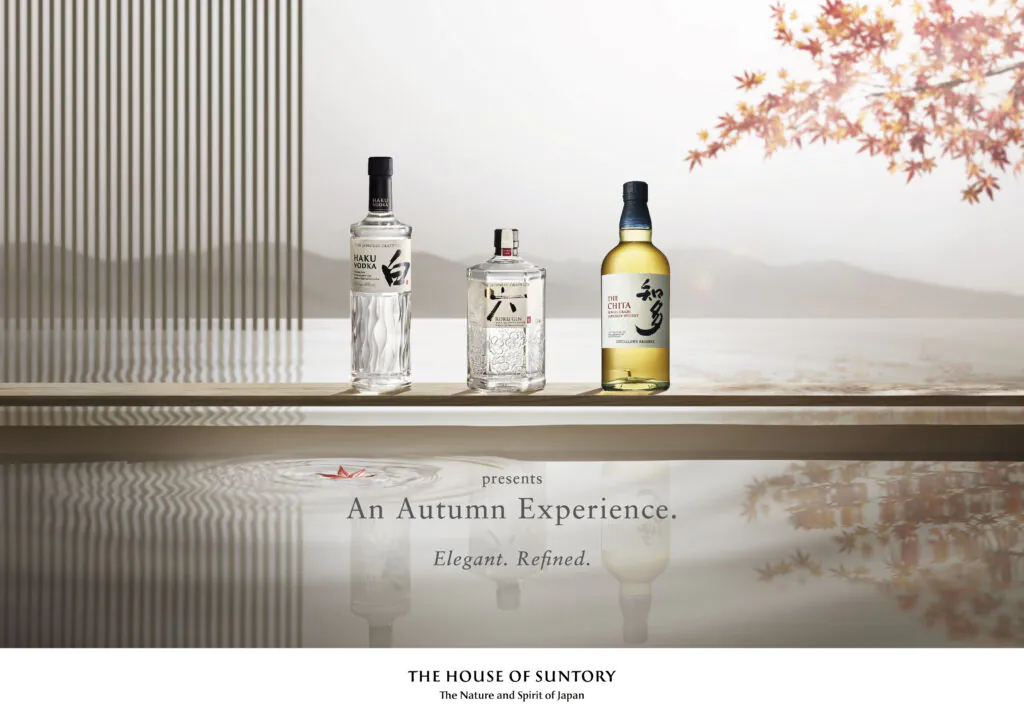 Roku Gin is a Japanese craft gin that is crafted by Japanese artisans with a centuries-old tradition of meticulous attention to detail. It features six unique Japanese botanicals, all harvested at the peak of the season for maximum flavour and quality. Haku Vodka is a Japanese craft vodka that is made from 100% Hakumai – Japanese white rice – and filtered through bamboo charcoal. This results in a soft, round, lingering subtly-sweet taste. It is delicate and refined. Chita Whisky, the single grain whisky from the calm seas of the Chita Peninsula, is a milder and smoother grain whisky with unparalleled sophistication and a clean, clear finish. Delicate notes of honey and crème brulee make it a uniquely Japanese whisky from the House of Suntory.
The House of Suntory invites cocktail lovers to celebrate Autumn this September and October 2022, at these exquisite bars:
Pahit Bar, Kuala Lumpur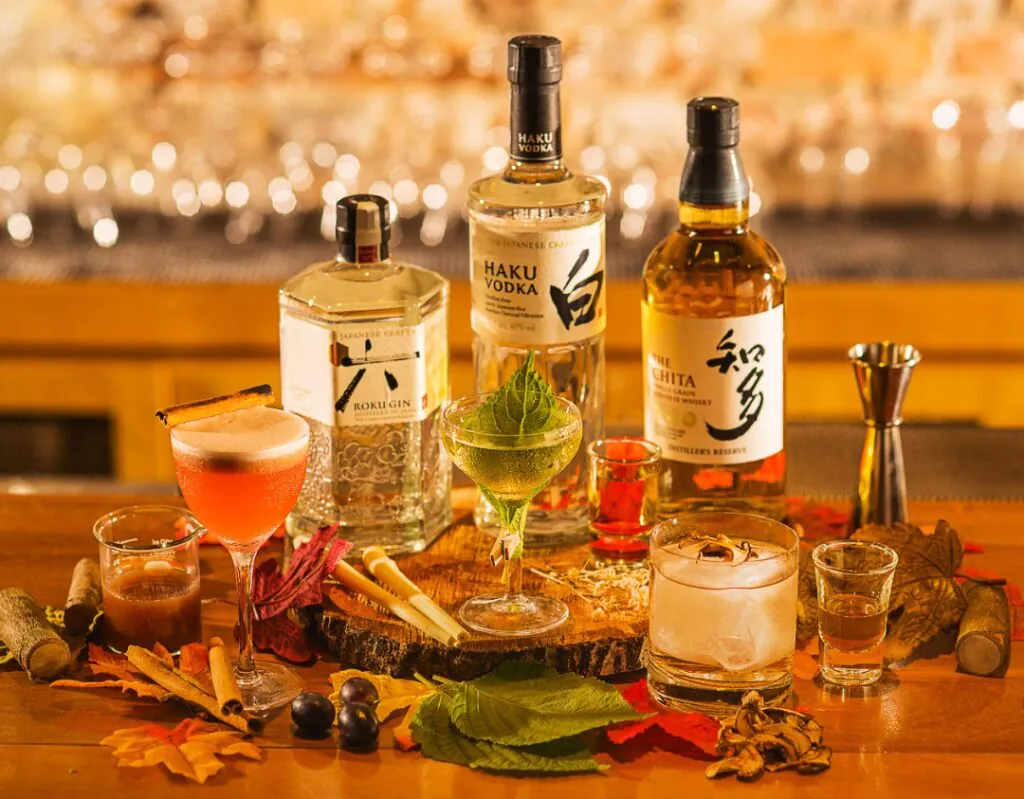 Specialising in all things gin and dubbed as one of Asia's 50 Best Bars 2021, Pahit Bar has an old charm look and feel, nestled along a row of old 1920s houses. Imagine the palate of freshness in your mouth while seated in a courtyard with rattan chairs.
Presenting AKI with Roku Gin (RM45), a robust harmony of citrus, floral and herbal notes, the perfect way to celebrate the elegance of autumn. This creamy cocktail has the touch of sweetness of honey and Sakura bitters too. Uniquely named, KOYO & MOMIJI (RM45), this crafted cocktail comes alive with the fresh aromas of Shiso leaves and the subtle sweetness of Haku Vodka. SHROOM with Chita Whisky (RM38) creates delicate earthy notes from the Shiitake honey and Hinoki bitters. Revel in the mature flavours of the forest on a cool autumn evening.
Pahit Bar KL
3, Jalan Sin Chew Kee, Bukit Bintang, 50150 Kuala Lumpur
T : +603 2110 0776
Hyde Bar, Damansara
Staying true to its name, Hyde Bar is hidden behind a black sliding door, and it gives you 'The Great Gatsby' vibes. And they have a secret room too, if you wish for some privacy.
For a touch of elegance this season, Hyde Bar introduces SATSUMA-IMO with Roku Gin (RM50), the unique flavours of sweet potato syrup garnished with some sweet potato chips. KOME TO UME with Haku Vodka (RM50) has a complex and spirit-forward twist on a classic dry martini, with the delicate tartness of Umeshu. AKI NO OCHA with Chita Whisky (RM50) features herbal sweetness and fresh lemons for a mature flavour.
Hyde Bar
53M, Jalan SS 21/1A, Damansara Utama, 47400 Petaling Jaya, Selangor
M : +6018 213 9291
Blue at EQ, Kuala Lumpur @ Sky51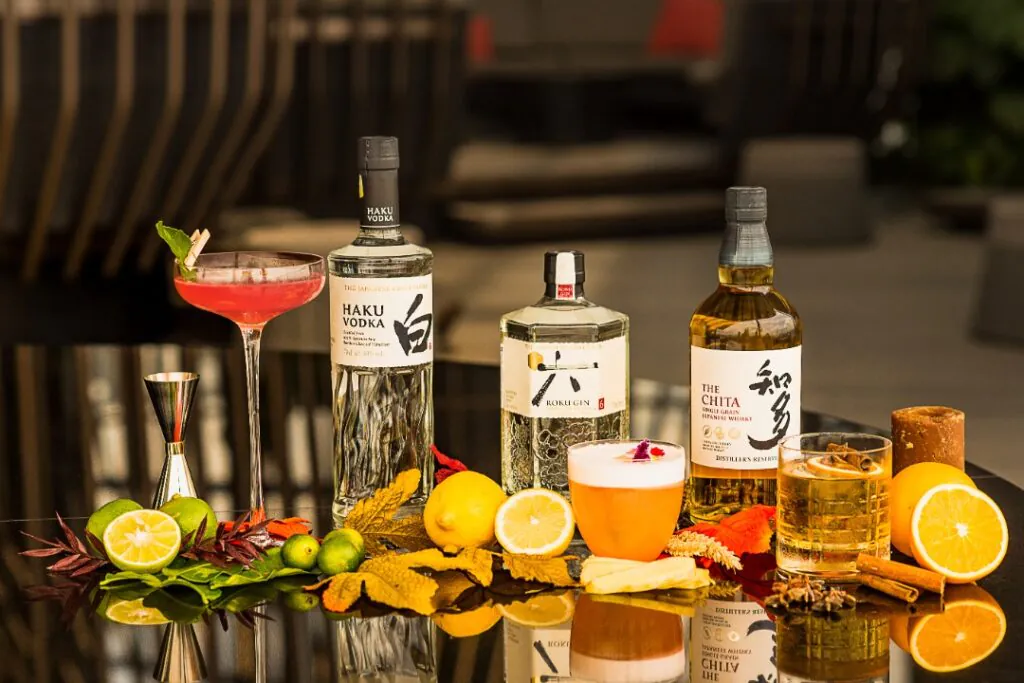 Overlooking the magnificent Petronas Twin Towers on level 51, the classy rooftop bar lies on the foundation of the former legendary Hotel Equatorial. Blue Bar is a speakeasy cocktail lounge behind a false elevator door, opened by a pushing button with a martini glass on it! Now, that is classy.
Blue Bar offers a concoction of flavours this season. With a delicate touch of spice from ginger and layers of floral notes from elderflower and chrysanthemum, HANAKOTOBA with Roku Gin (RM58) is uniquely refreshing. An explosion of fruity tropical flavours, QUINTESSAA with Haku Vodka (RM58) brings together a harmony of flavours with strawberries and kaffir oil. Uniquely named MALACCA STREET with Chita Whisky (RM65) presents the delicate sweetness of 'gula melaka' and is infused with the bitterness of Fernet Branca and DOM Benedictine.
Blue at EQ, Kuala Lumpur @ Sky51
Level 51, EQ, Equatorial Plaza, Jalan Sultan Ismail, 50250 Kuala Lumpur
T : +603 2789 7800
Kantata, Kuala Lumpur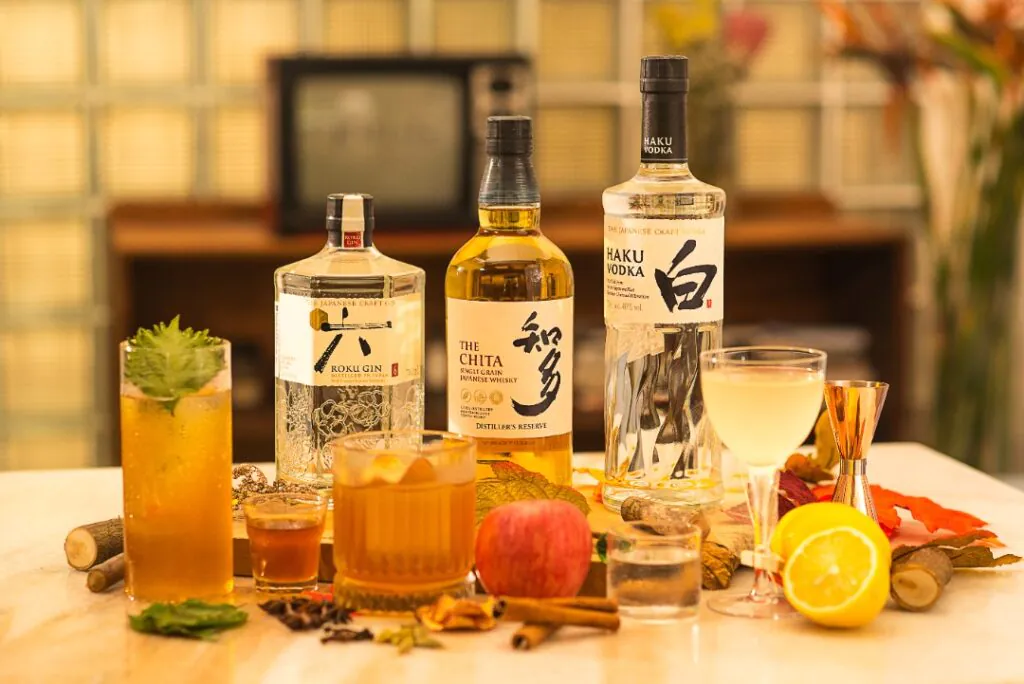 Kantata is a hidden coffee and cocktail bar nestled in the harbours of Kuala Lumpur, a building enveloped in wall art. The disco-themed mirror balls are eye-catching, and you are in for a relaxing time.
Speaking of a relaxing time, why not indulge in GENZAI げんざい with Roku Gin (RM40), a highball-style cocktail infused with delicate floral and citrusy notes. KAKO かこ with Haku Vodka (RM45) is all about a lively and fizzy taste on your palate, with a splash of the six Japanese botanicals of Roku Gin. MIRAI みらい with Chita Whisky (RM38) is delightful and refreshing, with a balanced of homemade apple soda and the warmth of mixed spices.
Kantata, Kuala Lumpur
90, Jalan Tuba, Kampung Attap, 50460 Kuala Lumpur
FOOK, Kuala Lumpur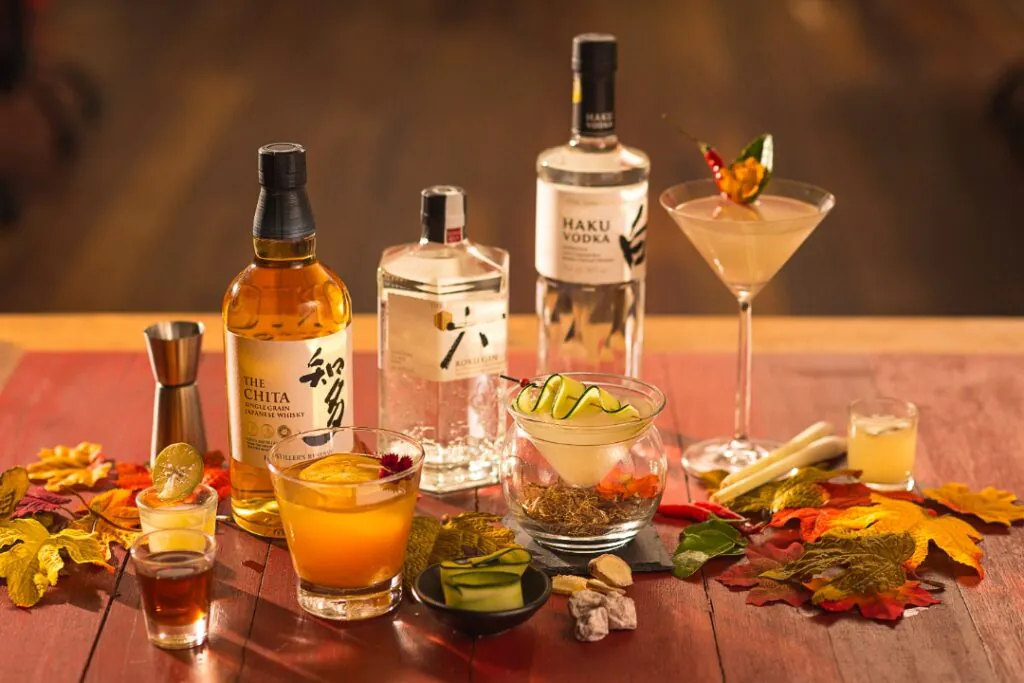 FOOK is tucked away on a hilltop and draws upon influences from East Asian cultures and culinary traditions. It has a mysterious vibe which seduces you to enjoy a romantic night.
Let the romance infuse you with three flavourful cocktails. ASSAM ASIN with Roku Gin (RM38) is a balance of freshness and citrus, from the sweet and sour 'assam boi' and cucumber bitters. The one-of-a-kind TOM YUM MARTINI with Haku Vodka (RM38) is Thai-inspired with the right burst of spiciness and sweetness. FOOK N' GINGER with Chita Whisky (RM40) has a more complex taste, with spicy aromas of grated ginger and sweetness from the honey.
FOOK, Kuala Lumpur
19, Jalan Sultan Ismail, Bukit Bintang, 50250 Kuala Lumpur
T : +603 2148 3700
Penrose, Kuala Lumpur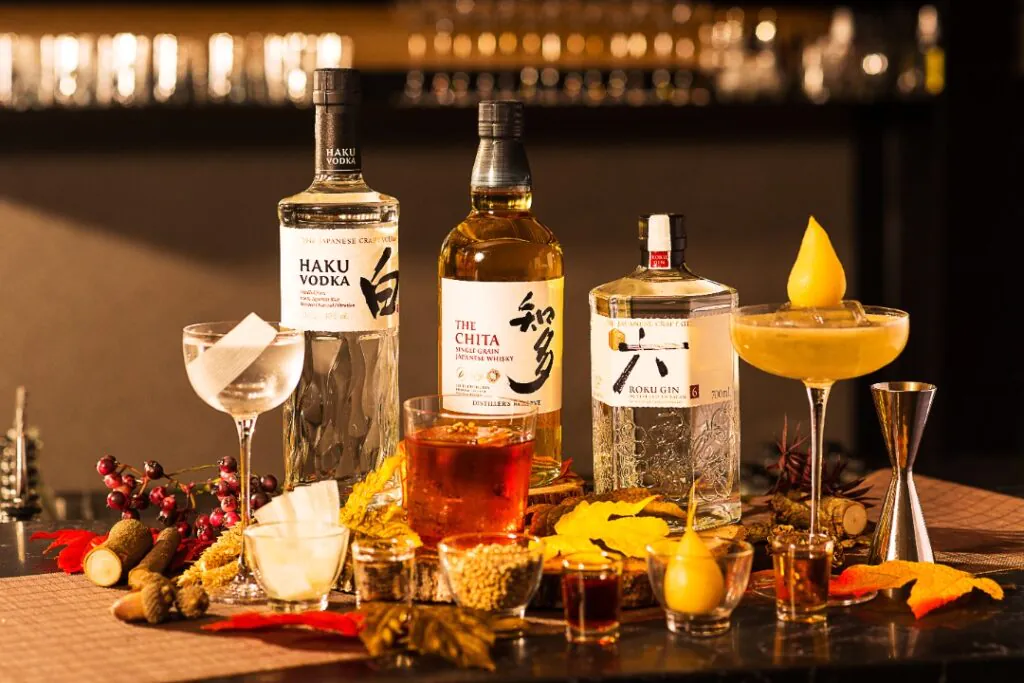 Serving a modern take on classic cocktails, Penrose is an elevated classic cocktail bar in the nostalgic and historic Chinatown, Kuala Lumpur.
Presenting POIRE DE ROKU with Roku Gin (RM50), an aromatic cocktail with the fragrance of ripe pear and citrus. LEEK & SHOCHU with Haku Vodka (RM50) is rich in flavour and savoury at the same time from the leek pickle juice, not leaving out the subtle sweetness from Haku. CHITA & MALT with Chita Whisky (RM50) brings together a multi-layered cocktail with a delicate bittersweet taste.
Penrose, Kuala Lumpur
149, Jalan Petaling, City Centre, 50000 Kuala Lumpur
M : +6016 230 0905
Nizza @ Sofitel Kuala Lumpur Damansara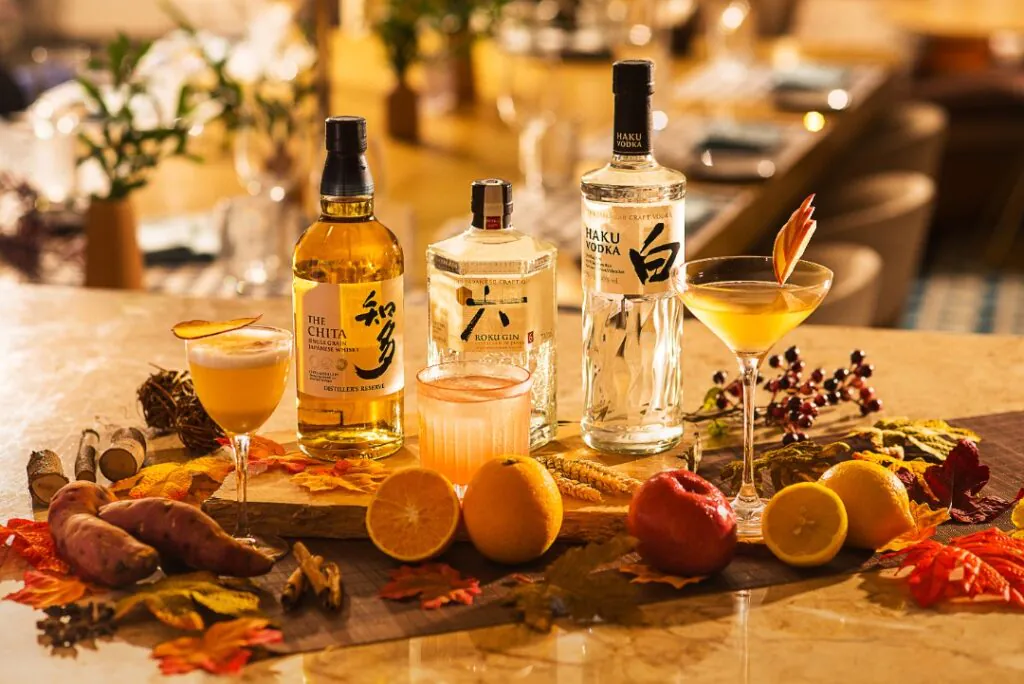 A refined French Riviera-inspired restaurant and bar, Nizza is set against the backdrop of one of the world's most beautiful natural landscapes, Côte d' Azur. The French cuisine is poised to tease and please… a unique experience for sure!
Let's savour the three unique cocktails. Introducing ROKU SPRITZ with Roku Gin (RM48), uplifting, with a sweet effervescence, from the bittersweet notes of Campari and the freshness from Shiso leaves. HAKU RINGO with Haku Vodka (RM48) is an elegant and perfect cocktail for a quiet autumn evening. It is infused with floral notes and a gentle tartness from the apple juice. The AUTUMN SOUR with Chita Whisky (RM48) is a twist from the classic whisky sour. Sweet potato puree, aquafaba and angostura bitters are also added for a full fragrance-infused cocktail.
Nizza @ Sofitel Kuala Lumpur Damansara
Level 3, Sofitel Kuala Lumpur Damansara, No. 6, Jalan Damanlela, Bukit Damansara, 50490 Kuala Lumpur
T : +603 2720 6628
Bar Moku @ Mori Kohi, Kuala Lumpur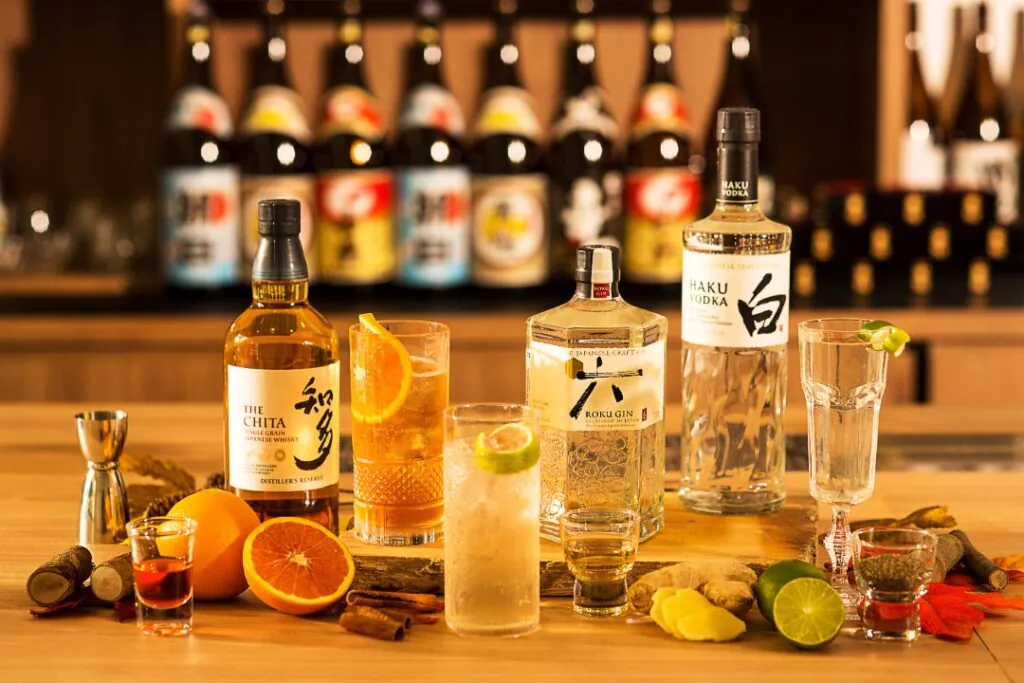 Bar Moku, a cocktail lounge, is uniquely situated in a bungalow that holds three different Japanese concepts under one roof, namely a café (Mori Kohi), plant retail gallery (Midorie) and event space (Supesu). The place is surrounded by greenery, giving it a fresh and botanical feel.
For a refreshing taste, AUTUMN GIN & TONIC with Roku Gin (RM30) has a pleasant hint of spices from pepper syrup and ginger juice. A lovely twist from the classic gin & tonic. DRY HIGHBALL with Haku Vodka (RM35) is a rich combination with Nigori Sake and a hint of lime peel. AUTUMN HIGHBALL with Chita Whisky (RM45) is full of warmth, with a touch of cinnamon syrup, Aperol, and the zest of an orange slice.
Bar Moku @ Mori Kohi, Kuala Lumpur
11, Jalan Aman, off Jalan Tun Razak, 55000 Kuala Lumpur
T : +603 2300 1165
More on booze? Read these:
Learn The 'Sorcery' Behind Pouring The Perfect Glass Of Guinness!