The biggest and liveliest new radio crew is ready to kickstart your mornings!
Fans of Hitz FM – Malaysia's No. 1 English radio brand – can now enjoy a bigger 'Hitz Morning Crew' with the additions of Raj and Anne, who join well-known, energetic hosts, Ean and Arnold, every weekday morning, Mondays to Fridays, from 6am to 10am. Fans can also stream the programme on the SYOK app.
The show, which is Malaysia's first four-person morning crew, will also feature some new segments: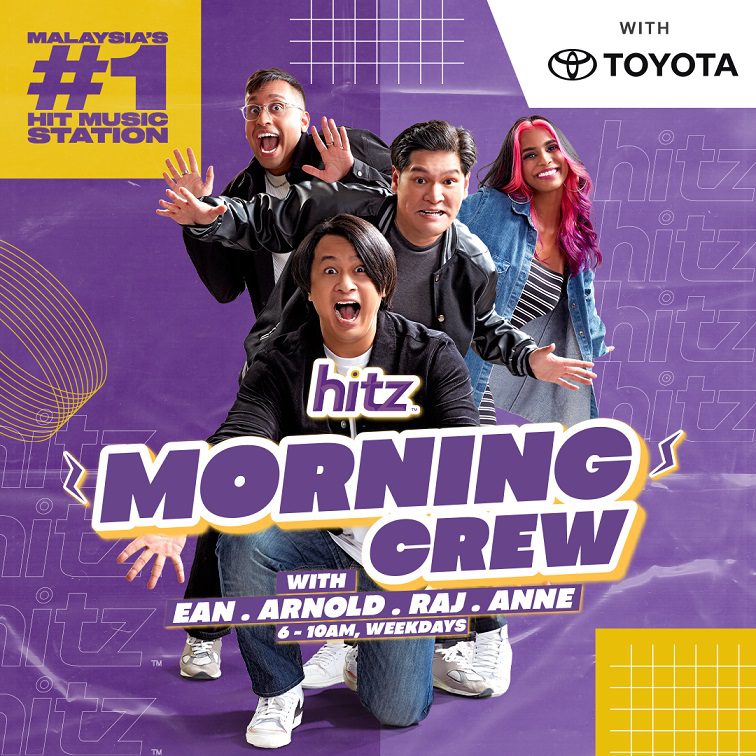 Cikgu Gen Z, every Monday – Cikgu Anne gives the boys a Gen Z term and Ean, Arnold and Raj need to spell out the term and use it in a sentence.
Trust Me Tuesdays, every Tuesday – Two announcers will describe two boxes, in an exercise that will test how trusting each announcer is.
Anne's Hitlist, every Wednesday – Anne plays a snippet of a song and if the boys guess it right, they are saved from carrying out a punishment.
What's That Movie???, every Thursday – Raj and Anne will act out a scene from a movie for Ean and Arnold to guess.
First World Problems, every Friday – Fans can call in and share their first world problems to be solved by the Hitz Morning Crew.
Priya Prabakaran, Head of Content, Astro Radio, said that they are thrilled to introduce this bigger and louder Morning Crew line-up, bringing in fresh and relevant new local talents to boot. They hope listeners will enjoy the first four-person radio breakfast show, as well as a new feminine presence, to balance and add depth to its vibrant line-up.
"We welcome Raj and Anne to our Hitz FM family and thank all listeners for their continuous support."- Priya Prabakaran, Head of Content, Astro Radio
We're pretty sure you guys already know about Ean and Arnold. But aren't you curious about the newbies in the Hitz FM family?
Your resident geek is in the building! Need to know trivia from any Star Wars movie? Raj will gladly give you a full lesson and a tour of his memorabilia on one condition: just don't touch them. He's fluent in 3 languages, English, Bahasa Malaysia and Sarcasm. (He's also learning Mandarin at the moment). On the weekends, Raj loves exploring the streets of Kuala Lumpur, trying new food and breaking friendships over board games.
Loud, feisty and dramatic are all the words you need to describe Anne! With her bright highlighted pink hair, you won't miss her in person and on TikTok! Makeup is totally her thing, but she's still trying to look for the perfect foundation shade. If you ever want to get her something for her birthday, think The Weeknd – she loves him so much, her socials are named after him!
Be sure to start your mornings with the loud and fiesty Hitz Morning Crew with Ean, Arnold, Raj and Anne!
For more, follow Hitz FM on Facebook, Instagram, TikTok, Twitter and their website.