We've explored all sorts of sex positions for various scenarios here at Lipstiq – all except for boobies. We're talking about sex positions that give precedence to boobs, allowing your partner unhindered access to them titties. So today, we're going to explore totes hot and sexy boob sex positions that will blow your partner's mind.
People are just generally captivated by boobs. Whether you are part of the itty-bitty-titty committee, or you have Kim K boobs, your partner is totes going to love and cherish your melons. They love to squeeze 'em, fondle 'em, suck on 'em, and most of all – watching 'em bounce uncontrollably during sex.
Which brings us to today's discussion – sex positions that enhance the boobs, and make it easy for your partner to grab your titties when you grind and ride their shaft. And of course, we can't forget man-boobs! So, for all you freaky gals who love to fondle and suck on some man titties, you may wanna take a look at these positions!
1. Lotus 
The lotus sex position is the ultimate boob showcasing sex position there is. For the guys who wanna be face-to-face with a bouncy boob while banging into their women, this position will totes give them what they want.
In this position, it's easier to control your thrusting, and you can plant your face in your partner's chest for some motorboat action, or you may kiss, suck and nibble on her boobs, as well enjoy the entire boob show during your sex sesh.
Have your partner sit down on a couch or bed as shown above. Ladies, get on your partner's hips and straddle them while grinding on their shaft. Every now and then, you can choose to grind and bounce harder, because nothing gets a man more turned on than seeing a pair of boobs vigorously shaking in front of him.
2. Hold On Tight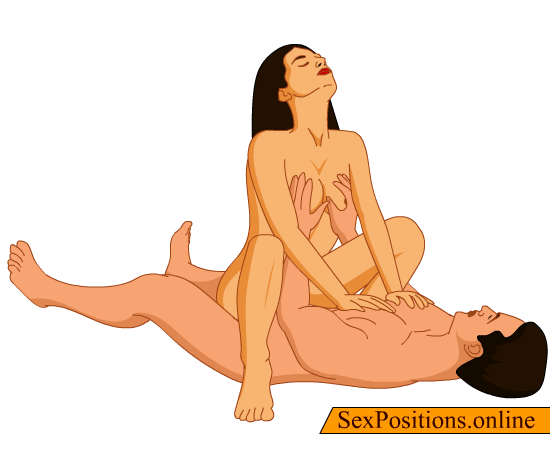 The hold on tight position is similar to the cowgirl. Amazing for deep penetration, clitoral stimulation and a woman-dominant sex position. Also, it allows your lover to gain full access to your boobs and nipples so that they can hold on tight to them, as you bounce and thrust to your vajayjay's content.
Have your partner lie down with their back on the bed. Get on your partner and position your vajayjay on their shaft while placing both legs, with knees bent, on either side of their hips. You may place your hands on their chest and allow them to do the same to you.
3. The Rocket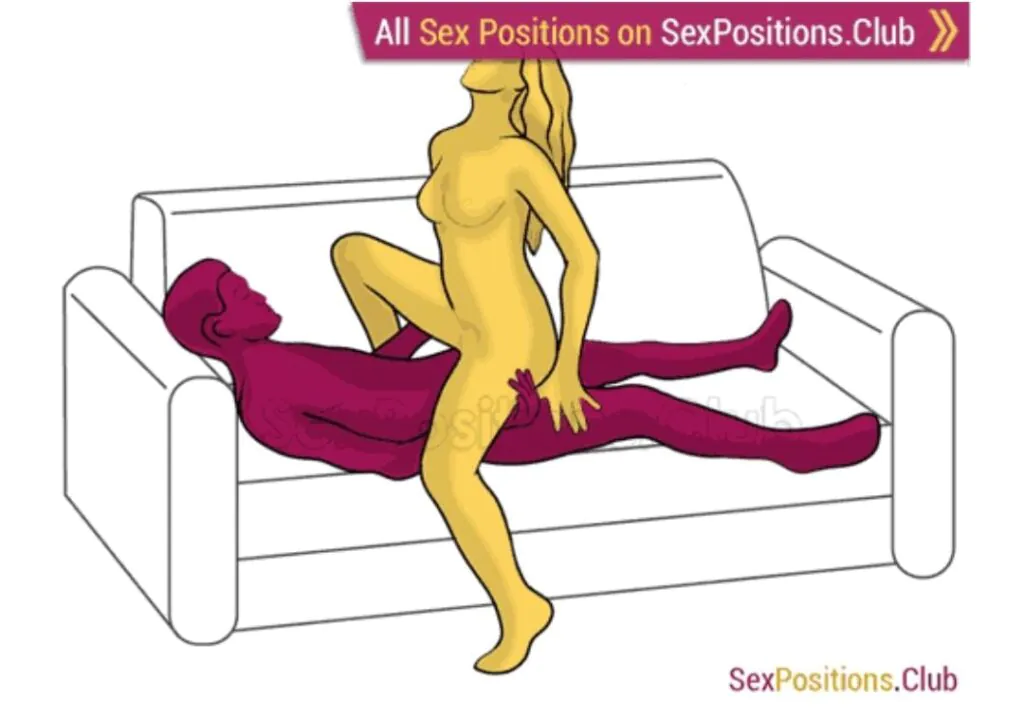 Shoot for the d*ck! Similar to the cowgirl, this is another, awesome woman on top sex position. Seeing you flaunt your sexy figure while bouncing on their shaft, with your boobs vigorously swaying up and down, is every man's sexual dream come true.
The rocket position is even more fun if done on the couch. So, have your partner lie down comfortably on the couch. Get on your lover's hips, but throw one of your legs over one hip and place it on the couch, as you see above in the image. Ladies, bring back your hands and place them on your lover's hips. Your partner may grab your booty and thrust into you mercilessly.
This position is great for hardcore shagging.
4. Crouching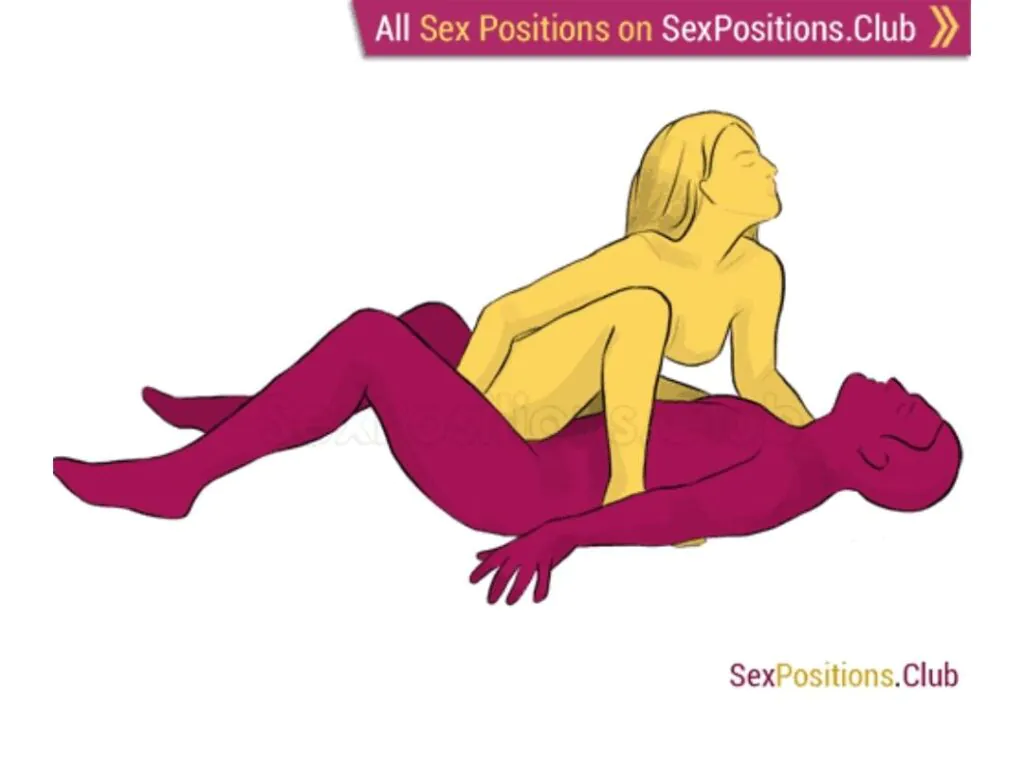 The crouching position allows for boob fondling and nipple sucking, as well as for deep penetration and clitoral stimulation. Have your partner lie on his back with their arms stretched by the side of their body. Their legs should be slightly bent and apart. You can now sit on your partner's shaft, place one leg forward and bend your knee – your other leg can rest on your partner's left side.
Now ladies, you are about to multitask in this position. Place one hand underneath your lovers neck, while your other hand should reach over and give your lover's testicles a little massage. Don't forget to bounce and grind, because above everything, the boob show will definitely bring him to cum-land.
5. Captive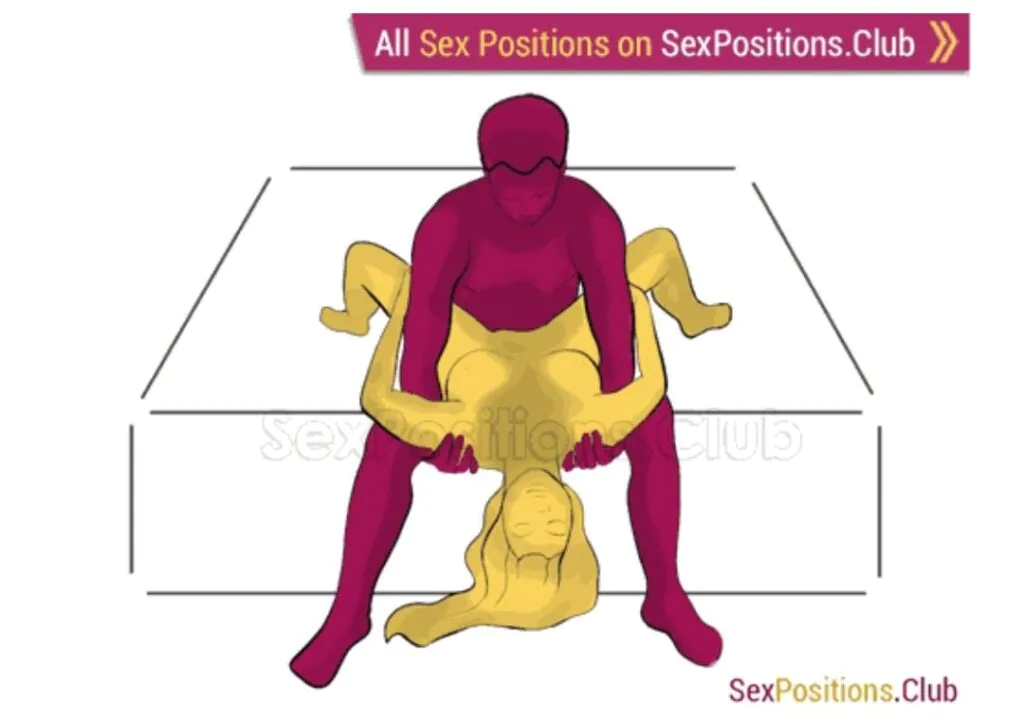 This is the only time a woman would love to be held captive. If you are a man, my friend, this would be a great opportunity to show your woman your arm-strength, and at the same time, enjoy the glorious view of her boobs bouncing to the rhythm of your thrusting.
Woman, get on your lover's lap, straddle his waist, but let your legs align straight on each side of his waist. Your lover can now place his arms alongside your back and his palms should be securing your shoulders. When you feel comfortable and secure, ladies, lean backwards and let your head hang loose over the edge of the bed or wherever.
An amazing view for your lover – and it gives you a new take on sex.
6. The Roller-Coaster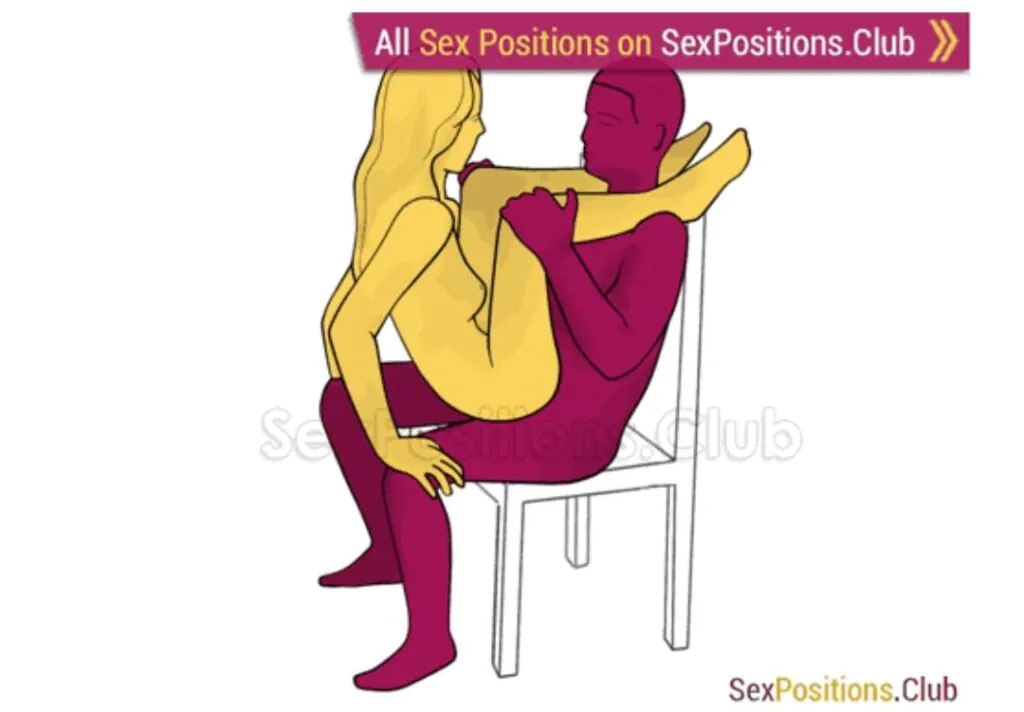 I like to call this the roller-coaster ride, because practically speaking, the position of the giving partner does look like a person sitting tight on a roller-coaster ride. Anyway, the roller-coaster ride position is perfect for G-spot stimulation, deep penetration and of course – a spectacular boob show for your lover.
This can totes be a woman-dominant position. Because, really, when a woman is in this position, she can easily caress the erogenous parts of her partner and drive them wild. Not to mention, when you are grinding and thrusting into your lover in this position, it can make your lover completely surrender his horny a$$ to you.
Have your lover sit on a chair or a couch with his legs apart. You can then sit on your partners hips while facing their direction. Once you are seated (on the shaft), bring your hands back and hold your lover's knees for support. Your legs should be thrown over their shoulders, and your lover should be able to hold on to your knees.
7. The Gymnast Loop 
For couples who love oral and like to treat their sex escapades like the Olympics, this is an awesome position you have to try. If you are extremely flexible and own a back without a spine, then by all means, you may enjoy your meal in this position.
This position is to bless your male partner with a heavenly blowjob. Not only are you blessing his eyes with a great view of your boobs, this position allows you to deepthroat him and give him the joy of caressing your upper body.
Have your lover lie on a bed, while spreading their legs wide apart. Get into a bridge position and place your mouth in front of his shaft. Place your hands underneath your partner's butt on either side. And then, get to work ladies. Now, while the woman is doing an excellent job down there, men, you can use your hands to play with her boobs and nipples to stimulate her for arousal as well.
And there ya have it – 7 sex positions that give your boobs the limelight.
More on sex? Read these:
https://lipstiq.com/lipstiq-lipstiqle/208357/things-around-the-house-that-can-double-as-a-sex-toy/
https://lipstiq.com/lipstiq-lipstiqle/207831/wanna-try-tied-up-sex-give-these-bdsm-positions-a-go/