Cosmetic surgery has become more common than ever. From Botox to skin-tightening treatments, there are many procedures that you can do to make your skin look more youthful and lifted. However, more recently, beauty consumers are turning to non-invasive, pain-free procedures to enhance their natural beauty.
FOREO, the Swedish beauty-tech powerhouse, has reported a rapid increase in demand for its celebrity-loved, award-winning skin-tech devices, with one category in the brand's portfolio at the forefront of what appears to be an actual beauty revolution, giving the entire beauty industry a much-needed facelift!
"Compared to plastic surgery, beauty products have always been seen as something mild with limited potential to make visible changes in your appearance. However, the whole beauty industry is evolving and beauty-tech is taking over with products packing some serious punch as well as delivering dramatic results," explains Boris Trupcevic, FOREO CEO.

He continues: "That is not to say that FOREO beauty-tech can replace elaborate surgical procedures, although the results of using our products are clearly visible, quick and pain free. While surgery will certainly lift your skin and have an obvious effect on your appearance, it will not rid you of, say, wrinkles around your mouth or increase your skin quality – our BEAR, however, will do that, on top of firming your facial muscles and toning your skin, completely pain free."
Introducing the world's first FDA-cleared medical microcurrent device with Anti-Shock System™, the strongest and safest microcurrent device available – FOREO BEAR™. With the new FOREO BEAR™, you can now achieve beautiful, toned skin in the comfort of your own home and at a fraction of the cost (BEAR™ alone will save you between $31,000 and $63,000!).
Simply put, microcurrent technology boosts the production of adenosine triphosphate (ATD), which cells use for energy and is essential for cellular functions such as collagen and elastin production, which are responsible for making your connective tissue stronger and more flexible. BEAR™'s advanced microcurrent mimics your body's natural electrical currents on a cellular level to help tone facial muscles, tighten the skin, and smooth the appearance of wrinkles, leaving you with youthful radiance.
"When it comes to anti-aging, BEAR is our most impressive invention yet. While the microcurrent technology is nothing new, FOREO's implementation of microcurrent into BEAR is truly revolutionary. What makes our device unparalleled by its competitors is FOREO's Anti-Shock System™, a unique integrated tech that automatically micro-adjusts the device's microcurrent intensity according to your skin's resistance to electricity, guaranteeing a shock-free treatment, maximum safety and premium results. BEAR analyzes your skin, collects the data, learns and adjusts to deliver personalized and the most effective therapy for your specific skin's needs. We're talking AI here," explains Anika Sekhri, FOREO Product Marketing Manager.
While at-home beauty-tech will not completely eliminate the need for plastic surgery, we can see that beauty-tech is rapidly growing and taking a significant share of the anti-aging market. This is due to the fact that consumers recognise the high quality and premium results that beauty-tech provides, and they prefer non-invasive treatments that feel like pampering over painful surgical procedures.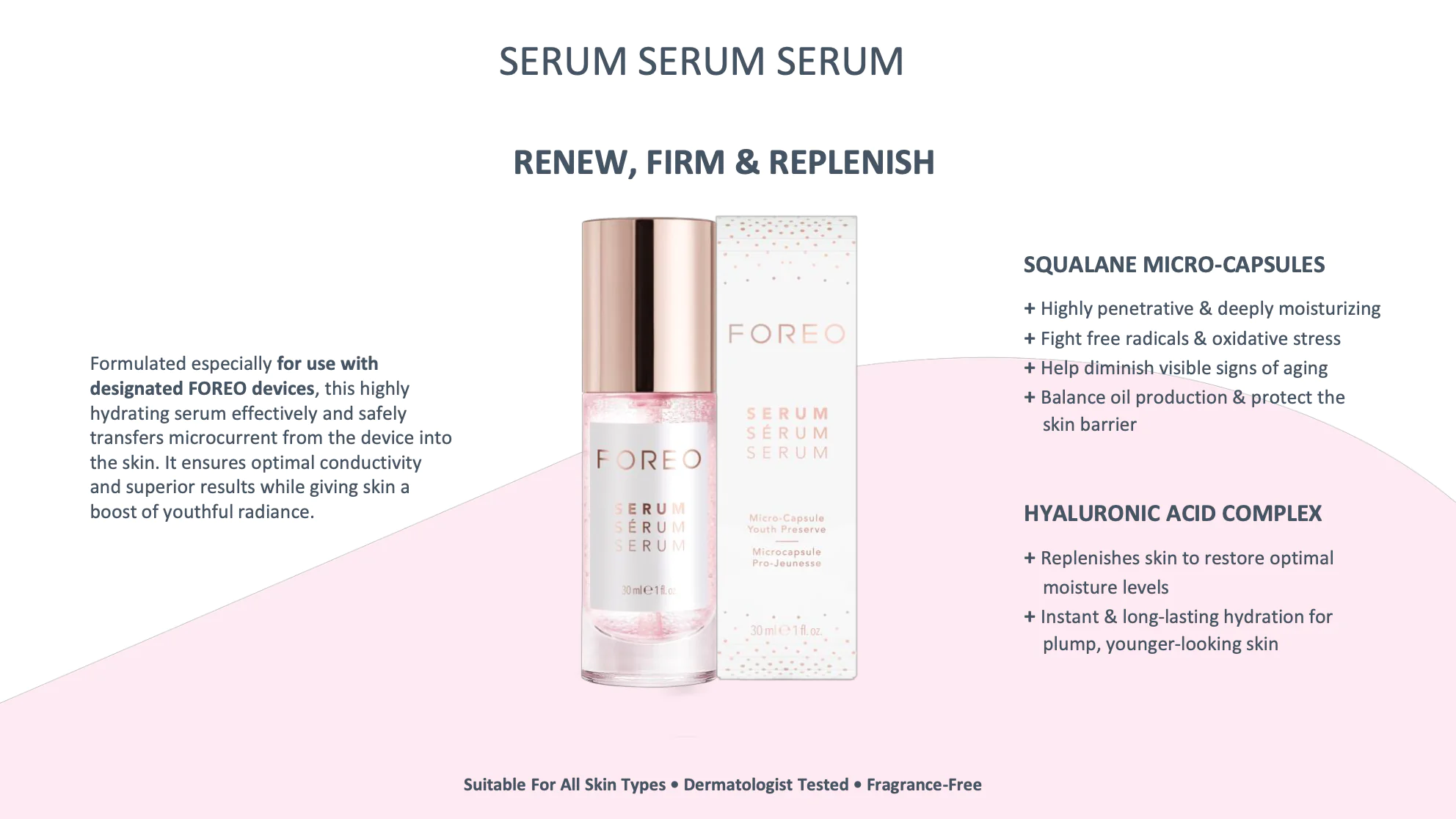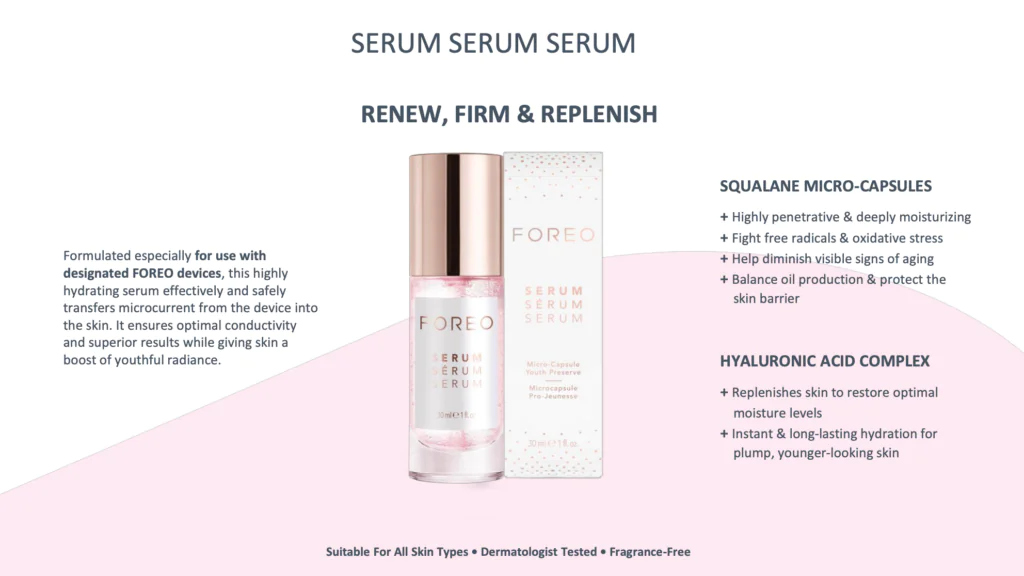 The FOREO SERUM SERUM SERUM is BEAR™'s must-have sidekick! It's a lightweight, ultra-hydrating serum that effectively and safely transfers microcurrents from the device onto the skin, while keeping it resilient to everyday stress. The serum's micro-capsule, which contains ultra-hydrating and antioxidant-rich ingredients like hyaluronic acid and squalane, also helps push the skin-nourishing formula into deeper layers of the skin for a youthful glow.
The FOREO BEAR™ Microcurrent Facial Toning Device (RM1,869) and the FOREO SERUM SERUM SERUM Hydration Boosting Serum For Enhanced Collagen Production (RM339) are available now at sephora.my, Sephora in-app, and Sephora stores.
More on skincare? Read these:
Get *Chef's Kiss* Complexion With Fanbo's Acne Skincare Kit!