Boobs are AMAZING! Girls and boys, we all fall for the boobs. They're mesmerizing, soft, luscious and are able to hypnotize any man at any time. Big or small titties – if you ever get stuck in a problem, your boobs might just save you big time. But as much as we all love and simp over a pair of good looking boobs, how much do you actually know about your tatas, ladies?
Our breasts hold some pretty awesome secrets that you may not know about. So, today, let's give our boobs the spotlight and allow me to provide you with fun facts about BOOBS!
1. Boobs Are Thin-Skinned 
Boobs are bouncy, fleshy and may be visibly huge for some. Which is why some people tend to think that breasts are thick and filled with fat. Well, the latter is true, but in terms of thickness – no, that is not true. Boobs are actually thin-skinned. Whether you have melons or you're blessed with tiny grapes, all boobs are thin-skinned and stretchable.
As you grow older, you may notice a change in the size of your breasts – this is possible because boobs are the thin-skinned part of your body, which allows growth to take place. So, boobs are supple and fleshy, but the skin around the breasts are pretty soft and thin.
2. Stray Strands On Dem Nippies 
If you're quite hairy, then boob hair is pretty normal for you. It's kind of weird and most men don't know that boobs grow hair. Not disgusting, but you can grow thick hair like the back of a hairy man's body. Boob hairs are very fine and they usually cannot be seen unless you are really close to someone's boobs.
Also, boob hairs are sparse, so usually, they are just a few strands of stray hair covering your boobs, and sometimes even nipples. So, men – if you are sucking the life out of your girlfriend's tits, don't be shocked if you feel a light, hairy texture. Normally, one wouldn't be able to feel the hairs because they're way too fine. But I'm just saying!
3. Boob Pimples 
Did you know that every boob has a T-zone? Like, the one on your face? T-zones may get pretty oil and they tend to clog pores, resulting in blackheads and pimples. Similarly, the T-zone on our boobs can get oily and produce one or two pimples every now and then.
4. Each Boob Has It's Own Point 
No two nipples can ever be the same, just like each and every one of our thumbprints are different. In which case, some nipples may be pointing upwards and some down. In the weirdest cases, a person's left nipple may have a different point than the right nipple. No, your boobs aren't twins – they are sisters!
The nipple point is based on the areola and in some boobs, the areola may differ. It all depends on the structure  of your boobs and where the areola sits. Some areola may rest higher on the boobs, whereas others may rest a little lower. So, it isn't weird if your left nipple is facing north and the other south.
5. Sleep Affects The Shape Of Your Boobs 
Imagine boobies as balloons. Just like how a balloon may deflate, so can your boobs. Chill! Your boobs are not going to decrease in size, but they may appear slightly smaller if you wake up from a long nap on your chest. Pressing your boobies on a mattress throughout the night may "puncture" your tatas, making them appear smaller.
Although this isn't permanent, in a few years time, they may deflate. So, the best sleeping position would be on your side.
6. Pregnancy Can Darken The Nipple 
Pregnancy can do so many wonders to your boobs. Your boobs, during pregnancy, may drastically change in size. Besides that, pregnancy can darken the nipple pigmentations. Why?
Because a newborn infant is usually colour-blind, the darker the nippies are, the easier it is for our lil friends to locate their food source. The not so fun part is, even after you cease breastfeeding, your nipples will most probably stay dark forever. Which is amazing, cause, now you have chocolate nipples.
7. The Left Is Usually Larger 
As previously mentioned, no two boobs are the same. Just like how your eyebrows and eyeliner can only be best friends, so it is with them boobies. In which case, the left is usually larger. Even experts aren't sure why this happens, but its the lift gurl that has all the advantage.
So, now you know why we can never have the perfect bra. Our boobs are crooked!
8. You Inherit Your Boob Type 
If you have grape-sized boobies, but your sister be walking around with some huge melons, take a look at your family tree. The size of your boobs come from either parent. Which is why, sometimes, your titties, your sis' and your mum's are different. Maybe you got it from your dad.
9. Approximately 4 Million Boobies In This World Are Fake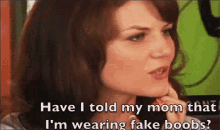 Research revealed that 250,000 women in the United States choose to go under the knife each year. Usually, at the age of 34, and some of them choose to get their boobs remodeled after they have kids.
Which is reasonable, cause kids do ruin your body. I mean, they tear your vagina trying to come out into the world, they make your belly look weird, and once they're out in the world, they suck the life out of your titties and make them sag.
10. Your Boobs Have Their Own Monthly Cycle 
Just like how you menstruate monthly, your boobs go through their own cycle on a weekly basis. This is due to the flunctuating hormones that may cause your breast tissues to change weekly.
For instance, days after your period, your boobs may feel softer and plumper, because your hormone levels are now even. Then, during your midcycle, your nipples can tend to become more sexually sensitive due to the estrogen levels that increase in this time.
A week before and even during your period, the progesterone may leave your boobies swollen, bumpy and tender. Which is why a symptom of premenstrual syndrome is boob-pain. It hurts like a bish!
So, yeah! All the interesting facts about your boobies! You're welcome!
More on women's health? Read these:
Itsy Bitsy Teenie Weenie: 5 Swimwear Styles Perfect For SMALL BOOBS!