Malaysians and food go hand in hand, and one of KL's most iconic malls is making sure that the two stay that way.
From now till July 24, 2022, Pavilion Kuala Lumpur, Malaysia's top shopping destination, invites customers to take part in Signatures Around The World with "Pavilion Feast". With more than 10,000 food and drink options available at the mall, "Pavilion Feast" enables guests to set out on a culinary trip that takes them from the spice bazaars of the Middle East to the opulent palaces of China.
Lipstiq was invited to an exclusive 'Pavilion Feast' media preview session, for non-halal offerings. From a ramen-making demonstration to a refreshing tasting of signature teas; a lively Sichuan face-changing performance to indulging in Spicy Mala and Beauty Collagen broths; from trying dry, claypot, and soup variations of Bak Kut Teh to licking off cold ice creams, Pavilion Feast 2022 has so much to offer. Let's dig in!
1. Santouka Ramen
Japanese food is delicate and exquisite, showcasing the distinct flavours and textures of seasonal ingredients. We headed straight to Santouka, a haven for ramen.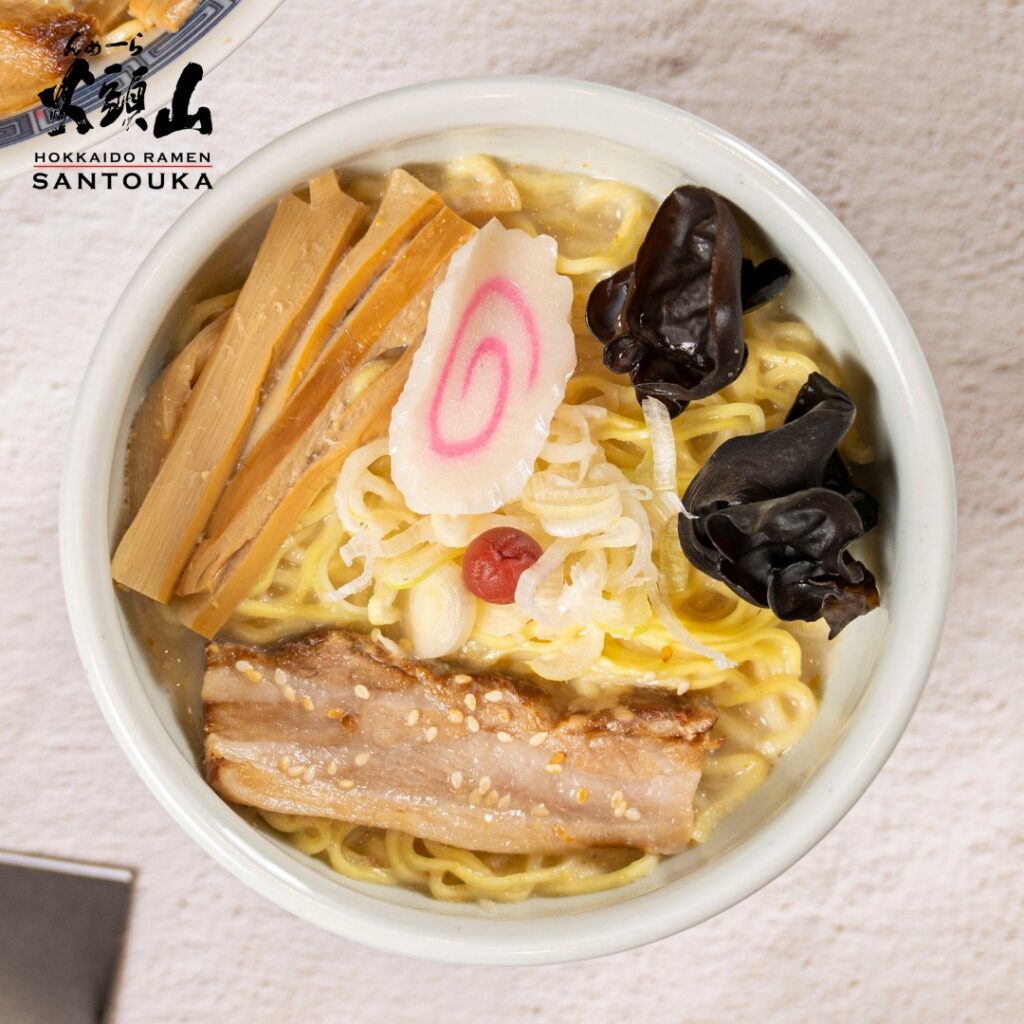 I've never tried ramen, but I would admit, it's something I enjoy. If you're craving some delectable ramen, Santouka is the place to go. This Japanese eatery doesn't skimp on flavour and is committed to introducing Malaysia to the art of ramen. To satisfy your hunger, pick from a range of shio (salty), shouyou (soy sauce), and miso ramen. I got to try the shio ramen. I really loved the broth. It looks like a simple soup but there were a lot of flavours going on.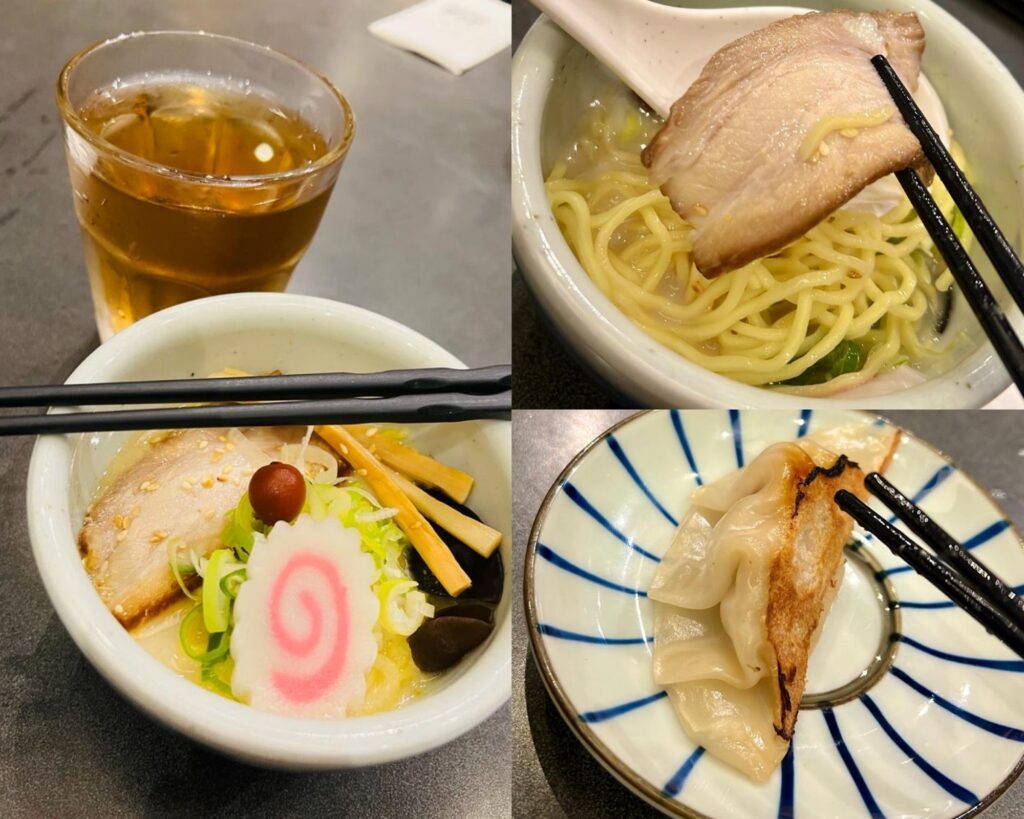 So the ingredients are noodles, pickled plum, char-siu and bamboo shoot. My favourite item was the char-siu. It was juicy, a little salty and it was tender. Another item I liked was the naruto. I initially thought it was that anime character, but it's just fish cake. I also tried their Pork Gyoza. It was fresh and tasted divine after a dip in soy sauce. While you enjoy your meal, you can witness a ramen-making demonstration that will make your crave for more ramen. Overall, I really had a good first-hand ramen experience and I might head back to Santouka for more.
2. Shu Guo Yin Xiang Hotpot
Chinese cuisine, which is regarded as one of the most sophisticated and refined in the world, places special emphasis on appearance, scent, flavour, and texture, balancing yin and yang in each of its exquisite dishes.
Hold onto your seats cause' things are heating up. If you love spicy food, then this is the place to be. Never tried a hotpot before, so I was very much looking forward to this meal. At first glance, a hotpot looks more or less like a steamboat spread, but with lots of items and one important ingredient: Mala peppers! Founded in Chengdu, Sichuan, China, Shu Guo Yin Xiang Hotpot is a network of hot pot restaurants. Okay, I'm not even gonna lie, but my spicy tolerance is so low and I was burning up! They had two broths: Spicy Mala and Beauty Collagen. Of course, I picked the spicy one. Basically, to enjoy your hotpot, throw in your ingredients into whichever soup you prefer, similar to a steamboat, and dig in!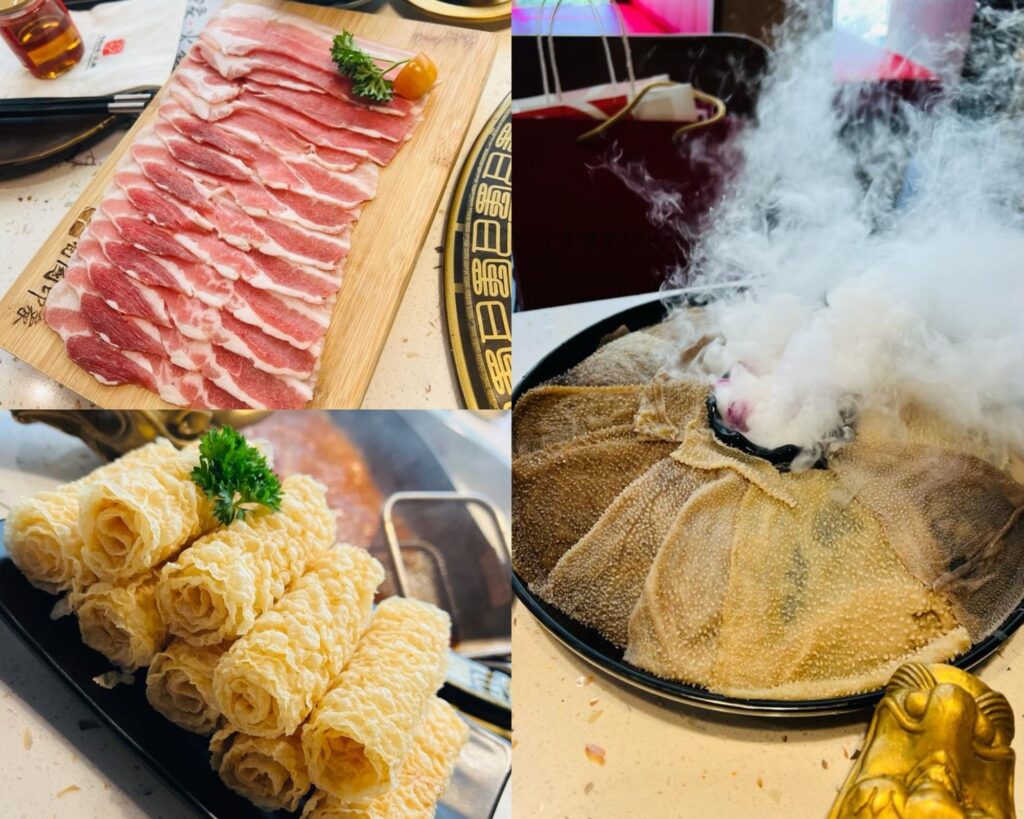 I loved the meat and all, but the soup was the main highlight. The weird thing about Mala peppers is that you don't feel the heat instantly. It slowly starts heating up. The next thing I knew, I had numb lips. To balance the heat, they served warm Milk Mantau which are cute mini buns dipped in condensed milk. I also loved their flower tea. It looked so pretty and complimented the spicy meal. As mentioned, presentation matters in Chinese cuisine, and Shu Guo Yin Xiang Hotpot has delightful hotpot designs and table settings.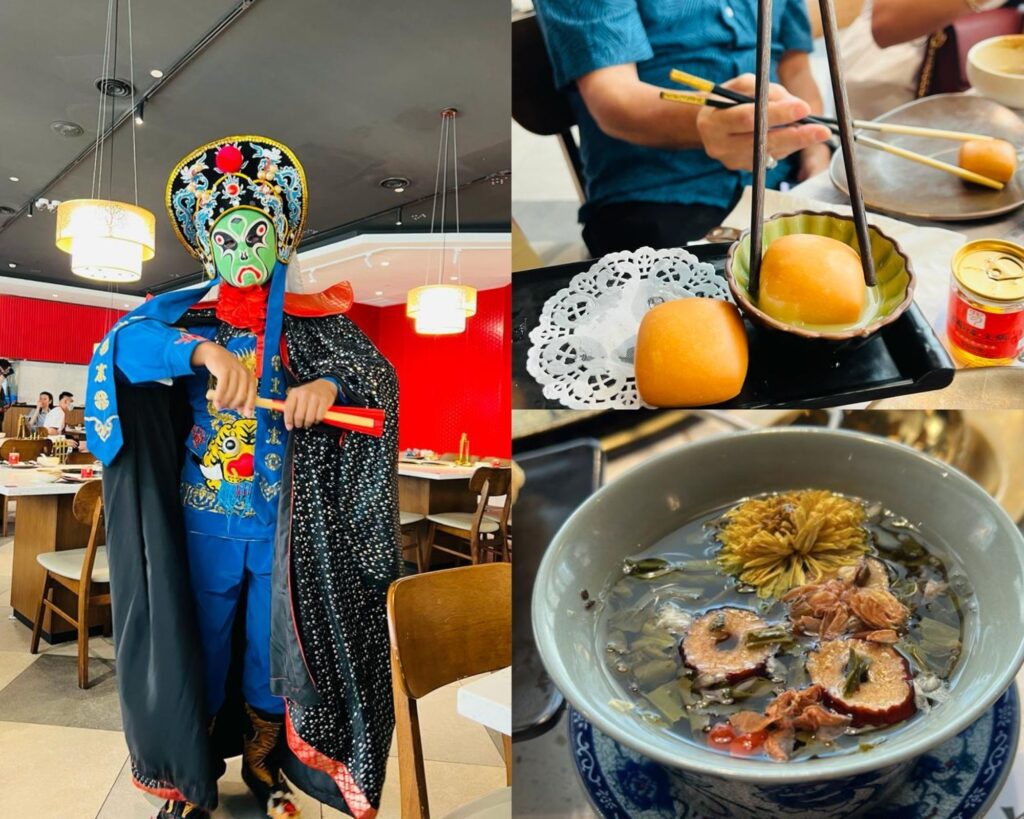 Oh, there's also entertainment while you eat. Shu Guo Yin Xiang Hotpot demonstrated the Bian Lian, an ancient Chinese dramatic art that is part of the more general Sichuan opera. It was pretty amazing how the performer wore bright costumes and changed masks in sync with the fast and dramatic music.
3. Samy & Min Bak Kut Teh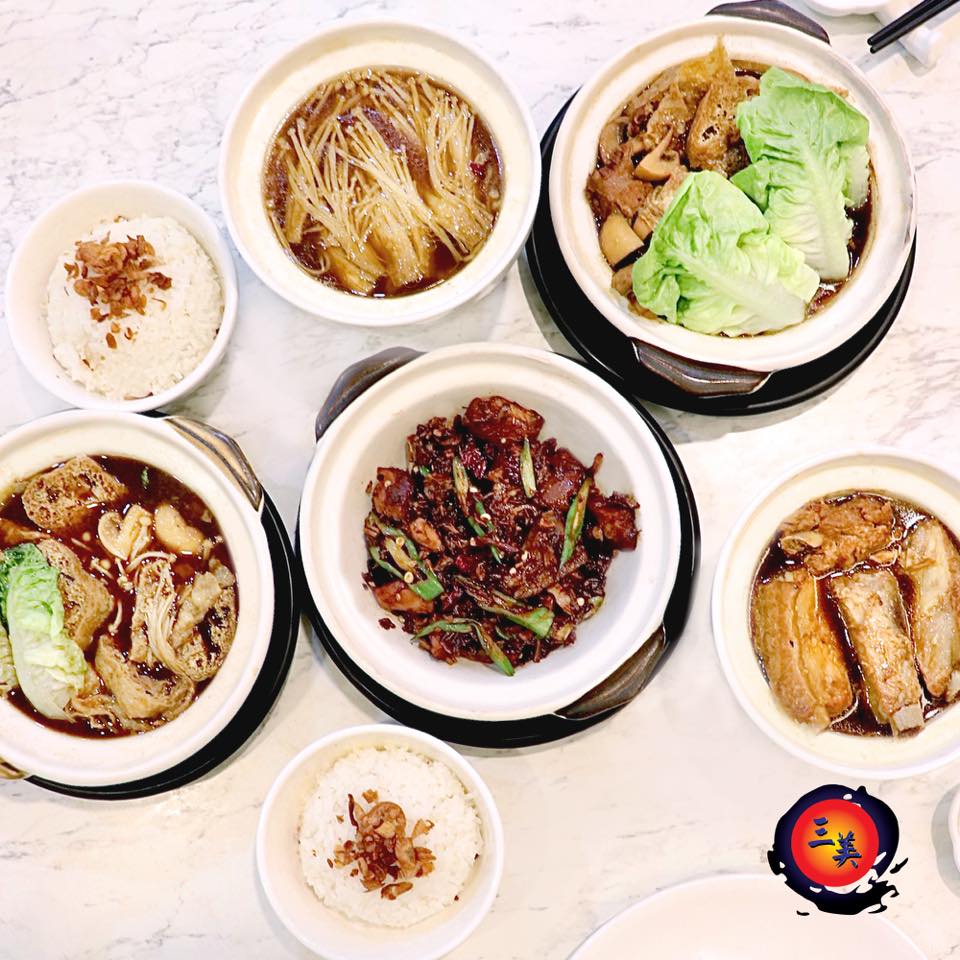 If you love pork, Bah Kut Teh has to be on your list. I love bah kut teh and the key to a super good one is the soup. Samy & Min doesn't just serve the regular soup bah kut teh, they also have claypot and dry bah kut teh. To me, the soup was not too flavourful but still edible. I did however enjoyed the meat cause' it was tender and didn't have too much fat. Of all three dishes, I would say my favourite was the Dry Bah Kut Teh. It's something like dry chilli or kam heong style, and the meat portions were smaller than regular bah kut teh. You can eat it as is, or pair it with white rice.
4. Chagee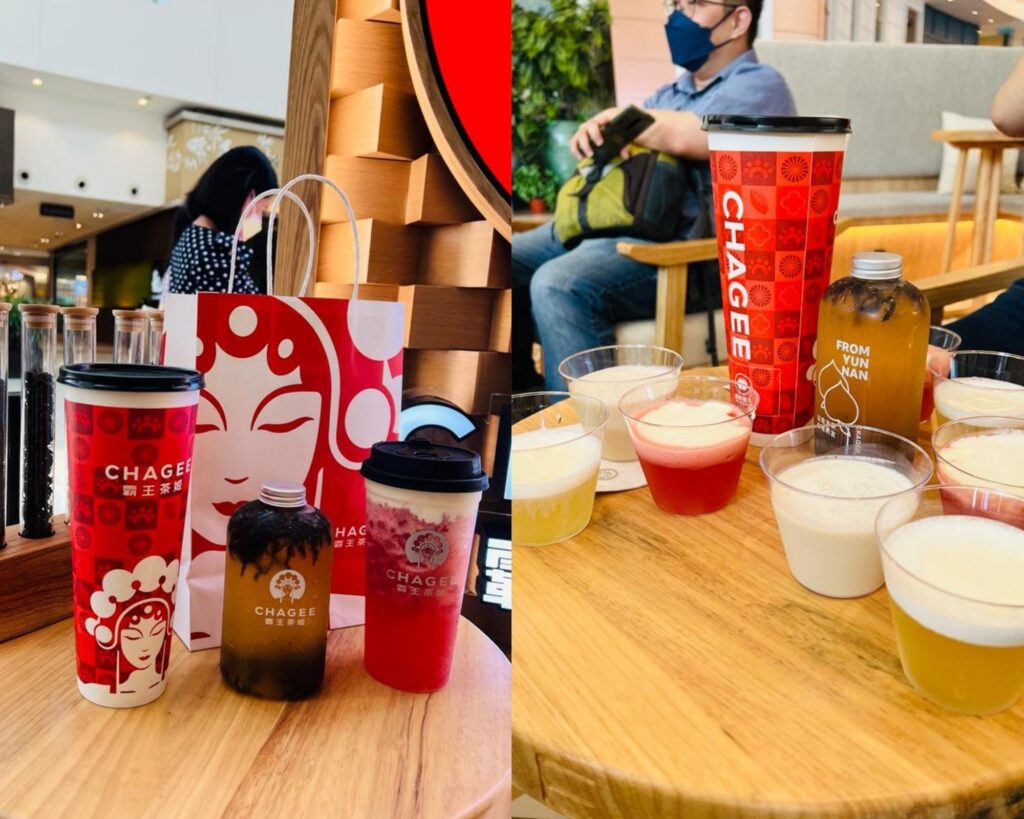 After three hearty meals, you just want something to quench your thirst. A refreshing iced tea sounds good but if you're not a fan of bubble tea, that's not a problem! You can still enjoy a variety of tea at Chagee. Previously, Chagee was known as  BaWangChaji Malaysia. Recently, the first Chagee flagship store in Pavilion Kuala Lumpur opened with the introduction of the new name. One of the earliest regional chain teahouses, CHAGEE was founded in Yunnan, China, in November 2017, and bills itself as the supplier of the Original Tea Leaf of Chinese Culture. Their menu is literally tea, tea and more tea! Now, for a tasting, we tried three different types of tea – and it was mind-blowing for me, cause' who makes tea with watermelons?
First up, I had their Fresh Watermelon Jasmin Tea with Cream Cheese Foam. Followed by White Peach Oolong Milk Tea and lastly, Tie Guan Yen Macchiato. All three were so refreshing and a fun experience too. Before we left, they gave us a bottle of their Organic Oriental Beauty Cold Brew.
5. Cold Stone Creamery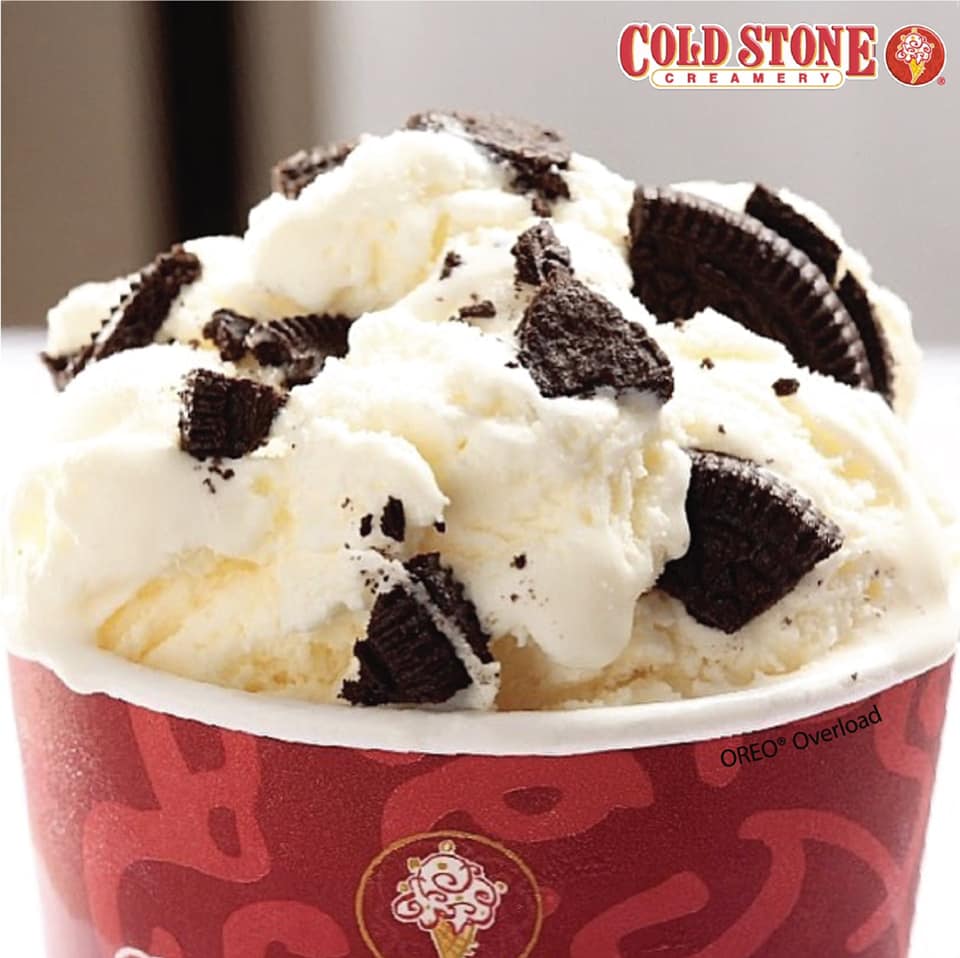 I was pretty excited for this one and nothing screams dessert more than ice cream. Cold Stone Creamery has been serving up the best and freshest ice cream, cakes, smoothies, and shakes for more than 30 years, utilizing only the best ingredients. Of course, their distinctive procedure involves creating personalized ice cream masterpieces on a frozen granite stone.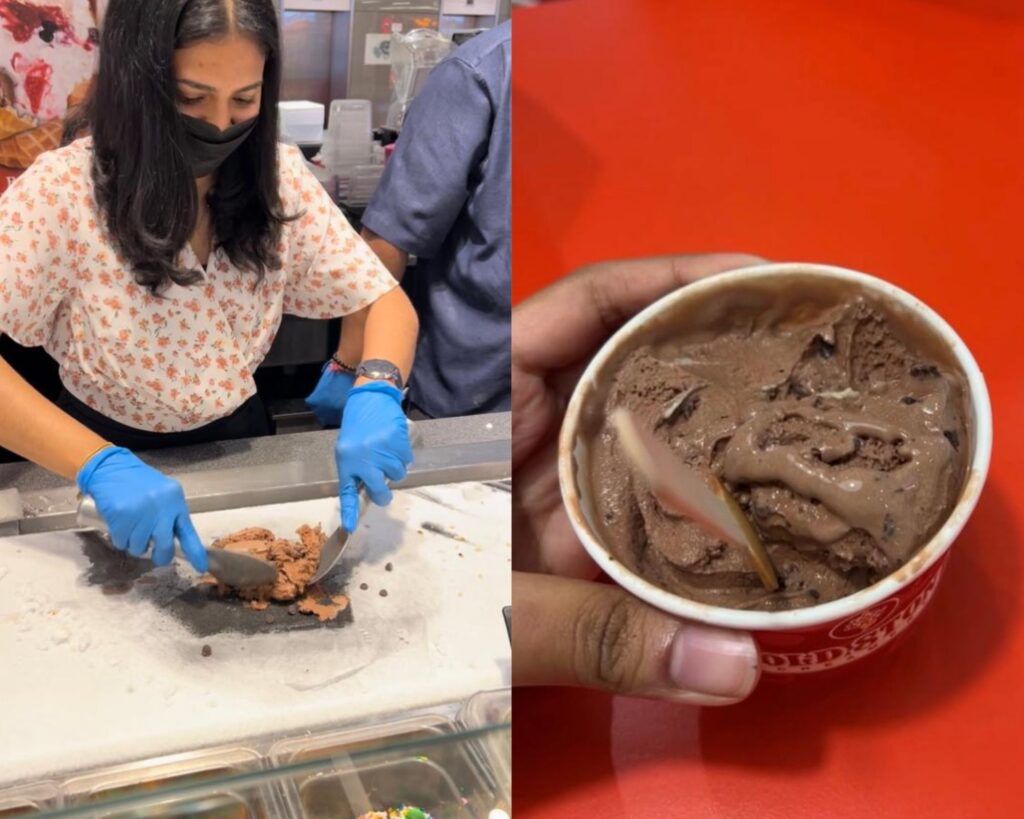 There was so many flavours to choose from and they were all tempting. Luckily for us, during the preview, two volunteers got to customize their ice cream by themselves and I was one of them. I started by choosing my flavour and using the scooper, I had to scoop out the ice cream from the tub and make it into a ball. It felt like playing with dough to be honest. Next up, I scraped the granite stone and placed my ice cream on it. Ok, here, you have to do your thing real quick. Add whatever toppings you want and mix them all. Last but not least, scoop them into your ice cream cup and enjoy. This was a really fun experience. Often, we see ice creaming scooping as something easy – but trust me, I could build muscles with this job. I had chocolate ice cream and it was super creamy, rich and chocolaty!
Throughout the Pavilion Feast, diners may enjoy exclusive promotions and special menus. With Maybank, Pavilion KL's official banking partner for 2022, cardholders may enjoy up to 20% discount on selected F&B stores. In addition, shoppers who spend RM300 at any dining outlet in a combination of two receipts may redeem a Maxwell & William Megan McKean Cities Double Wall Insulated Cup.
For recommendations on dining and information on 'Pavilion Feast', diners may contact Pavilion KL's VIP Dining Concierge at 03 2118-8835; visit the website at www.pavilion-kl.com; check real-time updates on Pavilion Kuala Lumpur's Facebook page or Instagram account; or check out the Pavilion Feast e-booklet.
More on food? Read this: