What could possibly beat the elegance of a six-yard saree? Absolutely nothing – especially when it's draped to perfection! The saree looks fantastic on all body types and can even make a woman look slender if draped correctly. Which is why it is the best and most preferred Indian attire worn by celebrities and commoners alike.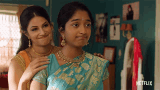 Most of us are familiar with various saree styles such as Kerala style, Bengali style, Marathi style, and the classic drape style, but what you may not know is that saree draping has ascended the ladder of modern elegance, as famous designers have combined innovative features with the saree on the fashion runway. That's right. The saree has just taken a twist of modern elegance – and we've compiled 12 modern ways you can now style your saree.
1. Belted Saree
A belt combined with your saree is the easiest method to show off your curves, especially for hourglass-shaped ladies. You can get a matching belt stitched in to accentuate your waist or choose a metallic-toned belt to draw attention to your body in a unique way. Given the traditional nature of these sarees, a homemade belt with a matching design and/or contrasting colour is more preferable.
2. Paired with Shirt
This one gives you the most formal style while making you look like a Goddess, ensuring that you are the centre of attention at any event. Combine a plain saree with a shirt, or vice versa, to show off your androgynous side. Choose a tee with vertical or horizontal stripes rather than a plain collared tee. If you're not much of a collar person, then you can go for round or V-neck t-shirts instead. Nothing, not even your typical blouses, can substitute a plain white t-shirt in this work from home era, no matter what you wear – from cotton to silk sarees. Above all, it is the most comfortable item to wear, particularly in the summer.
3. Twisted/Knotted Pallu
We all love the perfectly pinned pallu at the shoulder, but if you want to add a little additional oomph, twisting the pallu like a braid and then letting it fall over the shoulder creates the perfect twisted drape. With a unique contrasting blouse, you can make things even more fascinating. In any case, you're ready to make ordinary things extraordinary!
The Knotted Pallu is somewhat similar to the twisted, the only difference is that it's 'knotted'. For a knotty effect, tie the pallu of the saree in the middle and toss it over your shoulder.
4. Corset Wrap Drape
This is a lovely technique to make your pricey saree stand out. If you're wearing your pricey silk saree again, make it a little more intriguing by draping the pallu off the shoulder and belting it with a wide corset belt at the waist. Wearing a corset with your saree is the ideal way to flaunt your curves while hiding any imperfections you want to conceal! We recommend wearing it with an embroidered corset.
5. Jacket Drape
Gone are the days when you wore a buttoned sweater over your saree; instead, show off your designer sweatshirts and colourful sweaters by layering a jacket over a saree. If your saree is grand, choose a simple or a one-coloured jacket. If the saree is plain, feel free to put on a stylish, eye-catching jacket. Take the pallu from the front and tuck it behind the shoulder at the back of the body for a more dramatic appearance! Dressing down the shimmer of a saree with a checkered blazer is also a brilliant fashion move.
6. Neck/Waist Wrap Drape
Both styles are definitely a killer.
The neck drape is another draping method that draws its charm from the saree's pallu. To get this sophisticated, fusion look of an originally Indian outfit, the pallu is fashioned to go around the neck. The same thing applies to the waist. The pallu is wrapped around the waist in this style to give the impression of a one-piece, flowing attire.
7. Backside Pleat
Backside pleats in sarees? Now that's what we call being innovative. While front pleated sarees have always been popular, rear pleated sarees are just as beautiful, if not more so. Pleat a saree the normal way, but this time simply tuck the pleats in the back instead of the front, and forego the flow for a while. Believe me, this style is worth a try!
8. Cape Drape
At the moment, capes are all the rage in the fashion industry. A cape instantly elevates any outfit, whether it's shirts or dresses, sarees or lehengas.
It's also not that difficult to put one on. After you've draped your favourite saree, simply acquire a matching cloak and sling it over your shoulders. And there you are, ready to command the world in all your swaying magnificence!
9. Pants Drape
Want something more convenient and not too feminine? Then pair your saree with pants! You read that right. A few years ago, pants and sarees would've sounded weird, but now, it's a trending thing and a fashionable one too. From jeans to leggings, draping your saree around pants sets you apart in the crowd. Casually sensuous has never been a term, but with this style, you may absolutely be one of those effortlessly sensual women. Daring to be different and creative? If that's the case, you can even drape your saree around your jumpsuit for a trendy, effortlessly elegant style!
10. Double Drape
Can't decide which saree to wear? Why not go for two! The double drape saree draping style is a much-needed innovation in the saree world. It makes no difference whether you choose contrasting or complementing hues for your sarees. With every type of drape, the double drape works equally well. Double standards may not be elegant, but double drapes certainly are.
11. Saree Gown
The grace of a gown adorned with the beauty of a saree exudes all things lovely. As a result, saree gowns are one of the most fashionable methods to make a fashion statement. Saree gowns are a sort of dress that is more than just a drapery design. Sarees transformed into gowns are a breath of fresh air in the world of fusion fashion.
12. No Pleat Drape
Did you realise that you can completely prevent pleats? Yes, and that's a popular drapery style right now. Simply turn your saree over, pinning the pallu on your left shoulder with a fall similar to that of a Bengali saree, or simply hang it like a regular drape. This lungi technique is certainly a stress-free way to wear a sari.
13. Hijabi Style
Sarees are not only for Indian Hindus, but for people of all races and religions. Of course, for Muslim women, the style has to be modest – and we've got just the thing for you. The pallu falls over the head in true conservative style when the saree is worn with a hijab. Another way is to match your saree with a contrasting or similar coloured hijab. Though there isn't one style that is particularly current, it is one of the few unique options if you want to break away from the norm.
More on fashion? Read this:
Jingle Belts! Chain Belts Are All You Need To Make Your Fits More Fun And Chic This Season