As we all know, Bella Hadid is currently regarded as one of the world's top supermodels, walking the runways for fashion houses such as Givenchy, Vivienne Westwood, Fendi, Mugler and others. With her killer walk, stunning looks and fierce fashion sense, Bella is the centre of attention even when she's off the catwalk.
The supermodel struts the streets as if the world is her runway, dressed in the most daring outfits. Bella Hadid is now regarded as a fashion icon of the current generation due to her bold and audacious garments. Let's take a look at 7 of Bella Hadid's most daring ensembles over the years.
Met Gala 2017 After-Party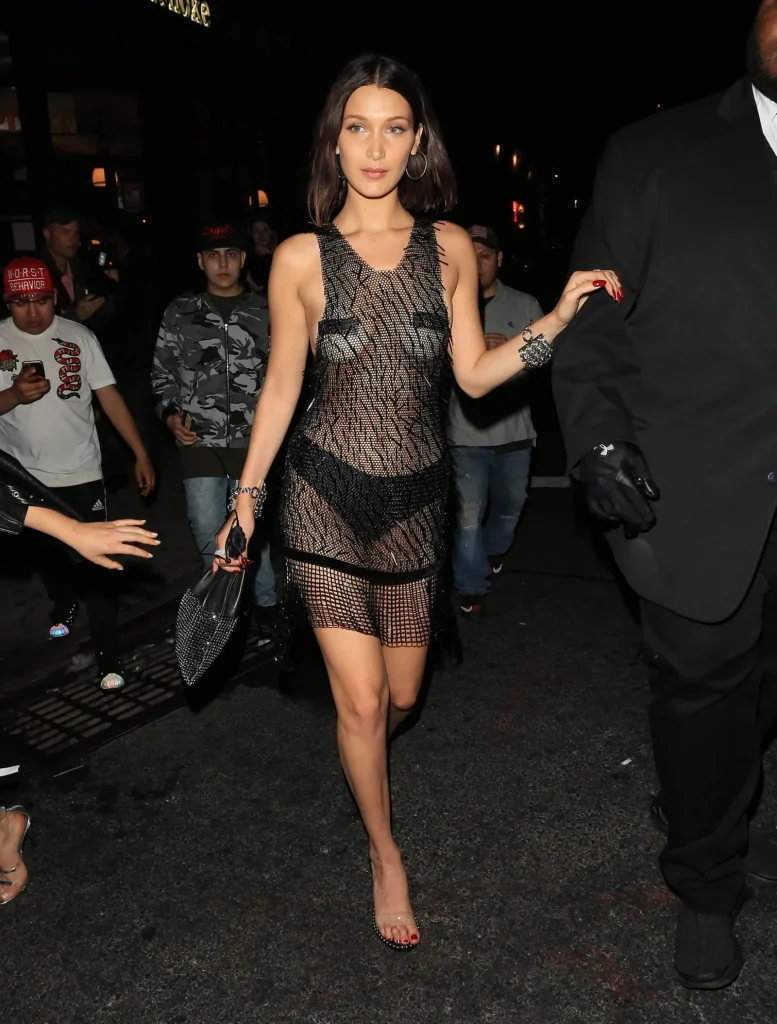 Talk about a little black dress! Bella Hadid left little to the imagination as she made her way to the 2017 Met Gala After-Party rocking a mesh little black slip dress. To cover her goods, she only wore black pasties and black underwear. Her all-black ensemble made a huge statement, as did her Met Gala sheer catsuit garment courtesy of Alexander Wang.
Harper's Bazaar Icons Party
Bella Hadid continued her sheer trend by making a bold impression at the Harper's Bazaar Icons Party during New York Fashion Week. She walked the red carpet in a provocative nude sheer Mugler bodysuit with a waist-cinching corset, sheer top, and high-waisted panties, as well as matching nude tights. Her outfit that night was the buzz of the Internet, and the model cemented herself as a fashion icon.
Victoria's Secret Fashion Show 2018 After-Party
Bella Hadid adores her sheer trademark ensemble, but this time, she shows it all! The top model astonished the audience and the internet by wearing a glittery halter dress with a plunging neckline and a big leg slit to the Victoria's Secret Fashion Show 2018 After-Party. She made a splash by not covering her breasts at all – but who are we to complain, right?
2019 Met Gala
The 2019 Met Gala is easily one of the most talked-about fashion events ever thanks to the attendees' interpretation of "camp". While some celebs didn't exactly stick to the theme (surprise, surprise), Bella Hadid made camp seem luxurious. The supermodel donned an amazing black gown with glittering cutouts and a pair of jewelled gloves that reached all the way up to her upper arm. It's camp at its finest, displaying the abundance of jewels placed all over her body.
2020 VMAs
Bella Hadid's affinity for all things revealing and provocative blossomed further when she attended the 2020 MTV VMAs by reviving and embracing the Y2K trend. Nensi Dojaka, an Albanian designer, created the ensemble, which comprised a black translucent top with a strategically-placed panel and loose-fitted pants. Her entire fit evoked nostalgia, and we were absolutely on board.
2021 Cannes Film Festival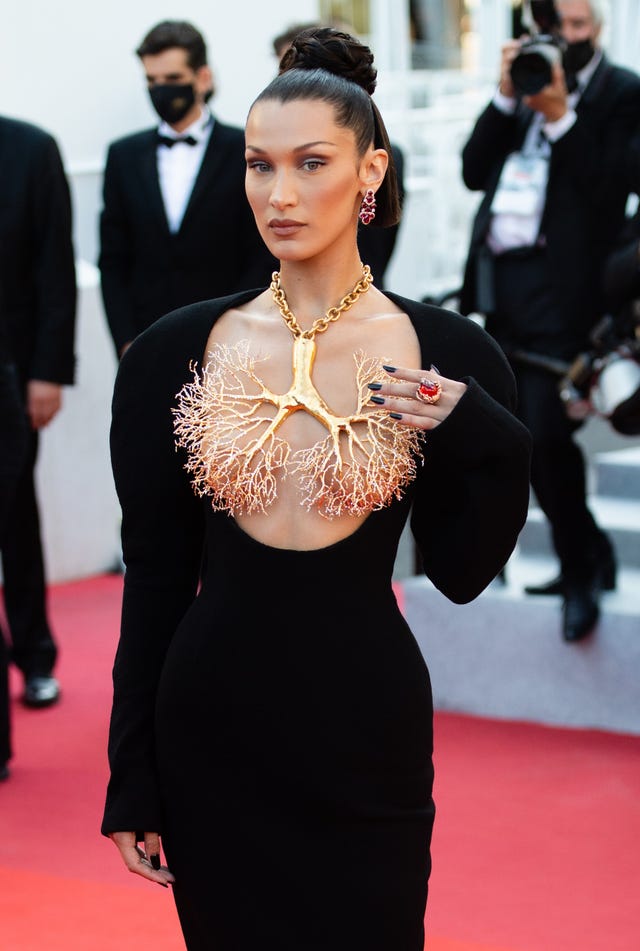 When we tell you that this dress made headlines, we're not joking. Bella Hadid, dressed in a Schiaparelli gown, outshone all other guests at the 2021 Cannes Film Festival. She appeared in a dress from the haute Fall/Winter 2021 couture collection, which consisted of a long dress with a deep neckline embellished with a statement gold brass necklace in the style of lungs, with rhinestone bronchioles, that strategically covered her chest. The garment was truly a show-stopper, and Bella Hadid was the ideal celebrity to wear it.
Met Gala 2022 After-Party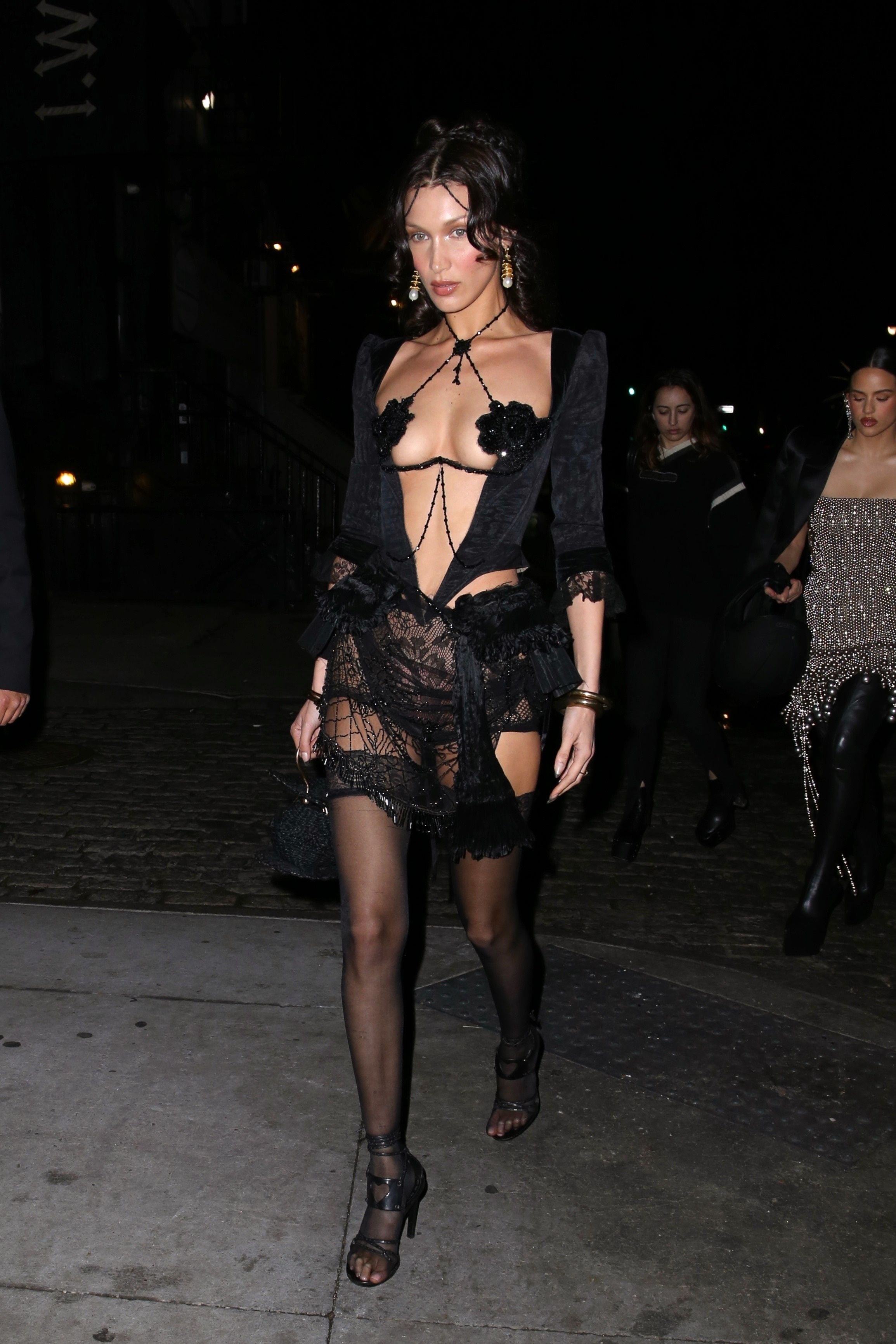 Celebrities like Bella Hadid adopted Rihanna's love of lingerie and donned a risque outfit to this year's Met Gala After-Party. The model walked the streets of New York in an all-black lingerie ensemble designed by Dilara Findkoglu, channeling her inner dominatrix vibe. The daring outfit included nipple covers tied to the necklace and she wrapped herself in all things revealing and sensual, including lace hot pants, a fishnet skirt, and sheer stockings.
More on celeb fashion? Read these: 
https://lipstiq.com/celebrity-entertainment/195825/fashionasta-7-lil-nas-x-red-carpet-looks-that-give-us-life/
https://lipstiq.com/celebrity-entertainment/191222/redress-with-the-dress-celebs-most-eye-opening-revenge-dresses/