I'll be real honest with you guys. I love plants, I really do! Adding a splash of green to your home or your rooms may do wonders for your mind, body and spirit. Not to mention, it's also pleasing to the eye! But, I don't have green fingers. Literally any plant I look after dies. So what do I do with this unforeseen misery?
Getting plants can be really intimidating and if you're somewhat like me or a newbie to plants, you might have absolutely no clue on which plant you should choose. That's why I'm here to lend some tips. Juggling between my work life and private life (and of course, a pinch of laziness), I struggle to look after any plant that I purchase. It's one thing to buy a plant – but of course, it's another thing to look after them. They are living creatures too, you know. Luckily, we have some amazing greens that're made just for unlucky or lazy peeps like us!
Here's a list of my personal favourite plants to keep indoors. They're super easy to manage, are less of a hassle to maintain, and you can have all the time to yourself without worrying much about your potted pal.
1. Snake Plants
Two reasons: hands-off and easy to care for. This cheerful plant with unique patterns comes in a variety of colours and grows straight up, making it a fantastic choice for folks with little space. Snake plants are also known to filter interior air, so some people prefer them for that reason. If you're a newbie or someone who just forgets about watering plants (like me), snake plants are an excellent choice of plant since they are forgiving and can survive for two to three weeks without being watered.
2. Spider Plants
Spider plants prefer temperatures between 55 and 80°F (13–27°C), which makes them a great indoor houseplant. These hardy plants can withstand a lot of damage, making them ideal for inexperienced gardeners or people who lack green fingers. They will thrive if you give them well-drained soil and bright, indirect light. These guys can also survive in windowless, fluorescent-light-filled offices. Spider plants can withstand a few missed waterings because it holds water efficiently. Plus, it produces babies that you can pot and give to your friends!
3. ZZ Plants
Because of how easy they are to care for, ZZ plants have become increasingly popular over time. Zamioculcas zamiifolia, or ZZ plants, feature lustrous leaves and an upright shape. They're as hardy as snake plants and can tolerate low light, although they prefer to be absolutely dry between waterings. The ZZ plant can readily survive low-light situations, which is very beneficial for apartment dwellers or those who live in other shaded areas. The ZZ plant is a joyful alternative for the kitchen or bathroom, both as a single plant and when paired with other plants. Keep in mind that the roots should not be kept damp, and you'll have a happy plant. Its attractive, spiky leaves are an added bonus.
4. Money Plant/Pothos
Not sure where to begin with when it comes to adding a little more life and greenery to your space? Consider purchasing a money plant. Not only do they have a striking appearance, but they're also rather simple to maintain. This trailing plant, often known as golden pothos, money plant, or devil's ivy, is one of the most forgiving houseplants available. It can withstand both low and high light levels, so you can install it almost anywhere in your home. Water when the top inch or two of soil dries out for optimal results. This low-maintenance species is ideal for novices or those who aren't always careful with their plants.
If you give a money tree the appropriate amount of water, light, and humidity, it will flourish. Money plants have also been linked to riches and good fortune. It is widely believed that if you have a money plant in your home, you will never have a financial crisis. So bring in these gorgeous babies and get rich!
5. Succulents
Whether you're searching for a present for a beginner gardener or a plant that can withstand harsh circumstances, start your plant collection with some of these easy-to-grow succulents. Succulents are low-maintenance (overwatering causes them to rot) and don't require much attention, but still look excellent when included as part of your indoor decor. They're also forgiving of mistreatment and overwatering. You only need to water them once or twice a month using a spray bottle, and you're good to go. Succulents would look lovely in any spot, since they also come in different shapes and colours, but I really love it when they're placed on my study table or office desk. It gives me a relaxing feel.
6. Air Plants
Yes, this plant appears to grow on nothing but air! It's a soilless epiphyte that's frequently marketed in glass globes or placed on a piece of wood. It requires a lot of light. Mist it frequently, but once a week or two, remove it from its planter and soak it in water, shaking off excess moisture and letting it dry before replacing it. Air plants are appealing because they can be displayed in a variety of ways, including on stands, terrariums, and even refrigerator magnets.
7. Baby breaths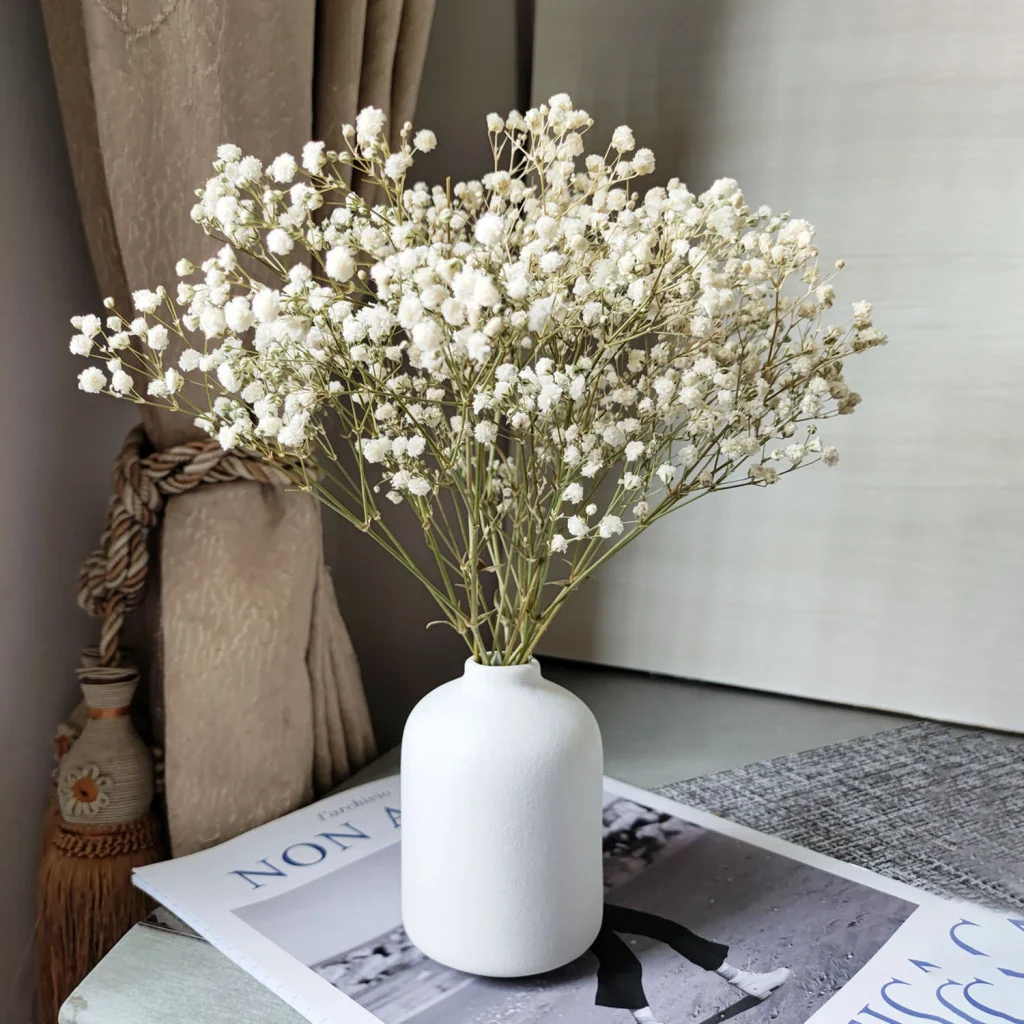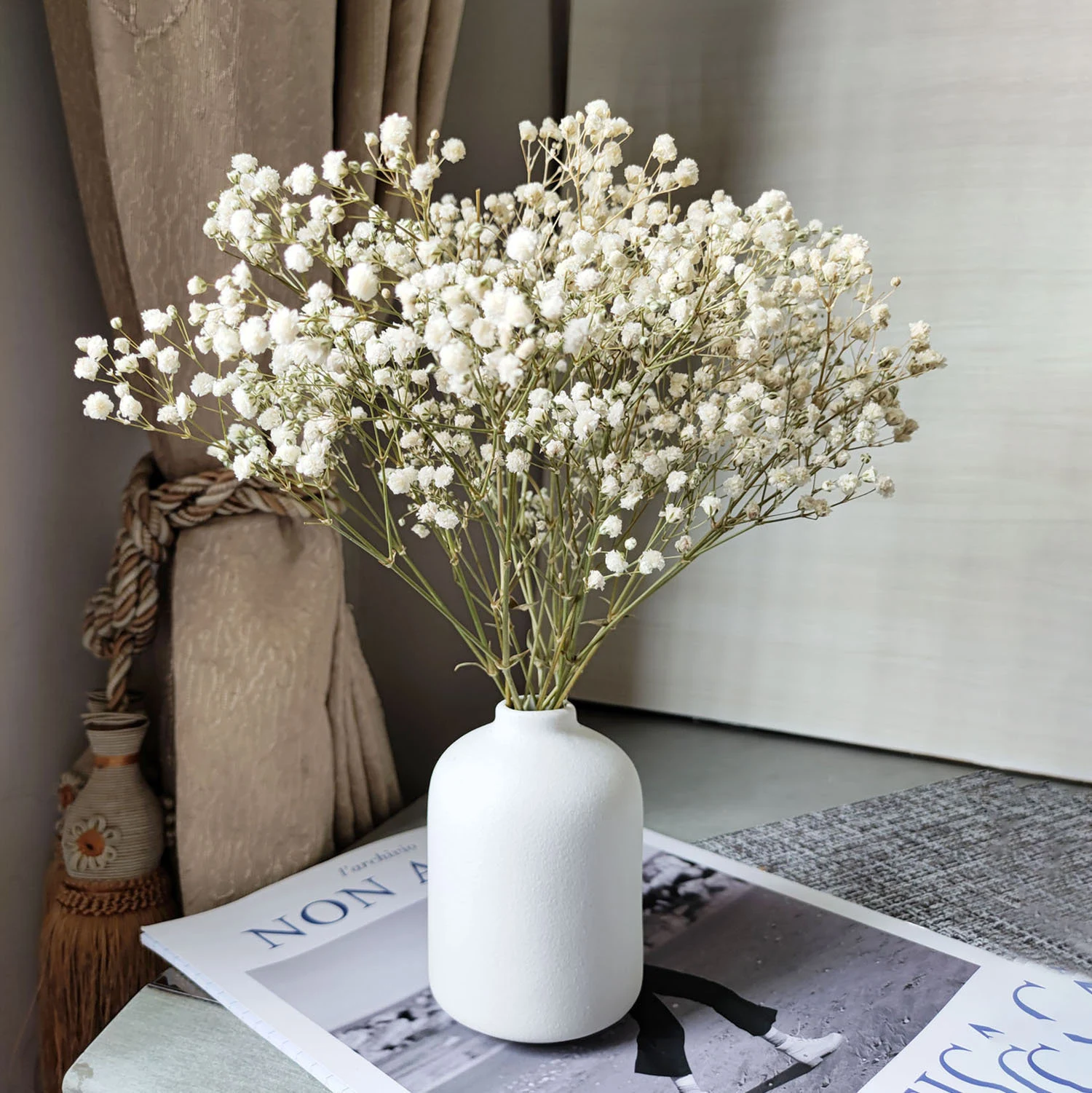 Something cute and flowery. Of all flowers, my absolute favourite are baby breaths. Why? Simply because they look cute, last longer and can be used in a variety of ways. Despite its fragile name, baby's breath is a durable, low-maintenance flower that adds an airy, billowing touch to your flower or rock garden. You can find them in almost any florist and the best part is, they come in variety of colours. Simply grab the ones you find appealing and place them in a jar or a paper cup. You don't need to fill in water, just use a spray bottle to water once a week. Baby's breath can be kept almost anywhere (I have a bunch in my office!). Not only are they great for decor, they can also be part of your hairstyle. Tired of your regular hairstyles? Just grab some baby's breath and stick them in your hair.
8. Lucky Bamboo
Lucky Bamboo, like air plants, is another choice that can thrive without soil. Put the stalks in a vase filled with water and pebbles or marbles at the bottom. If your bamboo outgrows its container, just replace it with a new one that has a similar set-up – no repotting necessary. But if you want your bamboo to last even longer and thrive better, I recommend using soil or water. If you're using soil, make sure your soil is slightly moist, whereas if you're using water, change the water weekly. Most people use bamboo plants for feng shui purposes. Check out The Spruce to know more.
9. Anthurium
From the looks of it, I thought this plant would be hard to maintain, but actually, it's not! Anthuriums, which are known for their lipstick red or dusky pink blossoms, are making their way up the list of best houseplants. In strong light and high humidity, it blooms for months. It's great if you keep them slightly moist. As long as you give several vital elements for the plant, anthuriums are extremely hardy and require minimal care. Repot with peat moss or a coco coir-based soil combination, place in bright, indirect sunshine, and let the soil dry out between waterings. Add your anthurium to a green collection for a stunning flash of colour, or use it as an entryway or living room center piece.
10. Elephant Ear Plant
Leafy plants are one of my favourites! Simply because they are attractive and give your space an aesthetic feel. As a result, the larger the leaves, the better! Elephant ear plants are simple to grow. They prefer moderate shade and filtered sunlight, as well as rich, moist soil. It's recommended to use a large container because the leaves are usually quite sizable. A pot of elephant ear plant in your home or office is a real eye-catcher. Even if you only have a tiny space, this incredible plant may transform the look and feel of your home.
Indoor plants, which range from long, trailing, viney plants to ones with flowers, make wonderful housewarming, congratulations, and even birthday gifts. So have some fun with your own selections and turn your space into something green and amazing.
More on indoor plants? Read this:
https://lipstiq.com/lifestyle/home-and-decor/186895/bottom-watering-check-out-this-nifty-way-to-water-your-potted-plants-trending/