It's not easy getting ready for this year's Hari Raya. We were unable to visit our hometowns or invite friends to our "open houses" during the two years of Covid-19 restrictions, so we had to put the joy of Hari Raya on hold. Plus, we didn't go all-out in terms of garments, because we were simply staying at home and snapping images for our Instagram pages.
Which is why we have to be EXTRA in celebrating this year's Raya, since we'll be able to travel back home and put on our prettiest dresses and adorn our homes with the most festive decorations. And to make our Raya shopping excursions more worthwhile and easy, whether it be for cosmetics, fashion or home appliances, hoolah is stepping up as our go-to shopping destination!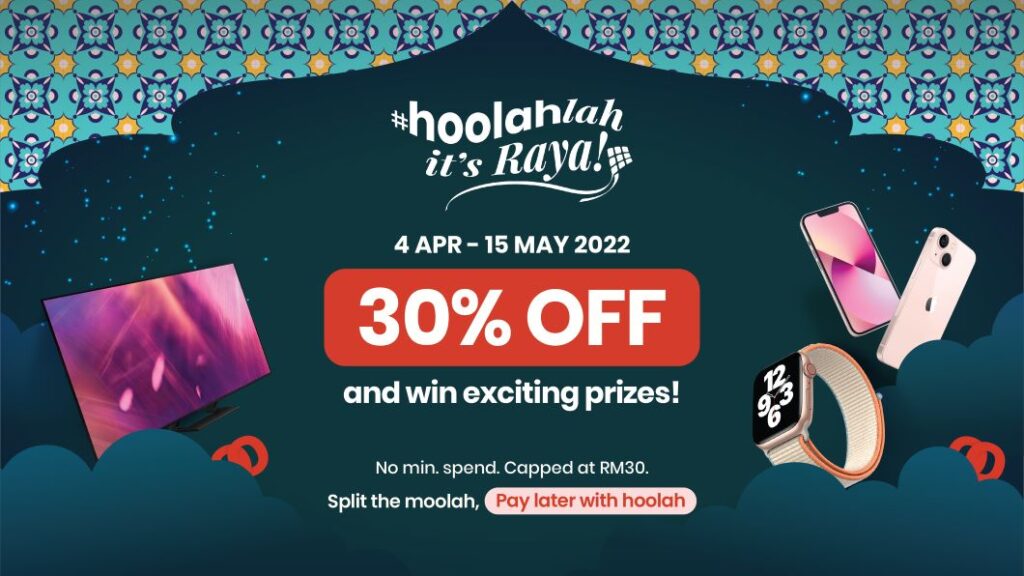 To commemorate the Raya holiday, hoolah Malaysia has launched the #hoolahlahitsraya promotion, which offers a 30% discount sitewide. From now until the 15th of May, use hoolah to save 30% (maximum of RM30) on all orders, online and in-store, at participating retailers, ranging from beauty brands to fashion and homeware labels, including new Muslimah merchants Qiszar, Shawlpublika, and Diyanah Halik.
Some of the merchants taking part in hoolah's #hoolahlahitsraya promotion are listed below.
Beauty
Fashion
Home & Living
Furthermore, customers who #hoolahit with a minimum purchase of RM100 throughout the campaign period will be automatically included into the hoolah Raya giveaway. Simply pay with hoolah at any online or in-store retailer in Malaysia, and lucky winners will be entered to win massive rewards.
#hoolahlahitsraya Social Media Giveaway
Grand Prize
Samsung 55-inch Smart TV
Second Prize
iPhone 13 Pro
Third Prize
Apple Watch SE
Also, show off your #RayaOOTD and #RayaBeautyLook and tag @hoolahmy on Instagram to enter hoolah's bi-weekly Raya social media contest. 10 lucky entrants will receive additional prizes from a variety of fashion and cosmetics retailers, including Inhanna and Sweet Peachier.
Visit hoolah now!
More on Hari Raya? Read these: 
Baju Of Honour: Get Baju Raya From These Snazzy Local Brands! #SapotLokal
Look Raya-diant This Festive Season With Dr. Dennis Gross Skincare Must-Haves!