In terms of art and bodily display, tattoos are simply beautiful. What's more appealing is the placement of tattoos. We're all used to seeing tattoos on the arm, wrist, back, neck and legs – but ever thought of tattoos under your boobs? When it comes to tattoos, the underboob is one of the locations where they are not particularly prevalent. Over the last few years, underboob tattoos have been increasingly trendy (not to mention, you can now hide them easily!). Their popularity has soared. And if you're interested in joining the underboob tattoo trend, keep reading!
Underboob tattoos, are tattoos that go under your boobs (obviously!). The sternum, ribs, and side breast would all be included. The under breast tattoo can be applied to any of the general locations under your boobs. Yes, it is excruciatingly painful, and yes, it is costly. But it's well worth it! Here is a stunning collection of underboob tattoos we've picked for you. So dive right in and choose the design that best suits your needs.
1. Creation of Adam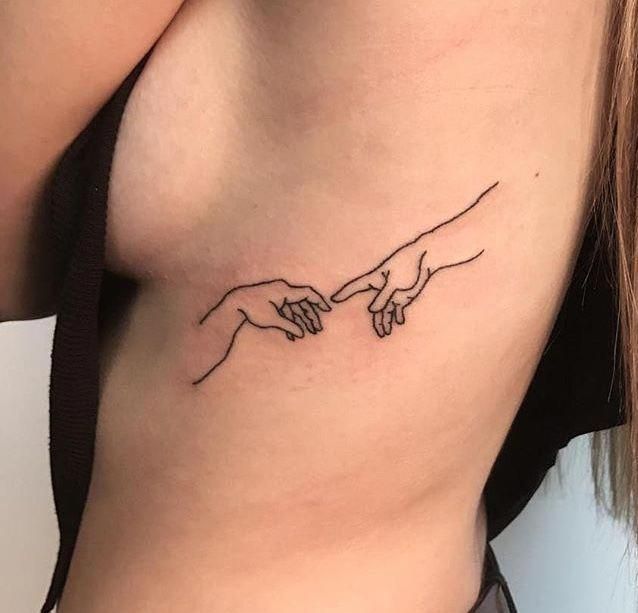 This tattoo is located right beneath one breast and is based on Michelangelo's renowned Sistine Chapel painting. It depicts the Creation of Adam, one of the numerous paintings on the Sistine Chapel's ceiling. This simple tattoo, which represents God's hand touching Adam's and giving him life, is an inspirational detail that inspires many tattoo artists.
2. Angel wings tattoo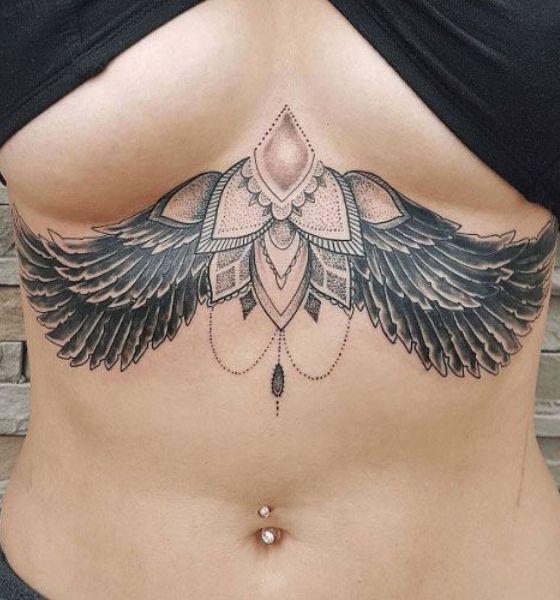 Angel wings on the sternum are a common underboob tattoo design. This is primarily owing to their ability to fill empty space. This underboob tattoo is exquisite and has a deep message. Angel wings are symbolic of faith, protection, and bravery.
3. Rose tattoos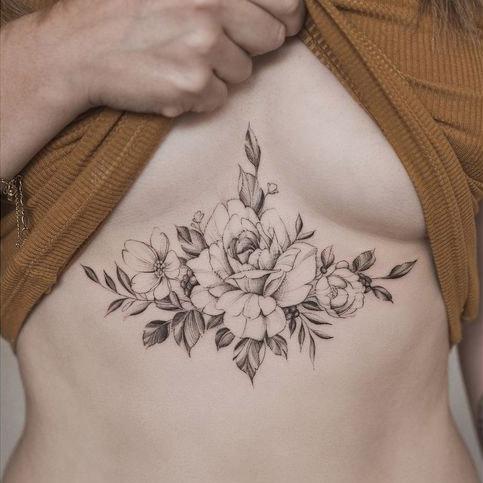 Whether you want to leave it as it is, or combine it with other elements, a rose is a lovely and symbolic flower that provides for unique and meaningful body art. It is frequently connected with love, beauty, and fresh starts. A rose tattoo can be used alone, as a filler, or in combination with other images like a clock, skull, or butterfly. It's a great choice for underboob or sternum artwork because it may look delicate and feminine or make a bold statement. In addition, the colour of the rose has diverse connotations. For example, a red rose represents love and passion, whereas a black rose represents loss or mourning.
4. Word/quote tattoo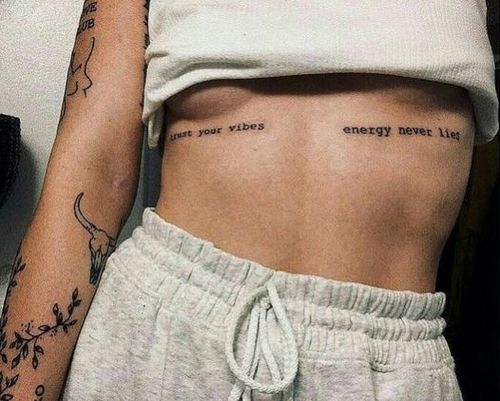 The simplest tattoos are often the most profound, and a word tattoo can be a powerful sign. It might be the name of a loved one, a tribute to someone who has passed away, or a term that has meaning for you. Perhaps it serves as a reminder to be brave or strong. It could also be something you want to be. There are so many options and languages to select from, so take some time to consider your inking and discover something that moves you. You could also ink on quotes instead of a single word.
5. Mythological tattoos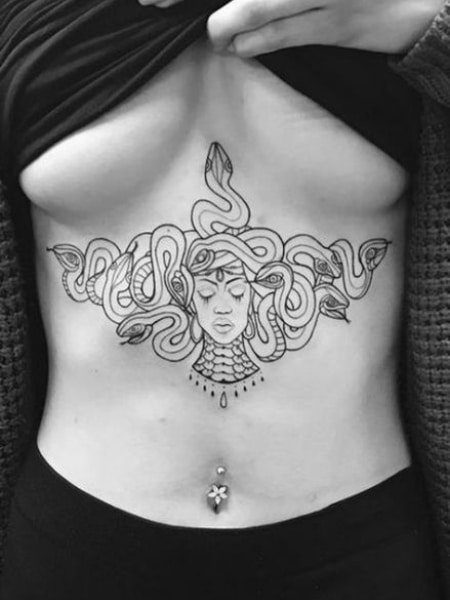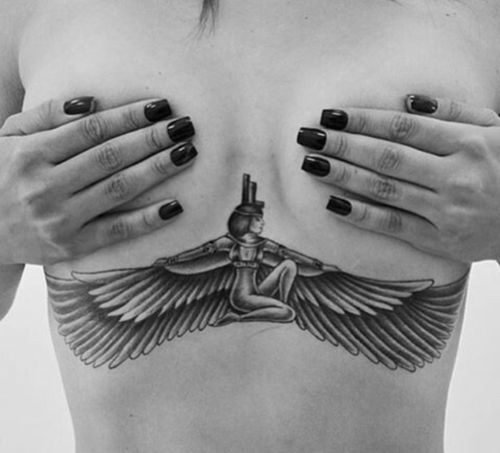 There are conventional symbols and gorgeous tattoos, but there are also unusual tattoo alternatives. These can be custom-made for you or have connotations that are meaningful and relevant to you. This might assist you in creating something that expresses an aspect of your personality or provides you with comfort and delight. Maybe it's a smart statement, a spin on a mythological motif, or something you drew yourself. The idea of a Greek or Egyptian theme would be incredibly amazing. Try Medusa or the Goddess Isis.
6. Skull tattoos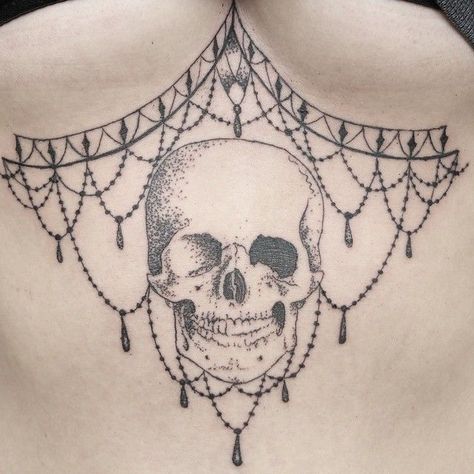 A commonly recognised emblem for death and the hereafter is the human skull. Although this meaning may appear gloomy, skull tattoos are among the most popular choices for both men and women. They are bold and scary, but they can also have a positive connotation, such as reminding the wearer to live each day to the fullest or that death is not something to be afraid of. To make the design even more intriguing, you may combine your skull with other pictures such as roses.
7. Mandala tattoos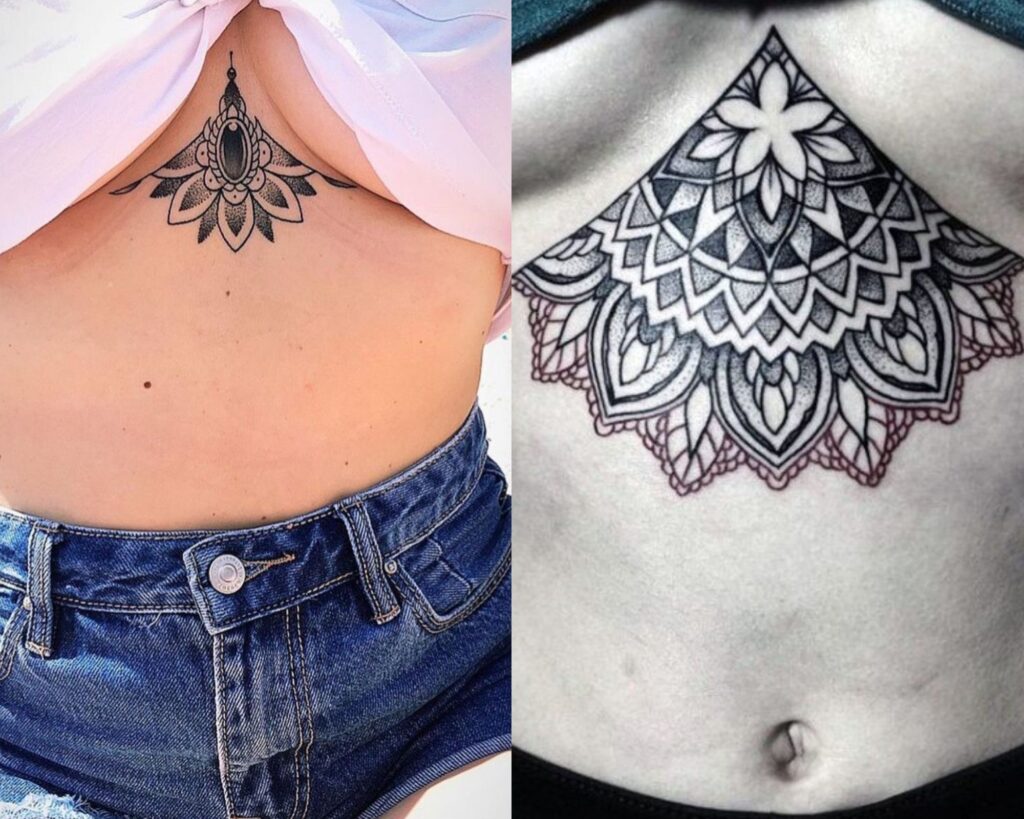 Another popular design for under-the-breast tattoos is a mandala. It reflects the universe's structure as well as the circle of life. It can be tailored to one's preferences. Furthermore, this is a tattoo design for the underboob that is adaptable and suitable for everybody. By adding a floral touch to the mandala, you may add other aspects outside the mandala.
8. Henna tattoo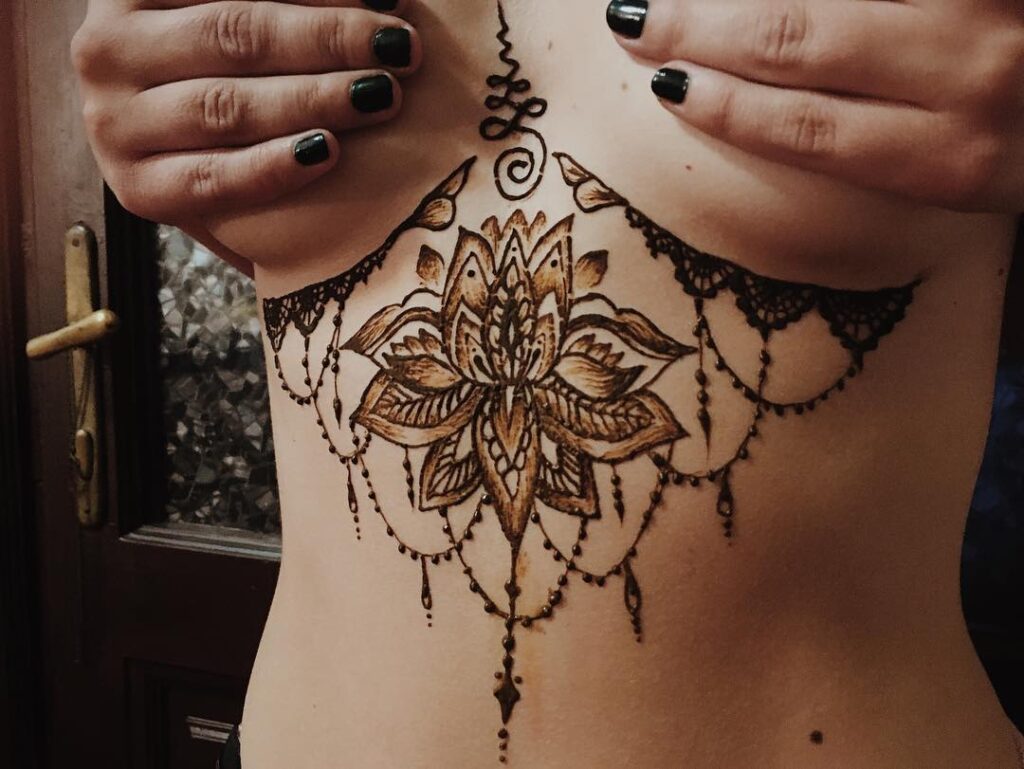 If you're not quite ready to commit to permanent body art, a henna tattoo might be the right alternative for you. Traditional Indian weddings frequently feature the artwork, which can be quite emotional and symbolic. Henna is a plant-based ink or paste that causes no discomfort when applied. They will also fade over time. It comes in a variety of colours, including red, orange, brown, and a bluish-black shade, and it complements most skin tones.
9. Small tattoos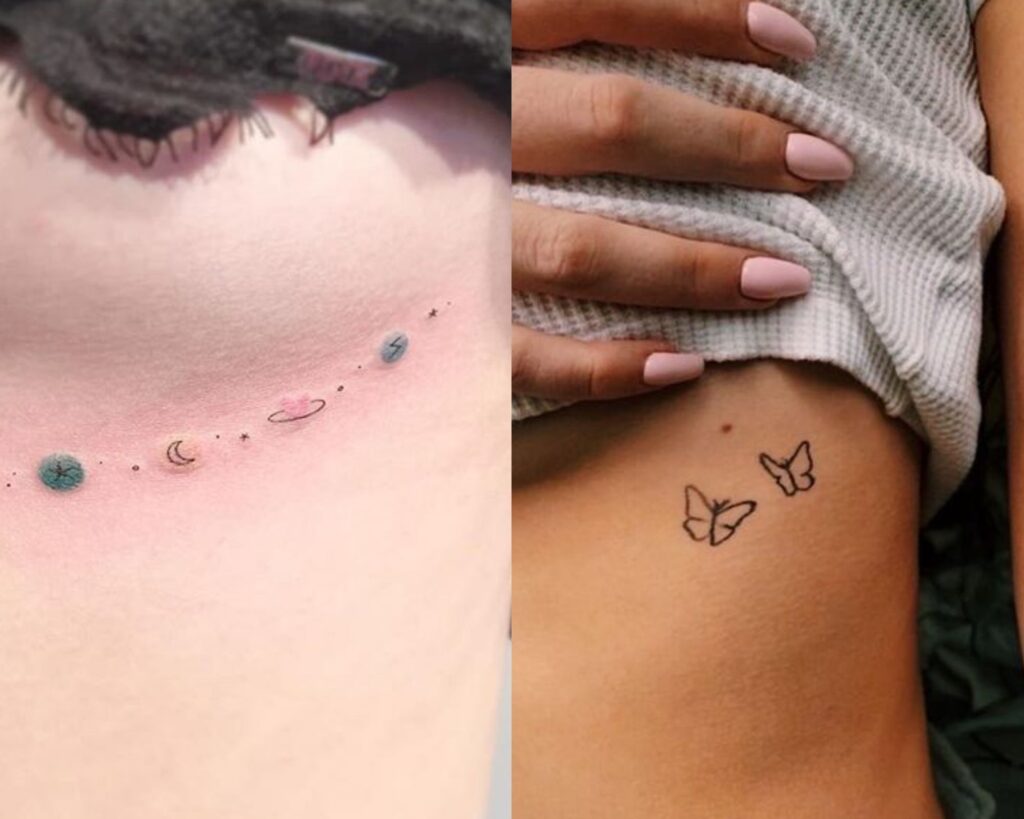 Although underboob body art looks fantastic, it may be extremely painful, which is why many women prefer smaller designs. This decision is influenced by more than just the discomfort aspect. Small tattoos are becoming increasingly popular since they can appear dainty, are easily disguised by clothing, and are just as significant as larger tattoos.
10. Zodiac tattoos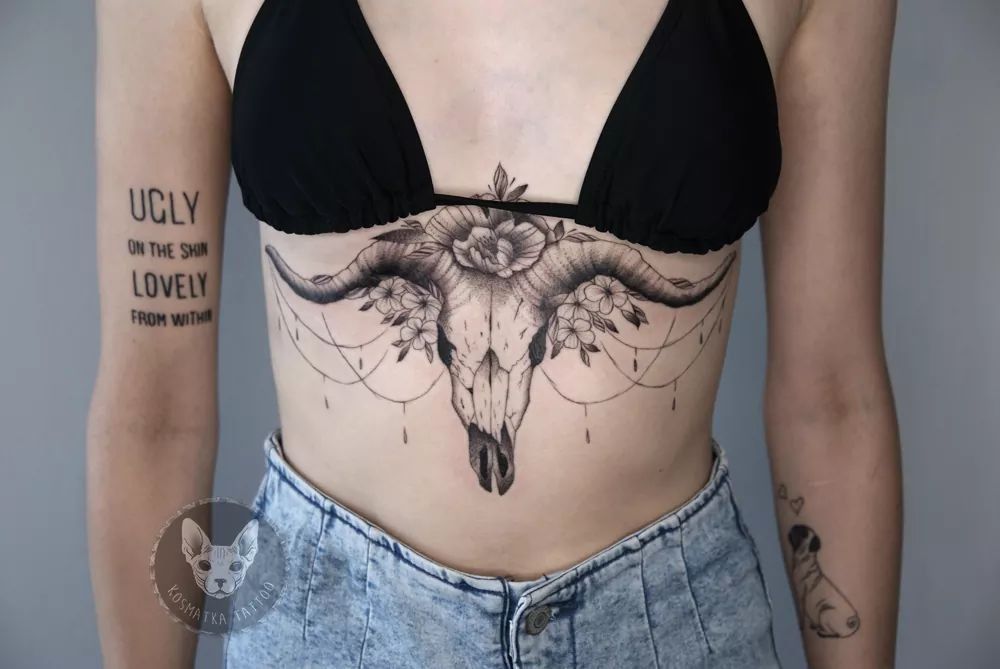 It doesn't matter if you can go on forever about the complexities of your birth chart; zodiac tattoos can look great on everyone. You can incorporate astrology into your body art in a variety of ways: You can represent one specific location in your birth chart, such as your moon sign, or you can stick with your main sun sign. It appears to be cool, but it will, of course, cause even more pain. Why not if it's worth the effort?
More on tattoos? Read this:
6 Minimalist Tattoo Ideas That Will Make You Want To Get Inked