Marks & Spencer is proud to present its Ramadan Collection, a coordinated collection of timeless modest designs that are customized to fit the occasion, evoking daily easy style with luxury and grace. The collection's adaptability is highlighted by a variety of casual designs and dramatic sweeping shapes that readily transition from day to evening while maintaining guaranteed quality and comfort.
Fashion for the whole family with a modest design
This Ramadan, dress your best with Marks & Spencer's stylish Ramadan collection for mom, dad, and the kids. Juliana Evans, a Malaysian actress, TV personality, and model, has dressed her entire family in these beautiful M&S clothes for the occasion!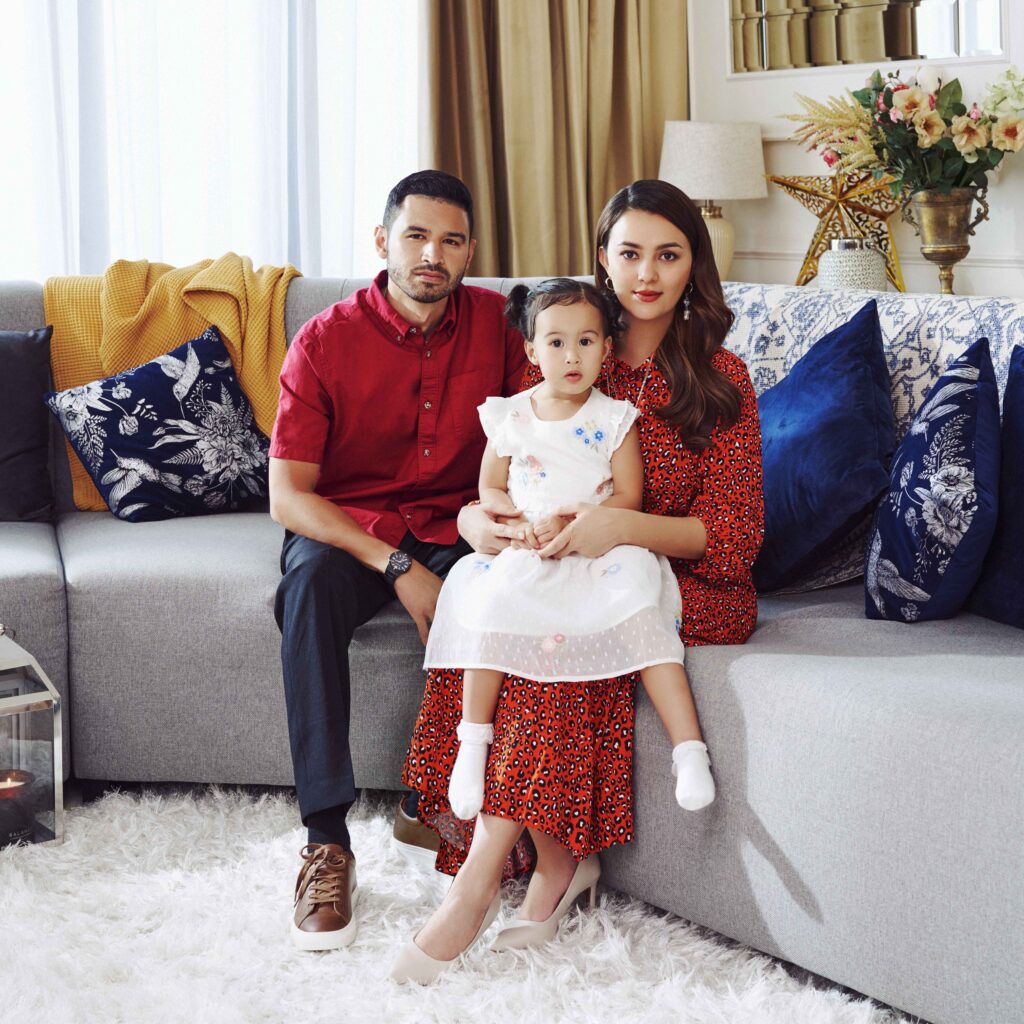 Look rad in red like Juliana and her spouse while keeping your youngster comfortable in a lightweight chiffon outfit, for people who appreciate making a bold statement.
Make it modest and feminine, yet fashionable!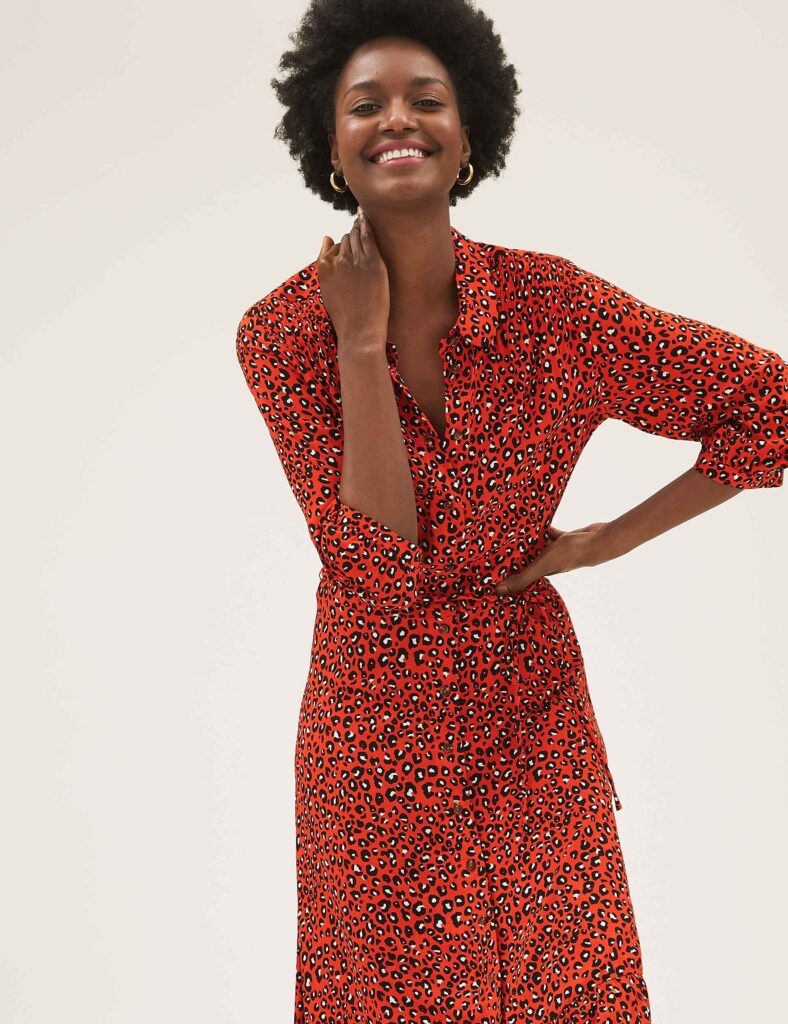 Beautifully crafted items are boosted with airy lightweight fabrications, delicate craftsmanship, and colourful embellishments to explore femininity through a contemporary viewpoint. Touchable materials, ranging from cotton broderie to silky satins, provide texture and movement to a casual silhouette, yet elegance shines through. Understated neutrals and coral colours are blended with delicate designs and tone pieces in a revamped colour palette, reflecting a touch of modern luxury during Ramadan.
Trusted quality and elegance are at the centre of careful design throughout the collection, with trademark pieces ideal for all occasions, from Iftar to Sahur and beyond. The hero pieces include elegant broderie dresses and romantic tiered maxi skirts, as well as patterned smocked blouses and fashionable wide leg trousers, all with volumized shapes and on-trend midaxi hemlines.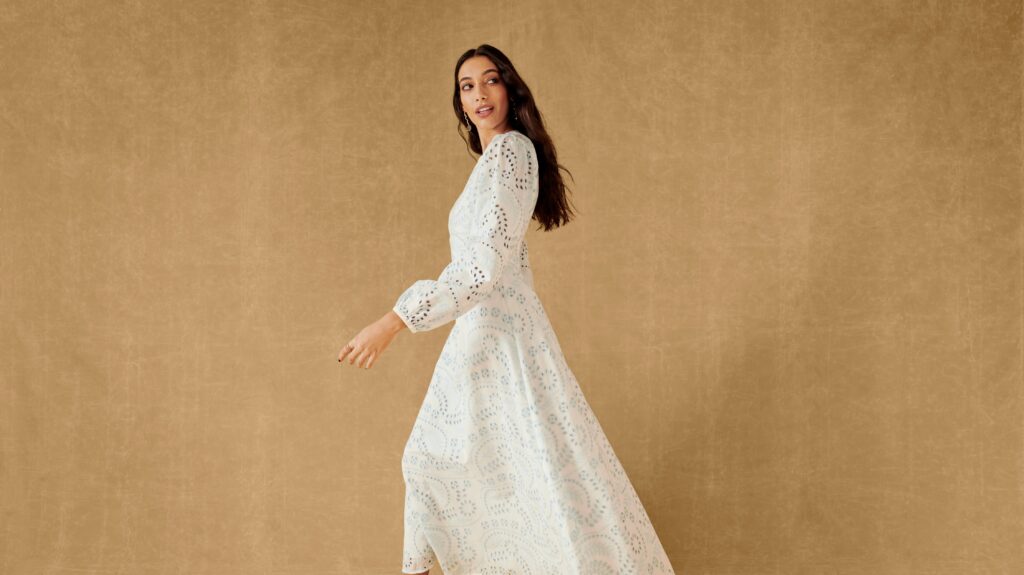 For Ramadan, the popular floral maxi dress is reimagined in a lightweight cotton-blend fabric that tiers through the skirt for modest shape and has an all-over metallic shimmer for a glamorous finish and ultra-feminine vibe. This exquisite garment will boost any Ramadan wardrobe with pintuck detailing at the waist, shoulders, and cuffs to give a fitted look for a flattering silhouette.
Raya styles feature a new colour palette that includes delicate peacock tones that are finished with glittering metallics, bringing limitless beauty to joyful outfits. Longline dresses with ladder inserts show a bold attitude to Eid style while complementing broderie skirts and puff sleeve shirts are perfect for easy breezy evening events.
Fluttery frills, delicate detailing, and cutwork patterns provide a feminine touch to this dress, making it the ideal complement to any Eid outfit. Discover the complementary sequin angel sleeve top and midaxi skirt, both made of sequinned fabric, for a classic exquisite and stand-out Eid ensemble.
This collection also includes mini-me styles in kidswear, ensuring that young ones can experience their favourite Raya looks, which include a variety of traditional flowing gowns that are suitable for any occasion. Patchwork broderie dresses, embroidered tutu skirts, and flower-patterned maxi dresses with fashionable hem dips and frill details will make a beautiful addition to little ones' closets are all available.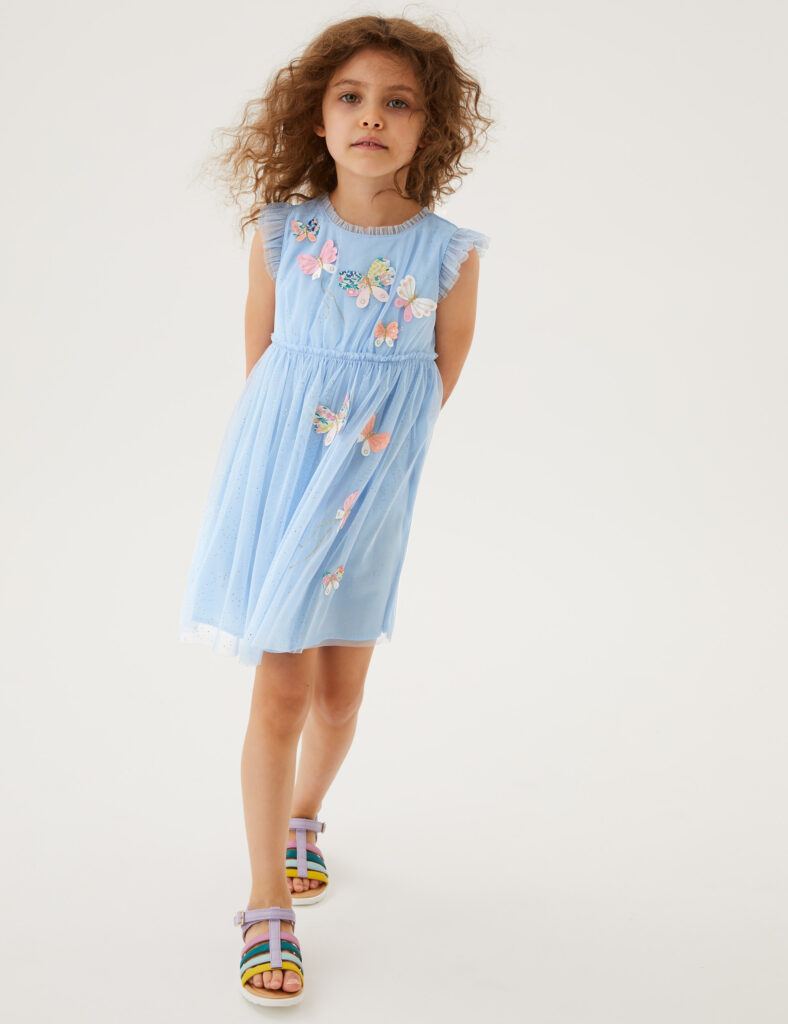 Beautifully delicate embroidered flowers and butterflies, fashionable mesh sleeve details, and billowy tiered designs in fresh colours of white, lilac, pink, and blue enhance the styles, keeping children cool and stylish for Eid celebrations.
There are 11 items available from this collection listed below:
| | |
| --- | --- |
| Item  | Price |
| Refined Broderie Dress T69/1209X_C8 | RM349.9 |
| Refined Broderie Dress T69/1209X_K4 | RM349.9 |
| Ditsy Floral Wow Dress T42/1022X_C8 | RM349.9 |
| Smock Blouse T41/1045_J4 | RM149.9 |
| Smock Blouse T41/1045X_E4 | RM149.9 |
| Open Neck Blouse T41/1047X_C8 | RM209.9 |
| Angel Sleeve Top T43/4621X_CO | RM149.9  |
| Angel Sleeve Top T43/4621X_CG | RM149.9  |
| Ditsy Floral Tiered T42/1020X_E4 | RM209.9 |
| Wide Leg Trouser T59/1543T_CO | RM274.9  |
| Wide Leg Trouser T59/1543T_CG | RM274.9  |
The Marks & Spencer Ramadan Collection is available for purchase both online and in stores.
More on fashion? Read this:
From Outer Spade! Kate Spade New York Debuts Gorgeous Fall 2022 Collection