As a writer, I've always been fond of journaling. I remember spending my free time writing stuff, decorating and pasting stickers in my journal. The thing about journaling is it's fun, calming and you can set-up in whichever way you want. But one thing I struggle with in journaling (up to today) is picking a theme. A theme is basically a concept you choose while creating the layout and content of your journal.
It can be difficult to come up with the right bullet journal inspiration. Lists, collections, weekly spreads, and so much more are all available. There's so much to discover! So, if you're someone struggling to find a theme or just finding something to fill those pages, we've got just the list for you.
1. Floral Theme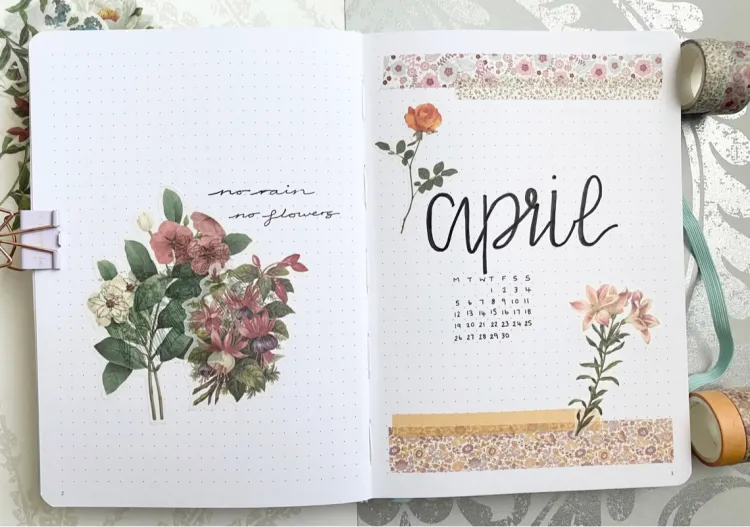 Flowers, plants, and gardening are all excellent themes for an art journal. Whether your writing corner overlooks a real garden or a concrete jungle, people with a green thumb will find inspiration everywhere. You may also use a home scenario to sketch your favourite indoor plants. Floral is a simple motif to implement, because all you need is a black pen to design the lines. These look great with or without colour, and there are so many different flowers to select from. Stick to one type of flower throughout your monthly set-up, or switch it up on each page! The options are limitless. This theme isn't just for professional artists; even the most basic floral drawings with a splash of colour can be effective. Personally, I would pick tiny flowers by the roadside or grab some baby's breath and include them in my journal. I even spray a little bit of perfume to make them smell good.
2. Positive Affirmations Theme
Positive affirmations, as we all know, are a terrific way to start or end the day. This can be difficult or even uncomfortable depending on one's self-esteem journey. And thankfully, art is a wonderful and satisfying instrument for channeling these feelings. It's up to you whether you want this to be more visual or include more writing in your journal. Embark on a journey of self-love and self-care via artistic expression! Write down positive quotes, poems, captions or anything that makes you feel good about yourself. If writing isn't enough, you could always turn to stickers.
3. Colour Theme
Try out the simplest of themes! Choose a colour (any colour), and make all of your headings, sketches, and doodles with that colour. In its most basic version, all you need is a single coloured pen or a few shades of the same colour. This theme is perfect for newbies who have completely no idea how to get started. You can just stick to one colour or if you want to be very creative, pick a colour each month and journal away!
4. Seasonal Theme
Generally speaking, a change of theme corresponds to the changing of seasons. Autumn, spring, summer, and winter are all possible topics to include in your journal. And, if that's not enough, the holiday season, like Christmas or New Year, is the ideal occasion to go all out in your journal, even if you're not a fan of themes. I mean, of course, we don't have all four seasons in our country, but you can still include those themes in your journal. After all, there's no limit how creative you wanna be.
5. Galaxy Theme
Do you enjoy stargazing? Have you ever wondered what else exists in the universe? Just so you know, the moon and stars aren't the only things that can be included in a galaxy motif. For this theme, you can also incorporate spaceships, astronauts, planets, or, if you're skilled enough, the Aurora Borealis. To make a beautiful galaxy spread on your pages, all you need is some watercolour and a white pen.
6. Disney Theme
The never-ending world of dreams and possibilities. And, the perfect theme for those who love fantasy. Mickey Mouse, The Lion King, The Jungle Book, Cinderella, and Snow White are all characters we've grown up with. And no matter how old we get, we can always count on Disney to bring out our inner child if we're feeling bad. And if someone says Disney ain't for grown ups, well, there's definitely something wrong with them! Just like how Disney is a magical place where dreams come true, your journal is the very same thing. With a wide range of Disney characters, you can create an entire journal just with this theme. Add glitter, stickers or a unicorn maybe – nothing is limited to this theme for sure.
7. Harry Potter Theme
Want something nostalgic? Then this theme is a must, especially if you're a Potterhead. Who doesn't like Harry Potter? The concept of living in a world where magic exists, where you can play sports on a broomstick, keep an owl as a pet, and drink butterbeer on a daily basis. This theme has a plethora of imagery to choose from. Harry Potter is a constant source of nostalgia, comfort, and fantasy for many grown ups, and it continues to be so. It's no wonder, therefore, that there is a variety of amazing Harry Potter bullet journal spreads and themes available! Do you have the same level of cunning as Slytherins? Or do you belong to the Gryffindor house of bravery and courage? Obviously, no matter which Hogwarts house you prefer, you could always make your own Harry Potter-themed diary using your imagination.
8. Recipe Theme
One theme I probably never thought about using in journals is food. But hey, nobody says you can't. And not only can you be creative with the theme, it eventually serves a purpose too. Making food spreads in a diary is beneficial, since it allows you to keep track of your food consumption by writing down the recipe and meal information. Many people give those recipes more individuality by modifying them to fit their own preferences. Not only that, you can use your journal to plan anything from grocery and meal shopping, to meal tracking, meal ideas, food doodling, drink monitoring, menu planning, and more.
More on journaling? Read this:
https://lipstiq.com/lifestyle/lifestyle-lifestyle/190496/make-it-write-the-3-major-benefits-of-journaling-hint-youll-live-a-happier-life/