Award season starts next month, kicked off by the 94th Academy Awards. Fans of nominees will have a field day predicting which of their idols will win or get snubbed. But hold your horses, because according to new research, donning a black Giorgio Armani gown increases the chances of winning an Oscar!
The study was undertaken by creative resource Design Bundle, which evaluated every garment worn by the winner of the 'Best Actress' and 'Best Supporting Actress' categories of the Academy Awards in recorded history, to determine if the colour and designer of a dress can affect the chances of winning an Oscar.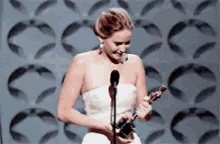 According to the analysis, black is the luckiest colour to wear during the Academy Awards, despite its traditional association with BAD luck. 33% of 'Best Actress' and 'Best Supporting Actress' category winners throughout history were dressed in black when accepting their awards. Cher's classic sheer 1988 Bob Mackie gown and most recent 'Best Actress' winner Frances McDormand's black Valentino are prominent examples.
Designer Giorgio Armani is the luckiest fashion label to be worn on the red carpet, so pairing his outfits with the colour black would make it the luckiest garment on Oscar night.
The analysis also revealed that gold was worn by 14 % of all female winners in recorded history, making it the second luckiest colour to wear to boost the chances of winning an Academy Award. The most recent win for an  actress wearing gold was Emma Stone's – in 2017, she received the 'Best Actress' gong for her role as Amelia "Mia" Dolan in La La Land. She wore a gold Givenchy Haute Couture design.
The third luckiest colour to be worn at the Academy Awards is white, with 12% of past winners dressed in white outfits on the big night.
Audrey Hepburn referred to the gown she famously wore as she collected her first 'Best Actress' award as her lucky dress – a white Givenchy gown restyled from her Roman Holiday costume.
If there are lucky colours, there are unlucky ones as well. The unluckiest colour for the Academy Awards is purple, with only 1.5% of nominees wearing it on the awards night going on to win an Oscar. Purple dress-clad Natalie Portman, who won the 2011 'Best Actress' award for Black Swan, was one example.
According to the analysis, Giorgio Armani is the luckiest fashion house in history, with 7.1% of Oscar winners wearing Armani when accepting their award. Armani had a very good year at the 92nd Academy Awards, with both female winners in acting categories wearing Armani on the red carpet. Laura Dern, winner of 'Best Supporting Actress,' chose a pink Armani satin dress with a tasseled blacktop, while Renée Zellweger, winner of 'Best Actress,' wore an Armani Privé white one-shouldered gown.
A close second is Valentino, as 6.1% of winners chose the designer's outfits for their big night. For recent winnings, Frances McDormand won 2 'Best Actress' Oscars donning Valentino, while Cate Blanchette donned the Italian fashion house when she won her first Oscar in 2005.
In third place is a 3-way tie between Yves Saint Laurent, Chanel and Christian Dior – all with 3.1% of winners donning their designs accepting Oscars. Keep an eye out for all the designers at this year's Oscars!