This week's fashion column is for the short queens and short queens only; I mean, we're gonna talk about how to look taller, so do you really need these fashion tips if you're towering over the 5′ foot girlies?? I don't think so.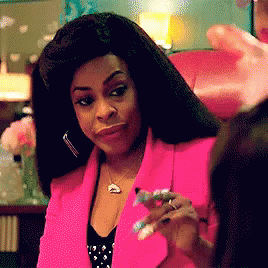 Well, now that it's just us short ladies, let's get down to it. First of all, listen here. I know your pain, I am absolutely familiar with the struggle we have for being the way we are but… we are totally not gonna let that stop us from showing up and showing out are we? If you're 5'1 like me or you're close to it, you probably want to get that statuesque look and you want to add a little extra height to your appearance. You know what? It's totally normal and understandable so don't sweat it. Keep on reading for the 4 fashion tips I have for you so you can look taller! Oh, and this is a bonus if you don't like wearing heels.
Tip #1
The key is to find the right type of pants for your look. Go for some jeans that fit nicely around your curves, but flare out a little at the bottom, or try on a pair of straight-cut pants like in the photo above. You want to make sure that the hem reaches past your ankles and covers a little of your shoes, so this will add more length to your figure.
Tip #2
We're going for high-waist everythang! While it's pretty clear that low-rise pants and bottoms are riding the Y2K comeback wave into the latest fashion trends, you don't want to be wearing them if you're trying to appear a little taller than you are. Obviously, high-waist bottoms are so much more lengthening than low-rise anything as they create the illusion of a longer torso. So you want to opt for a pair of high-waist pants or skirt that cinches at the waist and match it with shorter tops which will then produce an elongating effect to create a slimmer figure.
Tip #3
Call me crazy but I swearrrr white shoes make you look taller compared to black shoes which tend to cut you off and make your legs look like stumps. Sure, we can count on the classic Doc Martens and thigh-high boots but again, this is for anyone who wants to look tall without the burden and pain of wearing heels. Go for a pair of classic white sneakers in all its seamless and uncut neutrality, which will surely brighten your outfit and give your look a little pop while also lengthening your figure.
Tip #4
Of course, I couldn't leave this one out. Keeping your outfit monochrome, from head to toe, will instantly give a chic streak to your outfit – whether you're opting for casual or fancy. This means you want to go for a solid colour and wear ONLY that, but in different shades, which will definitely make you look taller, as it won't break up your silhouette – unlike the effect caused when you colour-block your outfit like in the middle pic. While sticking to one colour may seem a little plain and boring, I can assure you that playing around with shades will give your outfit an impressive statement!
More on Sarah-torial Style? Check out these articles here:
https://lipstiq.com/weekly-column/186821/sarah-torial-style-how-to-fck-over-the-government-but-fashionably/
https://lipstiq.com/weekly-column/183334/sarah-torial-style-dress-like-harry-styles-i-mean-its-in-his-name/