Blazers are a staple in your wardrobe and not only worn for work or a business event. The garment is considered to be one the most versatile pieces, as you can either dress it up or dress it down depending on the event you're going to.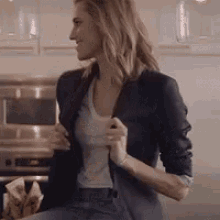 Blazers come in different styles and designs, and how they look depends on your body type. Certain body types are suitable for a certain type of blazer, which accentuates and foregrounds the silhouette of the body to perfection.
So, with that said, here's how to know which blazer suits your body type best.
Body Type
Before we get into the blazer picking, let's get to know the shapes of our bodies. As you all may know, we all have differing body types. The most common figures are these 5 body shapes, which are Inverted Triangle, Apple, Hourglass, Pear and Rectangle.
So, look at yourself in the mirror and identify what kind of body type you have. Do you have wider hips? Maybe broad shoulders? All these notes will let you easily find the best blazer to suit to your figure.
Blazer
Once you have identified your body type, the process of picking the right blazer becomes a whole lot easier!
Rectangle
With rectangular body shapes, what you want to focus on is clean lines. Since the width of your shoulders is the same as the width of your hips, what you want to create is the silhouette of your waist to show off that figure. Don't choose a blazer with hard shoulder pads, as that will emphasise the broadness of your shoulders. Hence, go for softer or non-padded shoulders to lessen the wideness of your shoulders.
Inverted Triangle
Inverted triangle body shapes have broader shoulders compared to the hips. Go for a blazer that accentuates the lower part of the body ie. with pockets, ruffles or a peplum design. This is to take away the focus from the broadness on the shoulders and making your figure more balanced.
Pear
Pear shaped bodies are a lot curvier on the hips, making the upper part of the body much smaller. With that, opt for a short blazer that cuts right at the waist of your figure. Also, aim for a padded shoulder as well, as this will create a more even body shape, while still maintaining that curvy figure. With a shorter blazer as well, it wouldn't create this extra weight on your hips.
Apple
We apple-shaped girlies got some junk in the trunk compared to other body types, and we are so not mad about that. However, when it comes to finding the right blazer, it's best to choose the ones that are flowy and not structurally fitted. With a flowy blazer, it's lightweight and super easy to style – from a casual look to a more business appropriate one.
Hourglass
God's favourite among them all is the hourglass figure. This can rock any blazer – from short to oversized – and still look amazing. But a blazer that accentuates the waist is sufficient to make your entire look appear well put together.
More styling tips? Read these: 
https://lipstiq.com/fashion/186975/black-is-the-new-black-two-tips-on-layering-black-on-black-apparel-like-a-boss/
https://lipstiq.com/jewellery/185950/chain-reaction-4-body-chain-styles-that-will-elevate-your-look-and-bling-you-tf-up/