Girl, I know that brush hasn't been washed in a while – and no, I'm not talking about your makeup brushes (although that's a story for another day). I'm talking about your hairbrush and yes, hairbrushes do need some cleaning too.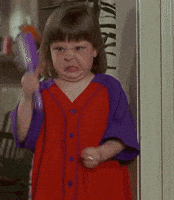 It's not enough just pulling the hairs from your hairbrush and deeming it clean. There is dirt, oil, dead skin cells and even your shampoo and conditioner in the crevices of that hairbrush that has been building up over time.
So I'd say it's time we wash away all that built up residue with this easy hairbrush cleaning tip by Jonathan Monroe from TikTok that I'm about to share with you. Plus, by following this hack, you don't even need to buy special cleaning products, because all the stuff that you would need can be easily found in your home.
Hair Removal
Instead of just ripping the hair from that hairbrush, try to use a rattail comb or a pencil and slide under each row to push out all the hair from the base. While some of us might be too lazy to do that, straight up pulling the hair out might damage the bristles on your hairbrush. Once you are finished with tugging all that hair out, there will be some excess left which you can just snip away with scissors. By then, you would see all the built up residue on the base of your hairbrush.
Concoction Making
Afterwards, grab a bowl and fill it with warm water – all the way up to where the head of your hairbrush will be fully submerged. Then, add in one tablespoon of baking soda and apple cider vinegar and whisk until thoroughly combined. This concoction will give the extra cleansing power to make your hairbrush squeaky clean. If you don't have apple cider vinegar, a gentle shampoo will suffice.
Wash Away
After plunging your brush into the bowl, use an unused toothbrush to scrub the base of your hairbrush from column to row. You will see all the dirt and oil leaving your hairbrush and turning the water murky. Once you have thoroughly cleaned and washed it, pat the hairbrush with a towel and leave it to dry overnight.
Hairbrushes, like cosmetic brushes, require our care. It isn't even necessary to clean it on a regular basis. Well, it depends on the amount of hair products you have on your head. If you're not using a lot of product in your hair, make it a habit to clean your brushes like, twice a month.
Here's a full tutorial on Jonathan Monroe's easy hack on cleaning a hairbrush:
More hairy beauty tips? Read these: 
https://lipstiq.com/beauty/183408/leg-endary-get-photo-shoot-ready-legs-at-home-with-these-6-steps/
https://lipstiq.com/wellness/183619/bush-on-top-or-nude-on-top-lets-talk-about-shaving-your-vag-before-doing-the-deed/