As much as we all love Santa Clause and his bag full of presents, let's be honest here, what we really have been waiting for is for Miss Rihanna to come down the chimney with a bag full of Fenty goodies.
But, it seems that we don't have to wait until Christmas as Rihanna has treated us to some game-changing gift bundles to help you and your loved ones get your #FentyHolidayFace on this festive season. Rihanna has you covered from head to toe, from skin care to immaculate cosmetics application!
For The Pre-makeup Glow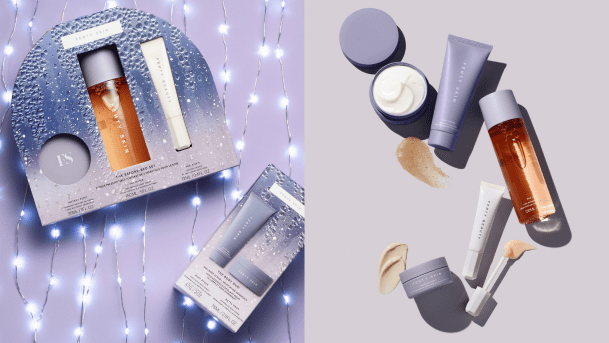 We are all aware of the importance of a good skin care ritual, particularly during the holiday season and late-night gatherings. Fenty Skin provides everything you need to improve your everyday skincare and body care routines to the next level, whether it's for yourself or your bestie.
THE BEFORE-BED SET 3-PIECE PM ESSENTIALS (RM255)
With this first-ever limited-edition Fenty Skin x Fenty Beauty package, you'll be saying goodbye to dull, dry skin and hello to luscious, kiss-worthy lips.
MINI BODY SCRUB + MOISTURIZER ESSENTIALS (RM139)
With this travel-friendly tiny duo set, give your skin a Barbados beach treatment this holiday season. This excellent combo gives you all you need for smooth, soft, and supple skin by buffing the rough + drip skin into a moisturising glossy shine.
THE DAILY DUO MINI CLEANSER + TONER SERUM DUO (RM86)
The Daily Duo gives you everything you need to cleanse and tone every day and night – from the comfort of home or packed up for a vacay.
For The Perfect #FentyHolidayFace
Your holiday look wouldn't be completed without some shimmer and sparkle on your face. With Fenty Beauty limited edition collection for the festive season, you will be the brightest star at the gathering rocking their most luxurious and glittering products.
BOMB POSSE MEGA MIX & MATCH EYESHADOW PALETTE (RM223)
Bomb Posse is a long-wearing, crease-resistant formula with matte, shimmer, and metallic finishes that are filled with rich, smooth, and blendable colors.
DIAMOND BOMB TRIPLE DRIP ALL-OVER DIAMOND VEIL PALETTE (RM190)
Diamond Bomb Triple Drip combines three of our most popular nude Gloss Bomb colors, reinterpreted as universal highlighter shades for an all-glitz, no-grit finish that flatters all skin tones.
GLOSSY POSSE: FANTASY 4SUM 4-PIECE GLOSS BOMB COLLECTION (RM184)
Give the gift of poppin' lips with this limited-edition package of Rihanna's favorite Fenty Beauty glosses, available in four new, universally flattering colors.
RESTING PEACH FACE CREAM BLUSH & MINI GLOSS BOMB CREAM DUO (RM113)
This limited-edition gift set adds a new splash of soft-peach colour to make cheeks and lips sparkle the Rihanna way.
For a limited time, all goods are available online at Sephora.com and at your local Sephora.