You know it's the jolly season when hallmark brand Aesop releases their yearly Holiday gift sets – though, this year is a bit special. Introducing  'Anatomy of Generosity', Aesop's 2021 collection of Gift Kits designed to honour and encourage everyday acts of kindness. Each kit has been tied to one of five registered charity groups. As a concrete gesture of support, the Aesop Foundation – the brand's now global charitable platform – has donated AUD $100,000 to each of these organisations, regardless of sales. 
Already available to purchase, the Gift Kits celebrate five of the starring roles in any nurturing and equitable society. Each of these personas correlates to one of the featured charities and the work that they do. Through the altruistic archetypes after which they are named, the kits can also serve as a token of recognition for the recipient, representing the values they embody for the giver. Each contains an assortment of complementary products, housed in a case made from 100% recycled paper pulp, making for a conscionable gift option whose impact reverberates beyond the first exchange.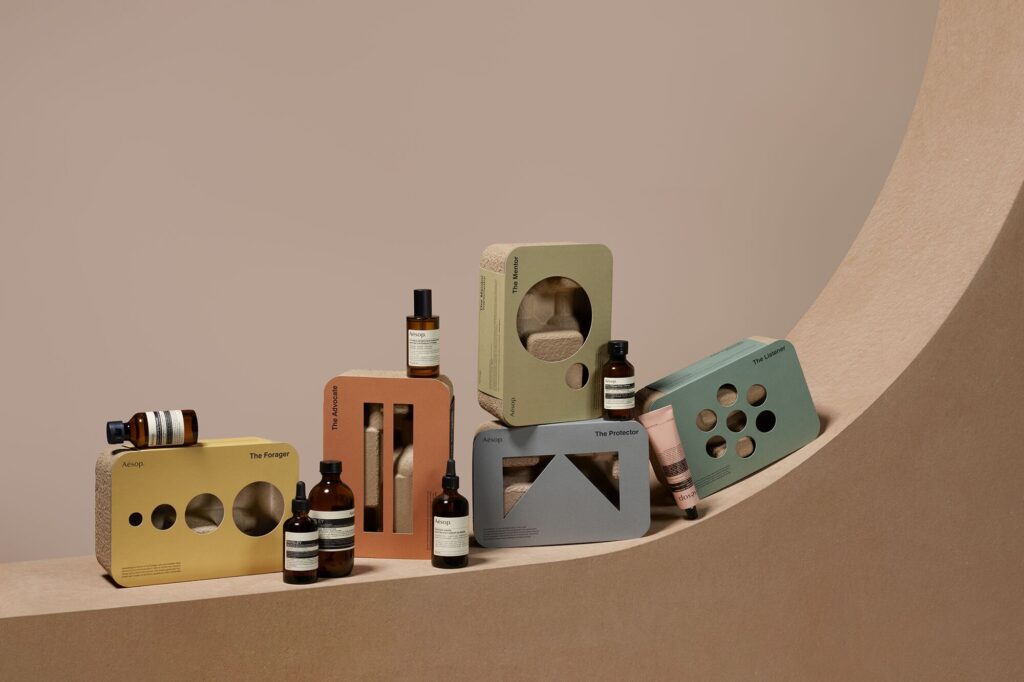 The Advocate 
Comprises a quartet of cleansers and hydrators for the hands and body. Seldom speaking for themselves, advocates give others the floor so their voices can be heard. They aim to amplify the plight of others and raise awareness of the underserved. Similarly, US-based human rights charity Voice of Witness brings attention to the stories of those most impacted by social injustice – who are too often underrepresented in mainstream media. Echoing Aesop's Appreciation for the power of storytelling, Voice of Witness compiles and publishes oral accounts and educates others through an ambassador network. The Aesop Foundation's donation will assist with the publication of another issue in their current book series and support a further three titles over the next two years. 

The Listener 
An invitation to invigorate and nourish the skin from neck to toe through a trio of complementary formulations. Patience attends this archetype – offering advice and understanding, they have also mastered their own tongue, always knowing the right word to speak, yet doing it sparingly. Offering similar sustenance, the London arts community PanIntercultural Arts was founded in 1986 to empower refugees and minorities through the transformative effects of the arts, while enlightening their audiences. Detailing the narratives of the displaced through performance, they work with members from all cultures and religions to foster a world of respect and understanding across societal divides. The funding from the Anatomy of Generosity will be used to recruit more participants and explore even more channels for the group's creative pursuits.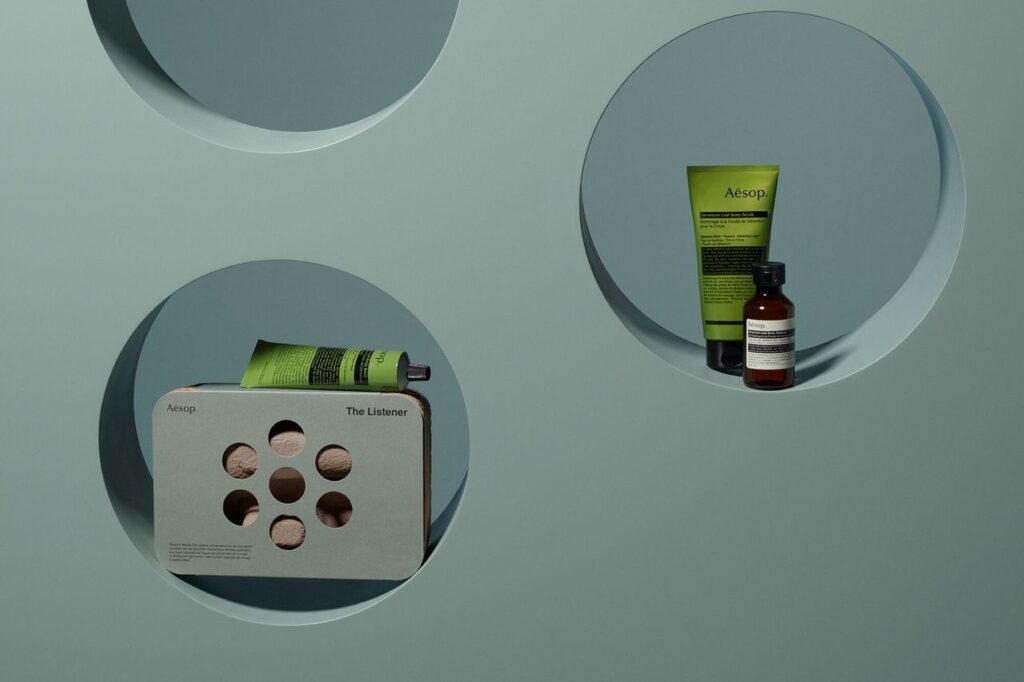 The Forager 
A refreshing citrus-infused body care duo, for those seeking a purifying and nourishing experience Assemblage is the art of this persona, accumulating inspiration to nourish the collective. They actively seek out the often overlooked to empower them and inform others of their importance. Sharing stories that are otherwise untold is also the focus of Photographers Without Borders, a grassroots global advocacy programme. The group is a diverse network of over 1000 photographers and filmmakers who shine a light on pertinent issues through visual mediums. Maintaining a mission to make the means of storytelling accessible to all, they also run schools and provide relevant resources. Aesop's investment in Photographers Without Borders will enable them to develop a five-year programme of funding for ten new storytellers to be brought onboard annually.
The Mentor 
Is a triptych of skin-supportive formulations for impeccable cleansing, toning and hydration. A mentor trades in wisdom, passing it on over time and from generation to generation. Their good-hearted and gentle handling keeps knowledge alive in the actions and minds of those lucky enough to receive it. Putting this in practice is Create UK, a charity dedicated to educating children in the UK with special needs and disabilities. Centering on the power of art, their creative programmes promote inclusion, wellbeing and belonging. The grant from this year's Gift Kits will launch a new initiative with an environmental theme—working alongside three schools in London, Leeds and Manchester.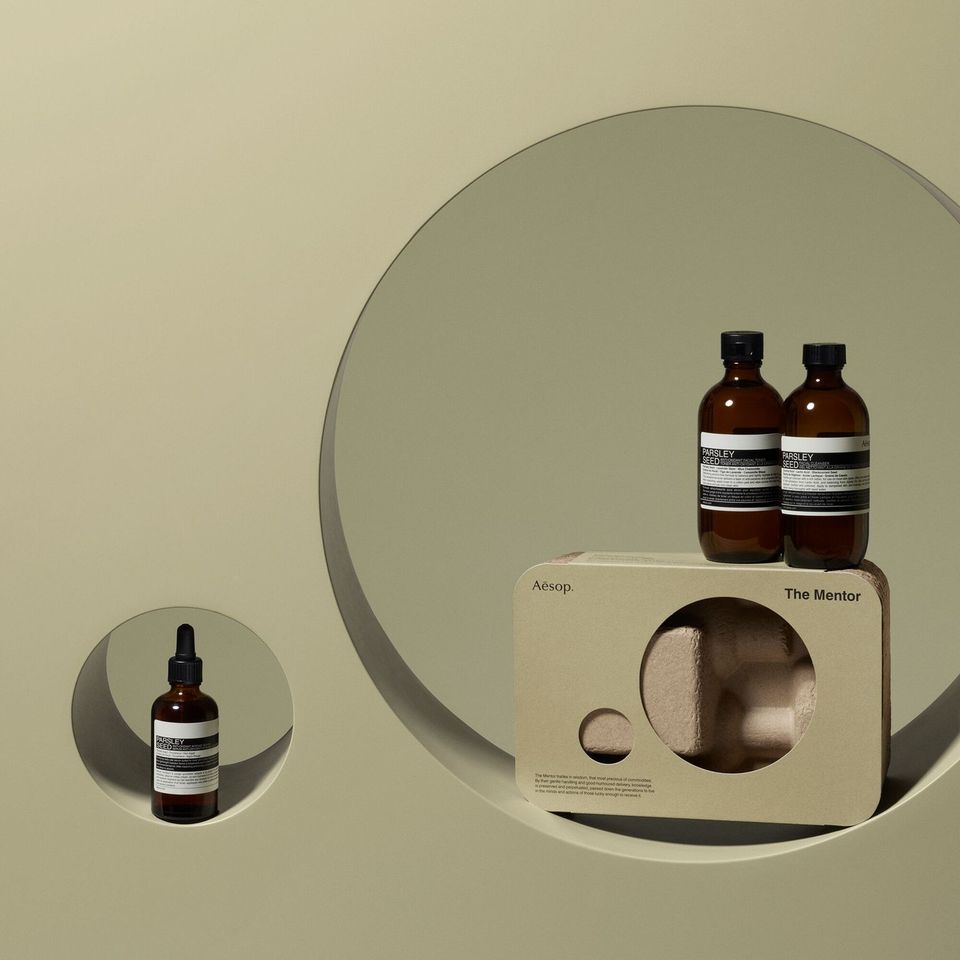 The Protector 
Combines a trio of fragrant additions for the home or office, devised to provide refreshing aromas and preserve accommodating environs. Protectors see value in the small and urgency in the endangered – placing themselves courageously and selflessly in harm's way to preserve the precarious balance of their ecosystem and those who make it up.