What's not to love about Halloween?
The night of 31st October is celebrated by one and all, donning creative and hilarious costumes; trick-or-treating for the kids, booze and partying for the adults. However, some of us might have missed out on the fun and probably just stayed at home mellowing in the numbness of having zero social interaction from the lockdown.
Either for a spooky date or a spine-tingling night out with your friends, here are a few terrifyingly fun ideas to check out!
Hauntu @ The LINC KL
Malaysia's first ever immersive and interactive haunted house, visitors are immersed in a series of horror films with the sole purpose of surviving. Once you enter the chilling world of Hauntu, there is no turning back. This unique event is not like any other haunted house (sorry Nights of Fright, you've had your moment). Comprised of live theatre, role play, and storytelling to really achieve the immersive experience, visitors are plunged into the world of mystery and horror as they walk through rooms of the Colle Eastern Hotel and interact with professional actors who will take you back to Old Malaysia in the 1960s.
To add more fun to the experience, take on character roles within the storylines and experience the different eras of Malaysia, stepping back in time from pre-independence to the present day.
Hauntu is located on the second level of The LINC KL. The one-of-a-kind haunted house is open from 11am – 10pm on Saturdays & Sundays, from 2pm – 10pm for Wednesday-Friday, but they are closed on Mondays & Tuesdays. If you don't have your own set of wheels, or you wish to avoid KL jams, fret not, you can take the LRT on the Kelana Jaya Line to Ampang Park and simply cross the road towards The LINC KL.
Click here for more information: https://ihauntu.com/
The Deceased KL
End your evening on a fun yet frightful note as you head to this horror-themed bar in Petaling Street for creepy cocktails and other delicacies. The Deceased can be found in a cozy corner on Jalan Sultan, seated right above Mingle Cafe. The reason why it is known as a hidden bar is because there are no big signs to show where it's located. So how would you find your way in? Look for the scary blue door perched right beside Mingle Cafe and be prepared to ascend the stairway to hell…
Let the horror begin! Entertain your tastebuds with the array of potions and cocktails that fill the menu, which already looks like something out of a witchy cult.
From the spread of liquor and beer, to their Asian-inspired cocktails, these spirits will have you terrorised. 
The Petty Person Beating is an infusion of gin, Tuak (Sarawak rice wine), and Kumquat syrup finished off with lemon bitters. The potion is then served in a chilled bowl filled with ice along with a Chinese clog to achieve the theme of a 'beating'. The list of signature cocktails influenced by Asian roots is endless – but Karma is a Bitch can do no wrong. This concoction is formulated with a bunga kantan infused gin fixed with a blend of homemade osmanthus syrup, lemon juice and tonic, and laced with sea salt to polish it off. The fun part? They will only let you drink it after getting a balloon popped right in front of you as a quick thrill. 
If you prefer to keep it light, try out their signature shots, which will definitely catch your eye with their daring names such as Leg Spreader, Chinese Pussy, and Flaming BJ. This one hell of a bar is open every day, except for Tuesdays, from 4pm – 12am. So don't wait around for next Halloween, bring Halloween to you by visiting The Deceased for an alcohol-fun spooky night!
Good ol' thrillers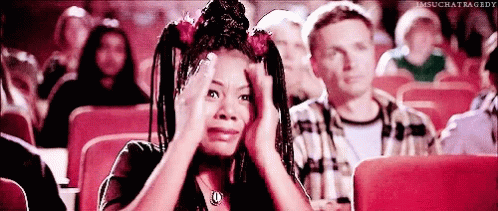 There is nothing more fitting for your spine-tingling night than to sit in and cozy up to horror classic flicks such as Scream (1996) and A Nightmare on Elm Street (1984). Nonetheless, there's no harm in breaking tradition by checking out these new, terrifying movies.
Halloween Kills (2021)
Yes, you heard us right. Michael Myers is back for more slashing. Halloween Kills is the twelfth installment in the Halloween franchise, making Myers a popular figure in the horror realm. Following the aftermath of Halloween (2018), the masked slasher somehow managed to survive another smackdown with Laurie Strode (Jamie Lee Curtis) and is back on his warpath slashing left and right. Along with her daughter (Judy Greer) and granddaughter (Andi Matichak), Strode is determined to end Myers' reign of terror and to put the chaos to bed. I mean, let's be real, this poor woman has not had a good rest since '78.
Catch Halloween Kills in cinemas now for a thrilling night!
Malignant (2021)
Terrified by visions of strangers being murdered by a dark entity, a young woman decides to put matters into her own hands and save the victims. You know this is a good one when it's directed by none other than James Wan, best known for birthing the The Conjuring and Insidious franchises. Joining him would be Annabelle Wallis, a familiar face from Annabelle (2014) and Wan's darling spouse Ingrid Bisu, whom you might recognise from The Nun (2018).
Malignant was initially released in September, so be sure to catch it in cinemas before shows run out.
So now that we've listed all the chilling fun you could have, it's time to get your spook on! Start the fun by paying a visit to Malaysia's very own Hauntu for a hair-raising adventure, then check out Halloween Kills in theatres for a slash of thrill and horror, and finally head on to The Deceased KL and indulge in the blood-curdling booze to get the fun really going.
https://lipstiq.com/celebrity-entertainment/170730/the-most-impressive-celeb-halloween-looks-for-2018-well-remember-for-years-to-come/
https://lipstiq.com/entertainment/movies-tv/180351/lights-on-10-horror-flicks-for-you-to-binge-watch-this-halloween-weekend/