Taps in the Klang Valley are dry… AGAIN. I guess in addition to the monsoon and hot periods, we now have a new season that occurs annually, without fail. The NO WATER season!
In a country that is lush with rivers and surrounded by oceans, it's bizarre that we're often faced with water cuts. Besides, how are we supposed to live without water? Haih… anyways, sorry for the rant. Now lemme help you get your meals fixed without the use of water!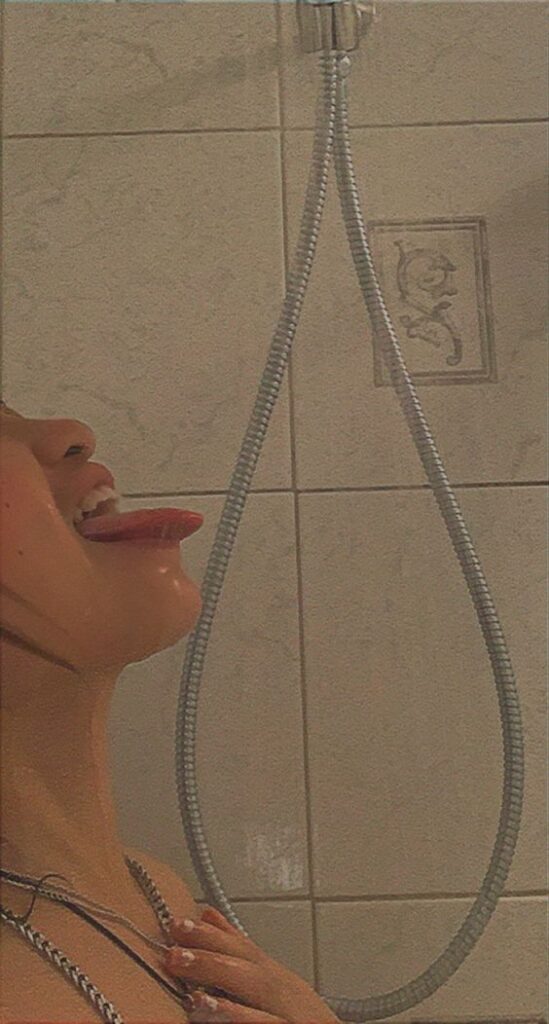 pinterest.comYassssss exactly – not a single drop of H2O is needed to prepare these dishes (ahmmm, well, you might need SOME water to wash your dishes and utensils). So here you go, some easy recipes that can take your mind off of what to cook tonight!
Honey Glazed Roasted Chicken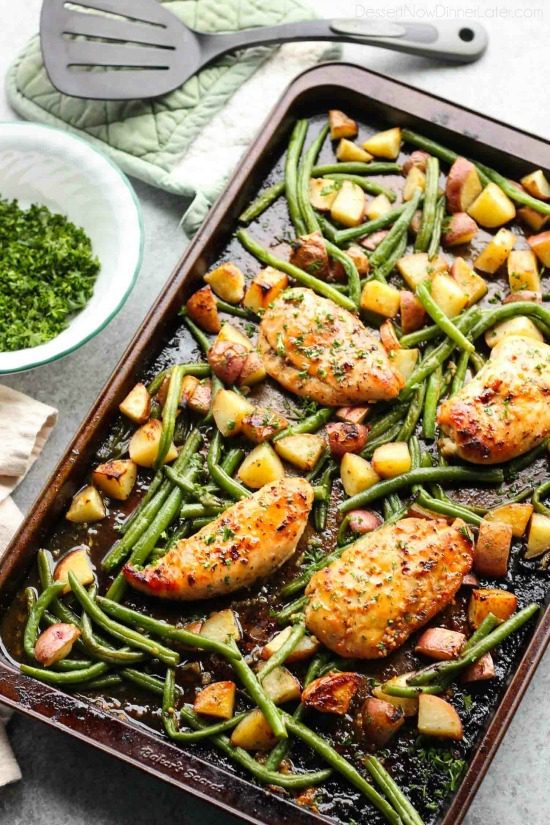 Star of the Dish
4 large boneless skinless chicken breasts
2 potatoes, diced into cubes
A handful of green beans (based on your own preference, no biggy on the amount)
Glaze Ingredients
 2 Tablespoons olive oil
 2 Tablespoons unsalted butter, melted
 2 Tablespoons honey
 2 Tablespoons brown sugar
 1 Tablespoon chilli garlic oil
 1/2 teaspoon turmeric
 1/2 teaspoon dried parsley
 salt and pepper, to taste
Prep Method
Preheat oven to 250 degrees. Lightly grease a rimmed baking sheet with nonstick cooking spray. You may also cover it with aluminium foil to help you clean later. (Just gotta throw the foil away once the chickinss are cooked).
In a small bowl, whisk together the glaze ingredients; season with salt and pepper, to taste. Set aside.
Place potatoes in a single layer onto half of the prepared baking sheet. Drizzle with 1 Tablespoon olive oil and season with salt and pepper, to taste.
Add chicken in a single layer on the other half of the baking sheet; season with salt and pepper. Spoon half of the glaze mixture over the top of the chicken breasts and give em' some good nice Thai massage.. :p
Place the tray into the oven and roast for 20 minutes. Then stir in green beans and the remaining glaze with the potatoes.
Mix together. Let it cook again for about 5-10 minutes, or until everything is caramelized and slightly charred.
Make sure the potatoes are fork-tender, and the chicken is soft and tender when pricked with a toothpick.
Serve it with a generous amount of sprinkled parsley!
Winner winner, chicken dinner! So this recipe is super super easy, you can do this in either your oven or air fryer. Just glaze and coat your chicken luxuriously with your marination and pop em' in the heat! Voila, they are ready and yummy to be eaten with literally anything!!
5-min Cheesy Mushroom Quesadillas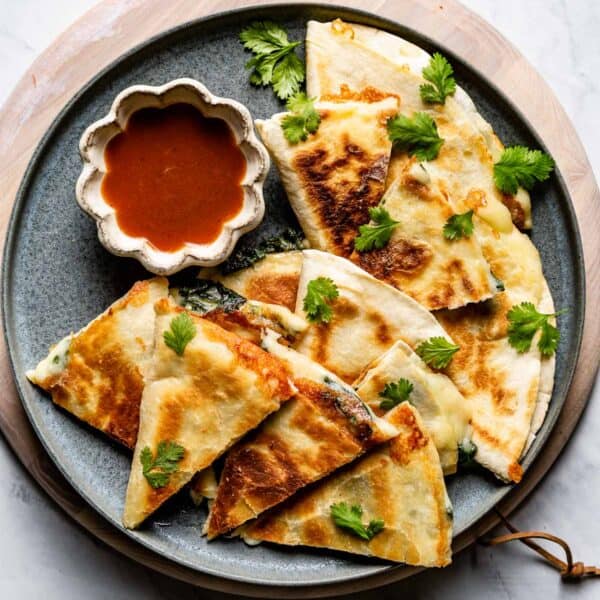 Ingredients
Chopped canned mushrooms
2 large tortillas
Whole capsicum, diced into small cubes
Half onion
Cheese of your choice
2 tablespoons of olive oil
1/2 a tablespoon of parsley
2 tablespoons of tomato puree
salt and pepper to your taste
Prep Method
Add the olive oil into a pan, then add the chopped onions, cubed capsicums, and mushrooms.
Saute till the mushroom becomes slightly brown, no water is needed cause the mushroom releases water on its own to keep the filling moist.
Then add the spices and puree, stir well till the raw tomato smell is gone.
Add salt and pepper to your taste and leave it aside.
Place a tortilla sheet on the pan and heat it up till it's slightly warm.
Add your fillings in and sprinkle a generous amount of cheese.
Cover the filling with another tortilla sheet.
Flip it carefully in the pan without spilling any ingredients out, so the tortilla sheets are evenly toasted.
AND IT'S DONE! Cut em up to your preferred size, and devour this gorgeous comfort food any time of the day!
Fold, fold and flip… That's it, they are ready to be fed into your tummy… Takes only 5 mins of your time, if you're good at flipping Rotis in a pan 😛 Otherwise… I'd say it's an under 10-minute easily prepareable dish!
Nasi Goreng Kampung
Ingredients (This recipe serves 1 to 2 people)
A bowl of rice
A handful of anchovies
A small piece of belacan
5 red birds eye chilli (you may add more if you like it really spicy)
3 cloves of garlic and 1 small shallot
1 egg
2 spoons of oil
You may add kangkung if you have it, but it's okay if you don't
salt and pepper
Prep Method
First, slightly toast your belacan on a flame, make sure you don't burn it.
Use a mortar and pestle to crush the chilli, garlic, onion, and belacan to a slightly textured paste.
Add some oil into your pan and fry the anchovies till they are crispy and golden brown.
Remove and put them aside.
Add the crushed paste into the oil and stir fry till it's nicely fragrant.
Move the paste aside, and break an egg into the pan.
Wait till it's lightly cooked and stir it together with the paste till they all merrily mixed together gether..
Add in your rice and fry it over low flame.
Once the paste has evenly coated the rice, crush the anchovies using your hands and sprinkle it over the fried rice.
Done.. that's it… Serve it hot with a sunny-side-up for an extra kick!
If you have extra rice from yesterday, use it for this yummy dish. It's an all-time Malaysian favourite as it is spicy, tangy, salty, delicious and everything that we need during these waterless days…
One-Pot Creamy Penne Pasta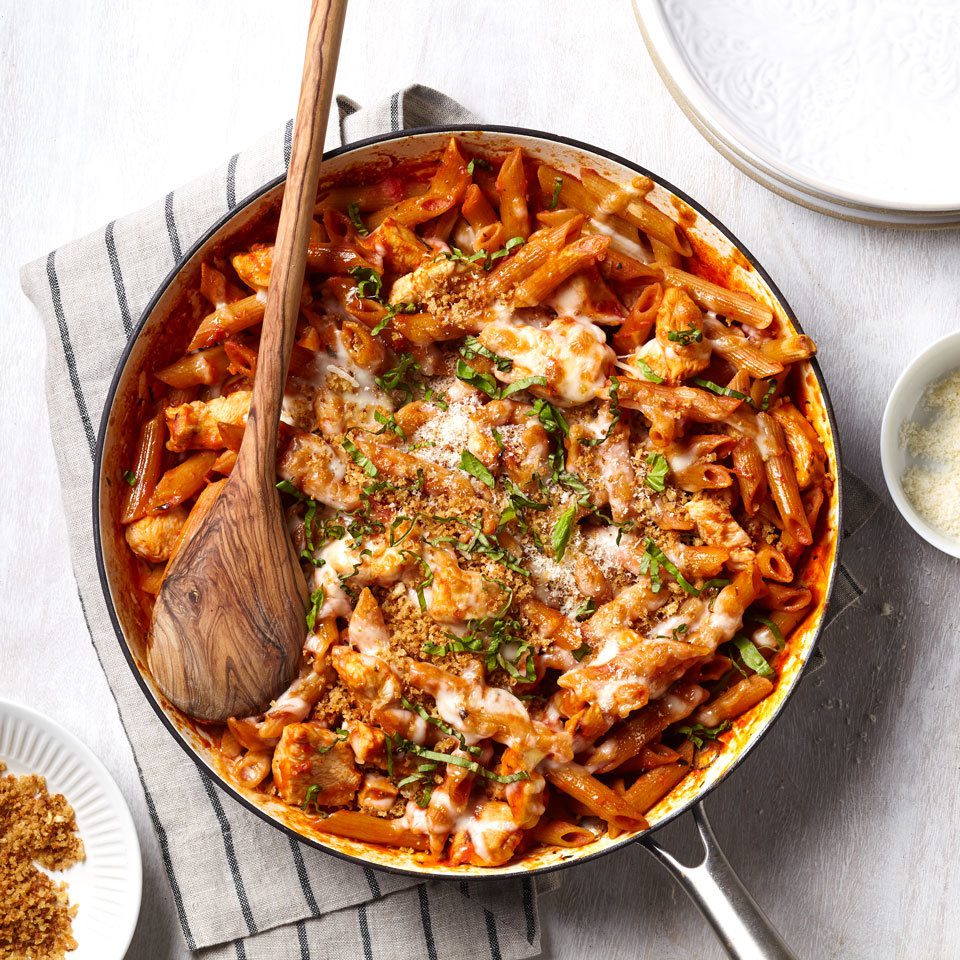 Ingredients
400g Penne, uncooked

4 cups / 1 litre Chicken Stock, not piping hot!

1 cup / 250ml Double/Heavy Cream, at room temp

1 cup / 125g Sun-Dried Tomatoes, finely diced

1/3 cup Tomato Paste 

1/2 cup freshly grated Parmesan

1/4 cup finely diced Fresh Basil

1 medium White Onion, finely diced

3 cloves of Garlic, minced/finely diced

1 tbsp Olive Oil

1/4 – 1/2 tsp Chilli Flakes, or to preference
Prep method
In a large pot over medium heat add oil and begin frying the onion. Once soft & slightly browned, add in sun-dried tomatoes & garlic and fry for a further couple of minutes.

Add tomato paste and fry for 2-3mins, then pour in chicken stock. Give it a stir to blend in the tomato puree and deglaze the pan, then pour in cream (important that the cream is at room temp and the stock isn't too hot or the cream may curdle).

Add chilli flakes, salt and pepper (to taste) then add uncooked pasta.

Turn heat to low medium and keep it on a gentle simmer until the pasta is about 75% cooked (stirring fairly frequently). You're looking for it to be al dente though (still a teeny bit hard).

Add in parmesan and dried basil leaf, then serve up and enjoy!
A simple, quick, and easy midweek dinner is this one-pot pasta with tangy tomato-basil sauce. All of your ingredients go into one pot, and with a little stirring and around 25 minutes of cooking time, you'll have a hearty meal that the whole family will love.
Taco Day All-Day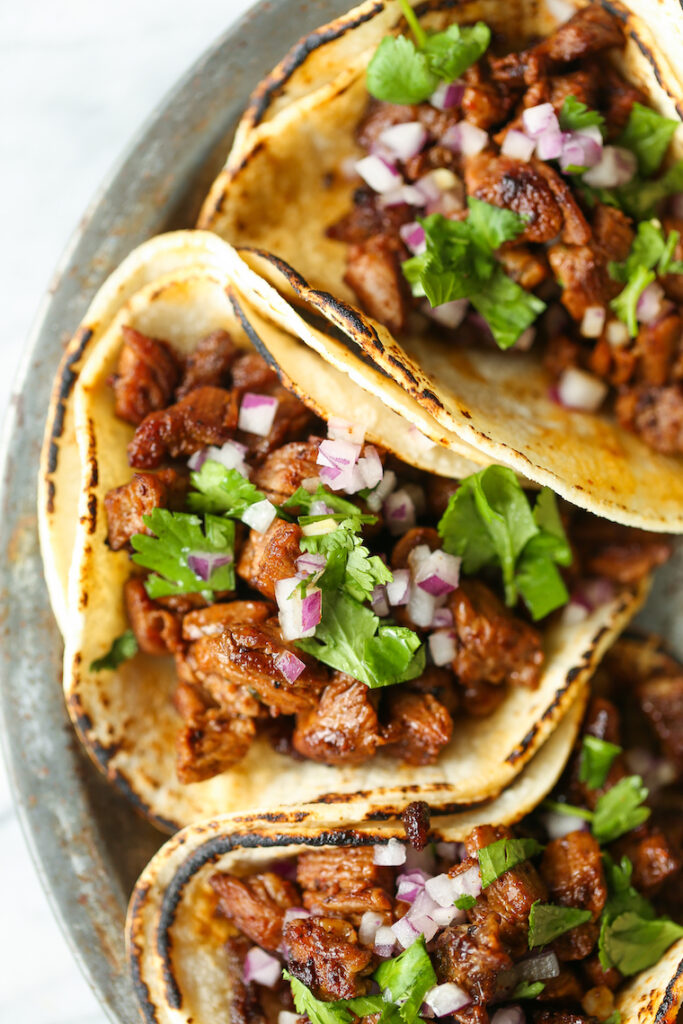 Ingredients
2 tablespoons soy sauce
2 tablespoons freshly squeezed lime juice
2 tablespoons canola oil, divided
3 cloves garlic, minced
2 teaspoons chilli powder
1 teaspoon ground cumin
1 teaspoon dried oregano
1 1/2 cup of diced chicken
12 mini flour tortillas, warmed
3/4 cup diced red onion
1/2 cup chopped fresh cilantro leaves
1 lime, cut into wedges
Prep Method
In a medium bowl, combine soy sauce, lime juice, 1 tablespoon canola oil, garlic, chilli powder, cumin and oregano.
In a large bowl, combine soy sauce mixture and chicken.
Marinate for at least 1 hour or up to 4 hours.
Heat remaining 1 tablespoon canola oil in a large skillet over medium-high heat.
Add the marinated chicken and cook, stirring often, until chicken has browned and the marinade has reduced, about 5-6 minutes, or until the desired doneness.
Toast the tortilla sheets on a warm pan till they are slightly toasted.
Serve the chicken in tortillas, topped with onion, cilantro and lime.
Drizzle a bit of sour cream and add finely sliced jalapenos for a kick of spice!
Phewwwwww….. that's about it folks, you can revamp and modify these recipes as creative as you can! Try it and devour these delights for an exciting waterless day!
Take A Hike, Hickey! 4 Foolproof Ways To Get Rid Of A Love Bite