Since Kanye wasn't at the Grammy's to show Beyoncé's receipts, Adele fact-check herself when her album 25 won the Grammy for Album of the Year over Lemonade.
When she took the stage to accept her award, Adele had to take a moment to acknowledge the night's rightful winner – and broke her Grammy in half. You know, like in Mean Girls.
"I can't possibly accept this award," she said during her acceptance speech. "The Lemonade album was just so monumental, Beyoncé. It was so monumental and well thought-out and beautiful and soul-bearing… we appreciate that. All of us artists here adore you. You are our light."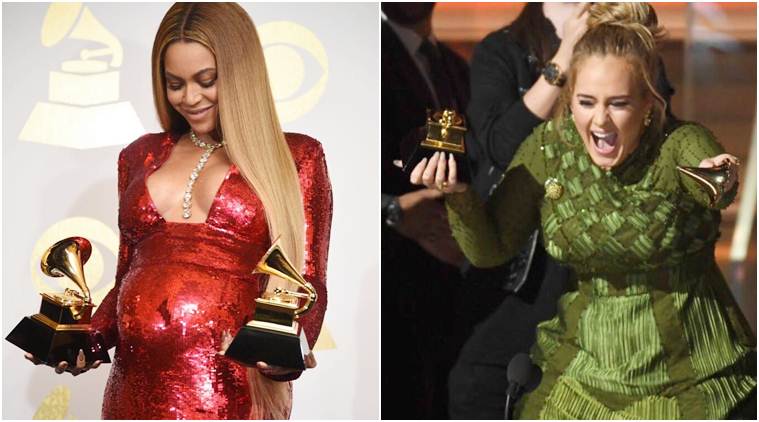 Adele made history at the 59th Grammy's, winning in every category she was nominated in against Bey which included Album of the Year, Song of the Year, Record of the Year, Best Pop Solo Performance and also Best Pop Vocal Album, a category Bey wasn't nominated in. But Lemonade was a gift to her as a woman and mother, and she noted its particular importance to black women.
"You are our light," she said. "The way you make me and my friends feel, the way you make my black friends feel, is empowering. You make them stand up for themselves. I love you. I always have and I always will."
Adele: *pulls a Cady Heron and breaks a Grammy*
Me: pic.twitter.com/PEmxRDV2z7

— evan (@Evan__Mays) February 13, 2017
The notable moment where Adele broke her Grammy in half brought to mind Mean Girls for, well, all of us, where Lindsay Lohan's protagonist Cady Heron breaks her Spring Fling queen crown into pieces and hands them to the other contestants.
Adele later added backstage "I thought it was her year. What the f- does she have to do to win Album of the Year?"
We were wondering the same damn thing, Adele.
Watch Adele's Album Of The Year acceptance speech here: