OWC on The Evening Edition of BFM
It was a tense evening on-air as Datin Paduka Marina Mahathir (Sisters in Islam) and Dr Azalina Dato' Jamaludin (Obedient Wives Club) come head-on on The Evening Edition of BFM. Well, to be fair, Dr Ahmad Farouk Musa (Islamic Renaissance Front) was there too but his presence was hardly felt as he kept mum for the most of the controversial debate.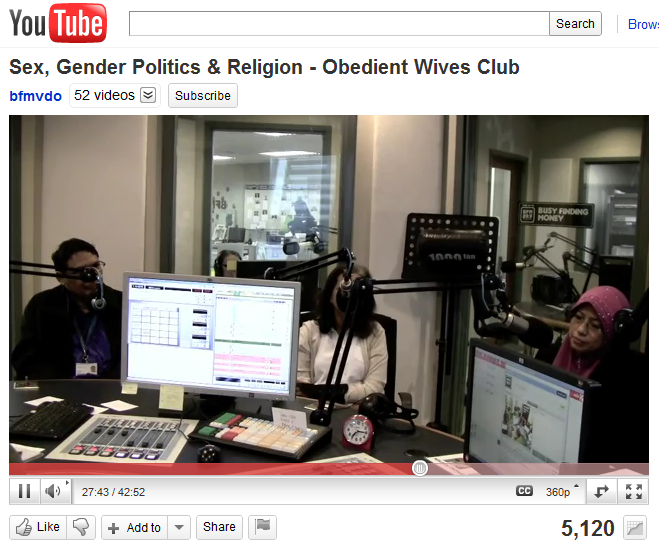 You could almost cut a chunk of ice off the coldness that ensued in the conversation.
The question is, why would women subject themselves to "jail" for no apparent reason? I think most women, and even some men who listened in on the debate can come to a mutual agreement that being subservient is not the answer to everything.
You mean to say that it's not sufficient for a loyal woman to cook, clean, give birth to children, and satisfy desires? Are woman undeserving of mutual respect and dignity? In today's world, does marriage not mean a partnership that complements one another?
Men will cheat as and when they want to.
Men will mistreat for as long as they have an abusive streak.
Men are human beings – selfishness is the root of the evil. Not a "disobedient wife".
Hats off to Datin Paduka Marina Mahathir who knew exactly how to hit home with questions that brought Dr Azalina Dato' Jamaludin back to the ground. This unnecessary confinement to a self-inflicted "sentence" needs to be stopped in its tracks.