Astro Radio kicks off the Kami Care Helpline available now for vulnerable Malaysians to send in their requests for help via WhatsApp to all Astro Radio brands and receive daily necessities such as rice, sugar, salt, flour, biscuits, tea, canned food and instant noodles during these trying times.
Kenny Ong, Chief Executive Officer, Astro Radio, states that;
"We hope the Kami Care Helpline helps more Malaysians access their daily necessities during these difficult times. We are working to increase our support and reach to those in need through our Kami Care campaign and will share more updates soon."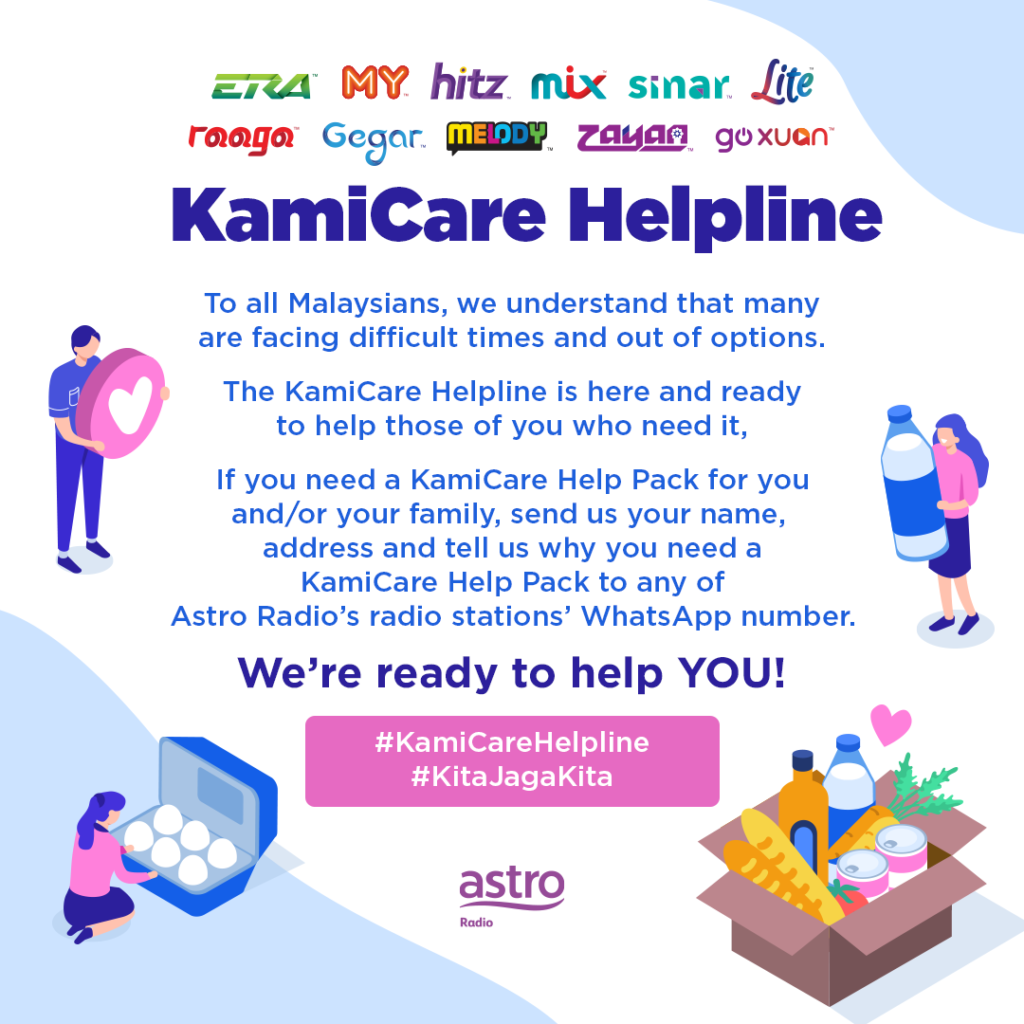 All submissions on the Kami Care Helpline should include the recipients' names, contact numbers, home addresses, and short descriptions of why they need this support. Those eligible will be notified directly and deliveries of these essential kits will be carried out daily.
All Malaysians in need can submit their requests on WhatsApp anytime daily via the Kami Care Helpline numbers below.  Listeners can also send in their requests on behalf of others who require assistance.
You can drop a text at their Whatsapp as below:
English Radio Brands-
016 6249999 – HITZ
016 4985555 – HITZ Sabah
016 532 7777 – HITZ Sarawak
016 4935555 – MIX
016 5108888 – LITE
Malay Radio Brands-
016 5127777 – ERA
016 2570000 – ERA Sabah
016 3150000 – ERA Sarawak
016 3260000 – SINAR
016 7369999 – GEGAR
016 9175555 – ZAYAN
Chinese & Tamil Radio Brands-
016 5073333 – MY
016 8718888 – MY Sabah
016 5413333 – MY Sarawak
016 7459999 – MELODY
016 9988889 – GOXUAN
016 4913333 – RAAGA
For more information, visit the following websites and social media pages of Astro Radio brands websites: HITZ, MIX, LITE, ERA, SINAR, GEGAR, ZAYAN, MY, MELODY, GOXUAN, and RAAGA.