Well, I'm sure we were all not aware that in order to behold the title and crown for Mrs. World you would need to have a happy marriage in life! On Sunday, a fracas arose at the Mrs. Sri Lanka beauty pageant when a former champion took the crown off the winner's head and wrongly said she was divorced and therefore disqualified to compete.
Spectators in Colombo, Sri Lanka's capital, burst into applause and cheers as Pushpika De Silva was declared the competition's winner. The winners' sash was wrapped around De Silva's waist, and the crown was placed on her head, as per video footage from the ceremony.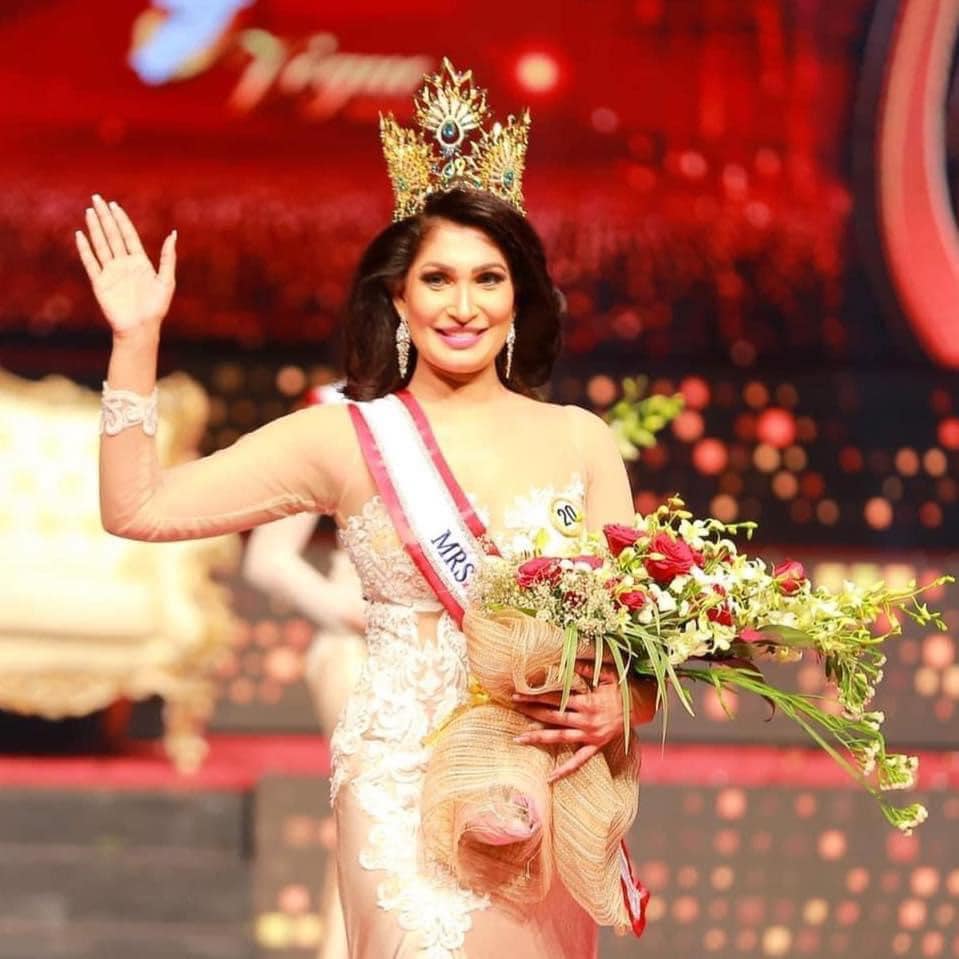 Sadly, that moment didn't last long when the former Mrs. World 2019 winner and Mrs. World 2020, Caroline Jurie stepped on to the stage, clasped the microphone, and made a shocking announcement touching on the pageantry's entry requirement stating that;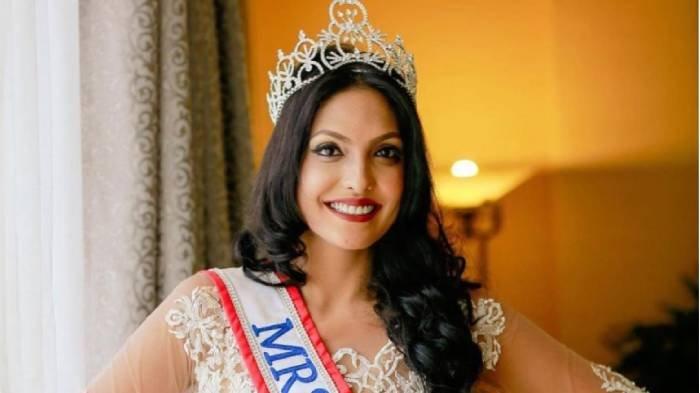 "I have a small request, as for the Mrs. World Inc., there's a rule that you'll have to be married, and not divorced. So, I'm taking my first step saying that the crown goes to the first runner-up."
The unethical action of hers broke a huge outburst in the public, leaving the audience and jury in complete astonishment and bewilderment to what had just happened!
Jurie further got to the extend of forcibly removing the crown from Pushpika's head presenting it to the first runner-up who was pouring in tears of joy amidst the shocking drama that unveiled before her eyes whilst thanking judges as Pushpika left the stage!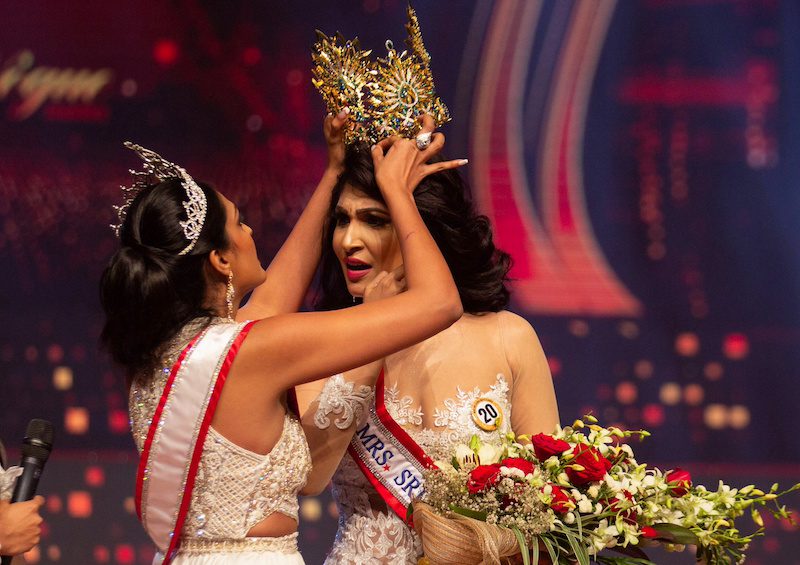 Is such a rudiment move really allowed in a professional beauty pageant? Weren't the entry requirements suppose to be confirmed before the contestant was allowed to proceed till the last moment of the crowning ceremony?
Mrs. World Sri Lanka organisers immediately retorted to the matter highlighting that the entry requirement for the contestant is to be "married lawfully and legally". Thus, they announced that the title of the winner still holds Pushpika's name based on the decisions of the judiciary in the competition.
Prior to issue aroused, Pushpika respectably addressed the misleading information by posting a public post on her Facebook handle stating that she has separated from her spouse due to personal reasons but they have not been separated legally nor lawfully;
" I'm not a divorced woman. I say with great responsibility that I am not a divorced woman even at this moment of writing. If I was a divorcee, I would dare them to submit my divorce scripts. I haven't hidden from the world that I'm with my child. I also have personal reasons to be that way. But, being apart is one. Divorce is something else. I'm still a un divorced woman. If I wasn't fit at the beginning of this tournament they could have removed me. They weren't sleeping until I came so far after the remaining game events, " wrote Pushpika on her Facebook.
According to Pushpika's assistant, she had been hospitalised with "scalp injuries due to the incident.  Organisers of Mrs. World Sri Lanka also posted an apology statement regretting the behaviors of Mrs. Carolina Jurie at the competition that has smeared a bad image to their entire pageantry due to the rude action by Mrs Jurie.
The Mrs. World series, which began in 1984, is an international beauty pageant for married women. Each country's champion advances to the Mrs. World competition, where they will compete against each other. Contestants must be "married as of the date of entry," according to the pageant's rules. Mrs. World Inc. expressed displeasure at the uncrowning haphazard behavior of Mrs. World Carole Jurie and asked Jurie to make an apology.
We are deeply disturbed and sincerely regret the behavior of our current title holder, Mrs. Caroline Jurie, Mrs. World 2020, at the crowning." Mrs. World Inc.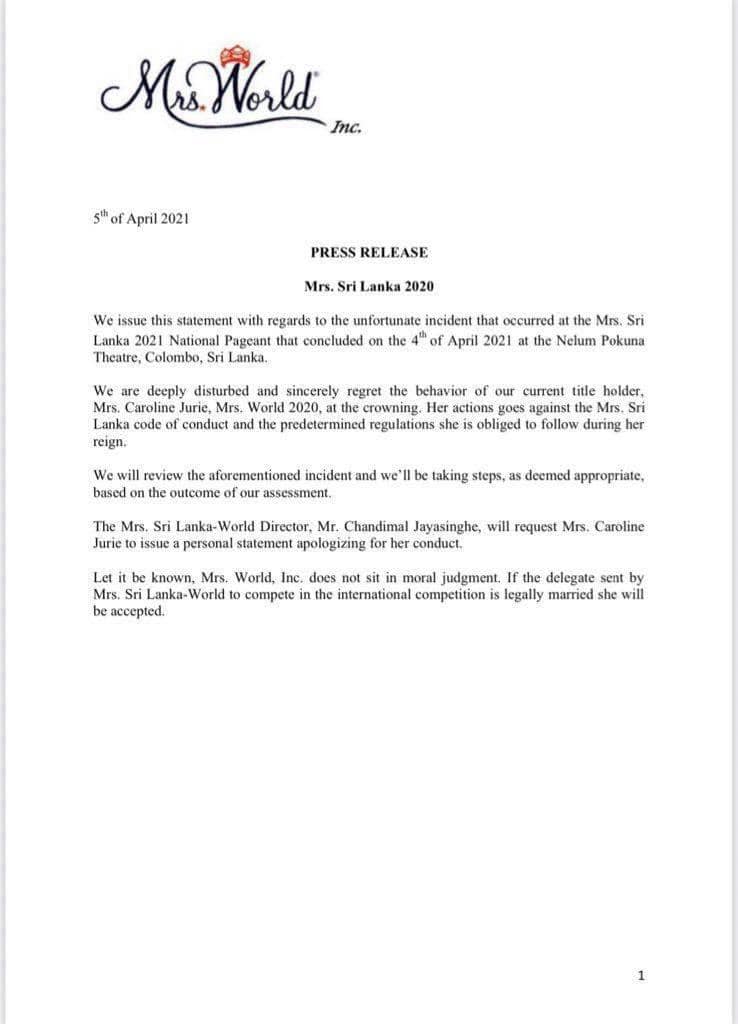 National Director for Mrs. World Sri Lanka, Chandimal Jayasing stated at a press conference held at the Kingsbury that;
"The Mrs.world International pageant will go ahead in Sri Lanka as scheduled in December and the recent incident where the reigning Mrs. World, Caroline Jurie removed her crown from the same stage will not have any impact,"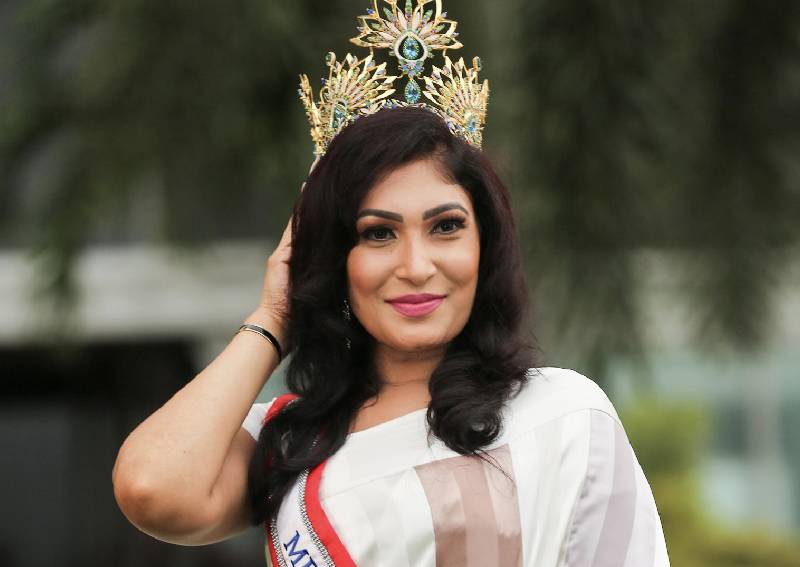 Nevertheless, after recovering, she appeared on the media, announcing that she would use her crown to develop single mothers in Sri Lanka and highlighted that disqualifying a contestant from beauty pageants because she lives separately from her partner is a void statement.
Pushpika also took matters very much positively sharing her gratitude and thankfulness to all her supporters and fans that offered her words of hope and encouragement through such an inconceivable event of her life.
Firstly, I would like to give my respect and thanks to the judiciary for choosing me as the winner of the 2020 Married Beauty Queen Crown. Secondly, as I think, for the first time in the history of the beauty queen title, not in Sri Lanka but in the world, even though my crown has been snatched in front of everyone's insult fully, I will keep my head straight at this moment of writing and say that I am proud and proud as before. Me, myself, and this is just another incident for me.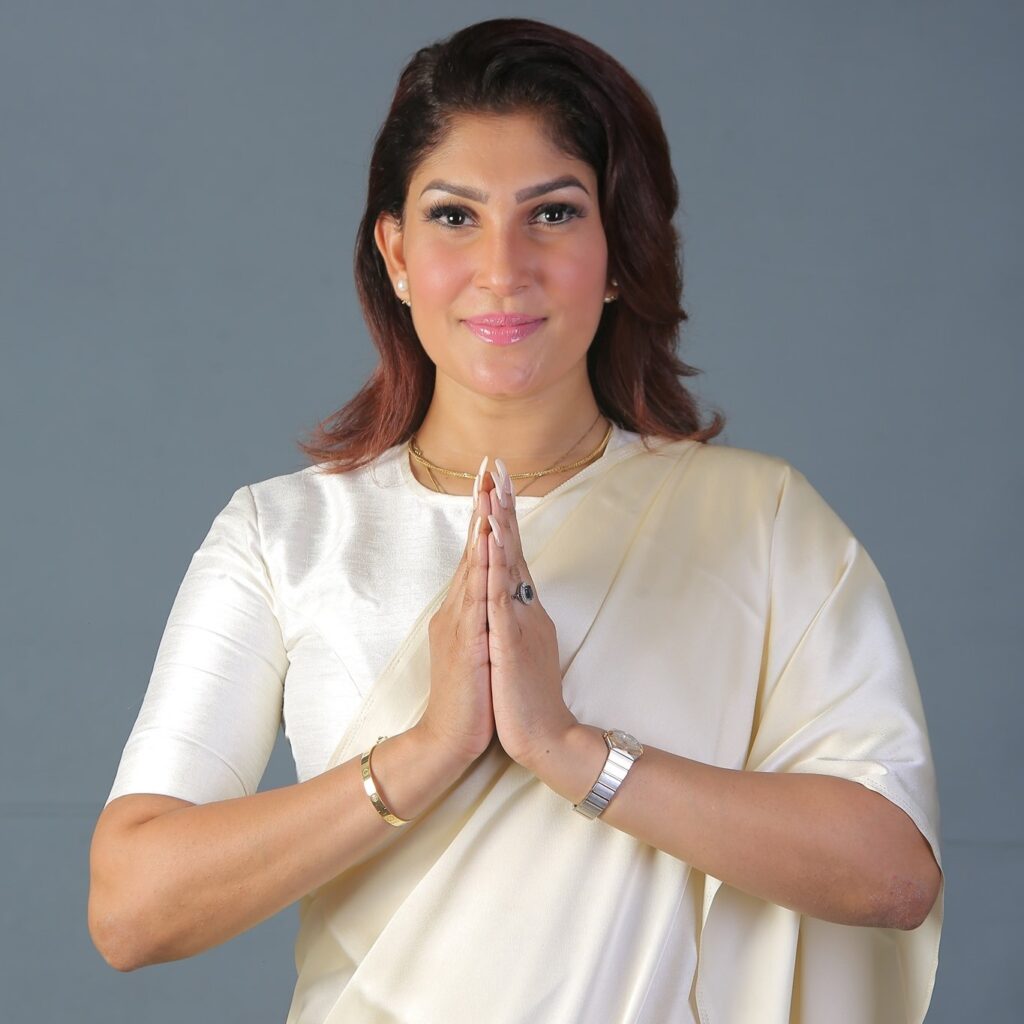 Well done Pushpika, such a bold and courageous move made. A real queen indeed!