The idea of dating is romantic. Like going on your first date with a guy/girl you really like – ngawww, super cute! But the pre-dating thing is a struggle. To find the perfect place, the perfect atmosphere, a place you both agree on and whatnot. There are so many things to consider – which is why most couples pretty much give up on that idea and just have a stay-in date. Don't get me wrong, at home dates involving watching movies and casual conversation to strengthen bonds is all worth it – but nothing compares to making memories outside your house with your lover.
Then again, you gotta get back on the hunt to find the right place to set your date. Which is why I've picked a few cafes and restaurants in Kuala Lumpur that would give you that perfect and romantic date you had in mind.
1. WILDFLOWERS
Let your love flourish right here in the heart of KL, in this rather new cafe that is perfect for couples who don't mind a little adventure in their dating. Wildflowers is a sophisticated dining space that is furnished with dark colours and a nature-themed decor. For couples that want to bond over Asian fusion delicacies, this is the spot for you. Its tasteful menus, filled with exquisite dishes, will definitely delight your taste buds and good food means happy tummies. A happy tummy means a great time.
On weekdays, Wildflowers operates from 5pm to 10pm, Friday and Saturday from 12pm to 12am and Sundays from 12pm to 10pm. Located at Jalan Petaling, City Centre, this cafe is pork-free but serves alcohol.
2. URBAN DAYBREAK 
A brunch cafe that serves a scrumptious Australian Fusion dinner menu that you lovebirds just have to try on your date. For health conscious couples that literally count every teaspoon of sugar in your drink, this is the perfect place for you guys to enjoy your time together. Urban Daybreak covers every option of drink, from dairy-free to caffeine and sugar extravaganzas. This cafe serves for both vegetarians and omnivores that can't skip their protein intake. And did I mention – the amazing selection of desserts that will have you craving for more even at the end of your meal?
If you plan to have your date right here, you have got to try their signature BBQ Glazed meatloaf with their fancy selection of red wine. A perfect dish to share with your lover on a date night. Located at Jalan Telawi, Bangsar and opens from 7:30am to 5:30pm daily. Have an amazing brunch date before you explore Bangsar.
3. POSITANO RISTO PUBLIKA
One of the best romantic restaurants in KL with a warm and pleasant environment that will have you and your date share an unforgettable experience. All Italian food lovers will see this as their paradise that they can share exclusively with their date. Positano Risto at Publika presents you a vast choice of delicious Italian food that is free of alcohol. They provide food using only halal ingredients with great value and unique flavours. You and your boo can surely experience a great service on your lovely date night.
This restaurant is located at Publika Shopping Gallery at Jalan Dutamas and opens from Sundays to Thursdays from 11am to 10pm and on Fridays to Saturdays from 11am to 11pm. Go make your reservations now.
4. FUEGO AT TROIKA SKY DINING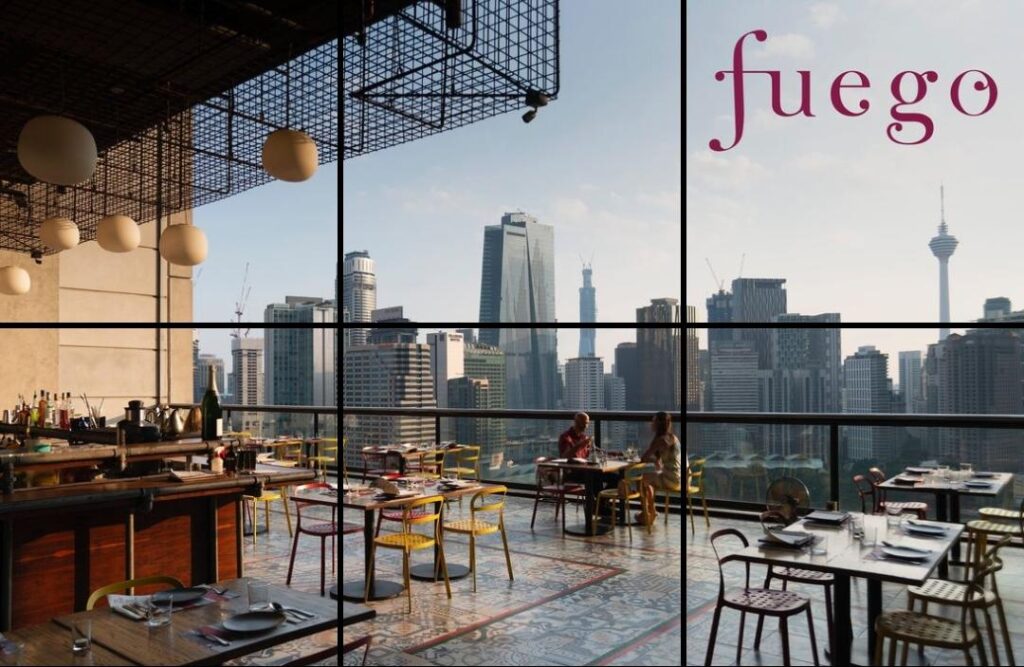 If you're on Cloud 9 over your date, then head on over to Fuego at Troika Sky Dining. A gastronomic experience that is not to be missed by lovebirds. For classy couples that love a luxurious date night, Fuego at Troika Sky Dining offers you a panoramic city-view with an extensive menu of divine Latin-American food. You know what's the perfect date? Enjoying mouth-watering food with the love of your life while witnessing a breathtaking sunset view. I'm not exaggerating – this rooftop restaurant can serve you exactly that. All the men out there looking to impress your ladies, this is your jackpot.
Located at Tower B at The Troika, Persiaran KLCC, Fuego is open from 6pm to 10:30 pm daily. Make your reservations now.
5. LUCKY TORA 
This one is specifically for couples that are looking forward to an intimate date night. Lucky Tora is a restaurant that serves modern Japanese delights and a wide array of sake cocktails. For couples that enjoy a good Japanese cuisine with their significant other, set your date right here and enjoy their offers, while relaxing to old Japanese pop songs in the background. Not judging, but sounds pretty ideal for anime loving freaks that would love to have an anime-like date.
Located at Jalan Mesui, Bukit Bintang, this restaurant operates from Monday to Friday at 12 to 3pm and then from 5pm till late.
6. CAFE AME SOEUR
Bonjour, lovelies! This is a cafe in its most divine form. This is the ultimate vintage cafe that will make you lovers feel like you're dining back in time during the Victorian era. Perfect place to set up a fairy-tale like date. Cafe Ame Soeur is a Halal French Cafe that serves western cuisine with a French take-away and a wide range of cakes and desserts. Oh and by the way, the name Ame Soeur means soulmate, so bring your soulmate and enjoy your fancy Victorian era date.
Located in Bukit Jalil, Kuala Lumpur, this cafe is open from 11am onwards daily.
7. BREAKFAST THIEVES 
If you would like to steal a little bit of your partner's time in the morning, Breakfast Thieves is just the cafe for you. An award-wnning brunch cafe, Breakfast Thieves offers a modern Australian cuisine with the influence of Asian flavours as well. A relaxing environment that sets the ideal mood for you and your lover for your date. Catch up with your partner over breakfast in an open-space, while enjoying the Australian-Asian delicacies they have to offer. If you're wondering about the name, "We are all thieves when it comes to fine food", so be a breakfast thief with your lover at this cafe before going about your day. I'd say start your day off by eating the best breakfast with the person you love the most.
Located at Jalan Riong, Bangsar, this cafe is open Tuesdays to Sundays from 9am right up to 5pm. Perfect for weekdays breakfast catch-up with that special someone.
8. TINY TEMPTRESS ARTISAN PATISSERIE
I think the name screams enough for the ladies. Gurls, if your man don't ever focus on you when ya'll are on a date, grab him and bring him over here so you can seduce his taste buds. Once you control his taste buds he is all yours. Tiny Temptress Artisan Patisserie specialises in macarons and other French Patisserie as their highlights, along with coffee, tea and your favourite cold drinks. Bear Necessities, Tarte Au Citron Meringue and Brulee Marshmallow Ice Cream are some of the must-tries on their menu. Feed your lover the sweetest and most seductive of desserts. The perfect desserts to be eaten on a date.
So there ya go – eight different cafes and restaurants that you can enjoy your with your sweetheart, guaranteed to give you the best dating experience.
More on cafes and restaurants? Read these:
Matcha Obliged: MUST-VISIT Matcha-Only Cafes In The Klang Valley!
Don't Desert Them! The Klang Valley's Best Dessert Cafés You HAVE To Check Out