There's a lot to adore about Kuala Lumpur, the ultra-modern capital city of Malaysia. People from all over the world are drawn to this sprawling metropolis by its promise of glitz and beauty. The Kuala Lumpur City Centre, or KLCC, is one of Malaysia's largest and best attractions, with a vibrant nightlife, fantastic shopping, superb amenities, outdoor hideaways and much more.
And with all that walking, you'll soon get hungry. The Suria KLCC Shopping Centre hosts lots of great restaurants – but it's mostly known for its celebrated Signatures Food Court. Yep, a food court at the foot of the Petronas Twin Towers. Even better news is that they've expanded! With the seating capacity increased to 1,500, Signatures gives customers ample of space to enjoy their meals. Hygiene-wise, it was the first Malaysian food court to be HACCP (Hazard Analysis and Critical Control Point) certified in 2005. So you can rest assured that dining there can never go wrong.
The upgraded food court has 23 outlets, 6 kiosks and 7 restaurants, giving customers multiple choices to pick from. During a recent food expedition there, we managed to indulge in some fresh seafood from the first seafood bar in KL; and Italian cuisine from an eatery established in 2000.
Shucked Oyster and Seafood Bar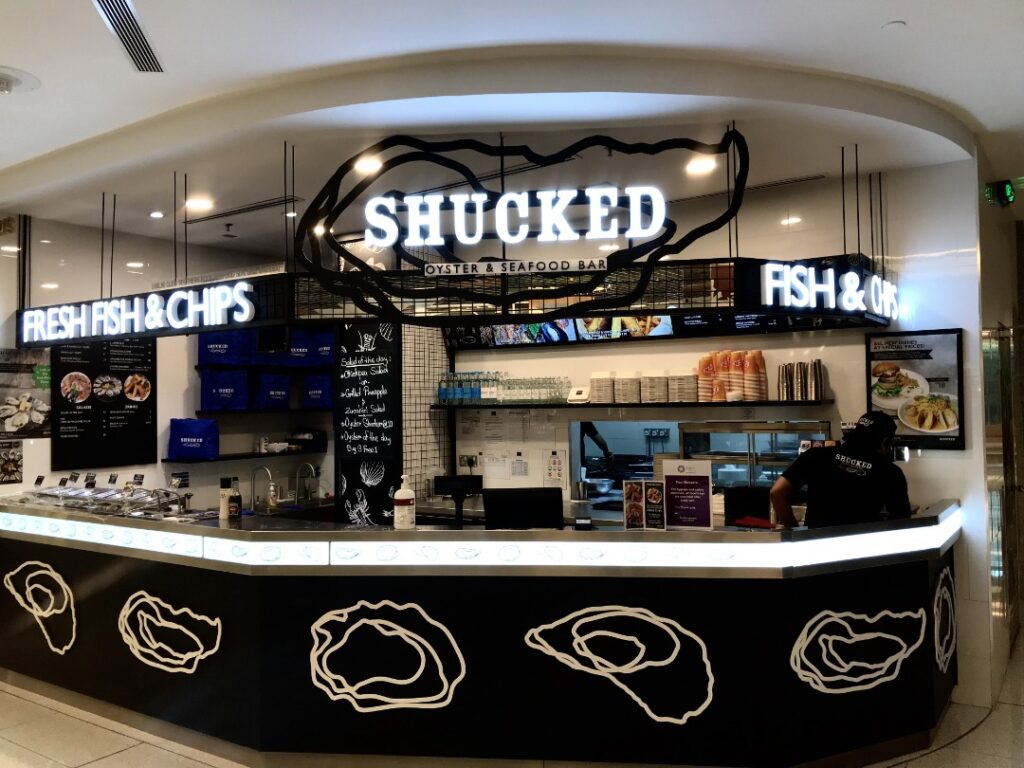 Shucked Oyster & Seafood Bar is KL's first oyster bar, serving a wide range of fresh, air-flown seafood from all over the world. Shucked opened its doors in 2012 and has since grown to become one of Malaysia's most popular oyster bars, with ten locations across the Klang Valley. Shucked offers a variety of fresh, live, air-flown oysters from the United Kingdom, Ireland, France, Holland, Australia, and New Zealand. Shucked also offers live mussels, Canadian live lobster, tiger prawns, foggy bay clams, and a variety of other seafood.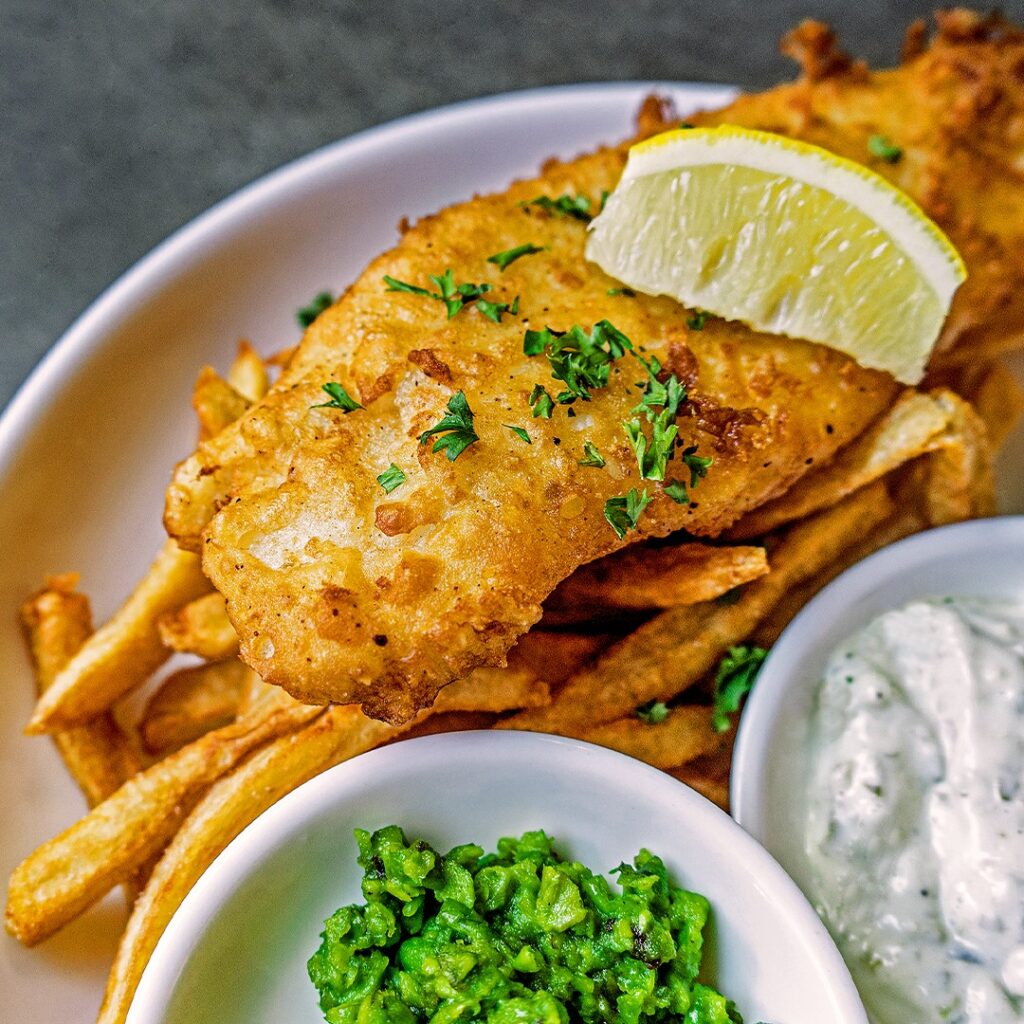 Their signature dishes are their fish and chips and Irish oysters. Personally, I'm not really into fish and chips, because they lose their crispiness very quickly, and the tartar sauce is literally regular mayo. But trying Shucked's Barramundi Fish and Chips, was just mind blowing. Although the dish looked unremarkable, it was definitely moist, tender and flavourful. They use fresh Barramundi fish and hand-cut potatoes served with mushy peas and homemade tartar sauce. From the texture of the potatoes you could tell they are 100% not frozen ones. And the tartar sauce is what makes the dish a highlight. Most fast food restaurants just whip up some mayo for this dish – but here, you can definitely taste something different. It was tangy, sweet and elevates the taste of the entire dish (probably a secret ingredient they'd never tell me!)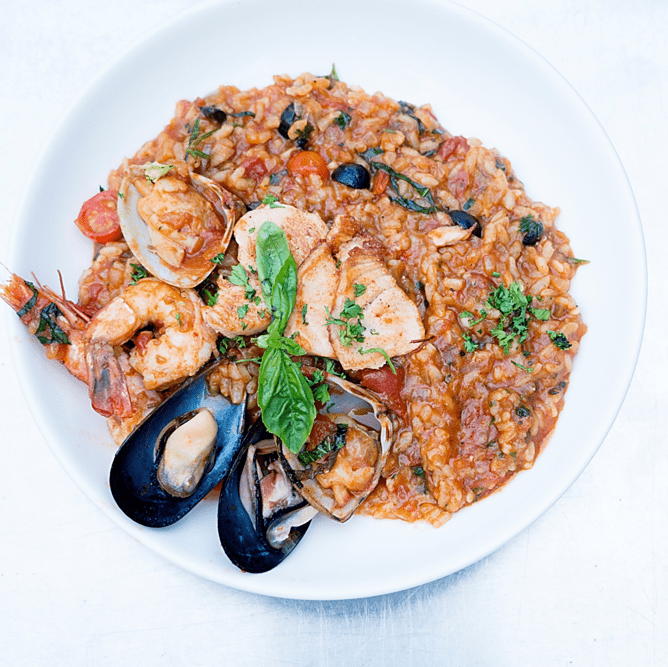 Next, is the Spanish seafood paella. It tastes and looks exactly like pasta, except they use rice. The rice used is not regular rice, but Spanish rice. It has a sticky texture, but not as sticky as sushi rice. The base of this dish is, of course, tomato (you could tell from the colour and taste). I wasn't expecting much from this dish, but it was really good and I would definitely have it as one of my comfort foods. The meal was warm and simple, but had lots of flavours going on. I got the mild, sour taste from the tomato base and a hint of spiciness (which I think was the main key to balance the entire meal). Also, this dish is topped with variations of seafood such as grilled fish, prawns, streamed mussels and baked oysters, which are absolutely fresh.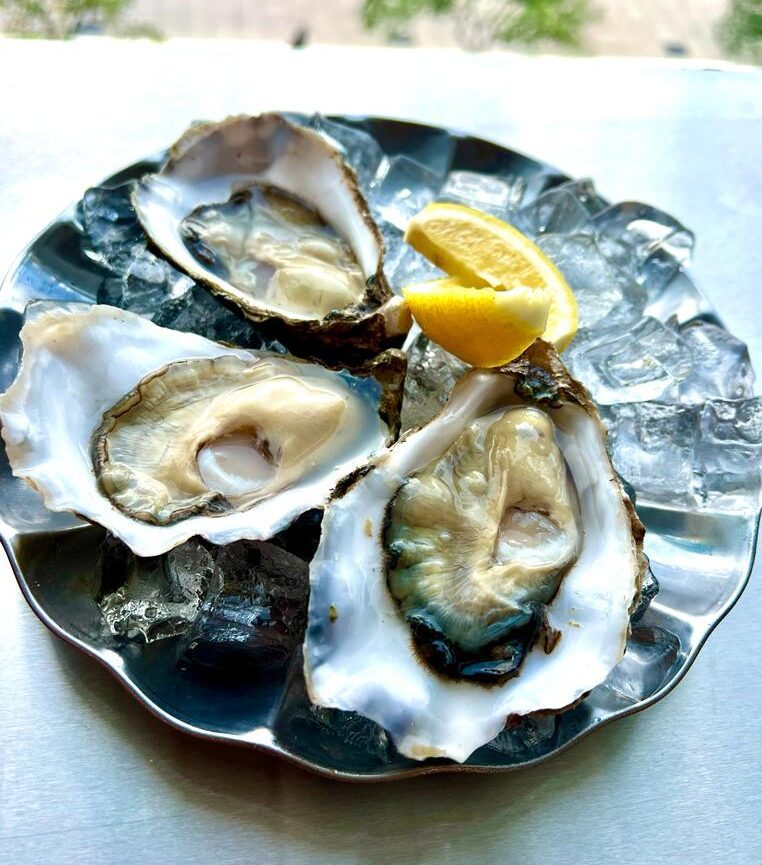 Last, but not least, the Irish Oysters. Ok, I did not pass the oyster test (they were raw!). From the looks of it, you could tell the oysters were super fresh. They're served on a plate full of ice and lemon slices. So, you're supposed to squeeze the lemon on the oysters and suck them in (which I didn't have the guts to do). However, I did take a bite from the oyster. Being a seafood lover, my dishes must be fresh (like, legit fresh) – and with Shucked, I would never hesitate to dine there at any time. I really appreciate how they give priority to their products. As mentioned earlier, most of their products are imported. Worried about whether the fare is halal? Don't be! Shucked's outlet at KLCC is 100% halal, catering to the needs of Muslim customers.
Pizza & Cafe Milano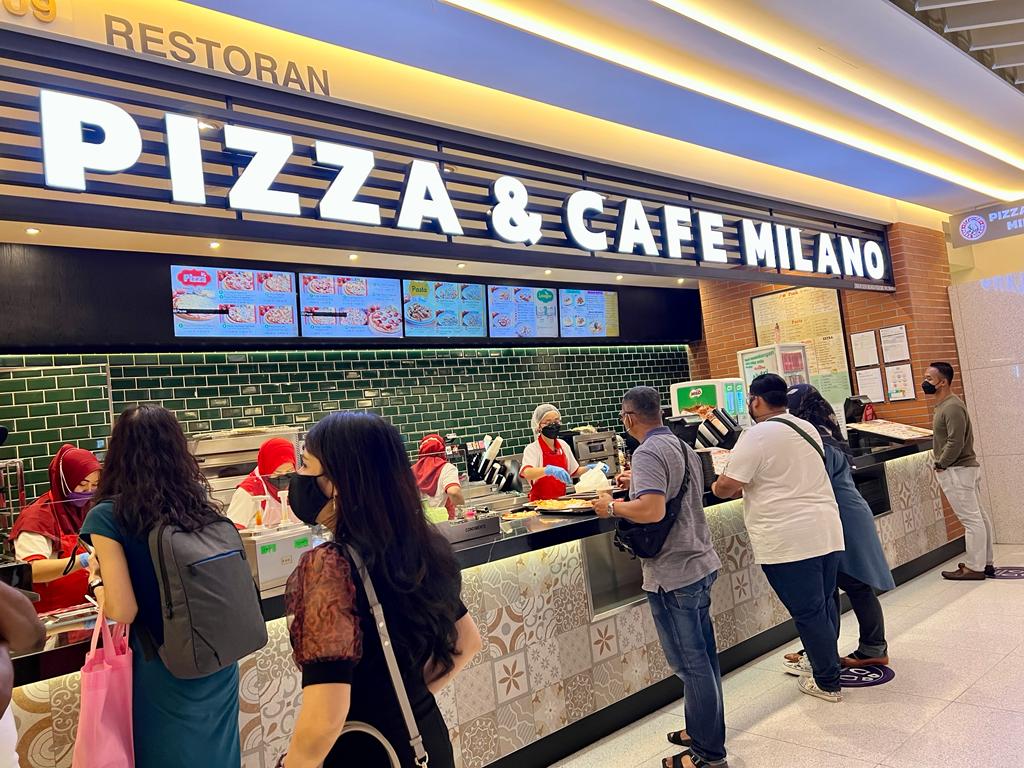 This outlet has a pretty interesting story. So we know Suria KLCC opened in 1998. This eatery opened a couple of years later. From the name, you're probably thinking they're some pizza making peeps – but hold it right there. Initially, Pizza & Cafe Milano only sold waffles and drinks! (no joke). Slowly, they evolved into serving pizzas, pasta and other types of food. This is their only outlet, and they don't rely on Foodpanda or Grab. If you want to try them out, you've got no choice but to head straight to Signatures Food Court KLCC.
All their food is 100% halal and they are freshly-made on a daily basis. Also, their prices are quite reasonable for the given portions. All their chefs are well-trained and practice good hygiene at all times.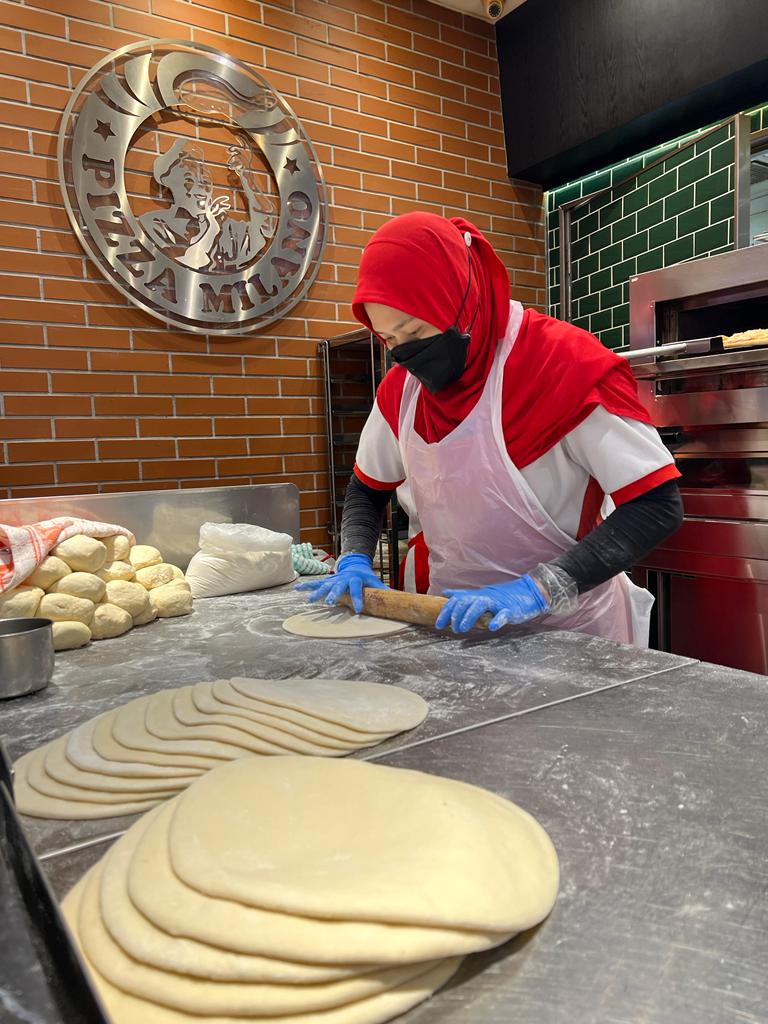 We tried their signature beef pepperoni, spaghetti bolognese, aglio-olio seafood, spaghetti seafood marinara and lasagne. They really fed us a lot – till we had to tapau! But before we jump to the food, let's talk about their kitchen. Unlike other pizza places, at Pizza Milano, you can literally see how they prepare your pizza. I really appreciate how the workers wore gloves and kept their work station tidy. It makes customers feel comfortable to order from them. It was so satisfying to see them making pizzas and serving them hot.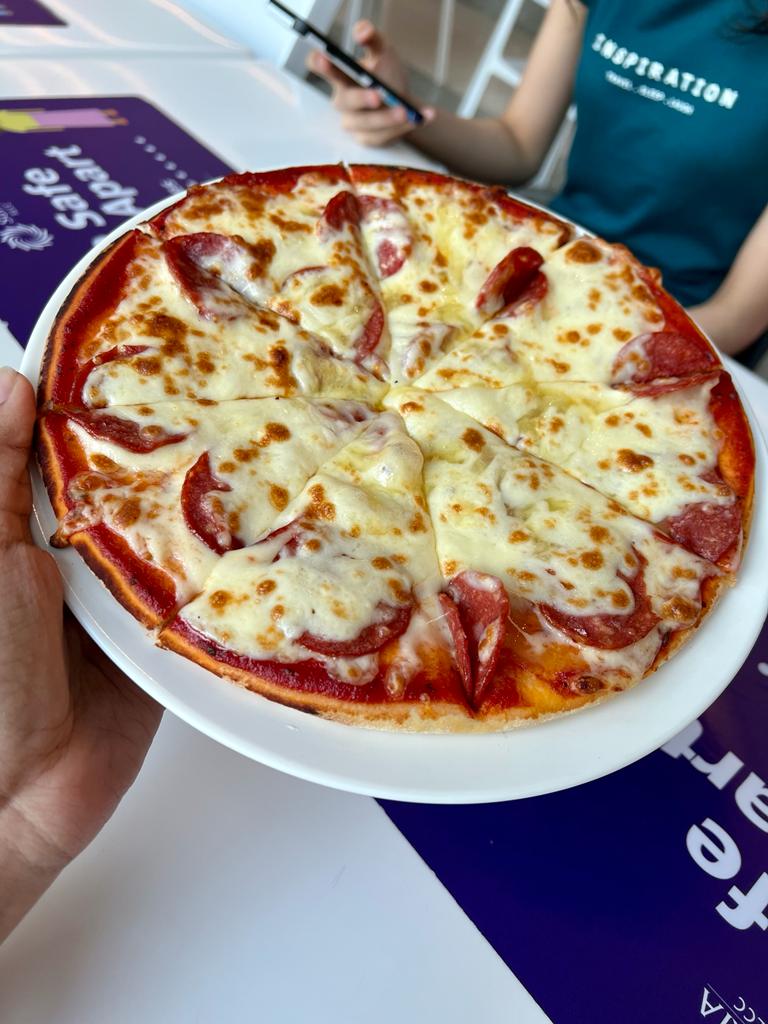 Now, the food! The Beef Pepperoni was to die for. I love pizzas, but I extra love them when they are cheesy. At Pizza Milano, they top their base with tomato puree, shredded cheese, and toppings of choice, finished off with more cheese. The pizza was flavourful, hot, cheesy and easy to eat. I prefer thin crust and that's exactly what I got from Pizza Milano.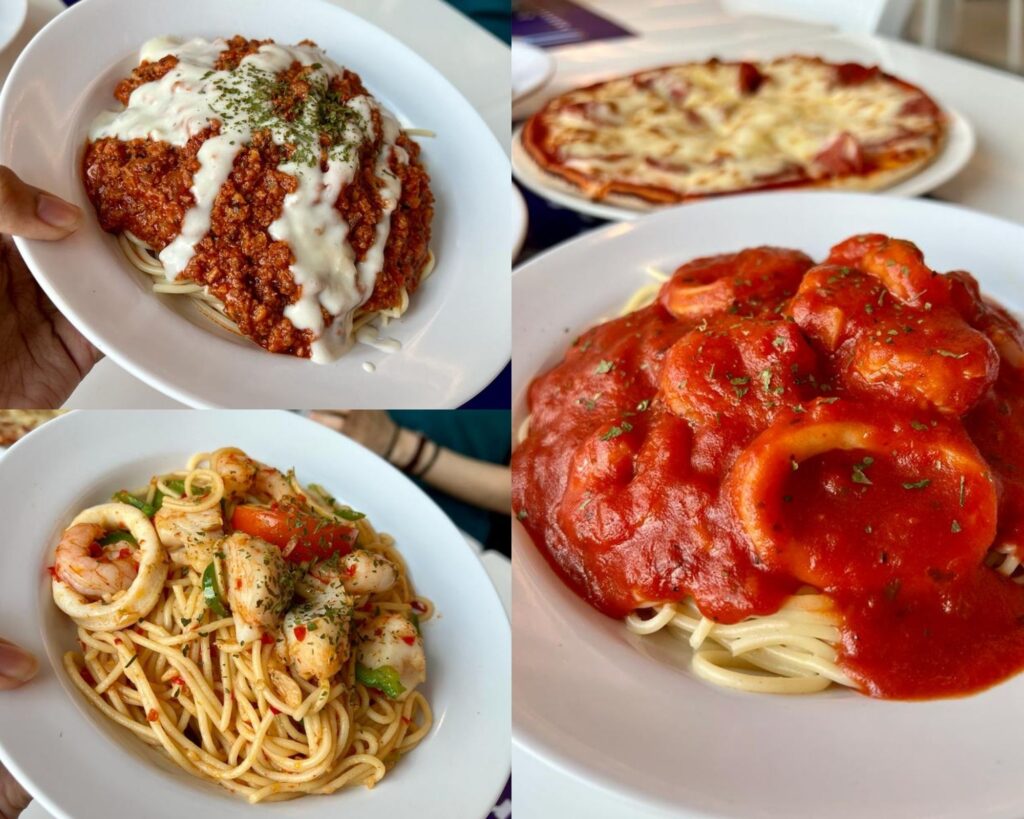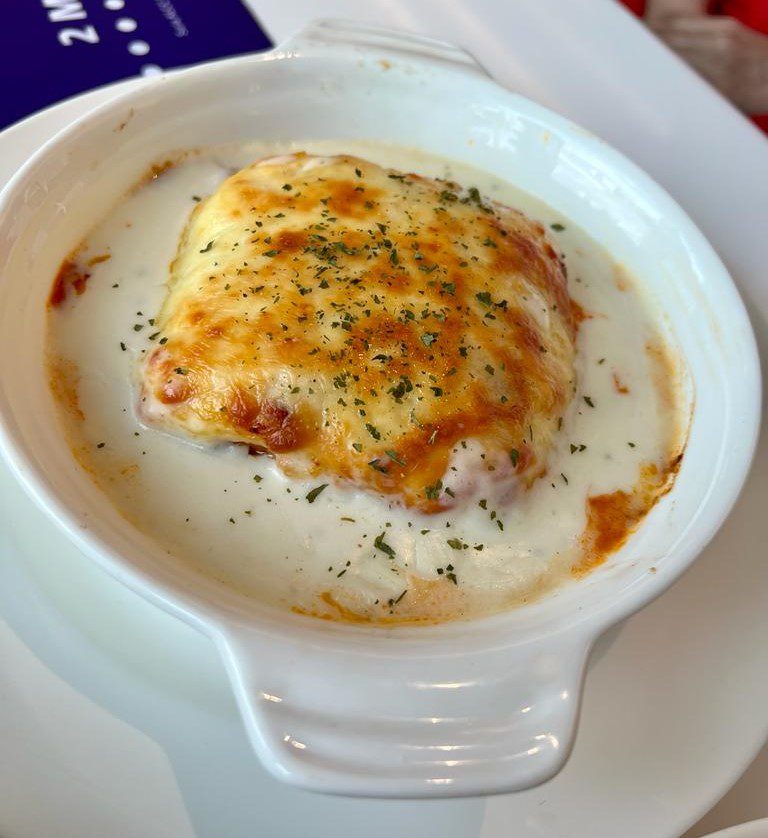 Moving on to their spaghetti. For the perfect spaghetti, you need to make sure your pasta is properly cooked. I loved the texture of the pasta and the sauce, I need not say more cause they were super generous (like that 'banjir' version). It was not soggy, but the right amount of sauce that gives you taste in every bite. For pastas with seafood, they were really delicious, fresh and well-seasoned. Another point to note is that they make new batches of sauce DAILY. Hence, worry less about the freshness of your food. Then, we had lasagne. I would highly recommend their lasagne (my personal favourite). If you remember Garfield and his lasagne fixation, that's what you're gonna get here. The manager told us that lasagne is only fresh when it is frozen a day before and cooked only when they're about to serve. Cooking lasagne is definitely time-consuming. So, the next time your lasagne comes super fast, you might wanna think about it.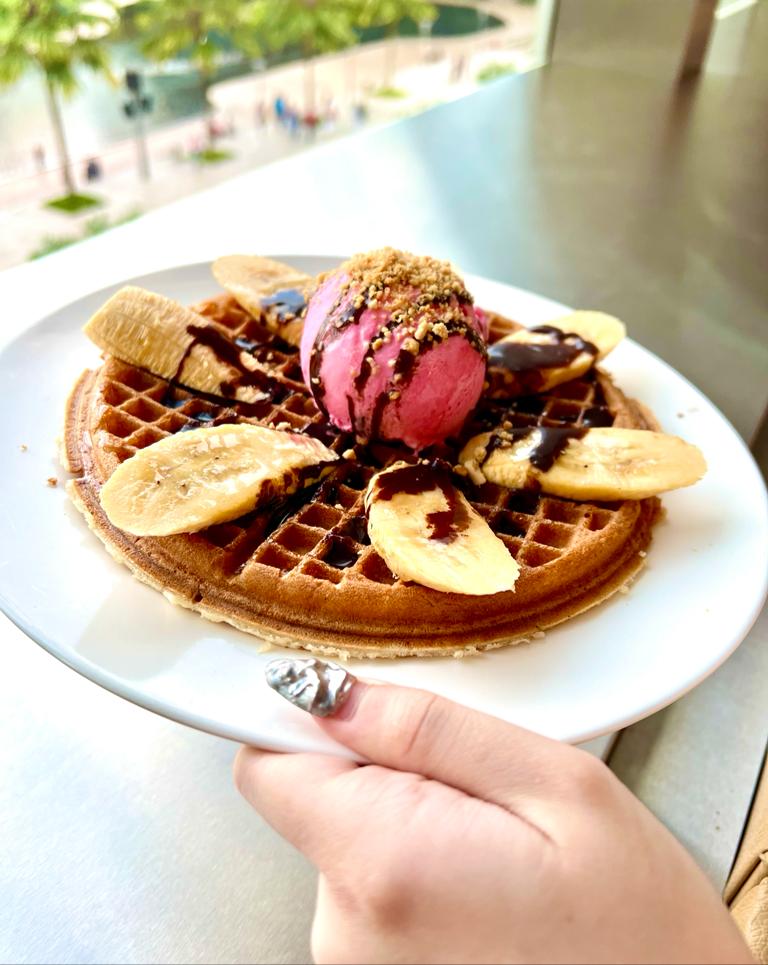 Of course, you can't end a meal without a dessert (or is it just me?). To finish off, we had Belgian waffles served with banana slices and a single scoop of ice cream. It's more of a hot-cold healthy dessert – and it was good. I don't really like banana, but having it with waffles and ice cream totally changed my mind. You get the warmth from the waffles, followed by fruitiness and a cold sensation from the banana and ice cream. Apart from what we had, they also serve other types of pastas and pizzas. Here's their menu:
That's about it, folks. Whether you're at Suria KLCC for a shopping spree or for a stroll at the KLCC Park, don't forget to check out Suria KLCC'S Signatures Food Court at Level 2. And be sure to try out these amazing outlets as well as other outlets there.
Suria KLCC's Signature Food Court

Level 2, 201A-C, Jalan Ampang, Kuala Lumpur City Centre, 50088 Kuala Lumpur
More on food? Read this:
Say Cheeese… And Coffee! Here Are The Most Instagrammable Cafes In The Klang Valley