Wow, what an amazing one of a kind Miss Universe 2021 pageant it was from all the former years. This year, the show has made a huge remarkable viewpoint highlighting many political issues in the world, as the contestants' adorned dresses and costumes embolden with valorous social messages!
It was truly a proud moment indeed to watch all the beauty queens rock the stage with their staggering looks and bewildering dresses, carrying valiant messages on an international stage.
There had been a time when pageants were derided for their vacuousness, which was associated with some puerile pleas for world peace. However, in recent times, contestants have openly endorsed the platform to bring awareness to topics that are vital to the world. 
Bernadette Belle Ong, Miss Universe Singapore, graced the runway in a costume that resembled the colours of her country's flag. The back of her outfit struck an indelible impact when she turned around. The hand-painted resembling statement wrote, "Stop Asian Hatred."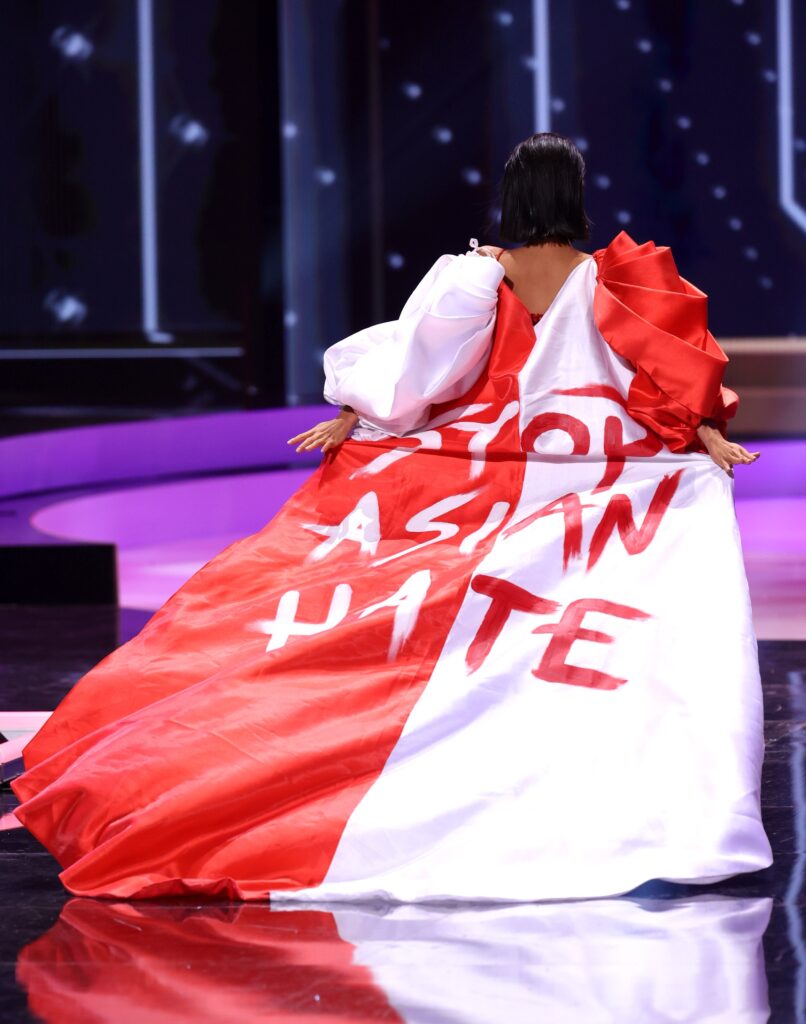 The model went on to share her thoughts about the dress, on her social media handle voicing out that;
What is this platform for if I can't use it to send a strong message of resistance against prejudice and violence! Thank you #MissUniverse for giving me this opportunity!!!
Bravery and boldness at its finest, I must say… Kudos on this striking move Miss Universe Singapore!
Best National Costume award winner, Thuzar Wint Lwin strutted down the Miss Universe catwalk flamboyantly in a costume that symbolised her Chin ethnic group in northeastern Myanmar.
As she took a respectable bow and unravelled a scroll, it sirened with loud words reading "Pray for Myanmar."
Myanmar's Miss Universe candidate sent a striking statement, alluding to the country's continued killings since the military regime took power in February.
Thuzar Wint Lwin did not proceed to the final round of the Miss Universe competition, but she did hold the title for Best National Costume, inspired by the ethnic dress of her Chin people in northern Myanmar, in which army and anti-junta militia fighters have been fighting in lately.
Thuzar Wint Lwin and Bernette Belle weren't the only ones donning a lavishly lit social statement at the Seminole Hard Rock Hotel and Casino in Hollywood, Fla, on Sunday night.
Miss Universe Uruguay similarly expressed her gratitude by delivering a message of appreciation. "No more hate, violence, rejection, discrimination," declared Lola de los Santos' rainbow skirt, which referred to the brutality and indignities that LGBTQ people have suffered.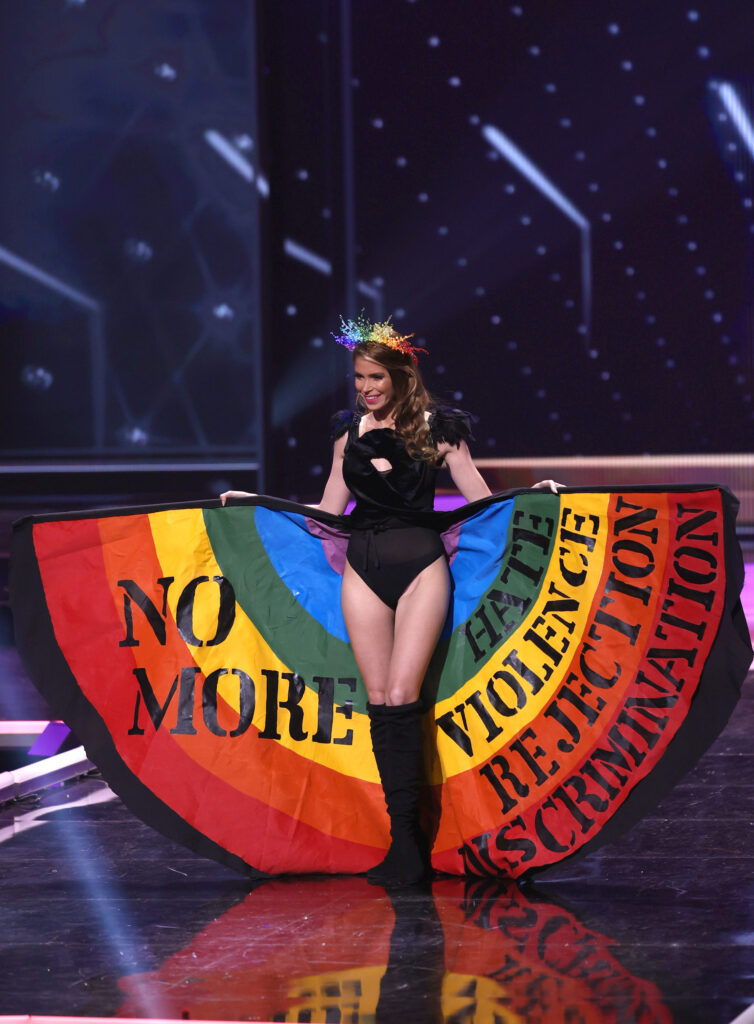 For years over centuries and decades, the LGBTQ community stammered with unacceptance in this ill-ly conceptualised world. As modern civilisation takes over, many country and individuals have stepped out to proudly embrace and accept the queer community by giving them the respect and acceptance they very much deserve.
Miss Universe Uruguay's costume on the pageant stage, celebrates all the proud queers breathing in freedom today!