Francisca Luhong James, triumphing Miss Universe Malaysia 2020, revealed the 'Kampungku' National Costume and Evening Gown at a grand media preview yesterday in Vogue Lounge, Kuala Lumpur for the 69TH MISS UNIVERSE competition, which will be held on May 16, 2021 in Hollywood, Florida in the United States, having every Malaysian bespoken in awe of the stunning costume.
The traditional Malay kampong houses that cover the countryside in rural regions across Peninsular Malaysia was the main inspiration behind the 'Kampungku' National Costume.

missuniversemalaysiaorganisation(mumo)
Many Malaysians may have fond memories of growing up in a village setting before moving to the city, and the traditional Malay kampong house elicits a wave of nostalgia as it serves as a potent memory of one's humble beginnings and family roots.
The kampong home, which weighs about 45 kgs, is painted in black and white to match Francisca's batik kaftan outfit.
The kampong home, which is typically made of wood and constructed on stilts, has tropically suited roofs, fenestration features to complement the warm weather, and ornamentation.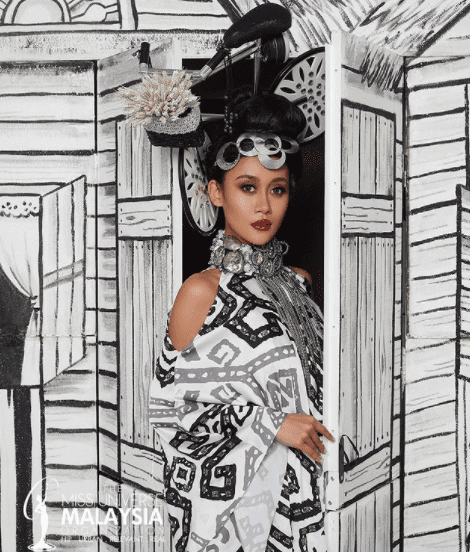 The traditional architecture of these dwellings represents the Malay community's craftsmanship and decorative features, and they are often constructed using a modular concept without nails.
Malaysian haute designer Carven Ong designed the 'Kampungku' National Costume, while Wesley Hilton of Borneo Doll provided "Francisca' doll headpiece in the shape of a bicycle.
Carven Ong was also the designer of Shweta Sekhon, Miss Universe Malaysia 2019,'s 'Peranakan Indulgence' National Costume, which earned global recognition at the Miss Universe competition last year.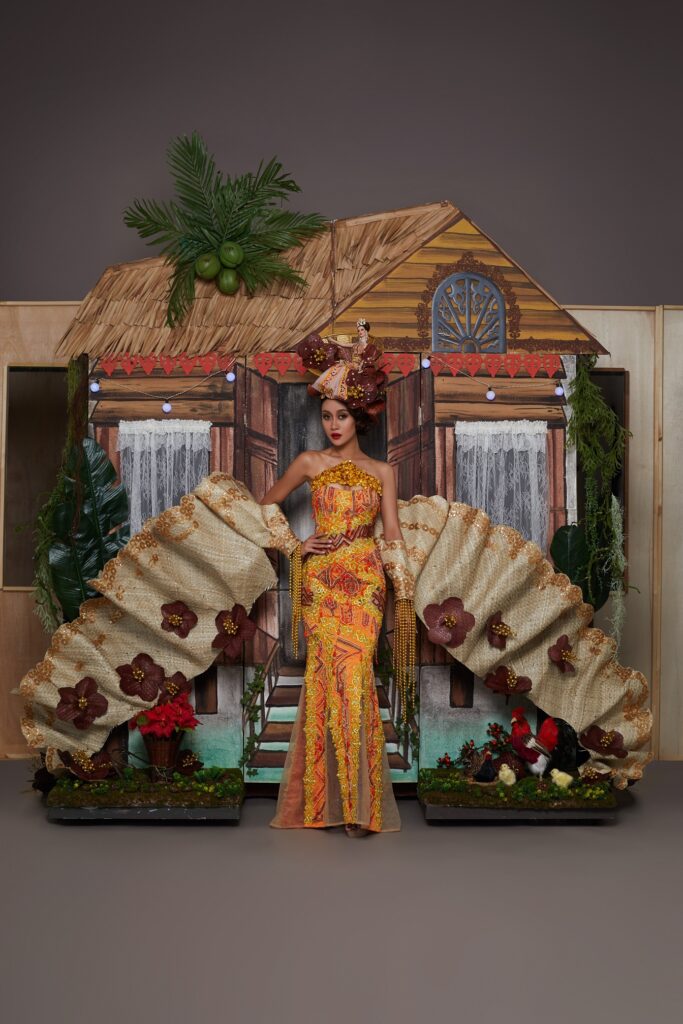 When the back side of the house is showcased, the kampong scene is brought to life in colour, complete with replica chickens and a coconut tree. A vivid off-shoulder orange gown, which represents a spectacular evening sunset, and gold 'kerawang' wooden beading, which reflects Francisca's Sarawakian heritage, compliments the whole scene.
What a surreal show stopper moment it must have been for all those that were there to witness the magic live at the scene!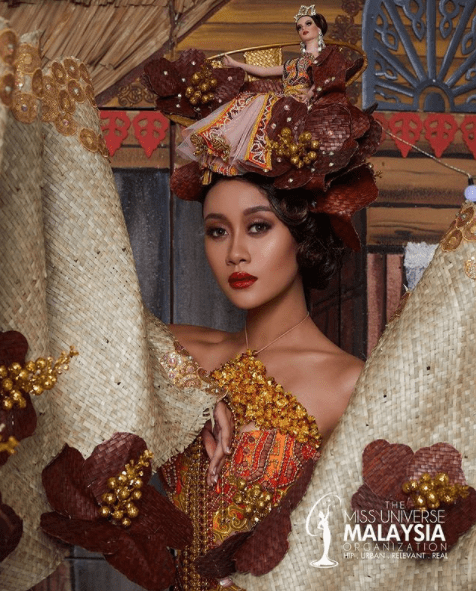 Francisca completes her transformation with a whimsical-looking headpiece by Borneo Doll, which features a 'Francisca' doll dressed in an identical gown and crown to signify coquettish beauty, flanked by the national flower, 'Bunga Raya,' made of intricately woven 'mengkuang,' to represent her beloved country, Malaysia.
It took three months to complete the entire outfit and headpieces.
Designer Rizman Ruzaini was inspired by the tale of the beautiful Princess Sejinjang, who is popular with Sarawak folklore, for the evening gown.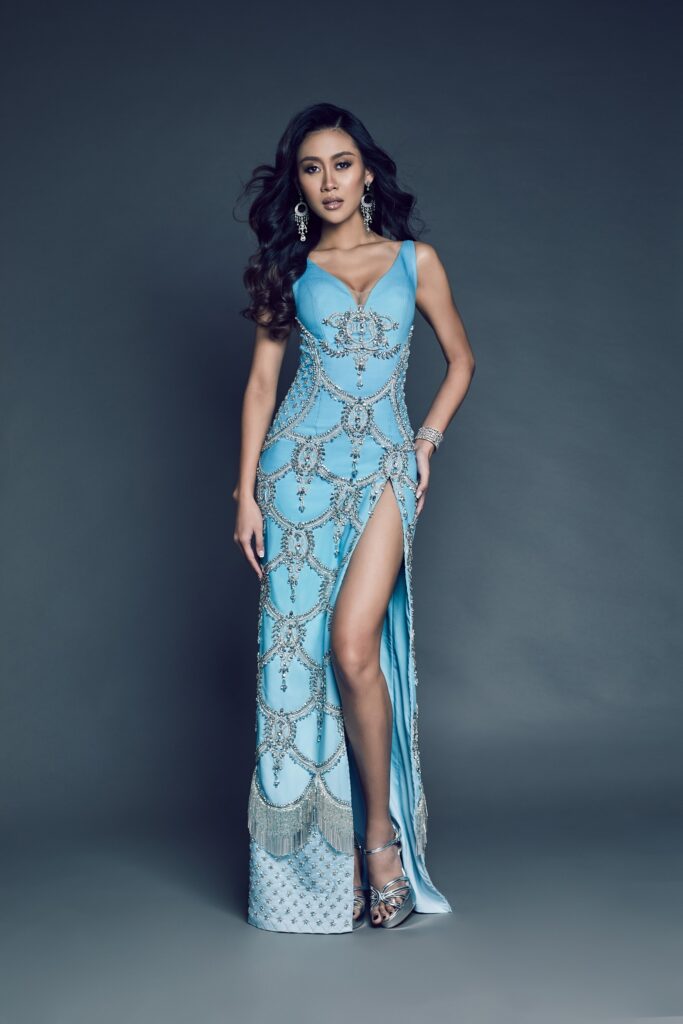 The silver gemstones brings the piece a glamorous and exquisite feel, gleaming brightly as they catch the sun, much like the sand grains on the ocean floor.
When Francisca walks on stage, her hourglass silhouette and high front slit give her the confidence of a strong and elegant front-runner.
Francisca, who is of Kayan, Kenyah, and Iban ethnicity, is born in the Land of the Hornbills did absolute honour to all her breathtaking costumes and dresses!