While it's true that all our skincare products, from cleanser and toner to serum and moisturiser, are crucial in preserving the health and cleanliness of our skin, the most vital – and overlooked – product is sunscreen. It's the final step that seals all of our products into our skin and the ultimate product that shields us from the sun's harsh Ultra-Violet rays.
Without sunscreen, the barrier protecting our skin becomes defenseless, which can result in sunburn, premature ageing, or, worse, skin cancer. Sunscreen is so important for protecting the appearance and health of our skin that it should be used all day, not just in the mornings.
In fact, you should reapply sunscreen every two hours throughout the day to reinforce your skin's UV-protection barrier. Of course, reapplying sunscreen isn't that simple if you're always on the go. Which is why Wardah Beauty has introduced its newest product from its UV Shield Series – UV Shield Light Matte Sun Stick SPF 50 PA ++++ – to allow you to conveniently re-apply your sunscreen while on-the-go!
The cosmetic brand's first sun care product is in stick form, for easy use. The UV Shield Light Matte Sun Stick SPF 50 PA ++++ is made with 0% alcohol and broad-spectrum protection to shield the skin from damaging UV A/UV B rays and excessive blue light.
Furthermore, Wardah Beauty has added a Sebum Absorber that reduces oil production to produce a gorgeous mattifying effect on the skin, resulting in enhanced staying power for makeup to last all day. Furthermore, by incorporating Vitamin E serum into its formulation, this stick sunscreen will hydrate as well as protect the skin from pollution and free radicals. This multifunctional serum + primer + sunscreen has Sweat Resistant Technology, making it ideal for everyday usage and sunscreen re-application.
The UV Shield Light Matte Sun Stick SPF 50 PA ++++ is one of four products in Wardah Beauty's long-running UV Shield Series that addresses various skin types, issues, and occasions for their dedicated customers to utilise to protect their skin.
Wardah UV Shield Essential Sunscreen Gel SPF 30 PA+++ [Vitamin Rich], RM12.20
Wardah UV Shield Aqua Fresh Essence SPF 50 PA++++ [Hydrating], RM17.90
Wardah UV Shield Active Protection Serum SPF 50 PA++++ [Waterproof], RM23.90
Wardah UV Shield Light Matte Sunstick SPF 50 PA++++ [Matte & Smooth], RM31.90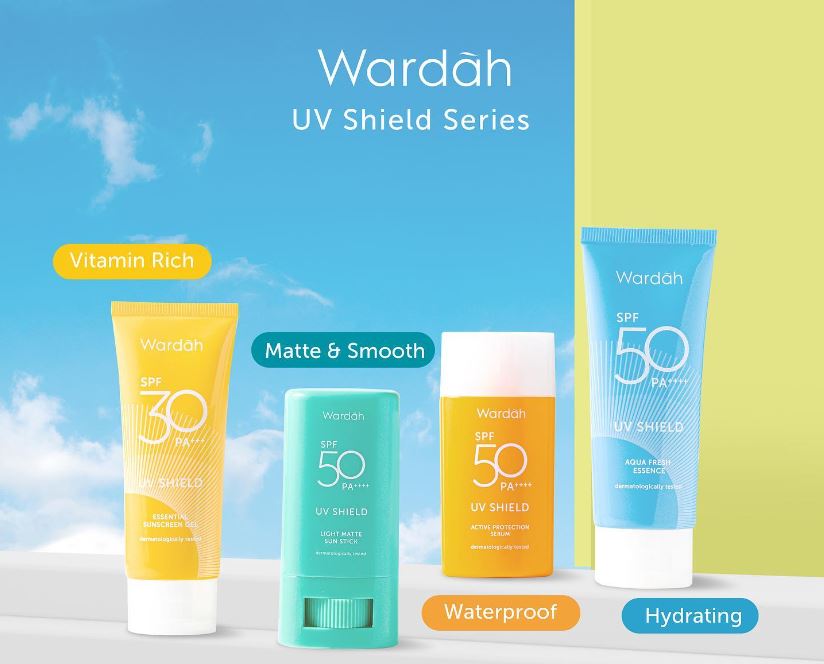 The UV Shield series is now available online at the Wardah Official Store on TikTok, Shopee, Watsons and Guardian!
More on sunscreen? Read these: 
Supergoop! Unseen Sunscreen Now Available In SUPERSIZED Versions!