Clay has been used as a form of skincare for hundreds of years. It has the amazing ability to reduce excess sebum and minimise pores. Clay masks have been shown in research to absorb oil from the skin and prevent minor types of acne, such as pimples, blackheads, and whiteheads, in acne-prone folks. When your pores become blocked with debris and oil, this type of acne develops.
Using a clay mask once or twice a week will help you manage excess oil buildup on your face and cure blackheads, acne, and other blemishes, resulting in clearer, more luminous skin. If you're searching for a clay mask to help you achieve clear, healthy-looking skin, here are six options to consider.
FRESH Umbrian Clay Purifying Mask
This 3-in-1 face mask is a mineral-rich clay mask and face cleanser that effectively cleanses and minimises pores and shine without drying out the skin. The game-changing ingredient is fresh's special, centuries-old Umbrian clay, which balances and clarifies without over-drying, and may be used to eliminate impurities that could block pores; as well as a daily deep cleanser or to spot treat blemishes.
Price: RM110
Buy HERE!
Sand & Sky Australian Pink Clay – Porefining Face Mask
Sand & Sky Australian Pink Clay – Porefining Face Mask is a skincare aficionado's holy grail, thanks to its supercharged 4-in-1 mask formula that tightens pores, enlivens a dull complexion, and increases radiance in only 10 minutes. The clay mask has all of the necessary components to help the skin, from tightening pores and calming inflammation to increasing collagen formation for plump, youthful skin.
Price: RM180
Buy HERE!
The Body Shop Himalayan Charcoal Purifying Glow Mask
Reach for The Body Shop's Himalayan Charcoal Purifying Glow Mask if you really want a clay mask that makes your skin glow after a good rinse. This charcoal clay mask is a potent little pot of goodness made with bamboo charcoal from the Himalayan foothills, green tea leaves, and a little Community Fair Trade tea tree oil to help unclog pores by removing excess oil, drawing out dirt and impurities, and removing dead skin cells. Your pores will appear smaller, your skin will appear cleaner, and your radiance will be increased simply by using this mask alone for 5-10 minutes.
Price: RM103
Buy HERE!
Kiehl's

Rare Earth Pore Cleansing Masque
Kiehl's Rare Earth Pore Cleansing Masque isn't your typical clay mask since it's formulated with Amazonian White Clay, which helps to cleanse and improve skin's texture while also minimising pores. This clay face mask helps to draw out impurities, eliminate excess oil, and minimise the appearance of pores, leaving skin looking and feeling more refined and smooth.
Price: RM138
Buy HERE!
innisfree Super Volcanic Pore Clay Mask 2X
The innisfree Super Volcanic Pore Clay Mask 2X is one of the most popular clay mask skincare products on the market, and for good reason: it reduces the size of your pores while also improving the overall look and texture of your skin. This deep-cleansing creamy clay mask with Jeju Volcanic Clusters & Spheres™, walnut shells, and AHA helps minimise the appearance of pores, absorb excess oil, gently exfoliate, deeply cleanse, chill, even skin tone, and remove pollution particles.
Price: RM65
Buy HERE!
Good Virtues Co Purifying Clay Mask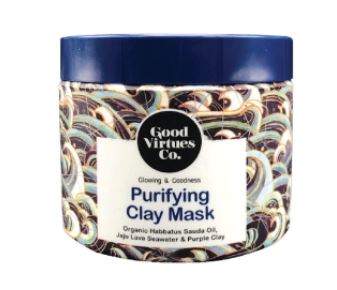 Good Virtues Co Purifying Clay Mask is a great option for a more budget-friendly clay mask. After rinsing your face, this clay mask detoxes and cleans pores, removing the skin of pollutants, blackheads, and blemishes, leaving you with fresh, radiant, and clear skin. This mask replenishes your face's natural hydration with Organic Habbatus Sauda Oil and Jeju Lava Seawater, while Purple Clay absorbs excess oil for fewer visible pores and healthier-looking skin.
Price: RM32.90
Buy HERE!
More on skincare? Read these: 
A Work Of Jart: Dr.Jart+ Unveils Pore•remedy™ Serum & Mud Mask