A good foundation base does not only even the skin tone, but it's responsible on how your makeup will look and last before sweat melts the makeup. In order to find the right foundation matching to your skin tone and type, you need not spend the extra bucks on high end foundations. There are aplenty drugstore foundations that does the job well while cutting back on the expenditure.
Before selecting any foundation, you first need to know the finishing you'd want for your skin. Some like it dewy while others like it matte. To gain further understanding on the variety of drugstore foundations available, the infographic below can guide you to chose the suitable one that's best for dry skin.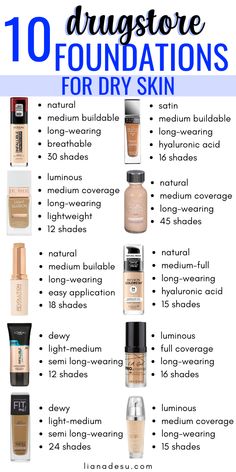 How to choose (and use) the best drugstore foundation for dry skin
Ingredients are everything: Avoid products with alcohol and look for makeup with moisturizing ingredients, like hyaluronic acid and vitamin E
Go lightweight: If you want a lighter coverage, you can always choose BB creams or tinted moisturizers. These products offer coverage along with moisturizing benefits
Prep your base: Always ensure your skin is well hydrated before any foundation application. Always prep your face with your favorite hydrating moisturizer or primer for a seamless makeup application.